A commercial DNA test can give you a lot of valuable information about your genetic tendencies in certain areas, including how your body could be "wired" to store fat, metabolize carbohydrates, respond to various diets, and regain weight after dieting.
Trying to lose weight in a way that's inconsistent with these inborn traits can be an uphill battle. But if you know about these traits, you may be able to modify your weight-loss strategies to work with your body instead of against it, and therefore achieve more satisfactory results.
How are you supposed to choose between the growing number of companies offering genetic testing that can aid in weight loss? Which ones will really give you the information and actionable insight you need to create a healthier version of yourself?
When it comes to DNA and weight loss, we've got you covered as we present our top picks for weight loss tests (plus information on why each one could work for you).
Short on time? Here are our top picks for DNA tests for weight loss:
Living DNA concisely summarizes how your DNA could influence your weight loss ability, fitness tendencies, and other wellness traits.
Orig3n offers several different genetic tests for weight, so you can choose the one that best aligns with your interests.
GenoPalate tells you what foods will best meet your genetically-determined dietary needs, plus it includes personalized recipes.
What We Look For in the Best Weight Loss DNA Tests
Here's a look at the criteria we think are most important when selecting a DNA test for weight loss. Some may be more important to you personally than others, but you can keep them in mind while you decide.
Trustworthiness: Does the company have a good reputation? Have people seen good results using the company's DNA findings?
Relevance: Does the company offer one or more tests that address weight loss directly?
Report clarity: Do your DNA results make sense? Are they easy to understand and implement in your life?
Actionability: Does your report tell you explicitly what diet and fitness strategies are appropriate for your unique genetic predispositions?
Personalized recommendations: Do you get detailed diet, fitness, and/or nutrition plans based on your DNA? Are there recipes and exercise regimes?
Now let's dig into the details of our eight top picks for weight loss tests.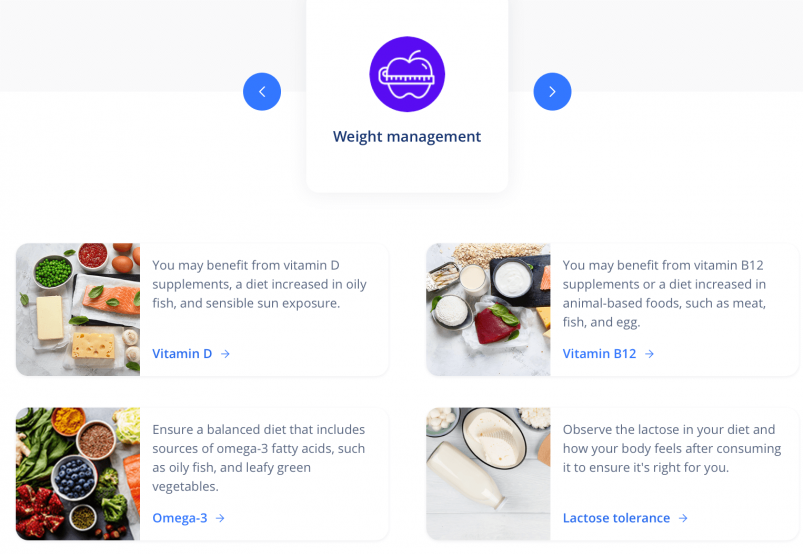 Living DNA's "Wellbeing" report lets you view your results in the context of a variety of focuses, such as weight loss, energy, healthy eating, and so on. And the findings are translated into what the implications are for your lifestyle.
It's a very down-to-earth, accessible way of presenting the information; great for people who want to be able to understand their results quickly and easily – and isn't that all of us?
Different people look for different things from a diet-oriented DNA test. With this in mind, Orig3n offers a lot of different test options so you can choose what interests you most and only pay for the information you want.
Orig3n's Hunger & Weight DNA Test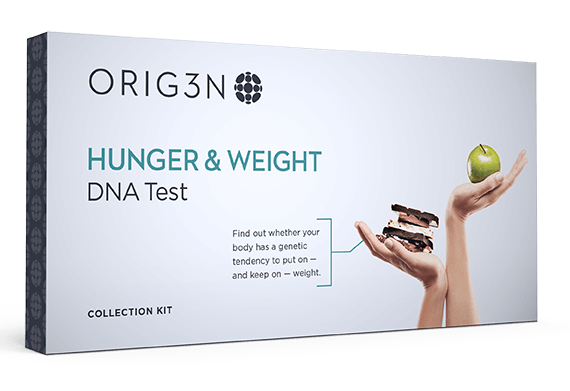 This test tackles the topic of weight loss head-on, exploring factors like:
How likely you are to crave sugar or feel full after a meal
How quickly you're predisposed to regain weight after weight loss
It's also one of the most affordable options available.
Orig3n's Metabolism DNA Test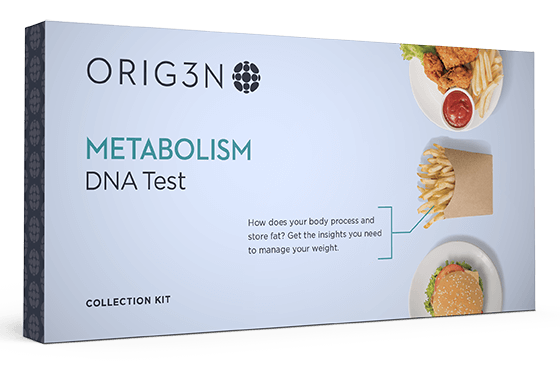 While this report is very similar to the Hunger & Weight test, it also covers how efficiently you're likely to break down good and bad fats. It's available at the same low price as the Hunger & Weight test.
Orig3n's Nutrition DNA Test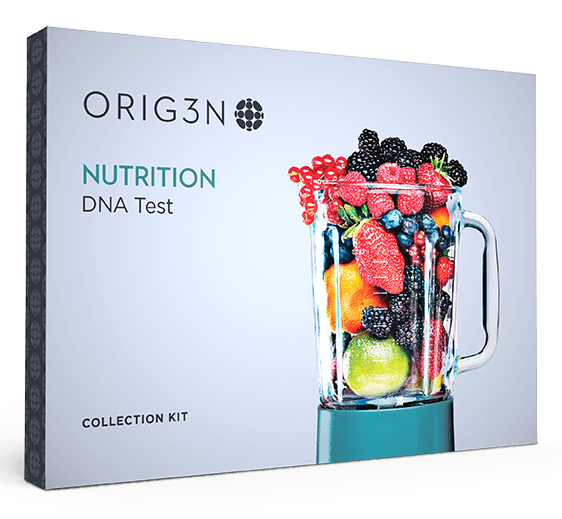 This is Orig3n's most comprehensive test in this area, covering the same things as the Hunger & Weight and Metabolism tests, plus food sensitivities and vitamin absorption. It costs about three times as much as either of the two smaller tests.
Orig3n's Fitness & Nutrition DNA Test Bundle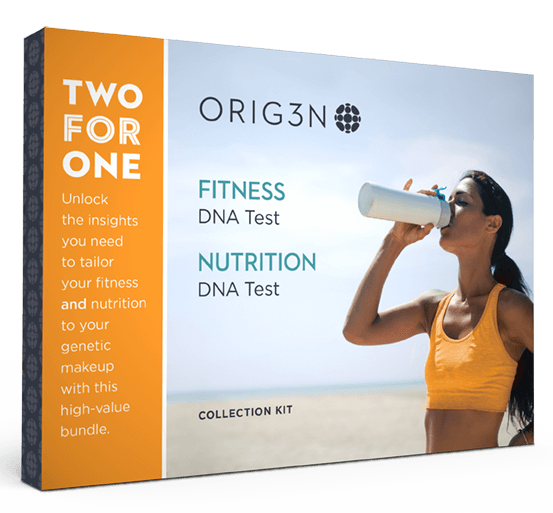 On top of everything addressed in the Nutrition test, this one also explores exercise recovery, muscle strength, joints, movement, and more. Its price is correspondingly higher.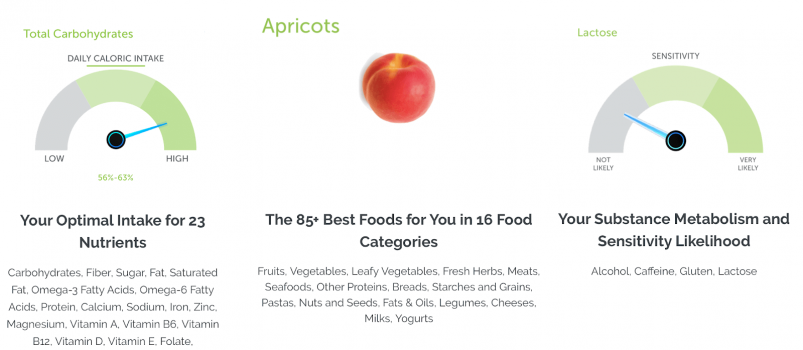 GenoPalate claims to have "the most comprehensive genetic analysis in the market." Its report analyzes your nutrition, food sensitivities, and metabolism. Plus, you'll get a list of 85+ specific foods that you should be eating, based on your DNA.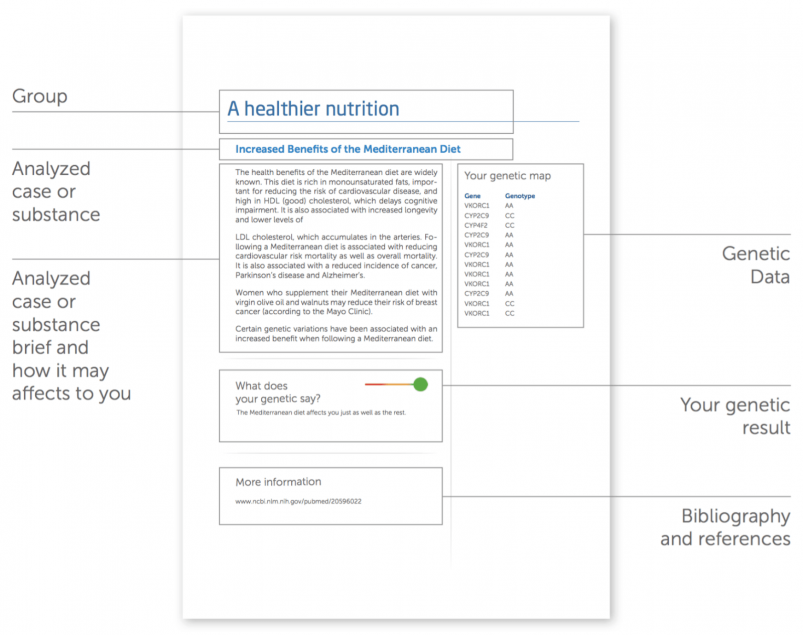 24Genetics offers a range of different DNA tests. Its Nutrigenetics test – which looks like one of the most detailed and all-encompassing reports in the weight loss category – covers everything from weight loss and metabolism to vitamin absorption and your genetic tendency to be able to taste certain flavors.

When you take EasyDNA's DNA Diet and Healthy Weight Test, your results take the form of a 70-page report that explores your:
weight-loss ability
metabolism of carbohydrates, fats, and proteins
levels of nutrients and vitamins
cardio response, strength training, and exercise traits
It also includes a detailed exercise and eating plan.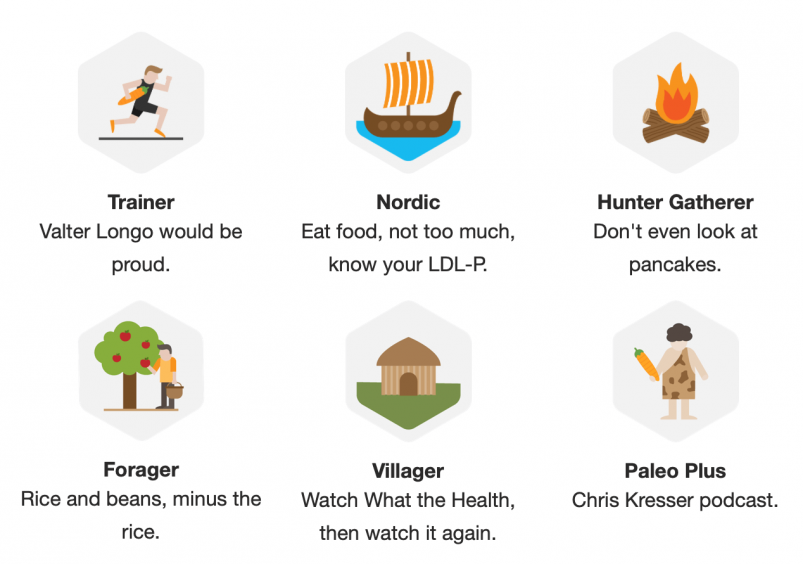 Gene Food places you into categories like "Hunter-Gatherer," "Forager," or "Villager," based on your DNA. Your report then tells you which diet(s) would work best for your genotype and weight loss goals.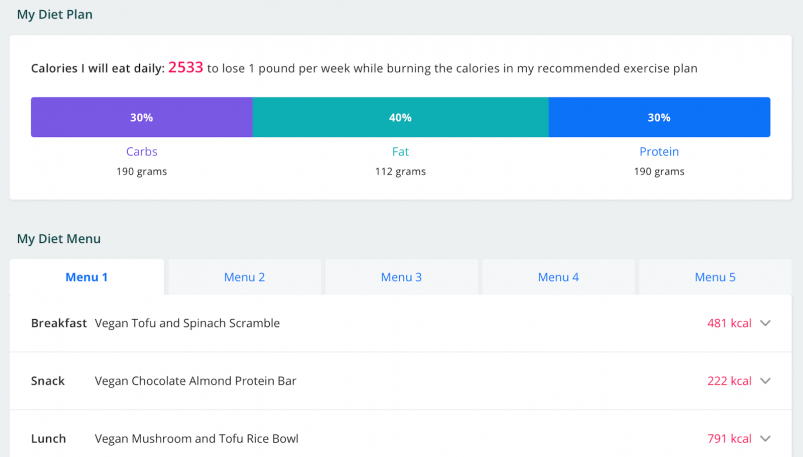 Vitagene's reports are very clear and accessible. You get separate reports on genetic traits, diet, supplements, exercise, and ancestry, all with just one test.
Plus, you get detailed sample meal plans and workout regimens to achieve your goals. If you decide to modify those goals – to, let's say, exercise more or less frequently – then the recommendations change to match.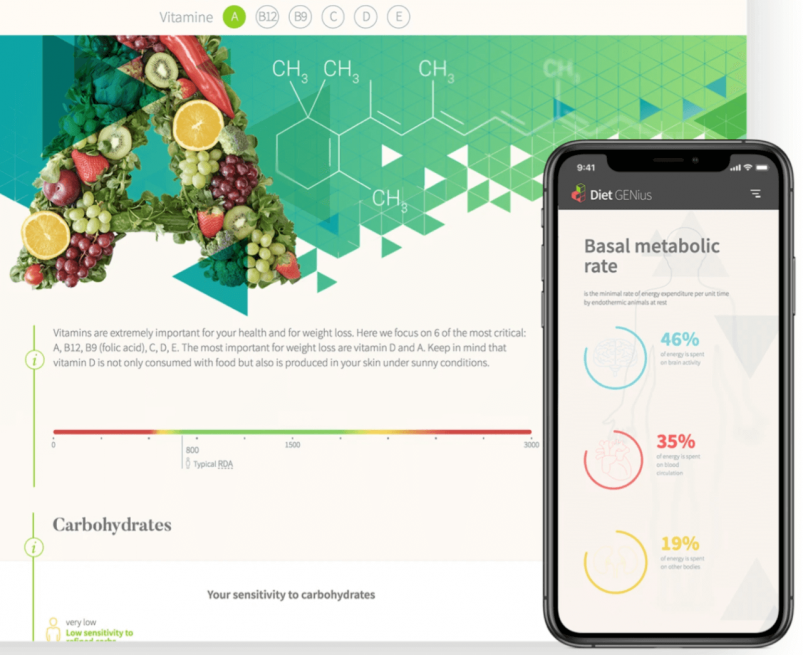 Helix's Diet GENius report integrates your self-described food habits and preferences with your DNA results to provide you with a range of tailored, actionable insights for customizing your diet. A digital coach guides you through your nutritional recommendations and dietary goals. Plus, the app is designed to be used with Fitbit, so you can track the calories you burn.
What's in the Fine Print?
Some DNA tests have hidden costs and other surprises that aren't evident from a cursory look at the websites. Here are some of the things we found that might translate into higher prices:
Some DNA testing companies – such as GenoPalate and EasyDNA – make you pay the cost of mailing in your test kit. You can get express shipping from 24Genetics, but it will cost extra. This is usually less than $10, but it's something to bear in mind.
Diet and nutrition DNA testing companies sometimes try to upsell supplements (Vitagene) or personalized recipes (GenoPalate) on top of the reports. These add-ons could help you stay on the right nutritional track, but you'll have to pay for it.
How Do Our Top Picks Compete On Price?
Once you've identified which tests most closely align with your goals and interests, cost necessarily comes into the picture. Here's how our chosen genetic weight loss tests range in price.
Which Is the Best DNA Test for Weight Loss?
If you're struggling to choose among our eight top picks, here are our "best of the best" recommendations:
If you're looking to address your weight from a couple of different angles, go with Living DNA, because you'll get detailed reports that can help you in both the gym and the kitchen.
If you just want to pay for the information you need (and not for the information you don't), go with Orig3n, because there are lots of mini-tests to choose from.
If you are particularly interested in the foods that are best for your genetics, go with GenoPalate, because you'll get reports on 85+ different items, plus personalized recipes.
If you want to really understand the science behind the recommendations, go with 24Genetics, because of the incredible detail of its reports.
If you want clear and specific recommendations, check out EasyDNA, for its personalized diet and exercise plans.
If you're looking for a nutrition plan that's easy to follow, go with Gene Food, since you'll get assigned to one of 20 different diet types.
If you are interested in personalized meal plans and fitness regimes plus supplements, look into Vitagene, who offers all this and more.
If you're looking for extra support to help you meet your goals, consider Helix, because you'll get to work with a digital coach.
FAQ
How does DNA affect weight and weight loss?
Some of the factors that affect your weight – including your appetite, fitness levels, and ability to lose weight and keep it off – are genetic. Being aware of these genetic predispositions may help you decide what type of weight management strategy is best suited to your goals.
With that said, biology is not destiny, and your genes are only part of the picture. Factors such as your eating habits, level of physical activity, and age also play a huge role in your weight. When you're looking for an effective weight management strategy, you should take all of these factors into account – and consult with a doctor or nutritionist before embarking on any new diet program.
How accurate are DNA weight loss kits?
A DNA test looks at specific genetic markers in your DNA that have been shown to be associated with various physical and physiological traits. DNA tests are able to interpret these markers pretty accurately and tell you what they mean. While no DNA test is 100% accurate, the companies listed here use the latest science and accredited labs.
What sort of things do DNA weight loss kits measure?
DNA weight loss kits can explore factors such as the speed of your metabolism, your genetic likelihood of being overweight, whether you're genetically predisposed to experience food cravings, and how quickly you may regain weight after weight loss. The reports can also give you insights into how your body responds to exercise and whether you could potentially have a vitamin deficiency.
What is the best DNA weight loss kit?
There are many DNA tests available to facilitate weight loss. The one that works best for you will depend on your personal preferences and goals. All of the tests on this list meet our high expectations for accuracy, thoroughness, and actionable insight.
That said, here are some of our top recommendations:
If you are looking to address both your nutrition and exercise routine in order to shed some pounds, you should consider Living DNA, which provides a number of diet and fitness reports.
If you have specific questions you want answered (or want to stick to a strict budget), check out Orig3n, since there are many specialized tests to choose from.
If you are looking to address your weight solely from a nutrition standpoint, you should consider GenoPalate, which provides an extensive list of the best foods for your genetics.

Does insurance cover the cost of DNA weight loss kits?
Insurance does not typically cover the cost of DNA weight loss test kits. Nor should the findings and recommendations be used in place of a legitimate medical opinion. That said, you should get in touch with your insurance provider to fully understand your options.