Three Paths, One Destination
Having read up a little on DNA, I had pondered three questions for some time:
What could my DNA tell me about my family history?
How might my genes influence my appearance, tastes, and behavior?
Do I want to know if my DNA puts me at risk of certain genetic diseases?
23andMe aims to answer these questions, with its "Three paths. One destination. You."

I set out to test 23andMe's services, to see if it deserves to be one of the top ancestry and health DNA testing companies alongside MyHeritage and AncestryDNA. It was certainly one of the first on the market, but does that make it one of the best?
Taking the Tests
The test kit is the same no matter which test you take. The box contains an instruction pamphlet, a sample collection tube (with a handy built-in funnel and a cap), and a plastic envelope to contain the tube. You should follow the sample collection instructions provided, but I can summarize them as:
Create an account on the 23andMe website, and add the serial number of your collection kit.
Make sure you don't eat or drink for 30 minutes before spitting enough saliva to fill up the sample collection tube.
Finally, break off the funnel, screw on the cap, put the tube into the plastic envelope, and send it back in the postage-paid box.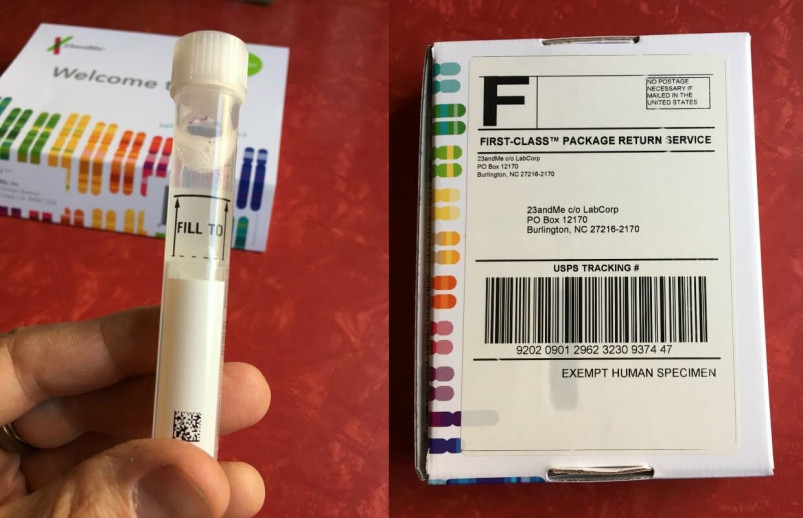 It's supposed to take up to four weeks to receive your results, but I got mine in a little over a week. In the meantime, a series of emails told me how my test was progressing.
A Detailed Look at 23andMe's Ancestry Test
Many DNA testing companies only analyze your autosomal DNA, which you get from both your father and mother. A few companies, such as 23andMe, also analyze your Y chromosome (if you're a man) and your mitochondrial DNA (whatever sex you are) to trace your paternal and maternal family lines, respectively. 23andMe's ancestry test is called the Ancestry + Traits Service, so you get information on your genetically-determined characteristics as well as your heritage and ethnicity: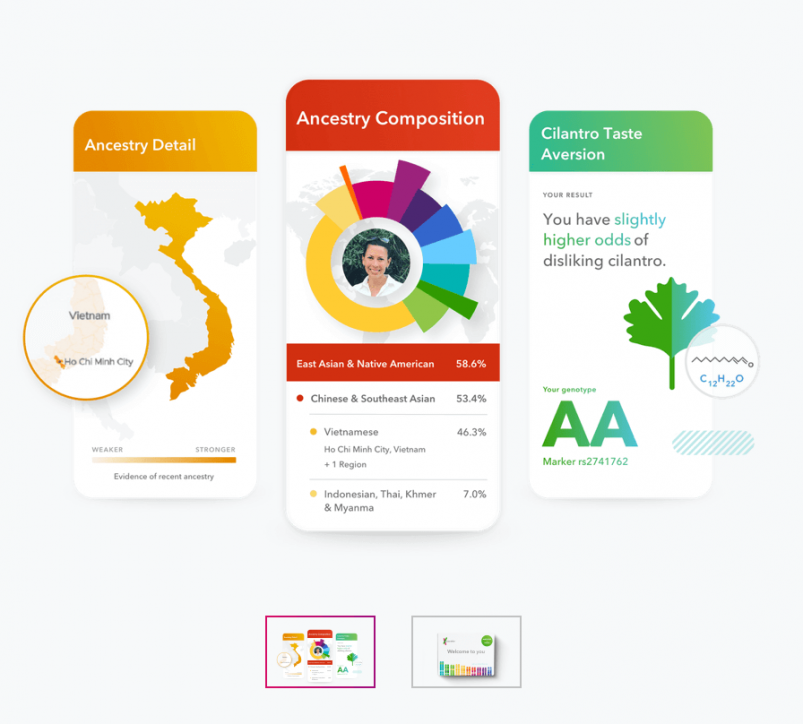 Let's look at the components of the online report, one by one, which you can also get in the form of a very affordable printed book.
Ethnicity Report
The first section of your 23andMe ancestry report looks at the regional and ethnic composition of your forebears. In my case, it tells me that my ancestors were 48.4% Ashkenazi Jewish, 18.7% French and German, 12.5% Eastern European, and about 2% Southeast Asian. The latter wasn't a total surprise since I'd already heard rumors about Javanese ancestry on my mother's side of the family.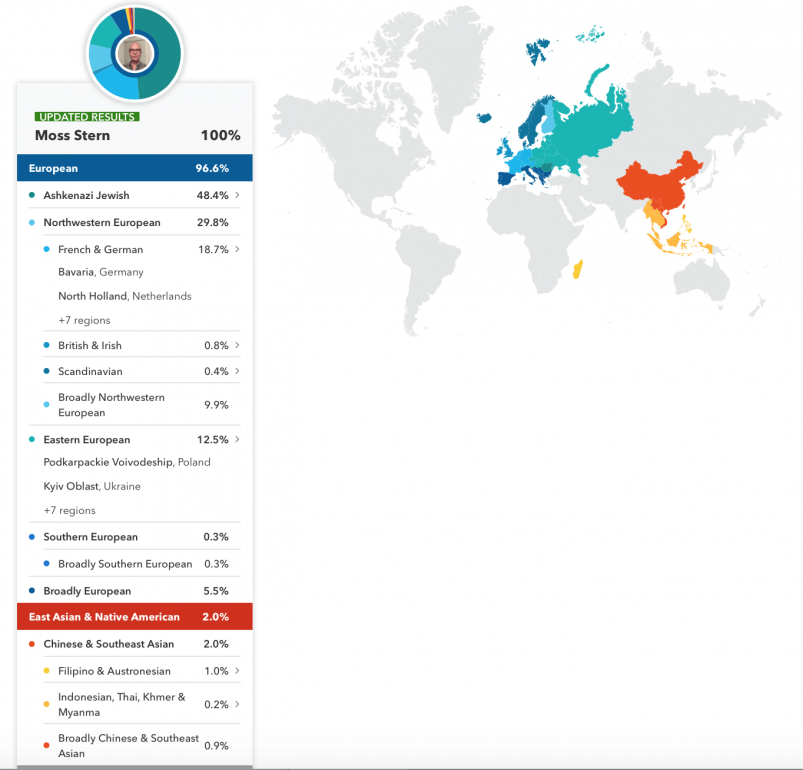 You'll be interested to hear that the ethnicity report has evolved since I first received my results, to include 500 additional geographic regions for greater detail when pinpointing your ancestral roots. By comparison, whereas 23andMe distinguishes more than 1,500 potential ancestry regions around the world, AncestryDNA distinguishes 500+ regions, and MyHeritage DNA distinguishes only 42 ethnic regions. One word of warning: greater detail doesn't necessarily mean greater accuracy. Some 23andMe customers have complained about their heritage reports being inconsistent with known facts about their family backgrounds, but other customers (including me) have found the results to be spot-on.
Ancestry Timeline
This novel section, which I haven't seen elsewhere, shows how many generations ago my most recent ancestor from each ethnicity was alive: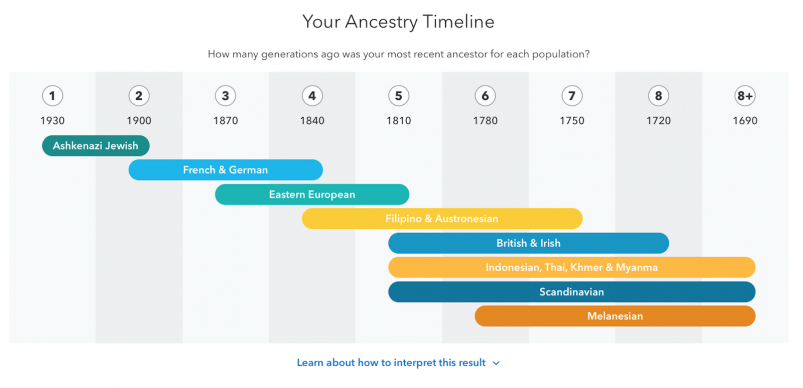 Chromosome Painting
Another relatively novel feature that I haven't seen elsewhere is "chromosome painting," which shows the ethnicities that are reflected in each of your 23 chromosome pairs: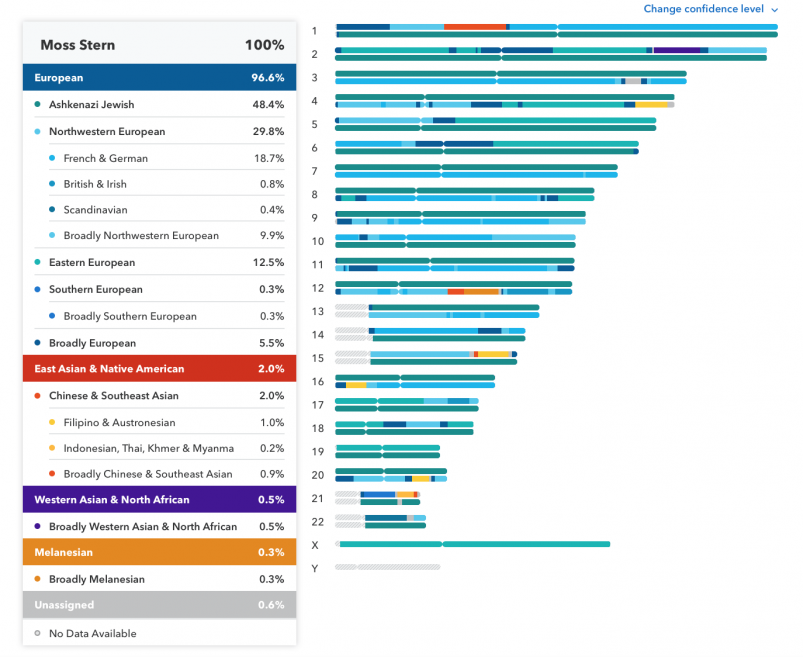 Did you know that you, me, and most people with European or Asian descent might be part-caveman? That is to say, you might have some Neanderthal DNA from your very distant past. According to my results, I'm about 4% Neanderthal, and my 291 Neanderthal variants put me in the top 25% (or bottom 25%, depending on how you look at it) of 23andMe customers.
Maternal and Paternal Haplogroups
By analyzing your mitochondrial DNA (mtDNA) and Y-DNA – which some companies don't do – 23andMe can trace your maternal (mother's side) and paternal (father's side) family lines. Your "haplogroup" on each side tells you the major group of ancestors you're descended from, and where that group came from. For example, although scientists know that we're all descended from a woman who lived in eastern Africa between 150,000 and 200,000 years ago, 23andMe tells me that my maternal haplogroup "H2" means I'm descended from a woman who lived in the Middle East about 12,000 years ago: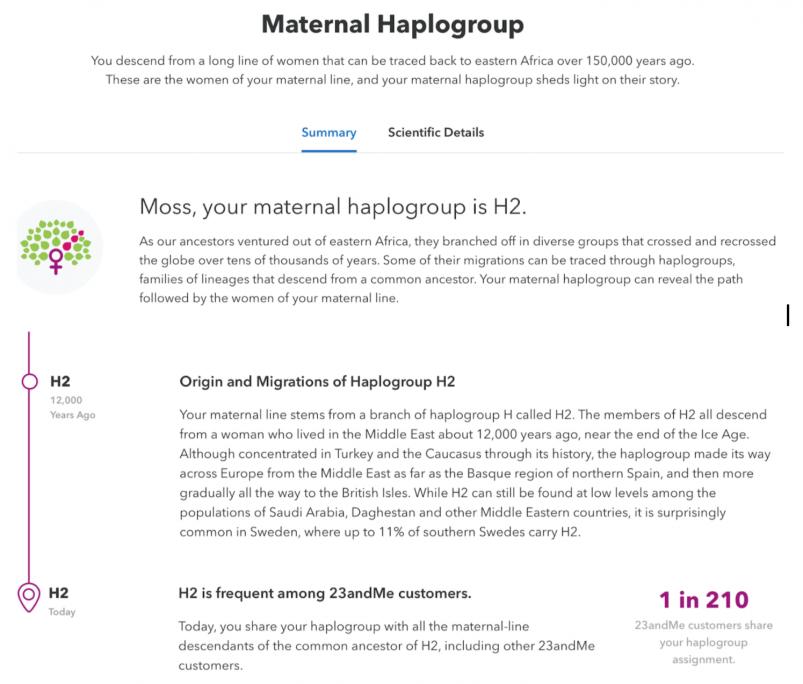 My paternal haplogroup "J" can trace its lineage all the way back to haplogroup "A," which originated in Africa over 275,000 years ago. 23andMe provides maps to show you these migrations of ancestral groups: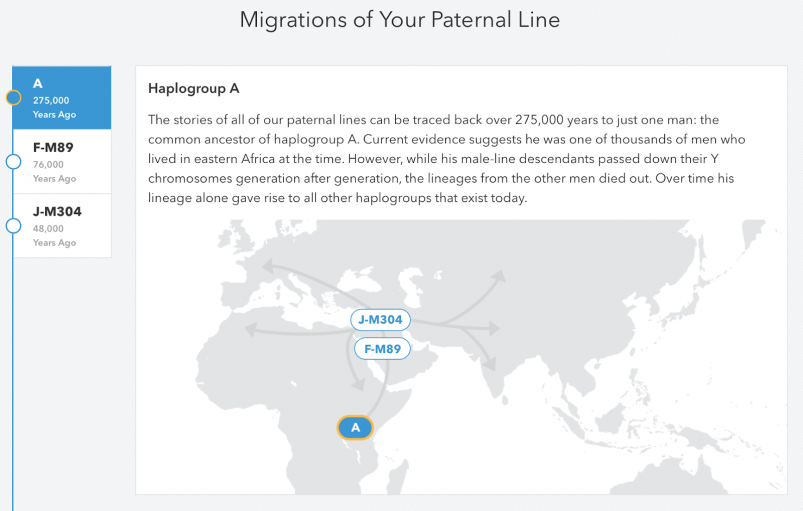 So, 23andMe tells you about your long-lost ancestors, but what about your more recent relatives?
DNA Relatives
The DNA Relatives section identifies other people in 23andMe's database who may be related to you. Supposedly, I have 1,191 potential living relatives I can connect to, three of whom are close family: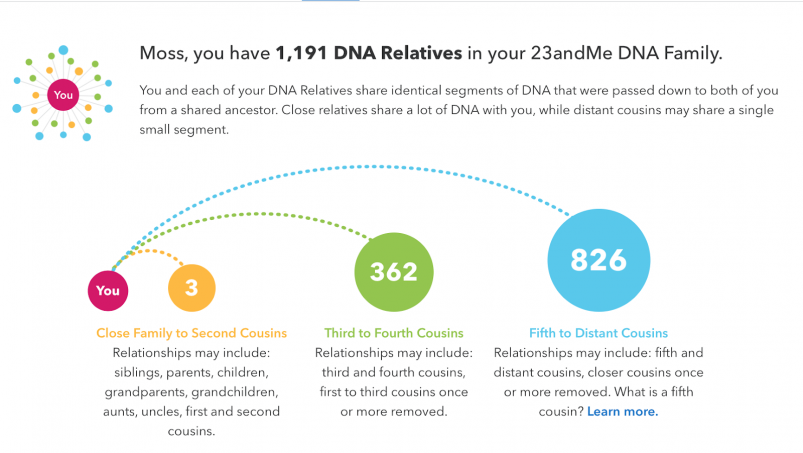 You can connect with these individuals if you wish, and if they're willing. You can also access their ancestry reports, and vice versa, to help you both build a more extensive family tree.
Your Family Tree
At the time of this review, 23andMe also has a beta family tree builder that creates a family genealogy based on your matches with the company's other customers. Mine is mostly populated with question marks, but I've manually added my parents and linked in a second cousin, once removed: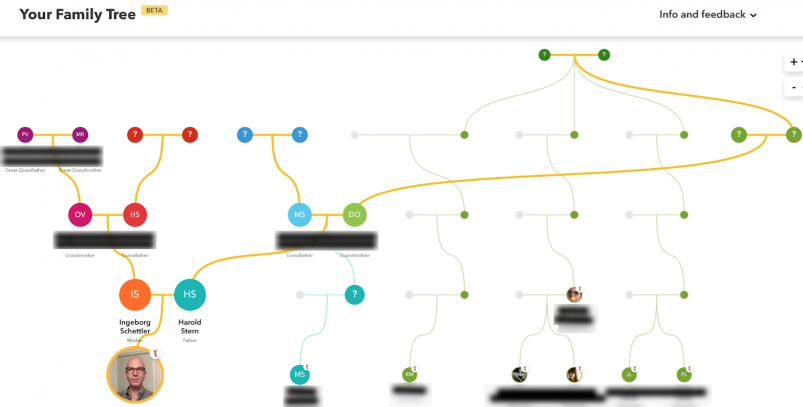 This Family Tree Builder isn't as sophisticated as the pay-for ones provided by competitor companies such as MyHeritage and Ancestry, which fill in the blanks with information from their vast historical databases. Interested in creating a family tree? Check out our top family tree builders here.
How 23andMe's Ancestry Test Compares to Other Companies' Tests
Having taken ancestry tests with the main competitor companies, I can declare 23andMe the clear winner in terms of the accuracy and the level of detail contained in its reports. The biggest downside is the lack of a genealogy service that would help you build your family tree by drawing on historical archives in addition to your DNA. If you want this, and you're willing to pay a subscription for it, you might want to look at MyHeritage or AncestryDNA.
Other Ancestry Test Options to Consider
Living DNA's ancestry test gives you a comparable amount of ancestry information, and it includes mtDNA and Y-DNA analysis, but it doesn't detail your Neanderthal ancestry.
AncestryDNA and MyHeritage both give you less ancestry information than 23andMe, and only test autosomal DNA, but draw from vast databases of historical records (at an extra cost) to help you build a family tree.
HomeDNA sells separate autosomal, mtDNA, and Y-DNA ancestry tests. It also offers special test kits for people of African or Asian descent.
Upgrade from Ancestry to a Health Report for Not Much More
Ancestry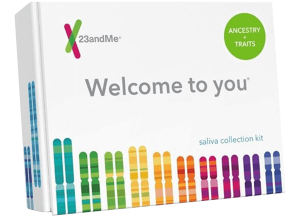 Ancestry
Discover your ancestry composition from more than 1,000 regions
Find DNA relatives around the globe and connect with them
Learn the migration story of your DNA ancestors
As already indicated, 23andMe offers three tests: the Ancestry + Traits Service, the Health + Ancestry Service, and the VIP Health + Ancestry Service. You can pay for them in US dollars, Canadian dollars, British pounds, or euros via Visa, other credit cards, or Apple Pay.
Ancestry + Traits Service
Here are some comparisons between 23andMe and its competitors from a pricing point of view:
Health + Ancestry Service
If you've already received an ancestry report from 23andMe, you can buy a health report for not much more money, and without having to submit another DNA sample. Now, here are the price comparisons for this service:
VIP Health + Ancestry Service
This allows two people to be tested, which is interesting for two reasons:
Since a woman can't take a Y-DNA test, she must ask a male biological relative to take one to trace her paternal ancestral line.
If you're planning to have children with someone, you may wish to know if you're both carriers for the same genetic disease risks that could be passed on to your offspring.
You may wonder why it costs more than twice as much as two standard Health + Ancestry test kits. Apparently, it's because you get "priority lab processing, premier customer support, and a one-on-one Ancestry results walkthrough." I'm just not convinced it's worth this cost.
Fine for Me, Despite Complaints from Some Other Customers
23andMe's self-service resources include a set of support pages and some frequently asked questions. If these don't answer all your questions, you can contact the company via email (contact form), telephone, or live chat.
I successfully tested 23andMe's live chat facility (which isn't provided by many other vendors) and its email response: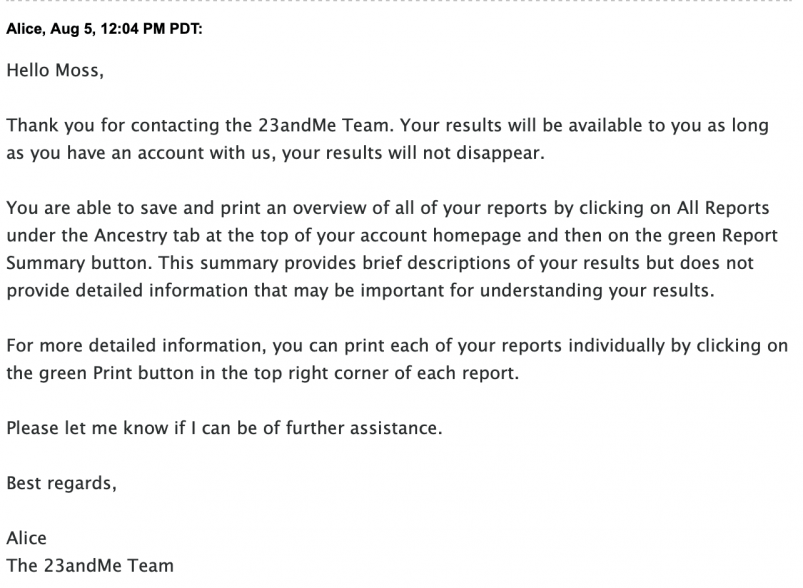 I'd read some customer complaints about 23andMe purging customers' information after a period of time, but the customer service team assured me by telephone and rapid-response email that this wasn't the case. The only thing I can attribute this to is the fact that 23andMe redesigned its website experience in 2017, and informed customers that, "all of your current health reports will be permanently archived in a printable PDF format."
Other customer complaints I've seen relate to the company claiming that saliva samples didn't contain enough DNA for analysis. These customers had to send in multiple samples, sometimes to no avail, and they were unable to obtain refunds.
My Favorite DNA Testing Service To Date
As I've alluded all along, of the ones I've tested to date, 23andMe is my favorite DNA testing service. Both its ancestry and health reports provided more information than most other companies at a lower cost.
Finally, I enjoyed a more than satisfactory support experience despite some customer complaints to the contrary. That said, if you're solely interested in taking a DNA test for health information, it might be worth looking at another vendor – such as DNAfit or Helix – since 23andMe only offers this information as part of a packaged deal.
By going with another company, you can get a similar level of information (or more) without having to pay for the ancestry results. On the other hand, if you're really interested in exploring your genealogy, AncestryDNA and MyHeritage can offer much more in the way of historical records and family tree building services. Although, you'll probably have to pay a subscription fee.
I recommend going with 23andMe if you are looking for a good all-round comprehensive package that can offer you a bit of everything. The results are a good balance of fun information and actionable insights.
FAQ
How accurate is 23andMe?
23andMe's ancestry reports are extremely accurate. The company has 10 million customers it can compare your DNA to, representing more than 1,000 distinct global populations. This allows 23andMe to estimate your ethnicities with a high level of precision and tell you how many generations ago each ethnicity entered your family tree. 23andMe's health test looks for certain genetic markers known to be associated with your risk of getting certain diseases in your lifetime, or for carrying other diseases and passing them on to your children. While the company's analysis of these markers is quite reliable, having a given genetic marker doesn't mean you will get the associated disease, and not having that marker doesn't mean you won't. It gives you a clue as to your level of risk. If you want more certainty, you should discuss your results with your doctor.
What is 23andMe's privacy policy?
23andMe will not sell, lease, or rent your personal DNA information to any third parties, public databases, insurance companies, or employers without your consent. Many people are worried that if they get their DNA tested, their results might be used against them – for example, as a basis for denying them employment or health insurance coverage. Or that this could expose them to the risk of identity theft.
Can 23andMe detect and diagnose you with a disease?
23andMe's health test can find out if your DNA places you at higher genetic risk or having certain diseases, or of being a carrier for certain conditions that you might potentially pass on to your children. However, the test cannot detect or diagnose any diseases you might have. If you are concerned about your DNA results and what they mean for your health, you should discuss this with your doctor, who can give you a better understanding of your level of risk.
How long does it take to receive results from a 23andMe test?
The results of a 23andMe test are typically available within 2-3 weeks after they receive your DNA sample. Our reviewer received his results in just over a week – much faster than expected! 23andMe gives you your results more quickly than most other testing companies. For instance, MyHeritage gives you your results within 3-4 weeks of receiving your sample; AncestryDNA's results take about 4-6 weeks.
Who should consider taking a 23andMe test?
If you're interested in learning the most from your ancestry report, you can't beat 23andMe. Its ancestry report covers many areas not included by most testing companies, including MyHeritage and AncestryDNA – such as which maternal and paternal haplogroups you're descended from going back hundreds of thousands of years, and how much Neanderthal ancestry you have. Its health test not only tells you if you're at elevated risk of having certain diseases and carrying others, but also how your DNA may affect your sleep, diet, and exercise, among other genetically influenced traits. By contrast, MyHeritage DNA's health report only covers your disease and carrier risks. And AncestryDNA covers a much shorter list of disease and carrier risks than the other two. So while 23andMe's tests are not the least expensive (starting price for the ancestry test is $99.00, the comprehensiveness of their reports will satisfy your curiosity to a greater extent than most other companies' tests.