There are hundreds of DNA tests out there. And all claim to be the highest quality, the most accurate, and the most informative.
But most are lying.
Our group of researchers trialled over 100 of the best at-home DNA tests for ancestry, diet and fitness, health and wellness, and pets – and rated each on its accuracy, functionality, and overall value. After spending months compiling and fact-checking the data, we're finally able to bring to you this list of the top ten at-home DNA tests.
Overall, we were very surprised. Many of the well-known DNA testing companies were making bold claims that couldn't be met. And many of the smaller brands were offering substantially better products at substantially better prices than the big brands.
Here's what we found out.
Learn about your ancestry with MyHeritage!
Short on time? Here are the 10 best DNA tests in 2021
MyHeritage – Best overall ancestry test, with mapping to 40+ geographical regions and a built-in family tree builder.
AncestryDNA – Huge historical record database for tracking down ancestors.
Living DNA – Unique number of sub-regions to pinpoint your heritage, plus comprehensive health screening.
Our Best DNA Testing Kits Reviewed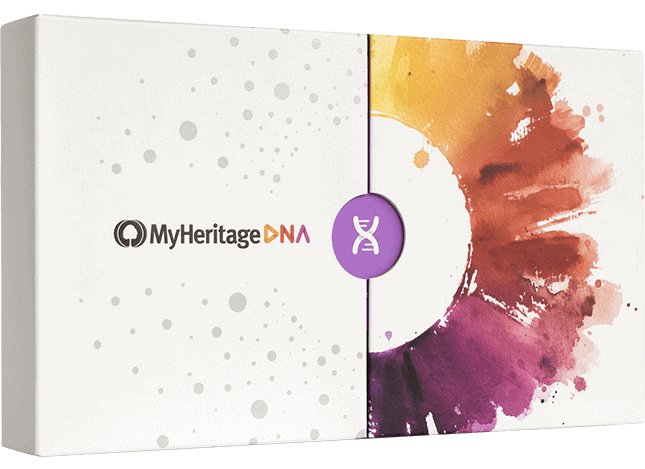 Ancestry tests and family tree builder
Get your exact ethnicity percentages from 40+ geographic regions
Track down your ancestors with matches in the MyHeritage database
Results take 3-4 weeks
MyHeritage is the best overall DNA test because it's highly accurate and it has such a large database that the chances of you finding matches are much greater. It can match your ethnicity with over 40 different geographic regions, and it even traces your ancestors in the MyHeritage database. You get a full ancestry breakdown with percentages to show you your exact ethnicity groupings.
MyHeritage's intuitive Family Tree Builder integrates with the DNA ancestry test, so you can build your family tree with genetic matches. Hints and tips guide you along the way, so building your tree is easy. MyHeritage sends you possible matches, with historical facts, images, and relative connections so you can find your family members.
You can search through over 12 billion historical records to make your family tree come to life. That includes marriage, birth, and death certificates, as well as census records, and other genealogy sources.
The sampling process is simple with a 45-second cheek swab. And it only takes 3-4 weeks to get your report.
If you're looking for a DNA test that is highly accurate, informative, comes at a good price, and doesn't leave you waiting for weeks on end, MyHeritage is the best there is.
Get Your MyHeritage DNA Test Today!
Full ancestry breakdown with accurate ethnicity percentages
Intuitive family tree builder and access to 20 billion historical records
Tracks down relative matches from the AncestryDNA database
Combined ancestry and health testing with reports on carrier risk and inherited diseases
Results in 6-8 weeks
AncestryDNA has the largest DNA database in the world – over 18 million samples – with highly accurate results from over 1000 geographic subregions.
Its DNA test gives you accurate ethnicity percentages, so you can see exactly where in the world your ancestors came from. You can then use the interactive map to trace your paternal and maternal lineage.
Using your saliva sample, AncestryDNA finds your relatives by scanning its database and tracking down individuals that share your DNA. You're notified of potential matches, so you can connect with them.
AncestryDNA also has one of the best family tree builders, containing a massive collection of over 20 billion historical records and 100 million family trees. With your DNA results, you can start building your family tree and searching through your family's records.
Get Your AncestryDNA Test Today!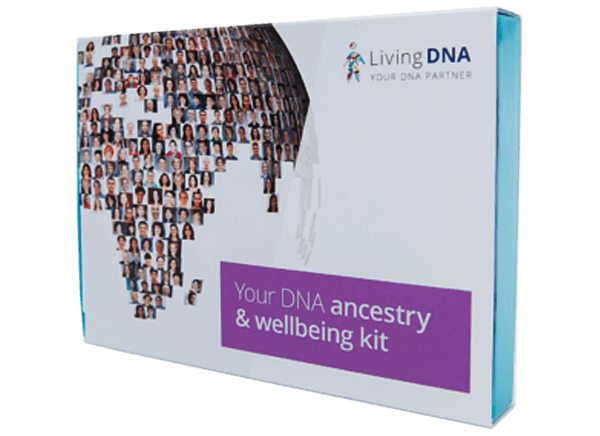 Trace your DNA to sub-regions in Europe, Africa, and the British Isles
Learn about your ancestry from the last 500 years to the present day
Interactive online platform shows migration maps and your haplogroup lineage
Screen for health and wellness, including vitamin needs and food metabolism, with the combined kit
Results in 6-8 weeks
Living DNA offers unique insights with subregional breakdowns from Africa, Europe, and the British Isles. It spans over 150 worldwide regions and an exclusive collection of sub-regions to give you more detail about your ancestry and pinpoint exactly where your heritage lies. It can tell you where in England your ancestors are from, for example.
You can read more about the sub-regions that make up your ancestry, with historical facts, migration maps, and haplogroup information. It can trace your ancestry through 80,000 years. While you can't go back the full way, you can read in detail about your 500-year history from your ancestors all over the world.
Living DNA's matching tool finds individuals that share your DNA, so you can connect with your relatives, swap stories, and discover more about your heritage.
Living DNA also has a pretty detailed health and wellness DNA test, which covers vitamin response, food metabolism rates, and even gives personalized exercise recommendations. This is coupled with the ancestry test, so you get tons of information for one great price.
You get free return shipping whichever test you choose, and it takes between 6-8 weeks to get your detailed report.
Get Your Living DNA Kit Today!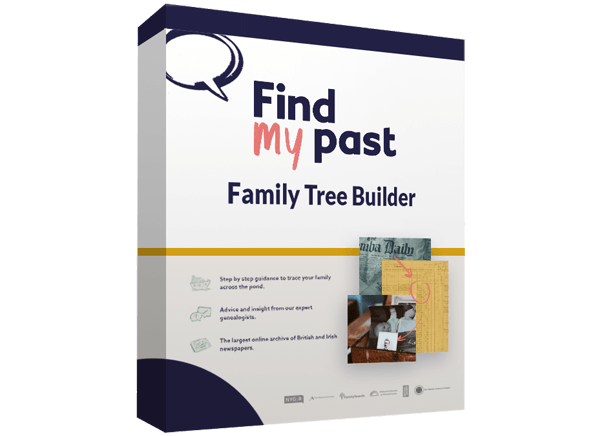 Easy-to-use, intuitive family tree builder with access to over 2 billion records
Hints and tips to help you find your ancestors and the records you need
Upload GEDCOM files and raw DNA data from Living DNA, 23andMe, MyHeritage, and others
Learn about your British and Irish ancestors by mapping to 21 sub-regions
FindMyPast owns the largest collection of British Isles genealogical records so you can see your results mapped over 80 global regions, including 21 from Britain and Ireland.
As the FindMyPast tree builder is integrated with Living DNA, you can learn more about the historical genetic lineage of your family, including specific sub-regions in England.
The easy-to-use family tree builder allows you to trace your ancestors, and FindMyPast gives you tips to help you. It searches through its record collections, and, based on genealogical research, will start to add clues about your family history to your tree. If you find a match, you can connect with your long-lost family members and start to share stories.
You have access to over 2 billion records, including marriage, birth, and death certificates, plus census records, photos, and other useful information.
If you need any help using the records finder or building your tree, you can access live chat and the FindMyPast community for support.
FindMyPast links to Living DNA's ancestry test, so you can get your ancestry results first then start building your tree. You can also upload DNA results from other services, including MyHeritage and 23andMe.
Sign Up for FindMyPast's Family Tree Now!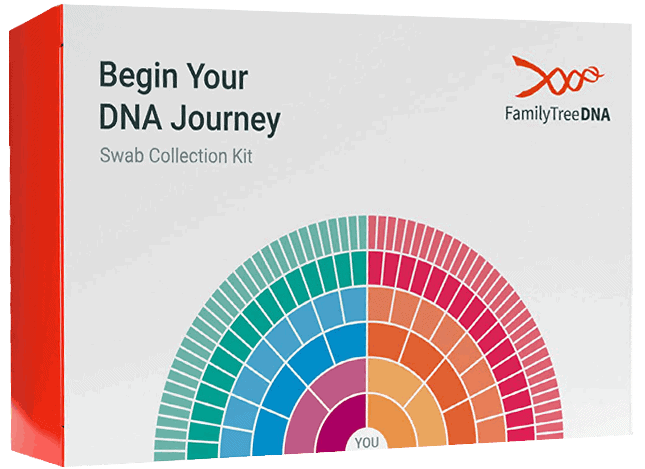 Map your ethnic origins with accurate percentages and geographical maps
Trace your maternal and paternal lines through migration maps
Deeper ancestry insights that show which DNA you share with ancient European groups
Family finder finds your DNA paternal and maternal matches
Results take 2-8 weeks
FamilyTreeDNA offers specific tests for Y-DNA and mtDNA that enable you to trace your male and female ancestors. Find out where your ancestors came from, discover your heritage all the way back to Africa, and learn about how and why your family migrated around the world. You can even unlock the history of your surname.
The ancestry tests give you your ethnicity percentages based on over 60 populations. You can learn more about your heritage through the interactive map, with interesting historical facts from every location in your DNA.
FamilyTreeDNA also takes your ancestry that bit further with deeper insights that trace your DNA back to ancient times. It tells you whether you carry the autosomal DNA for ancient European groups, including neolithic hunters or gatherers, early farmers, and bronze-age invaders.
As well as learning about your paternal and maternal lineage, you can connect with family members on either side, too. The family finder searches through its database to find matches that share your DNA, then lets you manage and sort your family members by parental lines. And the chromosome browser feature lets you see exactly which (and how much) DNA you share.
Results processing times vary between 2-8 weeks, depending on which test you choose.
Buy Your FamilyTreeDNA Test Today!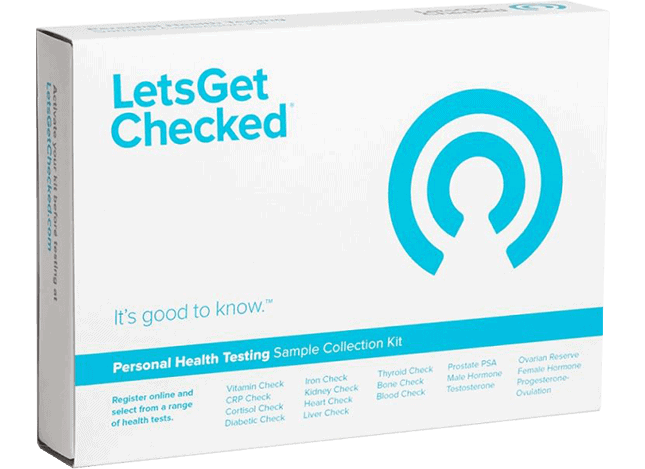 Female and male-specific health and wellness tests
At-home STD tests available as bundles and individual kits for all common STDs
Screen for fertility, vitamin needs, cancer risk, heart health, and more
Qualified nurses on-hand to talk you through your results and offer advice
Results in just 2-5 days
LetsGetChecked is a great choice if you're looking for tailored health and wellness testing because it has so many tests designed specifically for males and females. You can find tests for fertility, ovarian reserve, diabetes, vitamins, and even food allergies. You can also screen for your risk of colon cancer.
LetsGetChecked also has a huge range of budget-friendly, at-home STD tests, that allow you to screen your sexual health, privately, in the comfort of your own home.
You can choose from bundle tests that screen for the most common STDs in one, or specific, individual tests if you have just one concern. And it only takes a matter of days to get your results after a simple swab, urine, or finger-prick blood sample.
When your results are ready, your report is published on your secure online account, which you can access via the online web portal or mobile app. Some tests (especially STD tests) even include a phone call with a nurse to discuss your results. And all of the nurses are on call 24/7 to answer any questions that arise during the process.
Your report is highly detailed to help you understand exactly what you're at risk of and where you may need to make lifestyle changes. It even gives you easy-to-follow, actionable tips so you can start making changes right away.
LetsGetChecked's health tests are speedy, too. From your sample arriving in the lab, it typically takes only 2-5 days to deliver your results.
Choose Your LetsGetChecked Test Today!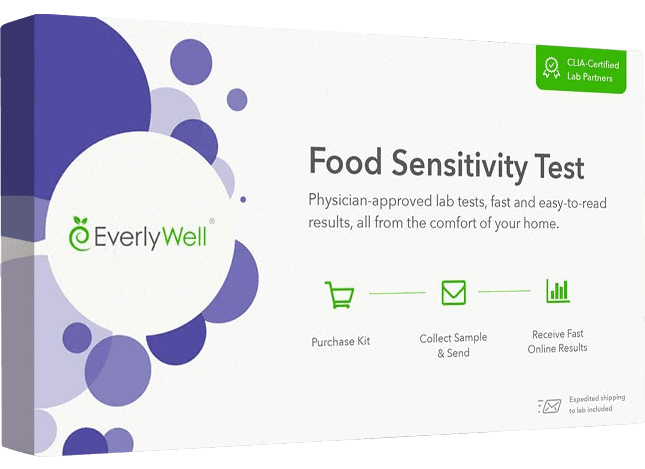 Test your stress levels, sleep quality, food intolerances, and environmental allergies
Get personalized advice on lifestyle changes to improve your health
At-home STD testing available with subscription options
Detailed report available from your online dashboard
Results take 5 days
Everlywell has a huge variety of at-home wellness tests that screen every aspect of your health. There are tests for sleep, stress, hormones, heart health, fertility, and allergies. In fact, you have over 35 tests to choose from.
Whichever test you choose, you get a highly detailed report that shows every genetic marker screened for and your results. For example, with the sleep and stress test, you see whether your cortisol levels are high, low, or medium, with actionable advice on what to change to help you get the best night's sleep possible.
Allergy screening can help you understand which intolerances you may have so you can alter your diet and food to improve your health. And the metabolism test evaluates the three key hormones that your body needs to maintain a healthy metabolism, and how this might affect your energy and weight.
Taking the test only requires saliva or a finger-prick blood sample, and you get free returns to the lab. Your sample is reviewed by independently-certified physicians for the most accurate result, then uploaded to your online dashboard. Usually, this is around 5 days after the lab receives your sample.
You can buy various at-home STD tests, too. There's the option to buy a subscription, so you can choose which STD tests you want, and they're delivered to your door every month. It also means they're cheaper.
Buy Your Everlywell Test Today!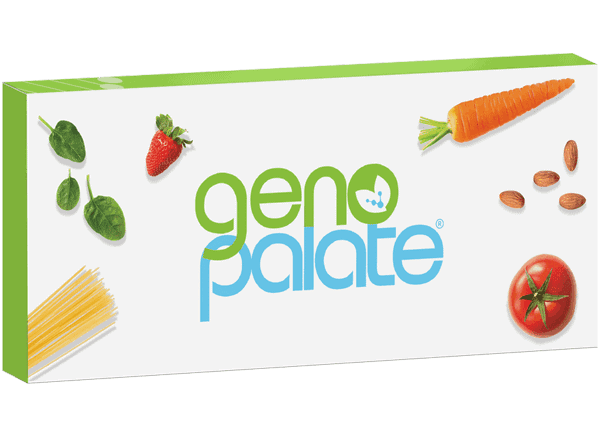 Learn about your 100 ideal foods separated into 16 different categories
Understand your body's needs for 23 essential nutrients
Assesses your body's sensitivity towards lactose, gluten, alcohol, and caffeine
Upload existing data from 23andMe or AncestryDNA for quicker results in 3-5 days
Results take 4-6 weeks
GenoPalate offers nutrition DNA tests so you can optimize your diet by eating the food types that are best for your genetic makeup. You can take their cheek swab DNA test, or, if you have previously taken a test with either 23andMe or AncestryDNA, you can easily upload your results and get started.
GenoPalate looks at more than 100 single-nucleotide polymorphisms (SNPs) in your genes to analyze how you metabolize nutrients and absorb certain vitamins. Based on those results, you get a 20+-page report with dietary recommendations and even personalized meal plans with your exact calorific needs calculated.
Your report contains a list of over 100 foods suited perfectly to you and your body's needs, plus advice on your optimal intake of 23 different nutrients. This includes essential vitamins and minerals such as carbohydrates, fats, omega-3, vitamin C, potassium, and more.
The test also screens for food sensitivities, particularly towards gluten, lactose, caffeine, and alcohol. You can learn how your body metabolizes these different foods and whether you need to make any dietary alterations to improve your digestion.
If you purchased GenoPalate with existing DNA data, it only takes 3-5 days to get your online report. Otherwise, it takes around 4-6 weeks. You're notified by email as soon as it's ready.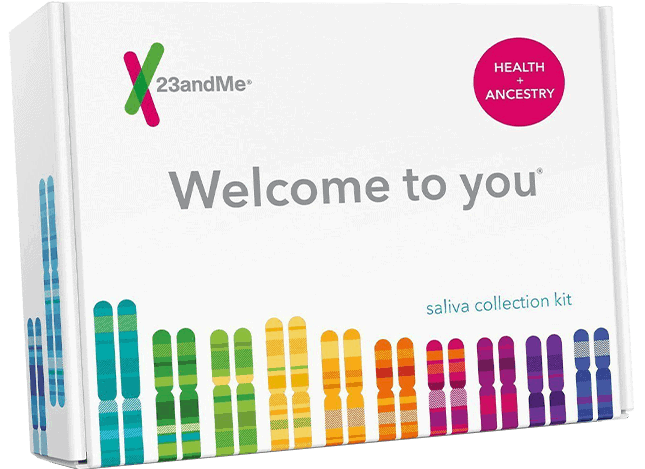 Trace your ancestry to over 2,000 regions, including Neanderthal
Map your maternal and paternal haplogroups all over the world
Automatic family tree builder creates your heritage
Find relatives in the 23andMe database
Explore how your DNA influences your perception of taste, sleep, skin pigmentation, and more
23andMe has a unique DNA ancestry and traits test that not only lets you trace your heritage, but also tells you how your DNA influences your characteristics and personality.
The ancestry test comes with a colorful report that maps your ancestry to over 2,000 regions. You won't fit into most of these, but it's nice to know that the regional breakdowns are granular enough to pinpoint even the most obscure ancestral lineage. Every location comes with fun educational content so you can learn more about your history.
With Y-DNA and mtDNA included in the ancestry testing, you can also track your familial ancestry across both maternal and paternal lines. It even examines how many Neanderthal variants you have and what this means for you.
You get access to the relative finder that scans the 23andMe database to find your long-lost cousins. And the automatic family tree builder takes your DNA to create your ancestry lineage for you and help you go as far back as you can.
23andMe's ancestry tests come with an insightful trait analysis, detailing factors like skin pigmentation and aversion to certain tastes, all based on your genetic makeup.
You can also upgrade to the full ancestry with health testing to get a full wellness report about your genetic carrier status of certain diseases, possible food intolerances, sleep quality, and predisposition for health conditions.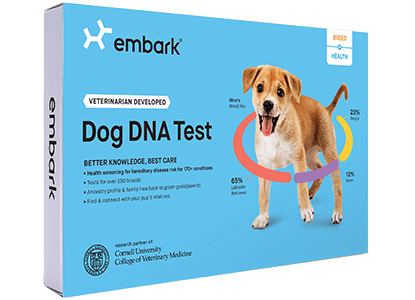 Screens for over 350 breed types to find your dog's breed mix
Examines Y-DNA and mtDNA and gives you your dog's paternal and maternal lineage
Canine relative finder to locate your dog's long-lost relatives
Tests for 190+ health conditions to tell you whether your dog is a carrier or at-risk
Results in 3-5 weeks
Embark can identify your dog's exact breed percentages based on its database of over 350 breed types and over 200,000 genetic markers. You can learn about their full genetic makeup and the different breeds in their family tree through four generations – all the way back to their great grandparents.
It can even test your dog's Y-DNA and mtDNA to determine paternal and maternal ancestral lineages. Using the map, you can see where your dog's ancestors came from and learn about the history of your dog's breed mix.
Embark also has a dog health test, which screens for over 190 health conditions known to affect dogs – including adult-onset diseases like glaucoma, degenerative myelopathy, and dilated cardiomyopathy. It can tell you whether your dog is at risk of any of these diseases, or whether they're a carrier of the genetic mutation.
The health test gives you insights into physical traits like coat length and likeliness of shedding. It actually tests for over 20 physical traits, including how their breed influences their characteristics and what they were initially bred for.
Embark has a unique relative finder feature, too. This searches the database to find genetic matches and help you track down your dog's family members. You can connect with them, message them, and even schedule a meet up if you fancy it.
The comprehensive report is available through your online dashboard, which you can easily download to take to your veterinarian if needed. It usually takes 3-5 weeks to get your results.
Test Your Dog's DNA With Embark Now!
Best DNA Kits: Comparison Table
How We Tested the DNA Kits
To see which companies provide the best service and most accurate information, we engaged with each DNA testing company as customers ourselves. We didn't receive "free tests" in exchange for positive reviews. We took the tests instead.
Here's exactly what we looked for in every single test:
Easy-to-use kits with fast shipping, clear instructions, and simple collection methods
Accurate results that you can rely on from accredited labs
Sufficiently quick turnaround to your results so you're not left waiting too long
Highly detailed reports with useful insights and all the information you need
High-quality customer support channels
When Did DNA Testing Start?
Home-based DNA testing started in the late 1990s when a company known as GeneTree (which would later be acquired by AncestryDNA) started to offer genealogical ancestry tests to the general public. These tests were pretty basic, and didn't go beyond single generations, but it opened up a new field that was rich with opportunities.
The first dedicated direct-to-consumer ancestry testing company was FamilyTreeDNA, when in 2000, it partnered with the University of Arizona to offer Y-DNA and mtDNA tests to help people identify paternal lineages. Again, the tests at the time were nowhere near as detailed or accurate as they are now, testing for only a fraction of genetic markers. But at the time, being able to trace paternal and maternal genetic lineages across generations was revolutionary.
A few years later, in 2007, 23andMe further revolutionized the DNA industry by offering easy-to-access, at-home, saliva-based, ancestry tests. A particularly important distinction was that 23andMe used autosomal testing, which is now the standard test used across the entire genealogical DNA testing industry.
All three of these companies (AncestryDNA, FamilyTreeDNA, and 23andMe) are still going strong, offering widely available and highly accurate ancestry DNA tests to people around the world.
Since the initial success of these companies, and with the increasing technology of genome mapping, home-based DNA testing has become a major industry. There are now DNA tests for all different kinds of things – food allergies, emotional health, genetic disease risks, and even DNA testing for pets.
What Will You Discover from Your DNA Test?
DNA tests can tell you many things based on the fundamental aspects of your human existence – your genetic code. By decoding your DNA, you can learn to optimize and nurture those genetic markers to enhance your life in many ways.
The three main things you'll discover from your DNA test are:
All the ethnicities in your genetic makeup
What physical and emotional traits your DNA has given you
How your DNA wants to be nurtured, treated, and cared for
Your DNA test will tell you a lot of things about yourself, your ancestry, and your body's unique biology. From which foods to eat (or not), which exercise routine you should follow, which ethnicities are in your genetic makeup, which health conditions you're at risk of, there are hundreds (if not thousands) of things you can learn from your DNA.
How to Choose the Best DNA Test For You
With so many DNA tests out there, it can be overwhelming finding the one that's right for you. Here's our roundup of the best DNA tests in each category to help you decide.
1. Ancestry
Most ancestry DNA tests like MyHeritage and AncestryDNA perform an autosomal test, meaning they look for genetic patterns across your chromosomes. This is great for everyone, regardless of biological sex, to identify overall ethnic percentages and even uncover some fun things about your DNA – like how 23andMe tests for what percentage Neanderthal you are.
Some ancestry tests like Living DNA also test Y-DNA and mtDNA. These look for patterns in your Y and X chromosomes, which help trace your paternal and maternal lineage. With these tests, you can see where in the world your family comes from and even discover migration maps.
If you're studying your heritage because you want to find DNA matches and perform genealogical research, you should look for an ancestry testing service like MyHeritage or AncestryDNA that allow you to contact genetic matches and build a family tree.
2. Family Tree Builders
MyHeritage and AncestryDNA have the two best family tree builders available.
Each performs genetic testing, allows you to contact genetic matches, has an extensive database of historical documents needed for advanced genealogical research, and allows you to easily build and share a family tree. They even send you hints and tips to help you find matches and records.
3. Health and Wellness
If you're looking for information about your body's overall health, you need a health and wellness DNA test. These tests explore how your DNA impacts your predisposition for certain diseases, as well as whether you might carry the genes for specific health conditions.
AncestryDNA has one of the best health and wellness kits. It tells you which genetic variants you have and how these affect your risk of health conditions, including cancer, heart diseases, and more. It also helps you understand conditions influenced by your genes that can be altered through lifestyle habits, such as high cholesterol levels and iron deficiencies.
But companies like Everlywell and LetsGetChecked take it a few steps further. Instead of a saliva-based test (like most general wellness tests), these companies use finger-prick tests to more closely look at a person's current health, testing for things like hormonal balance, food allergies, and vitamin levels.
4. Diet and Fitness
Diet and fitness DNA tests see how your body processes the nutrients it receives from food and exercise. A DNA test like GenoPalate can tell you exactly which foods you should be eating for optimal nutrition, based on your body's specific needs. It actually gives you a list of over 100 foods. You can also learn which foods to avoid, whether you might have any intolerances, and, depending on which test you choose, get personalized meal plans.
Other DNA tests like Living DNA give you personalized workout recommendations so you can maximize your body's performance based on your genetic type. It tells you which exercises to do and when, for how long, and even how your body builds muscle and recovers from exercise.
5. STD Tests
STDs like HIV, syphilis, and chlamydia can be tested with a variety of at-home testing kits. Instead of going through the trouble and awkwardness of making a doctor's appointment, you can screen your sexual health at home.
Both Everlywell and LetsGetChecked are great choices, with a huge list of individual STD tests and bundle kits. They're both delivered in discreet packaging to your door, with a simple swab, urine, or finger-prick blood sample. And they can give you your results in a matter of days.
6. Pet DNA
Your pets also have unique DNA that can be used to determine their breed type, the likelihood of shedding, coat length, and patterning. Apart from satisfying your curiosity, knowing the ethnic heritage of your four-legged friend can help you to increase their overall health by giving them the right kind of food, activity, and medical treatment that their breed requires.
DNA tests like Embark and Wisdom Panel can tell you which breeds are in your dog's genetic makeup over four generations, their breed characteristics and personality type, and even their risk of health conditions.
Are There Any Risks Associated with DNA Tests?
In general, no. There are no physical risks associated with taking a DNA test. That said, for precautionary measures, you should consult with your doctor before taking a DNA test while pregnant.
However, there are some dangers of DNA testing. For example, if you send off your unique genetic code to a fake DNA testing company, it is possible that it could steal your DNA information, your payment information, and maybe even your overall identity. Only trust certain companies that have been vetted by industry professionals and recommended by us.
All of the DNA testing companies on this list are 100% safe and legitimate.
You also need to understand that consumer-based health and wellness DNA testing is not a substitute for medical advice. You still need to consult with a medical professional before starting or changing any kind of medical regimen.
DNA Testing and Privacy Issues
All reputable DNA testing companies have a privacy policy in place that explains how your DNA can and can't be used. In general, when you hand over your DNA to a testing company, you give permission for it to use your DNA sample to further its research and testing capabilities. This DNA is always anonymized before any kind of research or analysis takes place.
That said, some DNA testing companies also have policies in place that allow law enforcement to access your DNA sample if they have a legitimate and legal reason to do so. In 2018, police were able to catch a wanted serial killer through DNA samples his distant family members had submitted through the open-source genealogy website GEDmatch. Some people view this kind of thing as an invasion of privacy, and this has sparked a large debate over whether or not consumer DNA testing is actually secure. And there is still no legal consensus on whether or not DNA taken from a DNA test company can legally be used in court to identify a suspect.
That said, almost 100% of the time, your DNA is safe, private, and anonymous. It only has the potential to be used against you if you buy through an untrustworthy company or if you do something illegal.
How to Order and Take a DNA Test
The first step in taking a DNA test is identifying which DNA test you need to take. After you've compared the best DNA tests and identified the one you want, you need to do the following:
Place an order through the website
Provide a physical address where the testing kit can be mailed
Perform the test as instructed on the packaging of the testing kit
Return the testing kit to the testing company (some companies include a pre-paid envelope while others require you to get your own postage)
Wait for your test to be processed (usually, around 2-4 weeks, though some tests have a waiting period of up to 8 weeks)
Receive and review your results, either via mail or an online system
Which At-Home DNA Tests is the Best Value For Money?
There are many factors to take into account when ascertaining whether or not a DNA test is a good value for money.
In general, a DNA test is a good value if it:
Offers the most important information according to your needs
Offers the most accurate information possible
Offers the test(s) at a reasonably affordable price
Some companies might give out a lot of information for a cheap price, but if that information is not useful to you or is not accurate, it's irrelevant how much the test costs.
Our Top Picks – The Best DNA Kits In 2021
FAQs
What is DNA?
DNA is the genetic code hidden inside your cells that contain the information that makes you a unique human being.
DNA is responsible for how you look, how you respond to certain tastes and smells, how your body reacts to food, how your body grows, and so much more.
It's basically your body's instruction manual on how to live.
How does DNA testing work?
DNA testing works in a number of ways depending on which type of DNA test you're taking.
In its simplest form, DNA testing works like this:
If you're taking an ancestry test, the laboratory compares your DNA sample against another DNA sample that is known to have certain qualities (like belonging to a certain ethnicity).
If you're taking a health and wellness test, the laboratory looks for certain genetic signatures that are medically known to produce a certain kind of effect (like predisposing you to a certain disease).

How accurate is DNA testing?
Most genetic testing companies advertise a 99% accuracy rate. Depending on the type of test you take, this could be even as high as 99.9%. Remember, it's impossible to get a test that's 100% accurate.
How much does a DNA test cost?
The cost of a DNA test is dependent on a lot of different things, like what type of test it is, what information you're getting, and whether or not the company is reputable.
In general, for a basic ancestry DNA test, you shouldn't spend more than a couple of hundred dollars. Some companies bundle ancestry testing with health and wellness testing, and this can raise the price substantially.
Overall, for a detailed ancestry test coupled with a pretty detailed health and wellness test, you won't need to pay more than $300.
Which DNA test has the largest database?
Right now, AncestryDNA has the largest ancestry DNA database in the world with over 18 million samples. It also has over 20 billion historical records.
What is an ethnicity estimate?
Your DNA contains unique genetic markers that, when compared with other DNA samples, can be used to identify common patterns in ethnic heritage.
The ethnicity estimates you receive from a DNA test are based on similarities with other DNA tests from a known geographic and ethnic lineage. This provides a controlled and correlated estimate of which part of the world and which ethnic group your DNA originated from.
Can I take my DNA test results to a doctor?
Absolutely! Not only can you, but you should also take your DNA results to a doctor.
You and your doctor can review the DNA test results and come up with a proper treatment for you based on your specific genetic makeup. Any information you can provide about your body's biological makeup will be extremely useful for a doctor when treating you, especially when it comes to your risk of health conditions.
How long does an ancestry DNA test take?
There are many different DNA tests available for ancestry, and their turnaround times vary widely. For instance, 23andMe is one of the fastest, typically giving you your results in 2-4 weeks. You can expect to wait as long as 8 weeks for some other ancestry tests, though.
How do you read DNA ancestry results?
After you take an ancestry DNA test and send in your sample, the testing company analyzes and interprets your DNA, then sends you a report – either posted on its website, via a mobile app, or through a PDF or even a printed book.
Most companies do a good job of not only telling you what they've found out but also putting that information into perspective. For instance, if they tell you you're 28% Lithuanian, they might give you some information on the history and culture of that region.
At a minimum, an ancestry DNA test estimates what percentage of your ancestry comes from various ethnicities and where in the world those ancestors probably originated. It tells you that you're 38% one ethnicity and 15% another ethnicity, for example.
Most ancestry tests go a little further by also giving you a list of your genetic matches, based on people's DNA they hold in their database. Essentially, these people are your relatives, such as 3rd cousin, great uncle, 2nd aunt, or something else.
More comprehensive ancestry reports can cover additional things – like what maternal and paternal haplogroups you're descended from, going back hundreds of thousands of years. You can get this level of information from a test like MyHeritage, as well as much more.
What do ancestry DNA test results look like?
Ancestry tests always deliver some sort of report that summarizes and explains findings. Usually, this is a PDF report through an online dashboard, but it might be a combination. For example, you can get interactive maps to trace heritage and haplogroup lineage with a service like AncestryDNA. Some even have mobile apps.
Regardless of the ancestry report's delivery format, most testing companies will usually not only tell you what they've concluded about your ancestry but also how they reached those conclusions (i.e. what gene markers they found) and what those conclusions mean.