Take Sensitive Health Tests at Home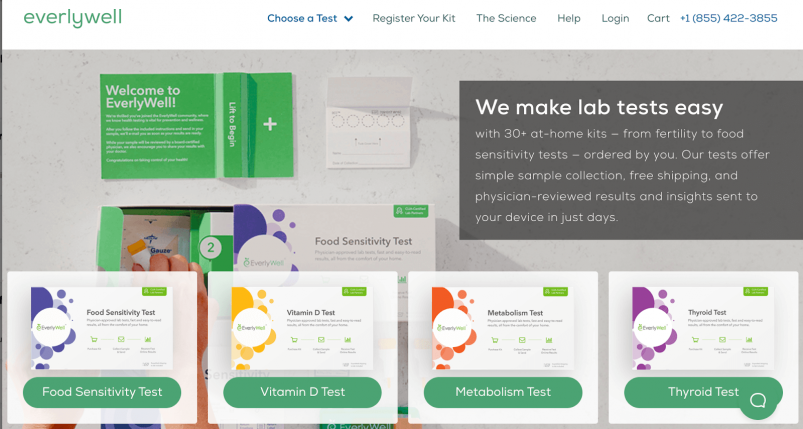 Everlywell has been steadily growing its at-home health testing services since 2015. Essentially, these services could save you the time and money of having to visit a doctor for sensitive diagnostic tests in areas such as sexual health and fertility.
According to Everlywell, the self-service tests are just as accurate as clinically-collected samples, and the results are reviewed and approved by several parties, yet your privacy is assured the entire time.
Consider taking an Everlywell test if you're having trouble sleeping, approaching menopause, experiencing food sensitivities, or concerned that you might have contracted a sexually transmitted disease.
Now let's look at the features, prices, and customer experience, to see if one of these tests could be right for you.
The Sample Type Depends on the Test
Although Everlywell offers dozens of different tests, the overall process is the same:
Order online and receive your test package
Register your test and create account
Prepare your sample
Send back your sample with prepaid return shipping
Wait for your physician-reviewed results

Unlike DNA tests that require you to submit a saliva sample or a cheek swab, some of Everlywell's diagnostic tests require you to submit a blood or urine sample, or to take a vaginal swab. Some of these sample collection methods can be slightly uncomfortable, which could put off some people.
At the time of this review, the tests are only available in the US (excluding New Jersey, Rhode Island, and New York).
5 Standout Features of Everlywell
1. Easy to Find the Right Test(s) for You
One of the things that set Everlywell apart from its competitors is the sheer number of tests it offers. Although this could be overwhelming, the company does a good job of helping you find the right test that's relevant to your symptoms. Each product page answers the questions, "Who should take this test?" and "What guidance will I get with my results?"
2. Plain Packaging and Anonymous Testing
Since health matters are private and personal, you'll be pleased to hear that Everlywell's test kits come in plain packaging and the results are anonymous (which means even the lab doesn't know who you are). Note, however, that some diseases must be reported to state agencies for public health awareness.
3. One-Time Fees or Discounted Subscriptions
Tests can be bought for a one-time fee, or you can sign up for a discounted subscription on monthly, quarterly, or semi-annual terms. The subscription option is particularly appropriate for monitoring something that can change over time, such as hormones.
4. Could Be Covered by Insurance
Everlywell is the only health testing company I've seen (to date) that could be covered by insurance if you submit your test kit purchase for reimbursement through your HSA/FSA account.
5. Healthcare Professionals Are Available
Test results include recommendations from healthcare professionals. If you test positive for certain conditions, you'll be connected with an independent physician who can recommend next steps or potentially even prescribe a course of antibiotics.
Rapid Results from a CLIA-Certified Lab
The results of Everlywell's diagnostic tests could be time-sensitive. Thankfully, you can expect to receive your results by email within a couple of days of sending in your sample to the CLIA-approved clinical lab. Results will differ according to the test, but you can expect to see:
A description of the marker(s) tested and the "normal range"
Easy-to-read results
Recommendations for next steps (as appropriate)
Additional resources for further research
Contact details for the clinical support team
A downloadable and shareable PDF
Here's an example: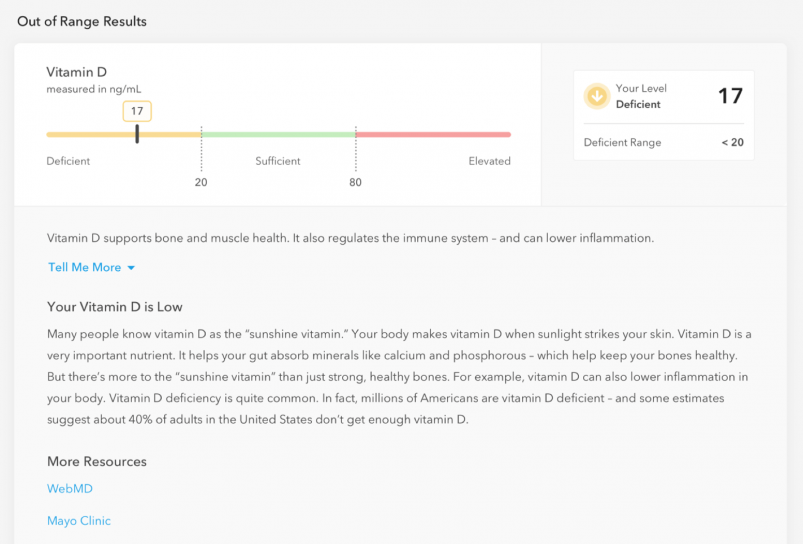 Now let's look at the specific markers that are tested and reported on for Everlywell's tests.
General Wellness Tests
These tests are designed to help you stay healthy, and many of them include recommendations for changing your lifestyle, diet, or vitamin intake. The tests are:
Food Sensitivity Test: Measures IgG reactivity to 96 foods
Food Sensitivity Comprehensive Test: Measures IgG reactivity to 204 foods
Heart Health Test: Measures total cholesterol, HDL, direct LDL, triglycerides, hs-CRP, and HbA1c
Cholesterol and Lipids Test: Measures total cholesterol, HDL, direct LDL, and triglycerides
HbA1c Test: Measures hemoglobin sugar levels
Lyme Disease Test: Measures IgG and IgM reactivity to three Lyme disease bacteria
Folic Acid Test: Measures folate (vitamin B9/folic acid)
B Vitamins Test: Measures vitamin B6, B9, and B12 levels
Heavy Metals Test: Measures levels of several environmental heavy metals and minerals (arsenic, mercury, cadmium, bromine, selenium, iodine, and urinary creatinine)
Sleep and Stress Test: Measures critical sleep and stress hormones (cortisol, cortisone, melatonin, and creatinine)
All of the tests require a finger-prick blood sample, except the Heavy Metals Test and the Sleep and Stress Test, both of which require a urine sample.
Energy + Weight Tests
These tests may be appropriate if you're feeling lethargic, having trouble sleeping, or experiencing unexpected weight gain or loss. Use them to identify the underlying problem and receive recommendations to get you back to normal. The tests are:
Thyroid Test: Measures main thyroid hormones (TSH, T3, and T4) plus thyroid antibodies
Metabolism Test: Measures hormones that can influence weight and energy (cortisol, free testosterone, and thyroid-stimulating hormone)
Vitamin D and Inflammation Test: Measures current levels of vitamin D and high sensitivity C-reactive protein
Vitamin D Test: Measures your current vitamin D levels
All tests require a blood sample, and the Metabolism Test also requires a saliva sample.
Men's Health Tests
There are two health tests aimed specifically at men, to help you understand your hormone levels and make lifestyle changes to gain muscle mass or get a good night's sleep.
Testosterone Test: Measures levels of free testosterone
Men's Hormone Test: Measures levels of cortisol, DHEA, estradiol, and free testosterone
Both tests require a urine sample.
Women's Health Tests
The women's health tests offer insights that may be important at various life stages, such as if you want to start a family or you see signs of aging. You may be more comfortable taking these sensitive tests at home rather than visiting a doctor:
HPV Test: Measures 14 high-risk human papillomavirus (HPV) genotypes
Perimenopause Test: Measures hormones that change with perimenopause (estradiol, luteinizing hormone, and follicle-stimulating hormone)
Postmenopause Test: Measures the main female sex hormones (estradiol and progesterone)
Women's Fertility Test: Measures hormones regulating ovarian function (estradiol, luteinizing hormone, follicle-stimulating hormone, total testosterone, and thyroid-stimulating hormone)
Women's Health Test: Measures levels of ten key female hormones (those mentioned in the Women's Fertility Test, plus progesterone, DHEAS, cortisol, free T3, free T4, and thyroid peroxidase antibodies)
Ovarian Reserve Test: Measures FSH levels (the hormone responsible for the growth and maturation of follicles)
The Perimenopause, Fertility, and Ovarian Reserve Tests require blood samples. The Women's Health Test requires both blood and saliva. The HPV Test requires a vaginal swab, and the Postmenopause Test requires a saliva sample.
Sexual Health Tests
If you're sexually active, it is important to get yourself tested for sexually transmitted diseases regularly. If you test positive, you can speak to a board-certified physician licensed in your US state at no extra cost. You may even be able to get a prescription.
Male STD Test: Tests for the most common STDs (chlamydia, gonorrhea, hepatitis C, herpes type 2, HIV, syphilis, and trichomoniasis)
Female STD Test: Tests for the most common STDs (chlamydia, gonorrhea, hepatitis C, herpes type 2, HIV, syphilis, and trichomoniasis)
Chlamydia and Gonorrhea Test: Tests for the presence of chlamydia or gonorrhea infection
Hepatitis C Test: Tests for exposure to hepatitis C virus
HIV Test: Tests for exposure to HIV
Syphilis Test: Tests for exposure to syphilis bacteria
Trichomoniasis Test: Tests for the presence of trichomoniasis
The Hepatitis C, HIV, and Syphilis Tests all require a blood sample. The Chlamydia and Gonorrhea Test, and the Trichomoniasis Test, both require a urine sample. The Male STD Test requires a blood sample and a urine sample. The Female STD Test requires a blood test and a vaginal swab.
Could Be Covered by Insurance, and You Can Save with a Subscription
Given the number of tests Everlywell offers, it should come as no surprise that there is a pretty big price range. The majority of tests can be taken for well under $100. However, some of the more comprehensive tests – like the Men's and Women's Health Tests, Men's and Women's STD Tests, and Food Sensitivity Tests – will run you a couple hundred dollars.
Since Everlywell accepts HSA/FSA payments, whether the tests provide good value could depend on your current insurance coverage. They could cost less than a visit to the doctor, especially when you factor in the inconvenience of having to attend an appointment.
For any test, you can make a one-time purchase or save money with a subscription on a monthly, quarterly, or semi-annual basis. Since you can only purchase tests in the US, all payments must be made in US dollars via PayPal or credit card.
Health & Wellness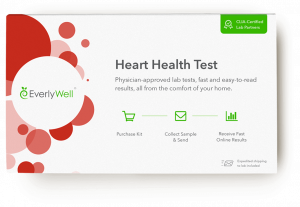 I Can't Complain About the Customer Service Experience
Everlywell's website does a good job of answering any questions you're likely to have. Every product page includes a specific set of frequently asked questions, and there is also a general (searchable) help page.
If you still have questions, you can contact the company by sending an email or submitting an online form (which is what I did):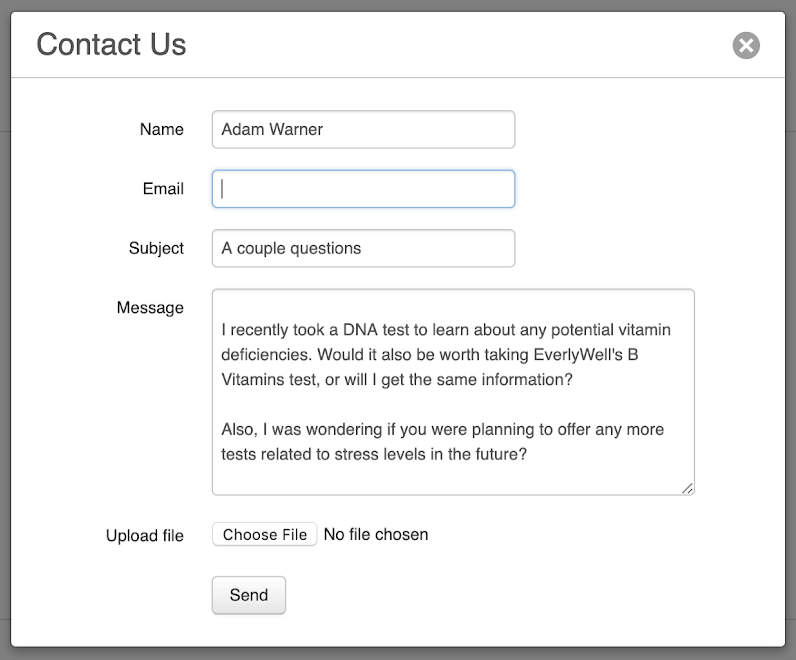 The customer support agent took only an hour to answer my question about whether it would be worth taking Everlywell's B vitamins test after having already taken a DNA test to learn about vitamin deficiencies. The answer was "yes" because Everlywell's tests look at your actual vitamin levels whereas a DNA test can only tell you if you're predisposed to being deficient. Overall, I couldn't have asked for a better customer service experience.
Don't Take Time Off Work, Take a Test at Home
Everlywell's tests are different from those provided by pure DNA testing companies such as 23andMe and AncestryDNA because some of the tests require a blood sample for additional health insights that can't be deduced from DNA alone. It's also different in taking only a few days rather than a few weeks to analyze your sample and send your results, which is important because this company could be telling you that you have a sexually transmitted disease or similar urgent condition that needs treatment.
In my opinion, self-testing services such as those provided by Everlywell are the future of healthcare. There's no need to schedule a doctor's appointment, take time off work, arrange childcare, and fight traffic, when you can take a test in the comfort of your own home. Professionals are on hand to prescribe a course of action or a course of antibiotics, as appropriate, and the support team can help you answer your more general questions about the products and process.
If you want to stay well, maybe you should choose Everlywell.
FAQ
Are Everlywell tests accurate?
A test with Everlywell is just as accurate as a test you would take at the doctor's office. Everlywell partners with CLIA-certified labs across the country, many of which conduct specialty testing. This means that your Everlywell sample could be analyzed at the very same lab that your physician would normally use anyway.
How long does it take to receive results from an Everlywell test?
Everlywell promises that all purchases will be shipped out within one business day of placing your order, and and will arrive to you within 3-5 business days. After you send your sample back to the lab, your results should be available online within 5 business days. However, keep in mind that Everlywell offers a large variety of tests – from hormone levels to vitamin deficiencies – and result times can vary. No matter which test you ordered, the turnaround is pretty fast.
Is Everlywell covered by insurance?
Your Everlywell test could be covered by insurance. It is one of few that accepts HSA/FSA payments. However, it is always best to check with your provider before making a purchase, as your insurance may require that your physician place the order.
How does Everlywell protect customers' privacy?
Due to the sensitive nature of some of Everlywell's tests, privacy and confidentiality are extremely important. When you place an order, your test kit will come in plain packaging. All lab testing is anonymous, which means your name is not seen by anyone running or analyzing results. Keep in mind that you do need to use your real name when you place an order, but your results will never be shared with anyone unless you make that decision. All customer data is encrypted and stored on a HIPAA-compliant platform.
What are the best alternatives to Everlywell?
As opposed to testing your genetic predisposition to certain health conditions, Everlywell analyzes your actual, current levels. LetsGetChecked offers many similar tests at comparable price points. Keep in mind that knowing your genetic predisposition can also be really helpful, allowing you to address potential or likely health issues before they actually become a problem. 23andMe and Vitagene are good options, in this regard.