2.5M Test Kit Customers Surely Can't Be Wrong!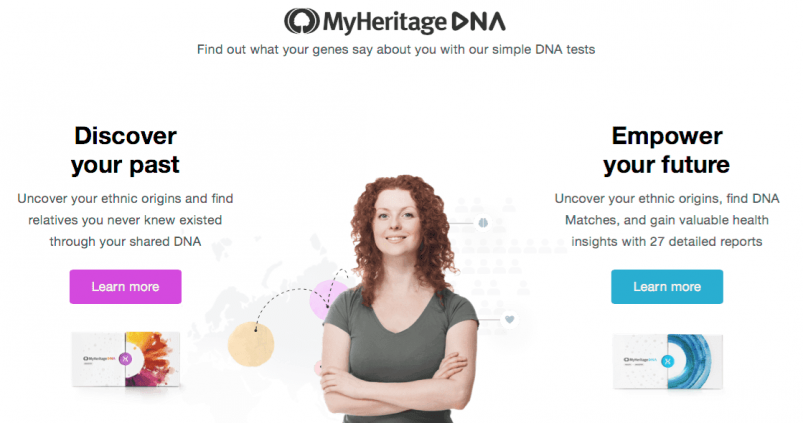 Ever since DNA testing services first became available, I'd wondered what they could tell me about my family history and my genetic disease risk. So, I decided to jump in and tried out the DNA testing service offered by MyHeritage. Unsurprisingly, it's called MyHeritage DNA.
Let's start with a bit of background. MyHeritage launched its DNA testing service about a decade after being founded as a genealogy service. It has sold more than 2.5 million test kits to date.
You can now buy an Ancestry test or a combined Health + Ancestry package. In this review, I explore both the ancestry and the health aspects, so that you have a complete picture to decide if MyHeritage DNA is the right at-home DNA test for you.
Taking the MyHeritage DNA Tests
So that I can tell you exactly how it works and what to expect, I took the test myself. Specifically, I took the combined Health + Ancestry test that provides the two sets of results.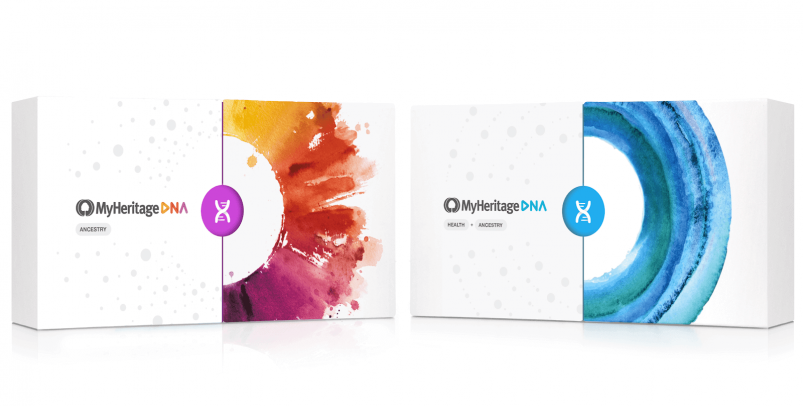 What's Inside the Box?
The DNA collection kit I received contained two cheek swabs, two vial (test tube) containers, a plastic envelope to package the containers for return, an unpaid return envelope, and a set of instructions: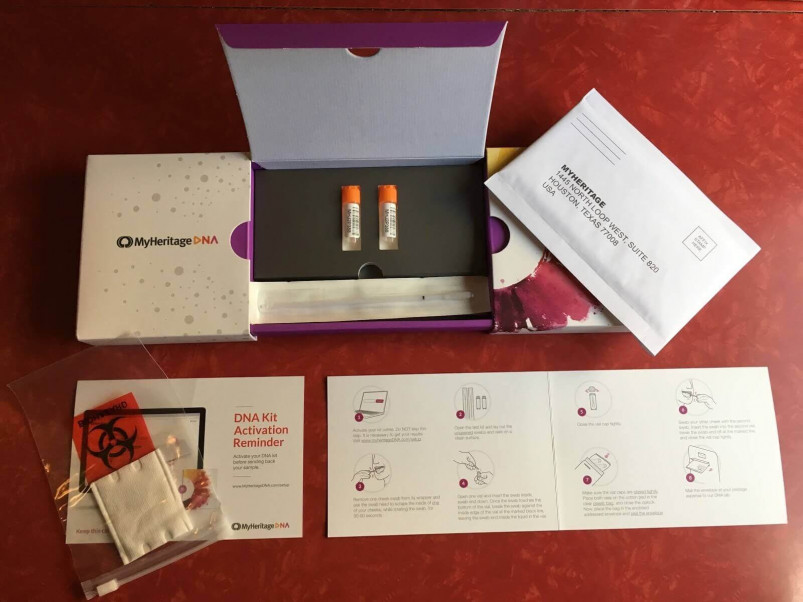 MyHeritage encourages you to register your kit as soon as you receive it. This involves creating an account and entering your test kit's unique code. You'll also be prompted to list everything you know about your parents and grandparents: their names, dates and places of birth, and dates of death (if relevant). This is so you can get a head start on building your family tree before your DNA results come through.
Collecting and Submitting Your Sample
Since detailed instructions are provided with the kit, I don't need to put them down in detail here (and it's probably not a good idea, in case they change).
In essence, the process is:
Don't eat or drink for 30 minutes before collecting your DNA sample.
Rub each swab against the inside of one cheek for 30-60 seconds.
Put the swabs inside the vials (as per the instructions).
Put the vials inside the plastic envelope, and put this inside the return envelope.
Post it back, but be aware that you'll have to pay the postage.

Waiting for Your Results
While waiting for your results, you'll receive lots of email updates, including subscription upsells and invitations to review MyHeritage's "Smart Matches," which are your potential relatives (based on its genealogy database, not your DNA):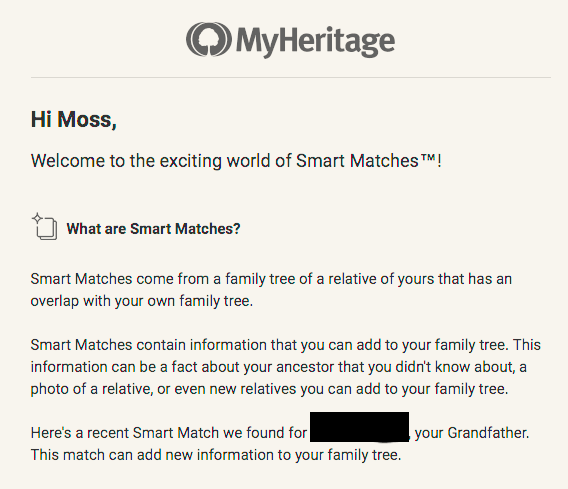 It took about two weeks for me to receive my results, which was much quicker than the three to four weeks advertised by MyHeritage. I could then view the reports on the MyHeritage website or via its mobile app.
You Get Quite a Bit, But You Get More if You Pay More
MyHeritage's Ancestry report is the same regardless of whether you order it alone or as part of the combined Health + Ancestry package.
Standout Features
Take one of the most affordable ancestry tests
Get relatively quick results
Find out where your ancestors came from
Learn what ethnicities are reflected in your genetic makeup
Discover long-lost relatives that are "hiding" in the branches of your family tree
Search one of the world's largest databases of users and historical records
Upload raw DNA data from another testing service for faster and cheaper results
Reading the Results
The ancestry report tells you what percentage of your ancestry comes from more than forty different ethnicities, populations, or regions of the world. You also get a long list of other people in the company's DNA database that you appear to be related to. If you pair your DNA test with MyHeritage's genealogy subscription service, you can add your DNA-matched relatives to your online family tree. Plus, you'll have access to MyHeritage's huge database of historical records.
Now let's look at the report I received. Although it took only two weeks to receive my results, I found them to be a little bit superficial, as you'll see. The Ethnicity Estimate showed me which regions my ancestors came from and what percentage of my DNA is associated with each: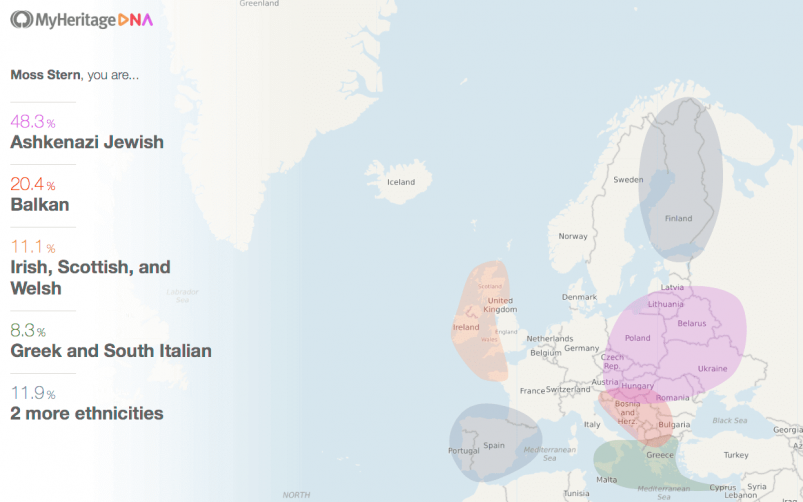 Now, here's the thing. My grandmother always told me that her great-great-grandfather, a Dutch naval officer, married an Indonesian woman while stationed in Java. This potential Southeast Asian heritage didn't seem to be uncovered by the MyHeritage results, despite both 23andMe and AncestryDNA detecting my more extensive genetic roots. Next, the DNA Matches section showed me how many of my close family members, extended family members, and distant relatives are in MyHeritage's database: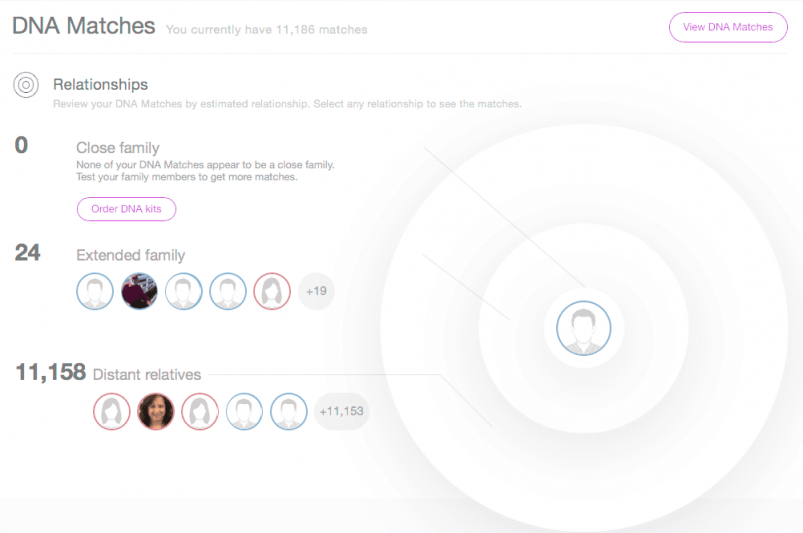 Digging deeper into these results, I could review the full list of 11,813 MyHeritage DNA customers who appeared to be genetically related to me: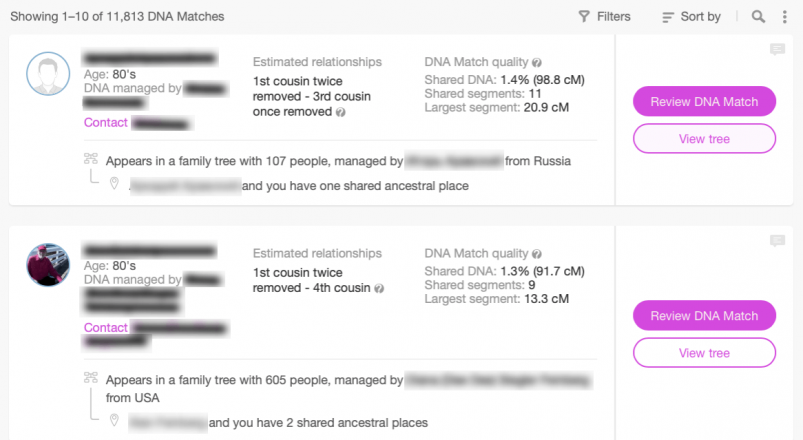 That's pretty much all you get with the MyHeritage DNA Ancestry report. You can get more with a paid subscription that lets you contact your DNA matches and merge your online family trees together. There is a free trial of the subscription service, but bear in mind that it will revert to a paid subscription at some point.
See MyHeritageDNA Ancestry Deals
Similar Tests to Consider
If you've already taken a DNA test with another vendor, you can upload your raw DNA data to MyHeritage for additional insights. How much value this will add, I don't know, because I already told you that MyHeritage seemed to miss my Southeast Asian heritage (which 23andMe and AncestryDNA both indicated). So, if you want a really detailed report, you might want to consider one of these competitor companies:
23andMe: Much more robust and detailed ancestry reports, including maternal and paternal lineages, Neanderthal heritage, but no genealogy capability.
Living DNA: Comparable to 23andMe in terms of content depth, but no Neanderthal heritage.
AncestryDNA: Similar ancestry reports to MyHeritage, including a genealogy capability. More accurate (in my opinion) but also more expensive.
Low Starting Price, Until You Add a Subscription
MyHeritage's DNA tests are available worldwide, except for Israel, and you can pay for them in your local currency via PayPal, credit card, wire transfer, or check. The base price of the Ancestry test is well below the sticker price of most other ancestry tests. However, it ends up being more expensive than most when you add the cost of a genealogy subscription that allows you to build an extended family tree and populate it with matches from MyHeritage's historical database.
The list price of the Health + Ancestry test is exactly the same as the similarly-named combo from 23andMe, but I feel that 23andMe's reports are more accurate and comprehensive.
Ancestry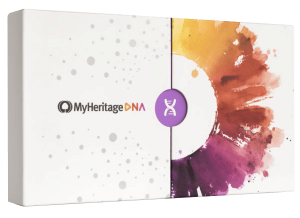 All's Well That Ends Well, but Not All Customers Would Agree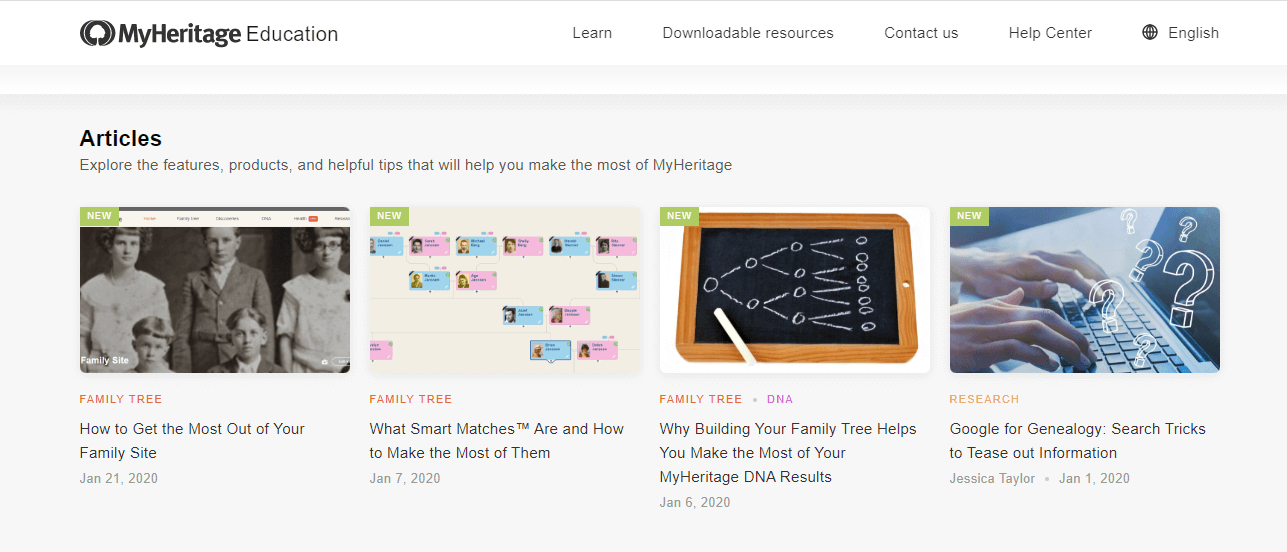 MyHeritage publishes a frequently asked questions page, which is pretty extensive. If you still can't find your answer, you can call the support phone number. There is also an online form for email support, but it isn't easy to find. I submitted a question to ask why the company charges to add matched relatives to a family tree, even though a 250-member family tree is included for free with a basic subscription.
I never received a reply. I asked the same question by telephone, but all the courteous support agent could tell me was that, "The company has to make money somehow".
A second question was answered via the online form, with a very helpful reply pointing me to some useful educational resources:
"Dear Mr. Stern,

Thank you for contacting us. My name is Ramona and I am happy to assist you.

I understand you would like to know if there are any online videos about how to collect and submit the DNA sample, or information about the Health or Ancestry reports.

We have different platforms where this information is available, I'll show you the most important ones:

This is a link to our Help Center with a video on how to use the DNA kit:

How should I use the DNA kit at home?

Furthermore, we recently launched an Education portal with more information and focus on what happens at the lab:

How DNA Testing Works. May I also recommend this blog post about how to navigate your MyHeritage DNA Health reports.

It contains a lot of useful and detailed information, I hope you'll find it interesting!

I hope this helps, Mr. Stern, however of course if you have any further questions, please feel free to reply to this email and I'll get back to you as soon as possible.

Wishing you a lovely Sunday."
Now, that's what I call a nice response! Some other customers have complained that MyHeritage automatically charged them for a full year's subscription (without their permission) when their one-month free trial ended.
Get Basic Results at Low Cost, or Build a Family Tree with a Subscription
MyHeritage is one of the main contenders in the DNA testing space, especially when it comes to genealogy. Its key advantage is that you can use its huge database to build an extensive family tree, but this requires you to sign up for a subscription. Aside from the family tree aspect, MyHeritage's basic DNA testing service gives you (for a lower price) roughly the same information as AncestryDNA but a lot less than 23andMe.
The Health + Ancestry report also costs a lot less, but provides fewer details than the comparable report from 23andMe. If you'd like to build a family tree from relatives matched through DNA, then you should sign up for MyHeritage's subscription today. Otherwise, you might consider the competitor companies.
FAQ
How accurate is MyHeritage?
In its ancestry report, MyHeritage compares your genetic sample to 42 different global populations in order to estimate your family's ethnicities, and some populations may not be very well represented. By contrast, AncestryDNA and 23andMe both compare your sample to more than 1,000 distinct global populations, allowing them to estimate your ethnicities with more precision.
As for MyHeritage's health report, the company looks for certain genetic markers known to be associated with an individual's risk of having certain diseases or passing them on to their children. MyHeritage is able to analyze these markers with accuracy, but the fact that you have certain markers doesn't mean you will get a particular disease, and the fact that you don't have those markers doesn't mean you won't get it. Your doctor can help you understand how relevant these findings are to your health.
Can you upload MyHeritage raw data to other vendor sites?
Once you've gotten your DNA results from MyHeritage, you can download your raw data. Many other DNA testing companies will allow you to upload these raw data, including LivingDNA, Family Tree DNA, Vitagene, DNA Fit, and GenoPalate. Once you've uploaded your raw data, these companies will give you their own DNA reports for little or no cost.
How many generations back does MyHeritage's reporting go?
MyHeritage's DNA reports trace your family's ancestry back seven generations. With each generation you go back, you share less DNA with each of your ancestors. By the time you go back seven generations, you share only 1% of your DNA with each ancestor. Going back any farther, any conclusions that can be drawn about your ancestry would be so inaccurate as to be worthless
How much does MyHeritage's services cost? (Any discounts?)
An ancestry test from MyHeritage DNA costs $79.00, among the least expensive tests of its type, and that price is often discounted. By way of comparison, ancestry tests from 23andMe and AncestryDNA cost $99.00.
The MyHeritage DNA's ancestry + health test retails for $79.00 and is also often on sale. AncestryDNA and 23andMe's ancestry + health tests cost $179.00 and $199.00, respectively.
Who should consider taking a MyHeritage test?
If you're interested in getting your DNA tested for a highly affordable price, MyHeritage DNA is one of your best options – especially when its DNA test kits are on sale, which happens frequently. But MyHeritage DNA's reports are less comprehensive than those of 23andMe, so think about what's most important to you – lower cost or a larger amount of information.
MyHeritage is also one of the few major players in the industry to combine its DNA tests with a genealogy subscription service, making it a good choice if you want to build an extensive online family tree and watch it grow. These subscription costs are also more affordable than those of its chief rival in this area, AncestryDNA.