The First Company To Offer DNA Testing For Ancestry
Although AncestryDNA and MyHeritage are the names that usually come to mind for using DNA to trace your family lineage, FamilyTreeDNA claims to be the first company to start offering direct-to-consumer DNA testing for ancestry, back in the year 2000. Unlike its two main competitors, it doesn't offer DNA testing for health, so you'll simply find three three test kits for ancestry:
The "Family Finder" autosomal ancestry test that traces both your family lines via autosomal DNA
The "Y-DNA" paternal ancestry test (only for men) that traces your father's ancient family line
The "mtDNA" maternal ancestry test (for either sex) that traces your mother's ancient family line
I was especially excited about taking the autosomal test to see if it was true – as my father always claimed – that I had Jewish roots. Let's see if he was right.
A Detailed Look at the "Family Finder" Ancestry Test
For this review, I took the Family Finder autosomal ancestry test, and I can tell you up front that it took longer than I expected to get from ordering my test to receiving my results.
Taking the Test
The test kit took around three weeks to arrive, but it was easy to use. The box contained two cheek swabs and two vials, a bag to place the vials in, a return envelope, an instruction booklet, and a registration form: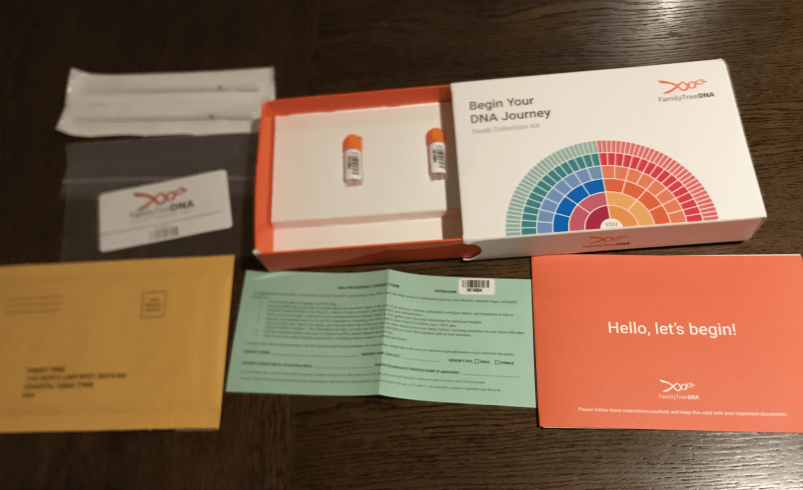 You just have to follow the instructions to swab your cheeks, swirl the swabs in the vials, seal them in the bag, then post back in the envelope provided.
You can check the progress of your test – that your sample has been received, that it's being analyzed, and that your results are available – on the FamilyTreeDNA website.
The whole process took more than two months. However, I give FamilyTreeDNA the benefit of the doubt here and put some of the blame on the slow postal service. It's called "snail mail" for a reason!
Reading Your FamilyTreeDNA Results
When the link to my results finally arrived, I could click the "myOrigins" section to see my ethnic breakdown presented on an interactive map: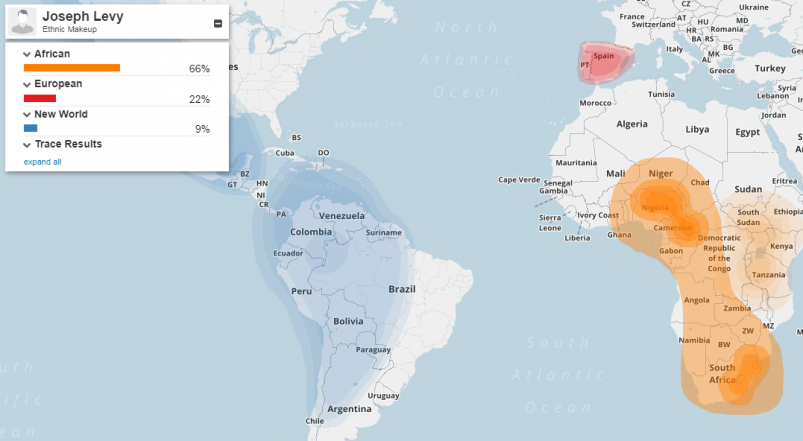 According to these results, my ethnic makeup is 66% African, 22% European (centered on Spain), and 9% from the New World (i.e., the Americas). I could dig down to see more details about my African, European, and New World origins: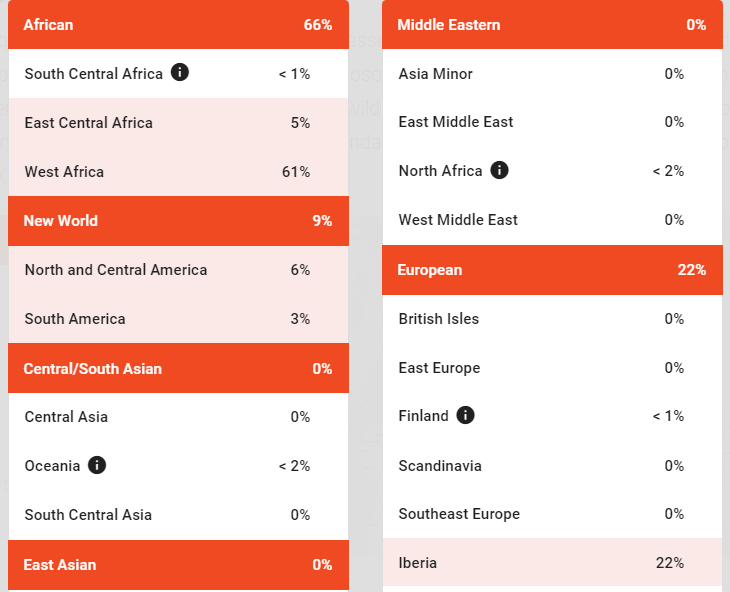 Most of this makes sense since my father is Jamaican (where many people went from West Africa), and my mother was born in the Dominican Republic (to where many Sephardic Jews were exiled from Spain in the 15th century). So FamilyTreeDNA has finally helped me solve the family mystery of my father always telling me that I had Jewish heritage.
Value Added Features
Accurate percentage breakdowns of your ethnic makeup
Additional historical background information about the regions your relatives came from
A long list of possible living relatives
Especially precise assessment of your probable ancient European heritage
The ability to compare matching segments of your DNA with genetic matches
Other FamilyTreeDNA Test Kits Available
Although I took FamilyTreeDNA's autosomal test, two others are available:
The Y-DNA test (for men only) analyses the DNA on the Y chromosome that is only passed down from fathers to sons. It allows you to trace the migration patterns of your male ancestors throughout history.
The mtDNA test (for either sex) analyses your mitochondrial DNA. This allows you to trace the migration patterns of your female ancestors throughout history.
Similar Tests to Consider
MyHeritage – probably the most comprehensive ancestry DNA tests available
AncestryDNA – an autosomal test with the benefit of having the largest DNA reference database on the market
23andMe – reports that cover more than 1,500 geographic regions
Separate Prices, Some Discounts, and Free DNA Data Upload
On the face of it, FamilyTreeDNA's pricing is simple enough, with separate prices for the Family Finder autosomal DNA test and the (more expensive) Paternal Ancestry Y-DNA and Maternal Ancestry mtDNA tests.
I would have welcomed a package price for all three, but this would be of no use to women who can't take the Y-DNA test. A further complication is that the Y-DNA price is only a "starting price" and there are two more (much pricier) options.
The price of the basic autosomal test was discounted at the time of this review, making it a better value. I could have saved even more money by uploading my raw DNA data from a previous test with another provider such as AncestryDNA, 23andMe, or MyHeritage. Uploading for basic results is free, but you have to pay a small fee to unlock all the features.
Payments can be made by major credit cards, PayPal, or (after contacting customer service) by US check or money order. There are no ongoing subscription costs, as far as I know.
My Experience Wasn't as Bad as Customer Complaints Suggest
Some customers have complained that FamilyTreeDNA's customer support is the worst, terrible, or extremely slow. Instead of just taking their words for it, I set out to see for myself.
For self-support resources, I found a comprehensive set of FAQs and a practically useless community forum.
When it came to communicating with an actual person, I never received an email response, but I enjoyed and informative conversation with a live chat agent: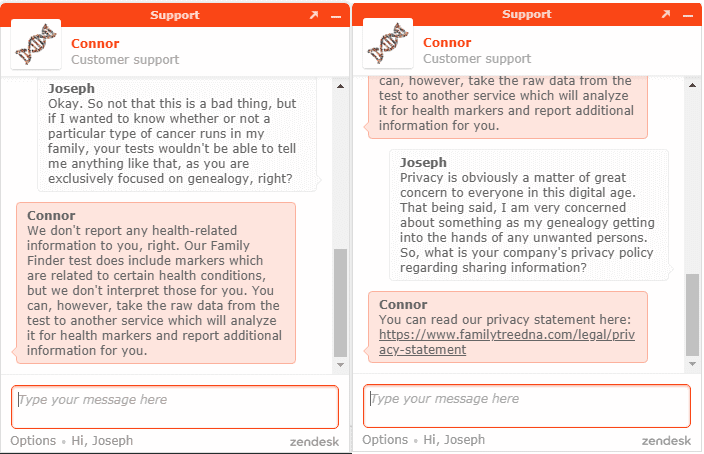 My assessment, therefore, is that FamilyTreeDNA's support is inconsistent.
Do One Thing, and Do It Well!
As just discussed, the bottom line on support is that it's inconsistent. But what about the other aspects of the service?
While I give FamilyTreeDNA some credit for being one of the longest-running companies for ancestry testing, it doesn't seem to have continued innovating in some areas. For example, this company doesn't provide DNA-based health insights (yet, at least). If you want to learn more about DNA test companies that do, you can read our in-depth reviews on MyHeritage and AncestryDNA.
That said, it's pretty much the "go-to" DNA testing company for ancestry, so maybe you should go there too if you're interested in discovering your origins and building your family tree.
FAQ
How accurate is FamilyTreeDNA?
FamilyTreeDNA has 20 years under its belt and claims to be the best in the industry. Being around for so long, it has one of the largest DNA reference databases in the industry and has a lot of experience in genetic testing. I took the test myself, and I can say based on personal experience that I found the results to be very accurate.
Can you upload FamilyTreeDNA to different vendors? (e.g., AncestryDNA)
If you've previously tested your autosomal DNA with AncestryDNA, 23andMe, or MyHeritage, you can upload that raw data to FamilyTreeDNA.
What is FamilyTreeDNA's privacy policy?
FamilyTreeDNA says that your DNA belongs to you and you alone. Your genetic information will, according to FTDNA, NEVER be shared or sold to any third party without your consent. I've read the privacy policy myself; and while it's pretty standard for the industry, it's still pretty airtight.
How much does a FamilyTreeDNA test cost?
FamilyTreeDNA's pricing is simple enough, with separate prices for the Family Finder autosomal DNA test (AU$112.20) and the (more expensive) Paternal Ancestry Y-DNA and Maternal Ancestry mtDNA tests. However, there are other tests that you can purchase, and the costs can quickly skyrocket to approximately $400 by the time you get to checkout. For example, the Y-DNA price is only a "starting price" and there are two more (much pricier) options.
Who should consider taking a FamilyTreeDNA test?
You should really consider this vendor if you want reliably accurate DNA test results for your European ancestry, including Jewish ancestry. However, you might want to look at other companies if you're looking for insights into Asian or African Ancestry. It's not that FTDNA doesn't cover these broad regions in its analysis; it's just that other vendors have a better (more specific) focus on these areas, such as MyHeritage and AncestryDNA.