Covid-19 vaccines have taken center stage in recent months. Mass vaccination programs are underway, and billions of people are now pinning their hopes for the future on the success of a global rollout.
In many ways, the world we live in now is very different to just last year.
Vaccination offers the best chance of a return to normal life, and a huge responsibility falls upon the shoulders of vaccine manufacturers. With this added pressure comes publicity, and scrutiny. Pharmaceutical companies are now household names, and data from coronavirus vaccine trials is publicly published, analyzed, and critiqued by health experts and journalists alike.
In stark contrast, an endless supply of fake news and rumors, fueled by a fear of the unknown, has diluted public belief in vaccination programs. This complete guide aims to cut through this fog of misinformation and provide you with all of the available facts on Covid-19 vaccines.
In this extensive guide, you'll learn everything about Covid-19 vaccines – from high-profile vaccine candidates, to the wider issues and talking points surrounding immunization campaigns.
The Rapid Development of Covid-19 Vaccines
Normally, the development of a vaccine is a long, drawn-out process that can take between 10 and 15 years. Early in the pandemic, many people feared that even with a streamlined development, vaccines would take 3 or 4 years to arrive. Yet just 6 months into the pandemic, the world saw its first vaccine candidate.
The incredible pressure of the pandemic made this triumph possible. Whilst all of the same rigorous safety requirements have been met, the submittal, analyses, and review of evidence for Covid-19 vaccines has become a hugely accelerated operation.
Vaccines generally undergo 3 phases of testing on their route to approval.
Phase 1 includes a small group of just a few human subjects, to make sure the vaccine is safe enough to move onto
Phase 2 It's here that vaccines will be given to a slightly larger group, often including anywhere from a few hundred to a few thousand people. People in Phase 2 have an array of physical characteristics, and the tests are aimed at gathering more activity data on the vaccine.
Phase 3 is the final stage of testing. Large-scale trials are conducted on tens of thousands of participants across multiple countries. Phase 3 determines whether the vaccine is ultimately effective, and safe.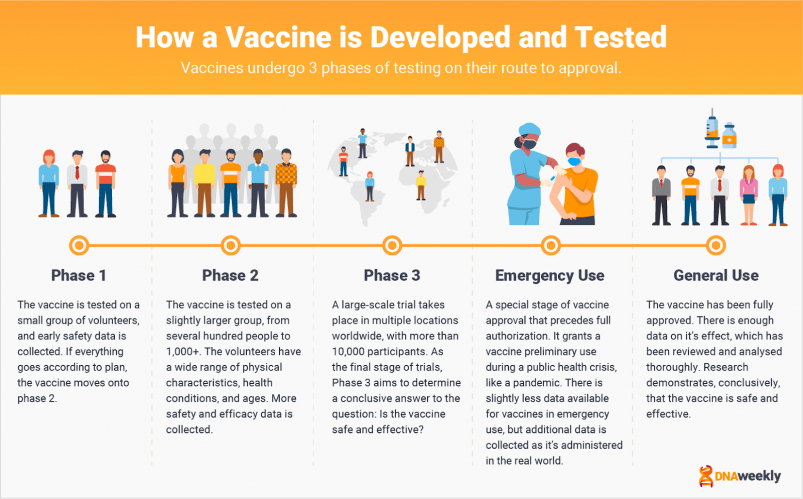 Despite this rigorous testing regime for Covid-19 vaccines, there are still plenty of skeptics.
Anti-vaxxers are a group that rejects the idea of receiving a vaccine altogether. They often believe vaccines are unsafe, or that taking a vaccine is an impeachment of their human rights or religious beliefs.
There's also a lot of misinformation about vaccines, and several unfounded conspiracy theories have gained traction on social media since the pandemic began. Covid-19 anti-vax accounts have been boosted by millions of new followers, and in a study conducted within the UK in early 2021, 1 in 6 people said they wouldn't take the vaccine.
There are four different types of Covid-19 vaccine currently available, based on both traditional methods and modern techniques.
Inactivated vaccines are well-known. These jabs use weakened forms of the virus to recruit an immune response.
Protein vaccines deliver important fragments of coronavirus to the body.
Viral vector vaccines teach the body how to protect itself by delivering instructions in a harmless carrier virus.
mRNA vaccines use the most advanced vaccine technology available. mRNA (or RNA) stands for 'messenger ribonucleic acid'. These vaccines, like vector vaccines, deliver instructions to the body on how to tackle the virus. They do this through messaging a genetic code, copied from the virus, in a single-stranded ribonucleic acid (RNA) molecule. Though, like all of the vaccines above, this vaccine won't change your DNA or give you Covid-19. It simply triggers an immune response.
Another development in the pandemic is the emergence of new coronavirus strains.
Though this is a relatively normal occurrence for a virus, the new strains have been linked with reducing efficacy in some vaccines. Two main mutations, B.1.1.7 (commonly known as the 'UK Kent' variant) and B.1.351 (or the 'South African' variant) are both characterized by an increase in transmission, compared to the original virus.
The Top 5 Covid-19 Vaccines Explained
Five Covid-19 vaccines have gained widespread publicity, and we'll be covering each of these candidates in-depth.
Interestingly, different vaccines are dominating the market on different sides of the world.
In the West, Moderna, Pfizer-BioNTech, and Oxford/AstraZeneca are the vaccines of choice. In the East, China's Sinopharm vaccine tops the pile, and Russia hopes to access both markets with its Sputnik V candidate.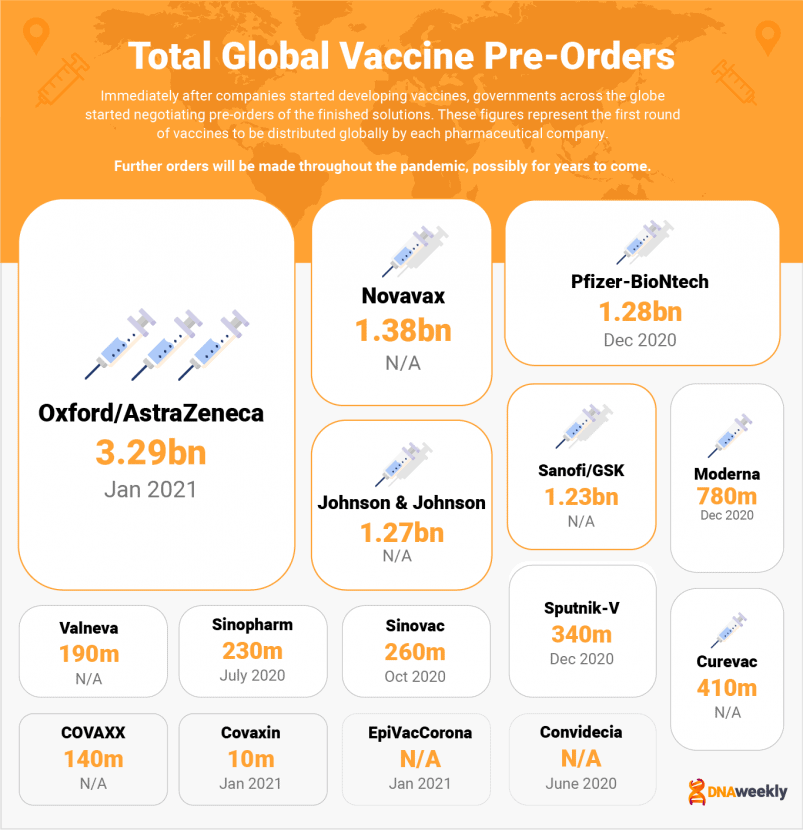 This guide also contains a brief explanation of other vaccines currently in use, such as CoronaVac, CanSino's 'Convidecia,' EpiVacCorona, and India's Covaxin. We also take a look at highly anticipated projects like Novavax, Johnson & Johnson, CureVac, Valneva & Sanofi.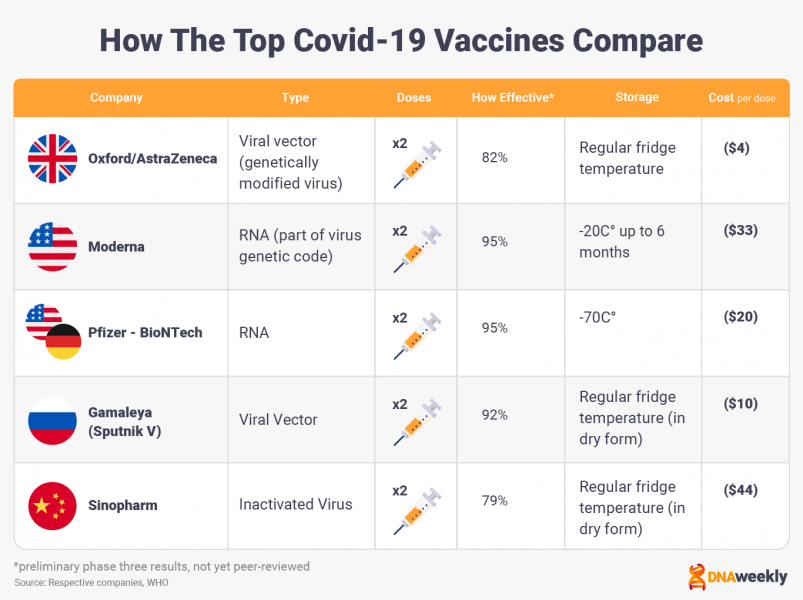 Pfizer-BioNTech
In January 2020, German pharmaceutical company BioNTech began work on a Covid-19 vaccine candidate. Initial research looked into the capability of an innovative new technology, and the following March, BioNTech announced that it would partner with New York based Pfizer to accelerate development. By May, Pfizer-BioNTech had a named contender that was entering into phase 1 trials.
The vaccine's official name is 'Comirnaty' and uses a state-of-the-art technology called 'mRNA.' This advancement gives Pfizer's covid-19 vaccine an advantage in efficacy over more traditional vaccines, like the Oxford/AstraZeneca option.
In November 2020, Phase 3 tests were completed on over 44,000 participants. Pfizer announced that its vaccine was over 90% effective, the first in the world to achieve this feat. Subsequent reviews proved its efficacy at 95%, the best of any current candidate. With billions of doses now in production, Pfizer's vaccine is undoubtedly one of the top Covid-19 vaccines available.
Basic Info
Developer(s)
Pharma companies Pfizer (USA) and BioNTech (Germany)
Vaccine official name:
Comirnaty
Vaccine Type
RNA
Doses
2
Efficacy
95% (based on 44,000 trial participants)
Storage
Freezer (–94°F/–70°C)
Cost per Dose
$20
How it Combats Covid-19
Reduces Symptoms
Yes
Prevents Infection
No
Reduces Transmission
Potentially (studies underway)
Side effects
Mild: short-lived fatigue, fever, and muscle aches.
Availability
Initial release
Dec. 8, 2020
Approved for use (as of March 2021)
APPROVED FOR GENERAL USE:

Bahrain, Saudi Arabia, Switzerland.

EMERGENCY USE:

Argentina, Australia, Canada, Chile, Colombia, Costa Rica, Ecuador, European Union, Iraq, Jordan, Kuwait, Lebanon, Malaysia, Mexico, New Zealand, Oman, Panama, Qatar, Serbia, Singapore, Tunisia, United Arab Emirates, United Kingdom, United States.

Projected Rollout
2 Bn doses by the end of 2021
What is 'Emergency Use'?
'Emergency use' refers to the stage of authorization preceding full authorization. A special status that grants a vaccine preliminary use during a pandemic.
How the Pfizer-BioNTech Vaccine Works
Comirnaty is administered to patients over two doses, three weeks apart, and through a muscle injection. As mentioned, Pfizer's vaccine uses mRNA technology (often referred to as RNA).
mRNA vaccines are the most recent development in vaccine technology. Messenger RNA technology teaches your body how to protect itself from Covid-19 by delivering a very important genetic sequence to the body's cells – a sequence copied from the 'spike proteins' of the coronavirus.
These proteins are like keys that jut out from the edge of Covid-19 cells. While teaching your body how to make viral proteins cannot give you Covid-19, it's extremely important to show the body how to construct them – so it can find the right 'lock' to fight off infection.
The mRNA instructions are injected along with a lipid nanoparticle to transport them. Once the nanoparticles are attached to some of the body's cells, the mRNA sequence is absorbed inside. These cells reproduce Covid-19 proteins and display them.
The body recognizes these proteins and triggers an immune response to fight what it believes is an infection. Now that the body has had a preview, it creates antibodies to prepare for future coronavirus infections.
The vaccine can provide 90% protection by 21 days after the first dose, which increases after the second.
This explains why some people have reported catching severe Covid-19 in the days after vaccination – protection is not complete until after the second dose. Patients should be aware that efficacy is lower until roughly 10 days after the second jab.
Due to a lack of long-term data, we currently don't know the length of immunity achieved with the Pfizer-BioNtech Covid-19 vaccine.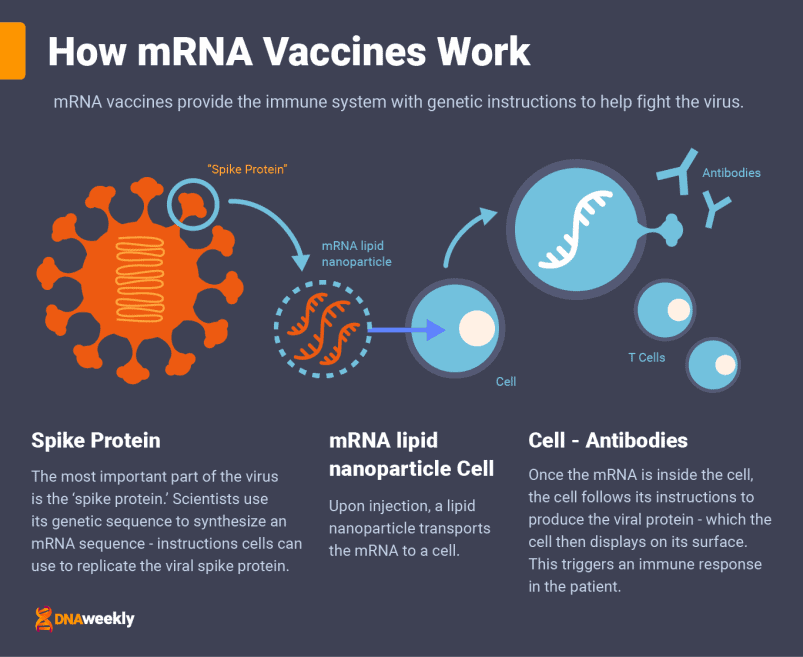 Pfizer-BioNTech Vaccine Side Effects
Current data demonstrates that the Pfizer-BioNTech vaccine causes no serious short-term side effects. Any side effects are extremely mild compared to other vaccines, and after two doses patients may experience short-term fatigue, fever-like symptoms, and muscle aches.
Despite these findings, many vaccines (including Pfizer-BioNTech) have reported severe reactions in patients with medical allergies, vaccine allergies, or other serious allergic conditions. While this is a rare occurrence, anyone getting the vaccine is monitored by a healthcare professional for 15-20 minutes after treatment just in case. This is a precautionary measure, to make sure no adverse effects develop.
If you have been infected by Covid-19, you should also defer from taking the Pfizer vaccine for at least 28 days after you stopped displaying symptoms, or after your self-isolation period is complete. However, this figure is different in some countries so check with your local authorities.
Pfizer-BioNTech Vaccine Availability
On December 2nd, 2020, the United Kingdom granted Pfizer's jab 'emergency authorization,' the first of any country to do so. This classification meant the vaccine could be used publicly during the pandemic.
The first doses were administered 6 days later, when grandmother Margaret Keenan became the first person in the world to receive the Pfizer-BioNTech Covid-19 vaccine as part of a mass vaccination program. The UK's approval sparked a chain of authorizations across the world.
On Friday, December 11th, 2020, Pfizer-BioNTech's product was inoculated as the first jab in the USA's huge vaccination program. On December 24th, Chile administered the first doses in South America, and on December 30th, the first Pfizer vaccine in Asia was administered.
As of February 2021, over 25 states have approved the vaccine at some level, including validation from the WHO. This popularity looks set to continue, and Pfizer is promising 2 billion doses of its vaccine, worldwide, by the end of 2021.
Pfizer-BioNtech Vaccine Pros & Cons
Pros
Cons

Very high efficacy
Lots of research to prove it's safe
Effective against the UK Kent variant
Huge global production
Cutting-edge technology

Very hard to store. Must be kept at -70 degrees Celsius
Expensive – but still cheaper than some other vaccines
Not as effective against the South African variant
Pfizer-BioNTech Vaccine FAQs
What are the ingredients in the Pfizer-BioNTech Covid-19 vaccine?
The Pfizer vaccine contains synthetically produced elements, as well as natural substances.
Among these are a number of inactive ingredients: phosphate, sodium chloride, potassium chloride, monobasic potassium, dibasic sodium, phosphate dihydrate, and sucrose, as well as some traces of other ingredients.
Can the Pfizer-BioNtech vaccine cause people to develop Covid-19?
No, it does not. In fact, mRNA technology means that no live virus is present. The vaccine simply gives instructions to replicate one small part of the Covid-19 DNA.
Do mRNA vaccines change a person's DNA?
No, this is not true. RNA vaccines cannot combine with the body's DNA. Unlike a traditional vaccine, which contains inactivated versions of the virus, mRNA merely delivers a message to the body and is then destroyed.
Does the vaccine cause infertility?
There is no evidence to suggest the vaccine causes infertility, despite common (and incorrect) claims that the short 'amino acid sequence' in mRNA vaccines is shared with placenta, and thus interferes with it.
In reality, there's quite a distinction between these two sequences, and any effects between them are extremely unlikely.
Despite this presumption, pregnant women should consult a qualified healthcare professional before taking any of the available vaccines.
What about allergies and the Pfizer-BioNTech Covid-19 vaccine?
Pfizer-BioNTech has not tested its vaccine on people who are sensitive to serious allergic reactions, as per the advice of the CDC. However, no one involved in testing for Pfizer reported any serious allergic effects.
Following the mass rollout of the Pfizer-BioNTech Covid-19 vaccine, there has been a tiny number of allergic reactions. The majority of reactions in people with allergies occurred within 30 minutes of vaccination, and most of these reactions were in female candidates.
Symptoms include generalized urticaria, wheezing, swelling of the lips or throat, nausea, and a rash. These effects are constantly being monitored by Pfizer, and individuals with a history of allergic reactions should be observed by a healthcare professional for at least 20 minutes after injection.
When will Pfizer-BioNTech share more information about vaccinating those in younger age groups (12-15 and 16-17 years of age)?
Though initial tests did not include younger age groups, Pfizer-BioNTech eventually started a smaller trial with around 1,000 12-15 year-olds enrolled. More participants will be enlisted after this group has received its second dose, and all data will be released once the analysis is complete.
In the meantime, in February 2021, Israel announced the Pfizer-BioNTech would be made available to people aged 16 and over.
Will I need a booster jab of the Pfizer-BioNTech vaccine every year?
Until there is some more data, taken over an extended period of time, we simply do not know how long immunity from the vaccine will last. Many general vaccines require booster jabs every year or every few years, and some vaccines can provide immunity for an entire lifetime. It all depends on how our bodies react to the treatment.
How do I obtain or purchase the Pfizer-BioNTech vaccine?
The Pfizer-BioNTech vaccine is not for private sale. However, you may be able to receive a jab through your government's vaccination program. Refer to our 'basic info' section to see if Pfizer is approved in your nation, or ask a civil representative to find out if it's administered in your area.
Did you know?
Pfizer-BioNTech has studied the effects of its vaccine on 1.2 million Israeli citizens, finding a 'real world' efficacy of 94%. This was maintained in every age group, including the 70+ category.
Oxford/AstraZeneca
British-Swedish biotech company AstraZeneca, in conjunction with the University of Oxford, has designed a Covid-19 vaccine that demonstrates a good level of efficacy. Crucially, the vaccine (also known as AZD1222) is easier to store than some other top candidates, with fridge storage preferred over extra-cold freezers.
The vaccine has been in development since the early months of the Covid-19 pandemic. After posting encouraging safety data in November 2020, its Phase 3 tests resulted in strange findings – lower doses were found to provide greater immunity, and efficacy data was all over the place, from 60% to around 90%.
It soon became clear that the unreliable data was the product of a mistake.
Lower doses had been administered by accident, and only to patients under the age of 55. Rumors of ineffectiveness have been dispelled, with a vast rollout of the vaccine, and a re-trial in February 2021, demonstrating 82.4% efficacy. The Oxford/AstraZeneca vaccine can also limit transmission by 67% – a huge benefit compared to other Covid-19 vaccines.
Basic Info
Developer(s)
Oxford Uni (UK) and pharma company AstraZeneca (Sweden)
Vaccine official name:
AZD1222
Vaccine Type
Viral Vector
Doses
2
Efficacy
82.4% (based on 17,177 trial participants)
Storage
Refrigerator (2°C – 8°C) for up to 6 months
Cost per Dose
$4
How it Combats Covid-19
Reduces Symptoms
Yes
Prevents Infection
No
Reduces Transmission
Yes
Side effects
Mild or Moderate: injection site pain and flu-like symptoms
Availability
Initial release
Jan. 4, 2021
Approved for use (as of March 2021)
APPROVED FOR EMERGENCY USE:

Algeria, Argentina, Bangladesh, Bhutan, Brazil, Chile, Dominican Republic, Egypt, El Salvador, European Union, India, Maldives, Mexico, Mongolia, Morocco, Nepal, Pakistan, South Africa, United Kingdom.

Projected Rollout
2m doses per week in 2021
How the Oxford/AstraZeneca Vaccine Works
Oxford/AstraZeneca's Covid-19 vaccine is a 'viral vector' vaccine, administered over two doses, 8-12 weeks apart, and through a muscle injection.
To create a viral vector vaccine, scientists take important 'spike proteins' from a coronavirus cell, and then place them onto a carrier virus. This carrier is often a weakened form of a common cold, known as an adenovirus. In this case, Oxford/AstraZeneca used 'ChAdOx1,' an adenovirus taken from chimpanzees.
The adenovirus transports proteins from Covid-19 into the body. These are only small fragments of coronavirus, and the adenovirus is designed so that it cannot replicate and cause infection. Once administered, cells in the body absorb the altered common virus, breaking each sample apart.
Cells read the genetic sequence of the Covid-19 spike proteins, and they display these corona-like fragments on their surface. This prompts an immune response from the body.
The viral protein is like a 'key' that is unique to Covid-19. Its presence means the patient's body can prepare for any future infection, by producing the correct antibodies to deal with the virus.
Oxford/AstraZeneca vaccine provides immunity after 21 days of the first dose, and this increases after the second (taken after 8-12 weeks). This explains how vaccinated individuals can contract severe Covid-19 in-between doses, or shortly after their second dose. Protection is not complete until roughly 10 days after the second dose, and patients should be aware that proper protection does not begin instantly after vaccination.
As of February 2021, it is unknown how long this immunity lasts, due to a lack of long-term data.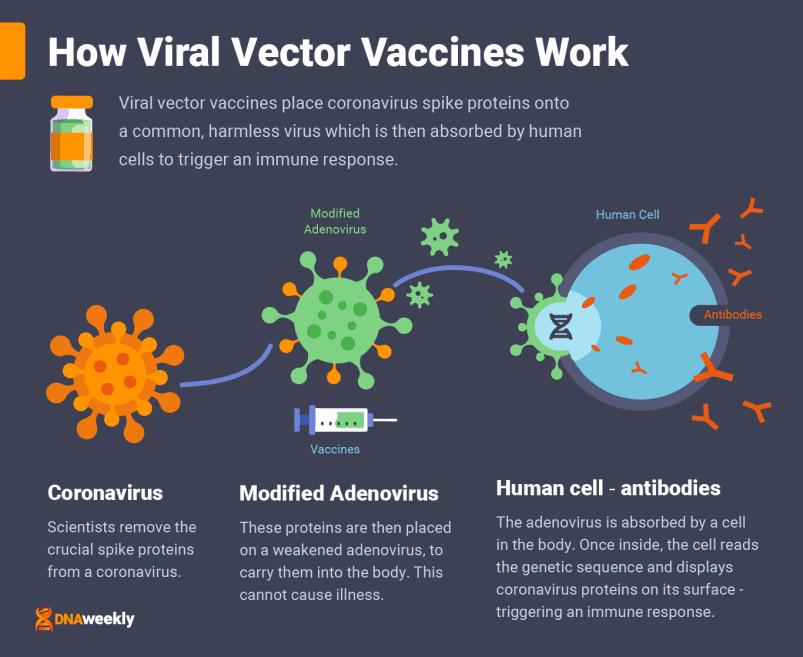 Oxford/AstraZeneca Vaccine Side Effects
The Oxford/AstraZeneca vaccine produces mild or moderate side effects. Symptoms include tenderness in the injection site, fatigue, chills, fever, nausea, muscle ache, and a general feeling of illness.
As of February 2021, there are no reports of severe allergic reactions to the Oxford/AstraZeneca vaccine.
In some countries, patients with a history of severe allergic reactions are not even required to wait after their jab. That being said, persons who suffer intense allergic reactions, medical-related, vaccine-related, or otherwise, should seek the advice of a medical professional before taking the vaccine.
To avoid a late onset of symptoms, or worsening of coronavirus symptoms, individuals who have been infected with Covid-19 should wait at least 4 weeks from the conclusion of symptoms before receiving the Oxford-AstraZeneca vaccine. This policy may be enforced in some nations, and the length of time may differ.
Oxford/AstraZeneca Vaccine Availability
After a lengthy build-up, Oxford/AstraZeneca's vaccine was eventually approved by the healthcare regulator MHRA on December 30th, 2020. On January 4th, 2021, Oxford's vaccine began rolling out in the UK, with 82-year-old Brian Pinker as its very first patient.
Elsewhere, the EU has ordered a huge shipment for the Oxford/AstraZeneca vaccine. Once approved, the EU expects around 31 million doses by the end of March 2021. However, the shipment was meant to contain some 80 million doses, but production at AstraZeneca has fallen behind schedule.
In the United States, Oxford/AstraZeneca expects the vaccine to be approved in April 2021, when it will come up for discussion by the Food and Drug Administration (F.D.A.) So far the vaccine has been approved in some capacity by over 20 countries.
Oxford/AstraZeneca Pros & Cons
Pros
Cons

The cheapest vaccine available
A proven technology
Early evidence suggests it could prevent transmission
Safe and effective
Easy refrigerator storage
Efficacy against the UK Kent strain

Logistics problems – with huge orders, AstraZeneca is falling behind
Lower efficacy than some other vaccines
Poor efficacy against the South African strain
Still awaiting full authorization
Oxford/AstraZeneca Vaccine FAQs:
Is the Oxford/AstraZeneca Vaccine Safe?
The Oxford/AstraZeneca vaccine has gone through rigorous testing, conducted on tens of thousands of participants from a diverse range of cultural settings.
The results of these trials have been reviewed in-depth by the Medicines and Healthcare products Regulatory Agency (the MHRA). In total, data for more than 23,000 trial participants has been analyzed.
The MHRA considered these results satisfactory and deemed the Oxford/AstraZeneca vaccine safe to use.
Will I need a booster jab every year?
There isn't enough long-term immunity data to confidently answer this question. However, most viral vector vaccines provide immunity for about 1 year, and sometimes much longer.
How does the Oxford-AstraZeneca vaccine compare to other vaccines in terms of efficacy?
Though initial data positioned Oxford's efficacy at around 60-90%, subsequent trials have revealed an efficacy of 82.4% for two jabs administered 8-12 weeks apart. This is significantly higher than the WHO's minimum requirements.
The data shows that the jab is very effective when compared with other vaccines. In fact, the Oxford/AstraZeneca vaccine is more effective than your average flu jab.
How do I obtain or purchase the Oxford/AstraZeneca vaccine?
You cannot privately purchase Oxford/AstraZeneca's vaccine, though you may be able to receive a jab through your government's vaccination program. Refer to our 'basic info' section to see if Oxford/AstraZeneca is approved in your nation, or ask a civil representative to find out if Oxford is administered in your area.
Did you know?
In hope of a swift delivery of 400 million doses, the United States of America pledged more than $1 billion to AstraZeneca in May 2020. Subsequent delays to Oxford/AstraZeneca's program have therefore angered US officials.
Moderna
The Moderna Covid-19 vaccine, officially known as mRNA-1273, uses the same cutting-edge RNA technology that can be found in Pfizer's vaccine.
Moderna is a private pharmaceutical company based in the United States. In early 2020, Moderna initiated research into a Covid-19 vaccine. After finding encouraging efficacy data in primates, Moderna's candidate began trials in March, and an additional phase 3 study started in July.
By November 2020, an interim analysis of phase 3 results demonstrated an impressive efficacy of 94.5% – far higher than scientists anticipated. This was confirmed by a vast rollout across the USA in 2021.
Studies backed by the US government are now generating compelling results. And with an easier storage temperature than many other mRNA vaccines, Moderna is an accessible option in the fight against coronavirus.
Basic Info
Developer(s)
Pharma company Moderna (US)
Vaccine official name:
mRNA-1273
Vaccine Type
RNA
Doses
2
Efficacy
94.5% (based on 30,000 trial participants)
Storage
1 month in a refrigerator (2°C – 8°C) , 6 months at –4°F (–20°C)
Cost per Dose
$33
How it Combats Covid-19
Reduces Symptoms
Yes
Prevents Infection
Potentially
Reduces Transmission
No
Side effects
Mild to moderate: fever, chills, tiredness, and headache
Availability
Initial release
Dec. 2020
Approved for use (as of March 2021)
APPROVED FOR GENERAL USE: Switzerland.

EMERGENCY USE: Canada, European Union, Israel, Singapore, United Kingdom, United States.

Projected Rollout
600m doses per year
How Moderna's Covid-19 Vaccine Works
Just like Pfizer-BioNTech's candidate, Moderna's vaccine is based on messenger RNA and is administered over two doses through a muscle injection.
At 28 days apart, there's an additional 7 days between doses compared to Pfizer's, and doses are much larger: 100 milligrams compared to 30 milligrams. This doesn't necessarily mean Moderna's candidate is more effective, however.
RNA (or mRNA) vaccines store a genetic sequence from a virus in single-stranded RNA. In the case of Moderna's vaccine, this 'genetic sequence' is an exact copy of the sequence used in the 'spike proteins' of coronavirus.
Moderna wraps the mRNA sequence in a lipid nanoparticle. This is a substance with an oily texture, designed to protect the fragile RNA upon injection. Once this solution is administered to the patient, the nanoparticles collide with cells in the body and attach to them, releasing the mRNA sequence inside.
Cells read this information, and subsequently produce an exact copy of the sequence. Viral spike proteins, just like the ones in coronavirus, are created. This is the part of coronavirus our body needs to produce antibodies, and fight off future infection.
The cells display the coronavirus-like proteins on their surface, prompting an immediate immune response. This is just the simulation of an infection – no live coronavirus cells are present, and you cannot catch the virus from this process. Eventually, the left-over mRNA is destroyed, leaving no permanent trace of the vaccine or effects on the patient.
Though we do not know conclusively how long immunity lasts, Moderna has stated that its vaccine provides immunity for at least 4 months.
A number of people, having received their COVD19 vaccination, reported coronavirus infection in the days following their second dose. Moderna says that protection is not at full potential until two weeks after the second dose, and patients should keep this in mind after treatment.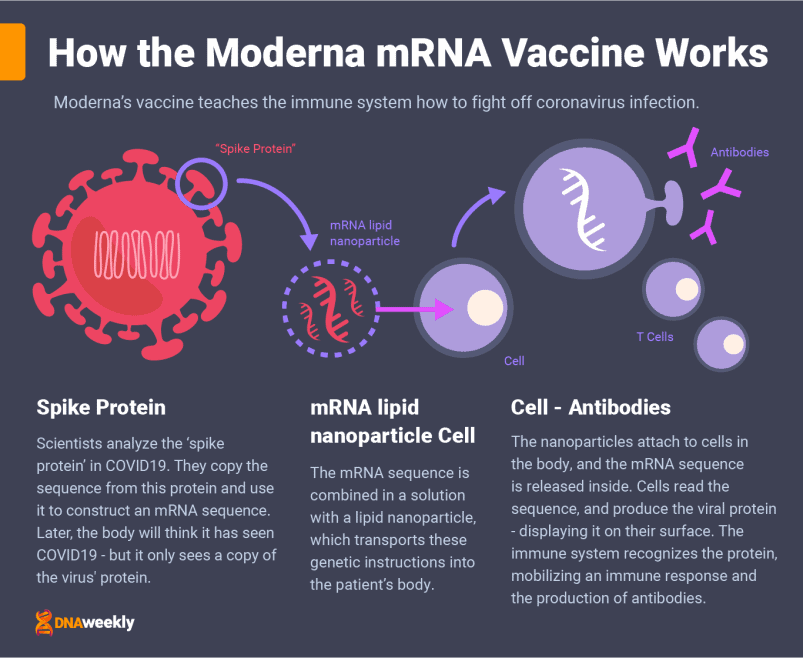 Moderna Vaccine Side Effects
Evidence gathered from trials demonstrates that most short-term side effects were mild to moderate, and most occurred within seven days of vaccination.
Side effects include: headache, fever, chills and fatigue, and these effects are more common/severe after the second dose of Moderna's candidate.
Intense allergic reactions with Moderna's vaccine are extremely rare – even more so than many other vaccines.
However, a small number of allergic reactions have occurred with a handful of people requiring hospitalization. Pruritus, rash, itchiness in the mouth, as well as the throat, and respiratory problems, are all reported symptoms. People with a history of severe allergic reactions should be monitored by a healthcare professional for 20 minutes after receiving the Moderna Covid-19 vaccine, as a precautionary measure.
To avoid any additional effects, patients with Covid-19, or who have had Covid-19, may need to defer from taking the jab for a period of 6 months since Covid-19 symptoms ended. This is a requirement in some countries, and the length of time may be variable.
Moderna Vaccine Availability
Moderna's candidate is already widely available throughout the United States for emergency use. The rollout has been impressive with Moderna expecting to have administered 100 million doses by the end of March 2021.
The vaccine's remarkable success has, unsurprisingly, sparked a surge of interest from other countries. The EU has granted the vaccine 'conditional marketing authorization' – a preliminary authorization that means Moderna's benefits outweigh its risks. This is likely to be upgraded in the coming months.
The UK has also granted the vaccine emergency use, along with Canada, Israel and Singapore. As of February 2021, Switzerland is the only nation to fully approve the vaccine for general public use.
Moderna has confirmed orders from more than 12 nations, including a 50 million dose preorder from Japan, a 40 million dose order from Canada, and a 160 million dose order from the European Union.
Moderna Vaccine Pros & Cons
Pros
Cons

The only vaccine to claim it may prevent initial infection
Very high efficacy
Large-scale production
Appears effective against new strains

Expensive
Freezer storage is less practical
Not yet approved for use by the WHO
Moderna Vaccine FAQs:
Is the Moderna Covid-19 vaccine safe?
As of February 2021, Moderna's vaccine has not yet received emergency use approval by the WHO. However, the vaccine has been authorized in several states, and it has also undergone a thorough review by the European Medicines Agency (EMA).
The findings of the EMA's review validate Moderna's mRNA-1273 vaccine as a safe and effective treatment for Covid-19 in Europe. These results place the vaccine in-line to receive emergency authorization from the EU.
In addition to this review, Moderna's clinical trials were a success. After a long-term assessment and follow-up with tens of thousands of patients, Moderna scientists found no concerning events had occurred and were ultimately satisfied with the data.
That is not to say that there is 'no chance' of Moderna's vaccine proving unsafe for you. Data on subgroups like children and pregnant women is sparse in comparison with other groups, and individuals should seek professional counsel if they are concerned.
Who can take the Moderna Covid-19 vaccine?
The vaccine is deemed safe for use by those with known health conditions that correlate with an increased risk of severe Covid-19 infection. This includes hypertension, diabetes, asthma, pulmonary, liver, or kidney disease.
It's recommended that immunocompromised people take Moderna's vaccine, unless any accentuated circumstances put them at risk. The same is true for HIV-positive patients. Though research is not complete on the matter and if you're unsure you should contact your doctor.
Breastfeeding women are safe to take the vaccine, and suspending breastfeeding after receiving the vaccine is unnecessary.
Though safe, if you have been infected with Covid-19 within 6 months of your scheduled Moderna vaccine, you may need to wait. Some nations enforce this interval, and you can check with your doctor.
Should pregnant women get the Moderna vaccine?
There is a somewhat limited data-set on how the Moderna vaccine affects pregnant women. However, based on current information about mRNA vaccines, it's thought unlikely that the vaccine causes any adverse effects.
Pregnant women are also at additional risk of Covid-19, and many healthcare professionals believe the benefits of taking the vaccine outweigh the risks.
That being said, pregnant women could still be at risk of negative side effects from the Moderna Covid-19 vaccine and are encouraged not to receive it in some countries. Given the limited research on the matter, we cannot claim to know everything about Moderna's candidate, and concerned individuals should seek professional advice.
Who should not take the vaccine?
People with histories of severe (or even life-threatening) allergic reactions to any medications should not take the Moderna Coid-19 vaccine – a recommendation from both doctors or Moderna's scientists. Whether that allergy is medical or specific to vaccines, it does not matter.
Older persons with a low life-expectancy (less than 3 months) should be individually assessed by a healthcare professional. People under the age of 18 should also not be given this vaccine, until more is known about its effect on this age group.
How do I obtain or purchase the Moderna vaccine?
The vaccine is not available for private purchase, though Moderna's vaccine may be available through your country's health service, or through a government program. Refer to our 'basic info' section to see if Moderna is approved in your state, or ask a civil representative to find out if Moderna is administered in your area.
Did you know?
In January 2021, Moderna began recruiting children and adolescents for a new trial of its vaccine. If successful, the Moderna jab could soon be administered to patients under the age of 18.
Sputnik V
Sputnik V is the high-profile vaccine candidate developed by the Gamaleya Research Institute – a non-for-profit government company funded by Russia's Ministry of Health.
Unlike any other viral vector vaccine for Covid-19, Sputnik V uses two different types of carrier virus. Initially named 'Gam-Covid-Vac', Gamaleya's candidate now takes its name from Russia's famed orbital rocket.
At first, it didn't seem as though Sputnik (the vaccine) would enjoy a smooth launch.
On August 11th, 2020, Russian President Vladimir Putin announced that Gamaleya's candidate had been approved in Russia. The news was met with immediate backlash. A small study of 76 people, published in The Lancet, was the only publicly available evidence of Sputnik V's safety. Russia soon backtracked on its comments, claiming the approval was merely a 'conditional registration certificate.'
Phase 1 & 2 results were published in September 2020, followed by Phase 3 results in November. The data demonstrated Sputnik V's high efficacy, safety, and minimal side effects. In an unprecedented move, Gamaleya has teamed up with AstraZeneca to find out if a mix of their vaccines could prove useful. Trials started in January and February 2021.
Basic Info
Developer(s)
Russian govt. institution Gamaleya
Vaccine official name:
Sputnik V
Vaccine Type
Viral Vector
Doses
2
Efficacy
92% (based on 20,000 trial participants)
Storage
Standard refrigerator as a liquid (2°C – 8°C), or Freezer as a solid (-18°C / – 0.4°F)
Cost per Dose
$10
How it Combats Covid-19
Reduces Symptoms
Yes
Prevents Infection
No
Reduces Transmission
No
Side effects
Mild: injection site pain, weakness, fatigue, flu-like symptoms
Availability
Initial release
Dec. 2020
Approved for use (as of March 2021)
EARLY USE: Russia.

APPROVED FOR EMERGENCY USE:

Algeria, Argentina, Armenia, Belarus, Bolivia, Guinea, Hungary, Iran, Mexico, Nicaragua, Palestinian Authority, Paraguay, Serbia, Tunisia, Turkmenistan, United Arab Emirates, Venezuela.

Projected Rollout
500m doses in 2021
How the Sputnik V Vaccine Works
Sputnik V is a viral vector vaccine administered through a muscle injection. The vaccine is given over two doses, with three weeks in between the first and second doses.
A 'viral vector' vaccine transports genetic instructions in a harmless common virus.
Like Oxford/AstraZeneca's jab, Sputnik V transports the genetic instructions for Covid-19 spike proteins in a type of 'adenovirus' – a category of virus known for causing the common cold. Unlike Oxford, Gamaleya uses two different adenoviruses for its vaccine, ad.25 and ad.26, and administers each in separate doses.
The reason for this is relatively simple. Gamaleya wants to avoid a situation where the body only creates antibodies for one adenovirus and not the Covid-19 protein. With two separate carriers, its vaccine has a better chance of providing coronavirus immunity.
Sputnik V achieves this by carrying genetic instructions in double-stranded DNA, rather than single-stranded RNA, like in Pfizer's candidate. Once inside, cells in the body absorb the carrier virus. This adenovirus is weakened and cannot replicate, meaning it cannot cause illness.
Cells read the genetic material from Covid-19 stored inside, creating viral spike proteins and displaying them on their surface. The body recognizes this and recruits an immune response, pouring out antibodies to deal specifically with the protein.
These antibodies are remembered, providing future protection from Covid-19.
Immunity normally arises within 18 days of the first dose, with efficacy stronger after the second. There have been reports of people becoming infected with coronavirus in between Sputnik V doses, or in the days after their second dose. People should be aware that full protection does not take effect until around 10 days after the second jab.
It's currently unknown how long Sputnik V's immunity will last, and more long-term data will be needed to determine this figure.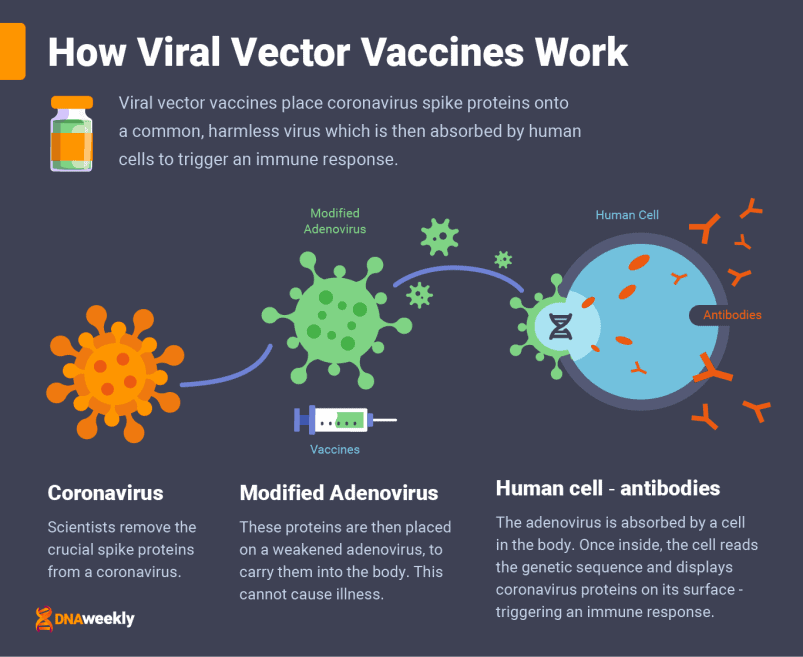 Sputnik V Side Effects
The Sputnik V vaccine is characterized by its lack of short-term side effects. Scientists note that in testing, any side effects experienced from the vaccine were mild, and included flu-like symptoms, pain at the injection site, weakness or low energy.
No severe allergic reactions to Sputnik V were evident in data from trials.
However, individuals with a history of severe allergic reactions (medical, vaccine-related, or otherwise) should proceed with caution when taking the Sputnik V vaccine, and seek advice from a qualified healthcare professional.
To avoid a complication of coronavirus symptoms, many countries have asked those infected by Covid-19 to defer from taking the Sputnik V vaccine until their coronavirus symptoms have ended. Governments might enforce this rule, and the length of time patients are required to wait may differ for each country.
Sputnik V Availability
On August 11th, 2020, Gamaleya shocked the world by announcing they had authorized a vaccine candidate: Sputnik V. This was met with huge concern from all corners of the world. But now the vaccine has proven safe and effective. A global rollout of Sputnik V is therefore expected in 2021.
Sputnik V has been in widespread use throughout Russia since December 2020, with an announcement of its initiation coming just hours after the UK declared a vaccine rollout of its own. As of February 2021, the vaccine is approved in more than 17 countries, and big orders have come in for Russia's candidate. This includes 100 million doses to India, 25 million doses to Egypt, and 300 million doses to the rest of Africa.
Sputnik V has been submitted to the EU for approval. If successful, orders are likely to come flooding in from countries across the EU.
Sputnik V Pros & Cons
Pros
Cons

High efficacy
Safe
Lots of research
Well-known technology
Large-scale production

Freezer storage is less practical
Still awaiting full authorization
Russian government is tying the vaccine to trade deals and diplomacy
Some experts believe it was rushed
Sputnik V FAQs:
When will mass production of the Russian vaccine start?
Mass production of Sputnik V began in 2020, both within Russia and abroad. A number of countries have also begun production of Sputnik V in 2021, including India, South Korea, Brazil, and Kazakhstan.
New orders of Sputnik V are lodged continuously, and Gamaleya's large production line will aim to meet these rising demands.
When will Russia provide full scientific data behind the vaccine?
Phase 1, 2 & 3 results are already published in The Lancet, and are available for public viewing. In fact, these results have been available since September and November 2020 respectively, and demonstrate the safety and efficacy of Sputnik V.
How do I obtain or purchase the Sputnik V vaccine?
Sputnik V is available in certain countries that have approved and ordered the vaccine. In any case, vaccinations are offered by government institutions and are not available for private purchase. If you would like further information, Sputnik V's social media accounts outline its distribution data.
Did you know?
In August, 2020, Sputnik V became the first vaccine to be granted authorization by a government – though Russian officials soon backtracked on the matter.
Sinopharm
Sinopharm, a Chinese state-owned pharmaceutical company, has developed an inactivated Covid-19 vaccine that demonstrates a good level of efficacy. This vaccine is currently being administered in several countries.
However, the mass rollout of Sinopharm's 'BBIBP-CorV' vaccine comes despite a worrying lack of published data.
China's flagship Covid-9 vaccine entered phase 3 testing in July 2020, and as of yet, no detailed results from the trials have been published. This has not deterred China's endorsement of the vaccine. In the summer of 2020, China announced that it was giving Sinopharm's candidate to high-priority groups. Unlike Russia's Sputnik, there was no subsequent backtracking from Chinese health authorities on the matter.
By November 2020, nearly 1 million people had received the Sinopharm vaccine in China, and soon the vaccine began shipments to other nations.
The United Arab Emirates, where some of Sinopharm's trials have taken place, seems to have used the rollout as an opportunity to progress political relations with China. The UAE's effusive praise of the vaccine includes claims of 86% efficacy, some 7% higher than Sinopharm's figure. With slight differences in methodology between the tests, Sinopharm claims both values are accurate.
Basic Info
Developer(s)
State-owned Chinese pharma company Sinopharm
Vaccine official name:
BBIBP-CorV
Vaccine Type
Inactivated
Doses
2
Efficacy
79% (trial size unknown)
Storage
Refrigerator
Cost per Dose
$44
How it Combats Covid-19
Reduces Symptoms
Yes
Prevents Infection
No
Reduces Transmission
No
Side effects
Mild or moderate: injection site pain, headache, fever, fatigue, muscle ache, nausea, diarrhea, and itchy skin.
Availability
Initial release
Jul. 2020
Approved for use (as of March 2021)
APPROVED FOR USE: Bahrain, China, United Arab Emirates.

EMERGENCY USE: Morocco, Serbia, Iraq, Egypt, Hungary, Jordan, Pakistan.

Projected Rollout
1bn doses in 2021
How the Sinopharm Vaccine Works
Sinopharm's candidate is an inactivated Covid-19 vaccine, administered over two doses, three weeks apart, via a muscle injection.
China's leading vaccine uses weakened coronavirus cells to teach the body's immune system how to protect itself from the live virus.
To manufacture their vaccine, scientists at Sinopharm took samples of coronavirus from patients at Chinese hospitals, eventually collecting three different variants of Covid-19. These samples were soaked in a chemical solution, beta-propiolactone, to render them harmless. Importantly, the 'spike proteins' (parts of the virus that are needed to create antibodies) remain intact during this process.
Once injected, the inactivated virus is absorbed by cells, where it's broken down into fragments. The Covid-19 proteins from the vaccine are displayed on the surface of these cells, and the body reacts with an immune response.
Now that the body knows about the virus, it can create antibodies to protect from future infections. Though we are not certain how long these antibodies can last, data suggests immunity takes meaningful effect at 14 days after the first dose and is strengthened by the second.
This goes a long way to explaining reports of vaccinated individuals who become severely infected by Covid-19 in-between doses, or in the days after their second dose. Vaccinated individuals should be aware that full protection does not take effect until around 10 days after the second dose.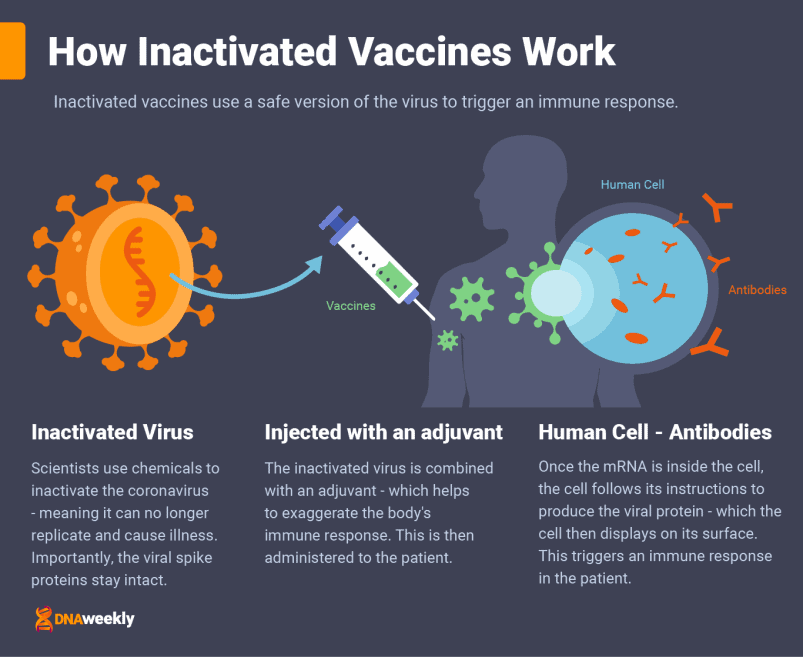 Sinopharm Vaccine Side Effects
Data from early trials suggests that Sinopharm's vaccine is safe, with generally mild short-term side effects. Adverse reactions include injection site pain, headache, fever, fatigue, muscle ache, nausea, diarrhea, and itchy skin.
However, with no phase 3 data available these results are preliminary and could be subject to change. Various sources in China are claiming that Sinopharm is riskier than government officials have declared.
There is also the issue of allergic reaction.
There is almost no data on people with a history of severe allergic reactions, along with many other groups. For now, it is advised that those with a medical allergy, vaccine allergy, or any other severe allergy, defer from taking the vaccine until speaking with a healthcare professional.
Patients with coronavirus symptoms are asked to defer from taking the vaccine until symptoms have ended. Some nations enforce this rule and require patients to wait a specified period of time.
Sinopharm Vaccine Availability
Sinopharm's candidate was approved for emergency use in China back in July 2020 – one of the first vaccine candidates to be approved. This announcement came despite a significant lack of peer-reviewed phase 3 data.
While many people have felt unsure about this, Chinese citizens (and many other nations) do not seem so concerned. Millions of doses have now been administered in China, and Sinopharm is the driving force behind China's mission to vaccinate 1.4 billion inhabitants.
The vaccine is now approved to some degree in over 10 countries, with new countries granting authorization regularly. China has reached trade deals with several countries, including 88 million doses for Pakistan, 60 million doses for Indonesia, and millions of doses for the UAE – where a production line for Sinopharm will soon be in operation.
On January 29th, 2021, Hungary became the first European country to administer the Sinopharm vaccine, and more EU countries are expected to follow suit.
Sinopharm Vaccine Pros & Cons
Pros
Cons

Many believe the safety benefits outweigh the potential for dangerous side effects
Large-scale production
Easily stored
Well researched and proven technology
Effective against the South African strain, and the UK Kent strain

Still awaiting the results of a phase 3 review
Expensive
Not as effective as some other vaccines
May require a yearly booster shot
Sinopharm Vaccine FAQs:
Is the Sinopharm Covid-19 vaccine safe?
As mentioned, the vaccine has not yet finished clinical trials and we await an in-depth review of BBIBP-CorV's performance. However, as of February 2021, all of the data that we can access suggests that Sinopharm's candidate is likely to be safe.
Sinopharm claims that so far, Phase 3 tests show the safety of its vaccine to be "good after inoculation," and that these results meet the WHO's standards. All data must still be analyzed by China's drug regulatory authority.
In spite of this, there is still a possibility of unknown adverse effects in specific conditions. Those who are unsure about the vaccine should await the results of China's phase 3 review, and receive professional counsel before taking BBIBP-CorV.
Why do some countries report different efficacy results?
While efficacy in China was 79%, UAE has announced a higher efficacy of 86% for BBIBP-CorV.
Sinopharm says that the variance in data is down to procedural differences and that both values are indeed correct in their own right. Though this does seem slightly confusing.
It's worth noting, however, that age, health condition, genetics and cultural background can all change a vaccine's efficacy. The divergence in these variables between the Chinese and Arabian populations may well be another factor to consider.
When will phase 3 trials finish?
Sinopharm's phase 3 program is vast and has tested candidates across a wide range of cultural settings – with 10 different countries involved in trials. Since July, 60,000 people have been tested in Sinopharm trials, and the practical element of these trials has now been concluded.
The vaccine has received conditional marketing approval, suggesting its benefits outweigh any potential risks. All of the available data is now being compiled and analyzed by the Chinese health authorities, and Sinopharm awaits the results of this review. If successful, the vaccine will be granted full approval.
How do I obtain or purchase the Sinopharm vaccine?
You cannot privately purchase the vaccine. However, Sinopharm's candidate may be available through your country's health service, or through a government program. You can check our 'basic info' section to see if your nation has approved the vaccine, or ask a civil representative to find out if Sinopharm is administered in your area.
Did you know?
The United Arab Emirates claims efficacy results of 86%, some 7% higher than Sinopharm's own reported results.
Additional Vaccines in Development
Research continues on new vaccines that can join the fight against Covid-19.
Featured in this list are several additional vaccines from around the world. These candidates are either in early use or currently in development.
Johnson & Johnson
Editor's note, 2nd March 2021:
On February 27th and 28th, the American Food and Drug Authority and Centre for Disease Control respectively cleared Johnson & Johnson's single dose vaccine for emergency use and distribution in the USA.
The next day, 1st March, 4 million doses were shipped to cities across the US. Numerous other governments and international organizations involved in the pandemic are currently reviewing the vaccine. It will most likely be approved around the world in the coming weeks.
Basic Information
Developer(s)
American Pharma company Johnson & Johnson
Vaccine official name:
Ad26.COV2.S
Vaccine Type
Viral Vector
Doses
1
Efficacy
57-72% (based on 45,000 trial participants)
Storage
3 months in a standard refrigerator (2℃ – 8℃), or 2 years in a Freezer (–94°F/–70°C)
Cost per Dose
$10
How it Combats Covid-19
Reduces Symptoms
Yes
Prevents Infection
No
Reduces Transmission
No
Side effects
Mild: fatigue, headache, myalgia and injection site pain.
Availability
Initial release
Feb. 17, 2021
Approved for use (as of March 2021)
APPROVED FOR EMERGENCY USE: USA, Bahrain
CoronaVac
Basic Information
Developer(s)
Chinese pharma company SinoVac
Vaccine official name:
CoronaVac
Vaccine Type
Inactivated
Doses
2
Efficacy
50.4% (based on 13,000 trial participants)
Storage
Standard refrigerator (2℃ – 8℃)
Cost per Dose
$30
How it Combats Covid-19
Reduces Symptoms
Yes
Prevents Infection
No
Reduces Transmission
No
Side effects
None
Availability
Initial release
Oct. 2020
Convidecia
Basic Information
Developer(s)
Chinese pharma company CanSino Biologics
Vaccine official name:
Convidecia or Ad5-nCoV
Vaccine Type
Viral Vector
Doses
1
Efficacy
65.7% (based on 30,000 trial participants)
Storage
Standard refrigerator (2℃ – 8℃)
Cost per Dose
Unknown
How it Combats Covid-19
Reduces Symptoms
Yes
Prevents Infection
No
Reduces Transmission
No
Side effects
Mild or moderate: fever, fatigue, headache and muscle pain
Availability
Initial release
Jun. 2020
Covaxin
Basic Information
Developer(s)
Indian pharma company Bharat Biotech
Vaccine official name:
Covaxin or BBV152 A, B, C
Vaccine Type
Inactivated
Doses
2
Efficacy
Unknown
Storage
Standard refrigerator (2℃ – 8℃) or 1 week at room temperature
Cost per Dose
$3
How it Combats Covid-19
Reduces Symptoms
Yes
Prevents Infection
No
Reduces Transmission
No
Side effects
Moderate: Body ache, headache, Fever, Malaise, Weakness, Rashes, Nausea, Vomiting
Availability
Initial release
Approved for emergency use in India on 3rd Jan. 2021
EpiVacCorona
Basic Information
Developer(s)
Russian govt. owned Vector Institute
Vaccine official name:
EpiVacCorona
Vaccine Type
Protein Subunit
Doses
2
Efficacy
Unknown
Storage
Standard refrigerator for 2 years (2℃ – 8℃)
Cost per Dose
Unknown
How it Combats Covid-19
Reduces Symptoms
Yes
Prevents Infection
No
Reduces Transmission
No
Side effects
None
Availability
Initial release
Jan. 1st, 2021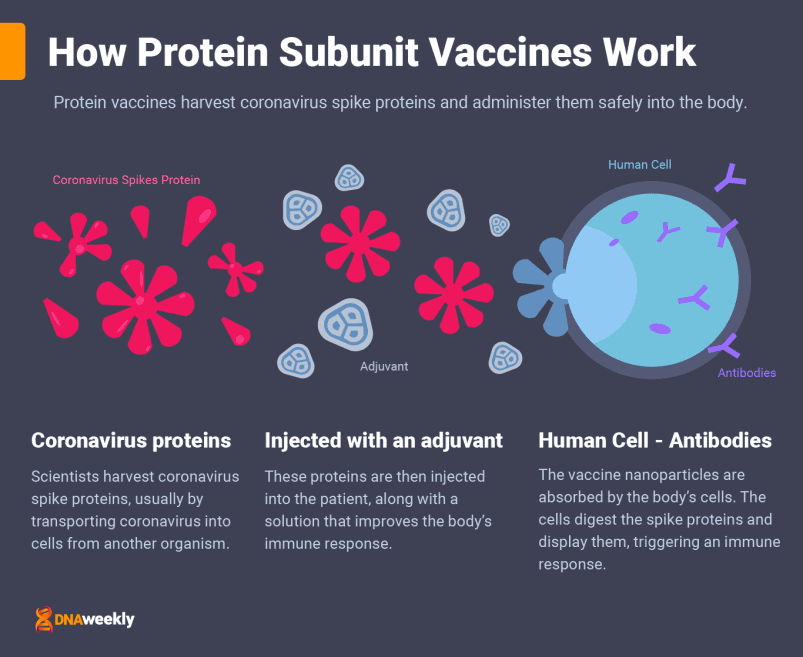 Novavax
Basic Information
Developer(s)
American pharma company Novavax
Vaccine official name:
NVX-CoV2373
Vaccine Type
Protein Subunit
Doses
2
Efficacy
89% (based on 15,000 trial participants)
Storage
Standard refrigerator (2℃ – 8℃)
Cost per Dose
$16
How it Combats Covid-19
Reduces Symptoms
Yes
Prevents Infection
No
Reduces Transmission
No
Side effects
None to mild: injection site pain, headache, fatigue and myalgia.
Availability
Initial release
Projected Jun. 2021
CureVac
Basic Information
Developer(s)
Pharma companies CureVac and Bayer
Vaccine official name:
CVnCoV
Vaccine Type
RNA
Doses
2
Efficacy
Unknown
Storage
Standard refrigerator (2℃ – 8℃)
Cost per Dose
$15
How it Combats Covid-19
Reduces Symptoms
Yes
Prevents Infection
No
Reduces Transmission
No
Side effects
Unknown
Availability
Initial release
Projected Q1 2021
Valneva
Basic Information
Developer(s)
French pharma company Valneva
Vaccine official name:
VLA2001
Vaccine Type
Inactivated
Doses
2
Efficacy
Unknown
Storage
Standard refrigerator (2℃ – 8℃)
Cost per Dose
$10
How it Combats Covid-19
Reduces Symptoms
Yes
Prevents Infection
No
Reduces Transmission
No
Side effects
Unknown
Availability
Initial release
Projected Q2 2021
Sanofi
Basic Information
Developer(s)
French pharma company Sanofi Aventis, in partnership with British pharma company GSK
Vaccine official name:
Unknown
Vaccine Type
Protein Subunit
Doses
2
Efficacy
Unknown
Storage
Standard refrigerator (2℃ – 8℃)
Cost per Dose
$12
How it Combats Covid-19
Reduces Symptoms
Yes
Prevents Infection
No
Reduces Transmission
No
Side effects
Unknown
Availability
Initial release
Projected Q4 2021
Impact of New Coronavirus Strains on Vaccines
New variants of Covid-19 are now being identified.
There are three primary mutations, one that was first discovered in South Africa (B.1.351), another variant first detected in Kent, in the United Kingdom (B.1.1.7), and a third first detected in Brazil (P.1).
These mutations are linked with increased transmissibility, and could potentially reduce the efficacy of vaccines.
Here's how each top vaccine is responding to new strains of coronavirus.
Pfizer/BioNtech

UK Variant (B.1.1.7)
Preliminary data from the University of Cambridge shows moderate efficacy.
South African Variant (B.1.351)
NEJM analyzed the mutation on a synthesized strain, which reduced efficacy by two-thirds.
Brazilian Variant (P.1)
NEJM analyzed a synthesized strain with similar mutations, which found a reduced efficacy.
Oxford/AstraZeneca

UK Variant (B.1.1.7)
Trials show the Oxford vaccine demonstrates a good level of protection.
South African Variant (B.1.351)
Just 22% effective at reducing mild to moderate illness.
Brazilian Variant (P.1)
N/A.
Moderna

UK Variant (B.1.1.7)
Based on current evidence, efficacy is unaffected by this variant.
South African Variant (B.1.351)
Efficacy slightly reduced.
Brazilian Variant (P.1)
Unknown, but efficacy is likely to be reduced.
Sputnik V

UK Variant (B.1.1.7)
Yet unknown, though it's expected that efficacy will only be reduced by a small amount.
South African Variant (B.1.351)
Again, efficacy is unknown, but will in all likelihood provide a slightly reduced level of protection.
Brazilian Variant (P.1)
N/A.
SinoPharm

UK Variant (B.1.1.7)
SinoPharm claims its vaccine is still effective.
South African Variant (B.1.351)
Chinese researchers report Sinopharm's performance to be modestly weaker.
Brazilian Variant (P.1)
N/A.
Johnson and Johnson

UK Variant (B.1.1.7)
Demonstrates good efficacy towards this variant.
South African Variant (B.1.351)
Efficacy data in South Africa has dropped to 57%, meaning it is less effective but still adequate.
Brazilian Variant (P.1)
Trials in Latin America show a lower efficacy, suggesting this is an effect of the new strain.
Vaccine Rollout Around the World
Throughout December 2020, countries across the world began immunizing their populations against the Coronavirus.
The United Kingdom initiated the first mass vaccination program in the world on December 8th, 2020, and several nations followed suit. Vladimir Putin immediately announced Russia's own campaign, and on December 14th, the United States began vaccinating its population with the Pfizer-BioNTech vaccine. China officially announced the start of its large-scale program on December 15th, though, in reality, high-risk individuals in China had been receiving their jab as early as July, 2020.
Distinct patterns are emerging in successful and unsuccessful mass vaccination programs. For instance, nations that have lodged early orders are already seeing positive results. Meanwhile, a number of programs are grinding to a halt due vaccine supply chain issues.
Strong coordination is another aspect of successful programs, with centralized healthcare systems faring better than privatized structures.
Communities must also be kept updated and informed, and made well-aware of the benefits of vaccination. This is crucial, as many countries with skeptical groups are struggling to inoculate populations.
Early Success Stories
Israel, the United Arab Emirates, and the United Kingdom have all launched successful early vaccination programs.
Israel
In early December 2020, Israel began inoculating vaccines to its entire population of 9 million people. With a dose-per-capita unmatched by any other nation, Israel's program has quickly established itself as one of the leading vaccination campaigns in the world.
In the first two weeks of its introduction, Israel had already administered doses to nearly 15% of its population – a faster pace than any other state.
This triumph has been made possible through careful planning, and a swift accumulation of doses. Israel bought doses early, and in bulk, even paying a premium price for Pfizer-BioNTech vaccines.
Israel's supply was guaranteed through a shrewd deal with Pfizer – a large supply in return for invaluable data, and Pfizer hopes the nation can demonstrate the efficacy of its vaccine. The test will also show the level of vaccine coverage needed to achieve herd immunity.
The efficiency of Israel's digitized and centralized healthcare network is another factor in its success. This makes Israel the perfect nation to test and means that priority groups and vaccinations can be tracked with ease. The country's small land-mass, and small population size, also throws up few logistical concerns.
United Arab Emirates
Like Israel, the United Arab Emirates benefits from a relatively small population and a universal healthcare system. The UAE is currently using a number of different vaccines, including the Moderna jab, Pfizer-BioNTech's candidate, and China's Sinopharm vaccine. By mid-February, 2021, the UAE had already administered jabs to over 40% of its 10 million citizens.
Another key aspect of the UAE's success is the resoundingly assured public opinion on vaccines. The UAE has invested greatly in a PR campaign designed to boost public opinion, and the country's Fatwa Council also passed an Islamic ruling in favor of coronavirus vaccines. These additional measures have been crucial in convincing the UAE's population of the need for vaccination.
The United Kingdom
A mass vaccination program in the UK presents some different challenges when compared to other nations, especially given the nation's dense and sizable population. Nonetheless, the United Kingdom's vaccine rollout has proved a rare success in its response to the pandemic, and some themes remain the same when correlated with the UAE and Israel.
The UK has urgently scaled-up its testing and vaccination facilities amid the threat of a more transmissible variant. Like other success stories, progress has hinged on an early procurement of doses – with nearly 400 million doses bought from 7 different manufacturers.
The UK has also invested heavily in guaranteeing access to Covid-19 vaccines. As of February 2021, the UK has spent around £11.7 billion on the development, manufacture, and procurement of vaccines.
In similar circumstances to the UAE and Israel, the centralized and well-trained structure of its National Health Service (NHS) has played a huge role in the swift rollout of vaccines.
Initial Vaccine Issues and Obstacles
Despite some early successes in smaller countries, mass vaccination programs are not proving difficult to orchestrate, and around the world, several issues are arising.
Struggles in North America
Canada
In Canada, millions of doses have been preordered, yet distribution has been painfully slow. At the core of the problem is the nation's vaccination strategy. Instead of an operation spearheaded by Canada's federal government, the responsibility has been left up to individual provinces and territories.
These territories must work out the logistics of a vast rollout to more than 38 million people – and the result is a complete lack of integration and coordination. While sluggish, big administrative errors have been made. Elderly residents of long-term care homes, one of the most vulnerable groups, did not even receive doses in the initial round of vaccinations – despite a huge stockpile of vaccines.
United States
The lack of a federal, centralized approach has also disrupted the vaccination rollout in Canada's neighbor.
The USA's vaccination program surpassed 10 million vaccinations in a short amount of time and its rate of 'doses administered per capita' is one of the best in the world.
However, in reality, by late January 2021, less than 50% of vaccines delivered to each state had been administered. This has led to widespread frustration amongst many Americans, including President Joe Biden, who believes the organization of America's rollout should be much more efficient.
In a bid to reassure citizens, President Biden has announced plans for a centralized pandemic response. He has promised 100 million doses in his first 100 days in office.
Covid-19 Vaccine Skepticism
This is a prevalent hindrance to vaccination campaigns. Many people simply don't trust Covid-19 vaccines, and the issue is more widespread in some countries compared to others.
Take France for example.
According to some polls, just 40% of adults in France plan on taking the coronavirus vaccine. That is nowhere near enough vaccinated individuals to provide 'herd immunity,' and protect the entire nation.
It's also a reason France's mass vaccination program endured a stuttering start. Many French citizens are slow to trust their government, with general political misgivings and previous health scandals living long in the national conscience. There's also a significant anti-vax movement among France's younger generation.
Some people attribute blame to France's oddly complicated vaccine rollout. Instead of receiving an offer via text or phone, in France written consent is required before anyone can get vaccinated. Unsurprisingly, this is leading some people to have second thoughts.
In January 2021, the poor distribution of vaccines continued to slow France's campaign. With French citizens warming up to the idea of vaccination, almost ironically, now they can't get access to them.
Mass Vaccinations Using Unfinished Candidates
China has launched three separate Covid-19 vaccine candidates into public use. As of February 2021, none of them have been independently peer-reviewed. China is plowing on with millions of vaccinations, regardless.
China is not the only party guilty of such recklessness.
Russia's Sputnik V and India's Covaxin were also approved at a worryingly early stage in their development. The problem is, while each vaccine is probably safe and effective, you cannot be completely certain of the fact until the data has been thoroughly scrutinized.
One source notes how consent forms in China don't specify that vaccines are still in testing. Given China has had a swathe of vaccine-related public health scandals in the past, it's quite surprising how little resistance there is to such an unproven selection of candidates. Perhaps, the answer lies in the national pride with which many Chinese officials speak of their vaccination program.
The same can be felt from a large proportion of China's population. While China's candidates have been first, they are not yet proven to be safe. Early in development, it was thought many of China's candidates were falling behind, and many people are questioning the motivations behind China's rushed vaccine program and global distribution.
Which leads nicely to our next section.
Vaccine Nationalism
Vaccine nationalism is a geopolitical fight over vaccines, and we are seeing one unfold before our very eyes.
Countries have essentially turned the pandemic into an opportunity to assert dominance on the global stage. Encompassed within vaccine nationalism is an intensified nationalism, governments prioritizing vaccines for their populations over cooperation with other nations, and using vaccines to manipulate weaker governments through diplomacy and trade deals.
China, the United States, and Russia have been embroiled in a vaccination race since the pandemic began, with the Trump administration expressing strongly nationalistic and zenophobic messaging throughout the process. As you can imagine, all of this squabbling and posturing comes at the expense of a global response.
A unified, collaborative approach would eradicate the hoarding of resources, medical supplies, and subsequent stockpiling of doses inherent in nationalistic projects. Three significant disruptions that seem to leave rich countries with too many doses, and others with not enough.
Bilateral trade deals have a similar effect. Low-income nations cannot offer pharmaceutical companies as much money as richer states, and for that reason, they are sent to the back of the queue. COVAX, which is explained in greater detail later on, has been formed to avoid this situation, though vaccine nationalism still threatens its effectiveness.
Dr Tedros Adhanom, Director-General of the WHO, has urged caution around vaccine nationalism, stating:
"Ultimately these actions will only prolong the pandemic."
Conflict Between the EU and AstraZeneca
One of the most high profile issues in early vaccine rollouts has been the months' long dispute between the European Union and AstraZeneca.
The conflict dates back to the Summer of 2020, when the pharmaceutical company first started accepting preorders of the vaccine it was developing with Oxford University in the UK. Amongst the earliest deals made, the British government ordered 100 million doses in June, while the EU separately negotiated 80 million pre-orders in August.
However, just before the EU approved the vaccine for distribution, AstraZeneca announced it was experiencing supply issues in its Belgian factory and cut the EU's order down to 31 million doses – a huge drop that created a massive shortfall in vaccines for European countries. Meanwhile, the company planned to continue exporting vaccines to the UK (which had now officially left the EU).
AstraZeneca claimed this was necessary to fulfil its contractual obligations with the UK government, while the EU accused the company of simultaneously failing to fulfil its agreement with the trade bloc and diverting vaccines out of continental Europe to the UK – where its based (suggesting a conflict of interest).
Unfortunately, due the timing of the delays – right as the UK was finally leaving the EU officially – the dispute quickly escalated into a quasi-Brexit conflict with tensions running incredibly high.
While the conflict between AstraZeneca and the EU remains unresolved (as of March 2021), fortunately some compromises have been made, additional vaccines are now widely available, and the EU is finally able to start rolling out mass vaccinations across all member states.
However, the whole episode shows how conflicting private and public interests can mix with simmering political tensions to create deadly delays and distrust, while better cooperation and transparency could have guaranteed a successful outcome.
Fake Vaccines
From early on, numerous stories have been reported of scams involving fake Covid-19 vaccines around the world.
The issue is most prominent in China, with more than 20 cases involving counterfeit vaccines emerging since 2020. In the process, upwards of 70 people have been arrested.
A significant case came to light in February 2021, with a man arrested for the manufacture of over 58,000 fake Covid-19 vaccines. These 'vaccines' contained mineral water, or saline solution, and were passed off as legitimate treatments with accurate packaging designs.
Fake Covid-19 vaccines were even being smuggled overseas, while others were sold within hospitals. One case involved a 'village doctor' to inoculate paying customers, in order to give the added appearance of legitimacy.
The dangers associated with fake Coid-19 vaccines are obvious.
While a customer may negatively react to whatever chemical they are administered, people will falsely believe they're safe from Covid-19 after injection. Of course, the opposite is true, and they may even begin to ignore safety measures – placing themselves and others in danger.
Ranked: Early Vaccine Rollout Successes
As of February 2021, Israel had immunized 43.7% of its population and operates one of the leading vaccination programs in the world.
Israel also leads in 'doses per capita,' while the U.S had administered over 50 million doses – more than any other nation. The UK's program has also been a success, with some 15 million doses administered, while Seychelles is managing to vaccinate its small population at an impressive rate.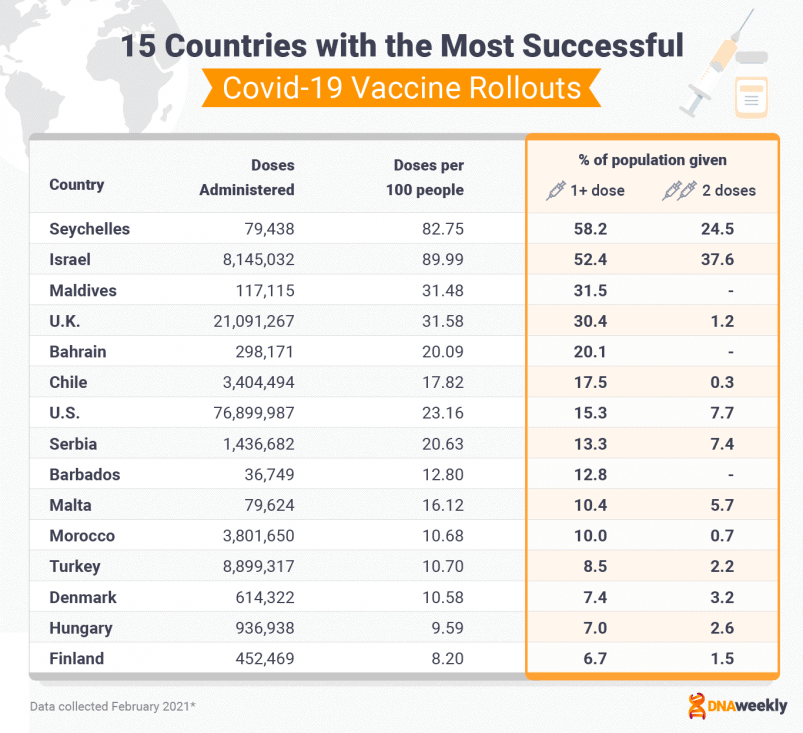 Timeline for Global Vaccine Rollout
The map below shows predictions about the global rollout of Covid-19 vaccines.
Unfortunately, it appears many lower-income nations will have to wait until 2023 for Covid-19 vaccines to be widely available.
The issue of inequality in access to vaccines is one of the biggest concerns in the Coronavirus crisis.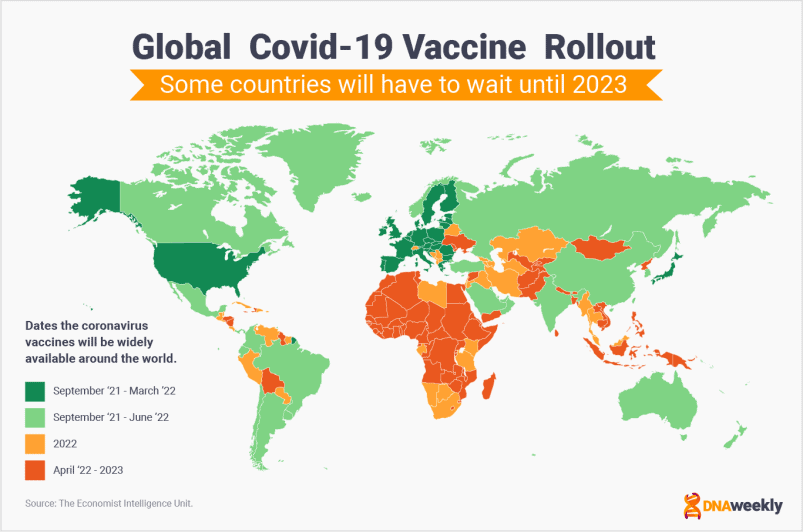 COVAX Initiative Explainer
COVAX is an international organization led by the World Health Organization and the GAVI vaccine alliance to spearhead collaborative development, production, and equal distribution of Covid-19 vaccines around the world.
As of February 2021, more than two-thirds of countries have pledged to contribute to COVAX, and the scheme is quickly building a huge portfolio of vaccines. Doses are being distributed to 190 participating nations in the first quarter of 2021.
The initiative is crucial to ending the pandemic.
While wealthy economies and superpowers jostle for vaccines, poorer countries are left picking up the scraps. In Africa, some countries don't expect to receive Covid-19 vaccines for general use until 2022. African countries have pre-ordered some 900 million doses, but Africa will require around 1.5 billion doses to vaccinate its population and achieve herd immunity.
The prevailing view is that wealthy nations are greedily hoarding vaccines, and ignoring poorer regions in an act of discrimination.
China may look to benefit from the situation. China is negotiating trade deals for its Sinopharm candidate with a number of African countries. The move, seemingly part humanitarian, is also driven by the prospect of increased future trade, and influence, in the continent.
Lower-income nations generally can't afford to compete with wealthier governments to buy vaccines.
If low-income countries are denied access to treatment for much longer, it will create numerous huge humanitarian crises (and significant loss of life) in some of the poorest regions on Earth. It's also worth noting that without truly global immunity, Covid-19 will continue to pose a threat to every open border.
For now, COVAX hopes to go some way towards alleviating this problem.
However, the project requires additional funding, and vaccine nationalism threatens to derail this operation altogether. Ultimately, COVAX cannot force other nations to donate to its cause, and the future of the pandemic may well depend on whether or not wealthy nations realize the mutual benefit and self-interest of supporting poorer governments across the globe.
Order of Priorities for Vaccines
The WHO has composed an outline countries may follow to structure the rollout of vaccinations. While there are two different models, and the 'widespread transition model' is the most commonly followed guideline. However, some countries need to deviate slightly, based on their individual circumstances.
The overall focus of the transmission model is a rapid reduction of morbidity and mortality, and maintenance of the most important essential services. The transmission model also looks to reciprocate the efforts of healthcare workers by prioritizing them. In later stages, the model aims to continually reduce the disruption of social and economic structures.
Stage I (Vaccine availability of 1-10%)
Stage 1A (Initial Launch) – Health workers at a high-risk of infection are vaccinated first.
Stage 1B – Adults who are at risk because of their old-age.
Stage 2 (Vaccine availability of 11-20%) – This includes older adults not covered in Stage I, and any groups with conditions that posit them at a higher risk of severe Covid-19 infection.
Stage 3 (Vaccine availability of 21-50%) – Teachers, school staff, low-risk health workers, lab-staff and vaccine production workers, groups unable to socially distance, government workers, and any other essential workers.
Stage 4 (Vaccine availability of more than 50%) – Everyone else, including low-risk groups.
Healthcare workers are among the first to receive their vaccinations, followed by older individuals who are at risk of severe infection. Any other vulnerable individuals are vaccinated in Stage 2, and throughout Stage 3 the focus switches to preserving crucial services by vaccinating essential workers. In Stage 5, low-risk individuals will be vaccinated.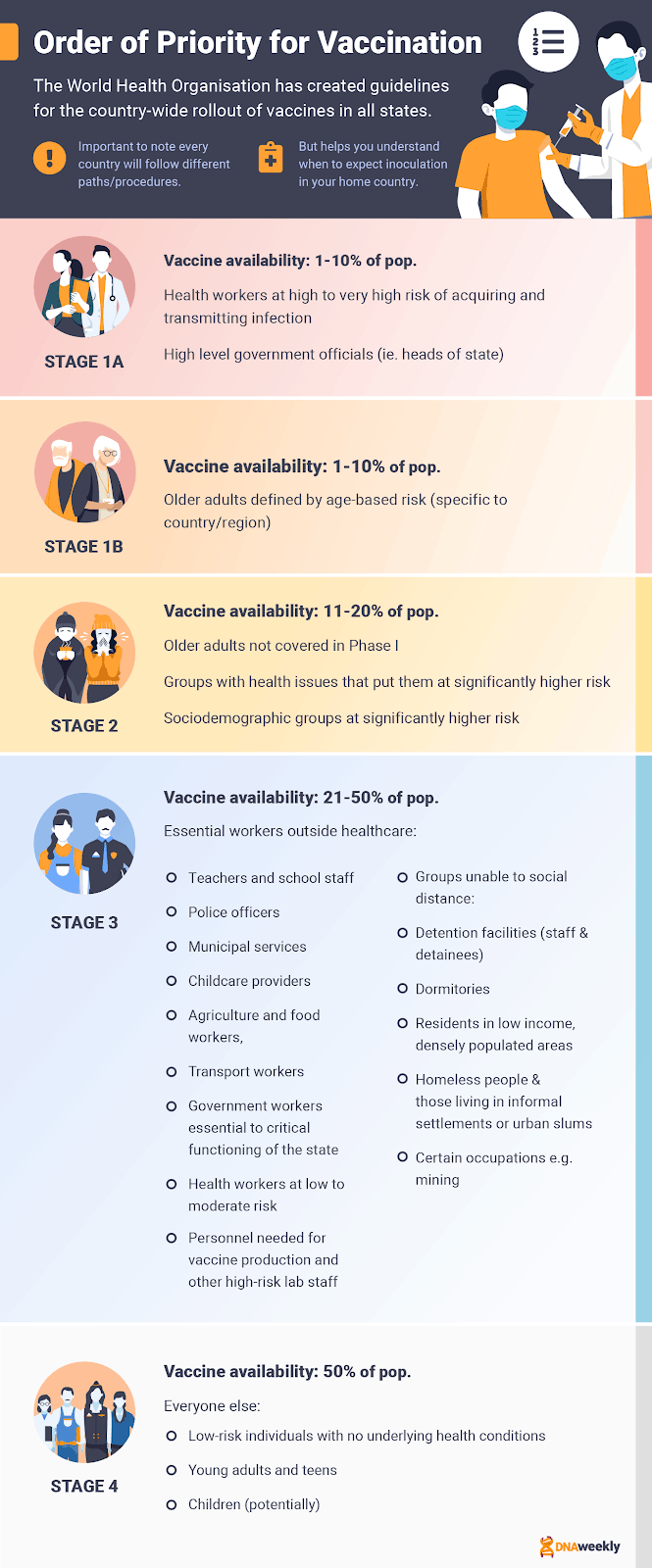 Deviations From the WHO Framework
The majority of nations have followed the WHO's framework closely, with some choosing to deviate from the guideline in small ways. Primarily, deviations are necessary to address the issues that are specific to a region.
While the United Kingdom has generally followed the concepts in the WHO's framework, it has deviated to some degree. For example, the UK offered vaccines to care home residents and care home workers first. Older adults are not originally outlined in stage 1a of the WHO's guidance.
The UK has been hit particularly hard by mortality rates in care homes, where a vast rate of transmission has had devastating results. For this reason, reducing the presence of coronavirus in care homes makes sense, to maximize the number of lives that are saved by the initial round of vaccinations.
Why do Healthcare Workers Get Vaccinated First?
In almost every plan, health care workers are one of the earliest groups to receive their Covid-19 vaccination. This for a number of practical reasons.
First of all, vaccinating healthcare workers early is an important step in protecting essential services, like hospitals. This is to make sure essential services can continually offer support, both during and after the pandemic.
Healthcare workers also face a higher risk of Covid-19 infection, and therefore at a higher risk of morbidity and mortality from coronavirus. Healthcare workers could pass Covid-19 onto other vulnerable groups, and again this makes vaccination in the group a priority.
There's also the idea of 'reciprocity.' Healthcare workers have been on the frontline of the pandemic for more than a year, and their efforts deserve acknowledgment. Vaccination is a way of reducing the stress of frontline work while saying 'thank-you' to staff.
Lastly, healthcare workers are needed to administer vaccines and interact with health systems. Healthcare workers are indispensable, and without them, vaccines would not be accessible to the general public. Immunizing healthcare workers thus protects the competence of mass vaccination programs.
Will Children be Vaccinated?
Children are included in some programs, but generally, they are not prioritized as a population group. This for a couple of different reasons.
Perhaps most importantly, current Covid-19 vaccine candidates have not been tested on children. The effect of vaccinating children is largely unknown so it doesn't make sense (from a safety perspective) to immunize this group under these circumstances.
It's also worth noting that children are at a low-risk of suffering severe Covid-19 infection, and therefore not a priority for immunization. Even if mortality rates are very low in children, child well-being has been significantly affected by the pandemic. This is why other groups that contribute to child well-being, like teachers, are prioritized higher on the list.
However, in spite of these reasons, the WHO does recommend that older children with high-risk health conditions are indeed vaccinated. The benefits of vaccination outweigh the risks, in this particular situation.
Some pharmaceutical companies (such as Moderna) are now beginning to test their vaccines on children, and we expect children to become a part of vaccination programs once there is enough good safety data.
Covid-19 Vaccines and Travel
The mass rollout of vaccines looks like it will affect the way we travel.
Thailand Offers "Vaccination Tour Packages"
International borders have slammed shut during the pandemic to quell the transmission of coronavirus. The tourism industry has taken a massive hit as a result. In the wake of Covid-19 vaccines, some countries are now looking at ways to reignite the tourism industry.
Thailand is currently considering "Vaccination Tour Packages" that would combine a one-month tourist visa with a Covid-19 vaccine.
Thailand already has a 'Special Tourist Visa' system in place, which visitors need to travel in Thailand during the pandemic. Vaccine tour packages would be a way of expanding on this system and safely opening up the country to tourists.
The idea is still conceptual, but it is thought the packages would target the high-end travel market, potentially costing 150,000 Thai baht ($5,000). A similar solution is already in use within the UAE, in which China's Sinopharm vaccine is offered to wealthy travelers.
Covid- 19 Vaccine Passports
A much more accessible and practical idea is the adoption of 'vaccine passports': a document or app that proves a person has been vaccinated against Covid-19, allowing them to travel safely.
A number of countries are now using or strongly considering 'vaccine passports.'
Vaccine passports allow people to travel more freely (and cost effectively) both domestically internationally, or access certain amenities within their country of residence.
In Israel, this is called a 'green passport.' Those who have had their Covid-19 jabs are permitted to enter gyms, sporting events, places of worship, hotels, public swimming pools, and cultural events, as long as they show their 'green passport.' Israel has also arranged a travel agreement with Greece, and people with green passports will be allowed to travel between the two countries.
Many European countries are considering adopting similar systems to open their borders to international travelers.
Vaccine passports are designed with safety in mind, allowing an economy to re-open without subjecting the country to the threat of disease transmission. Although, there are several growing concerns on this topic.
Vaccine passports will only be effective when we know more about the current vaccine candidates. For example, without knowing
How long immunity lasts and how long a vaccine passport should be valid
Each vaccine's effect on transmission
Whether every vaccine is effective against new coronavirus strains
There is also the feeling that vaccine passports could discriminate against people unable to receive a vaccine for medical reasons, or because they are in a low-priority group.
Data and privacy issues are another cause of anxiety. Many people who have enjoyed the privilege of traveling freely on good passports believe they shouldn't have to provide such personal information to be 'welcome' in a country – despite the obvious benefit to their hosts.
However, the idea behind vaccine passports isn't new.
Plenty of countries in tropical regions with high rates of infectious disease require proof of vaccination from tourists to reduce the spread of dangerous viruses within their borders. For example, most Eastern African countries require proof of a yellow fever vaccination before you can enter.
For now, vaccine passports are the most viable solution to curtailing the economic cost of the Coronavirus pandemic. But for them to be truly successful, more research is needed. Moreover, vaccine passports should meet certain ethical and legal standards before they are put into widespread use.
Achieving Herd Immunity
'Herd immunity' is a term often mentioned in the media, and if you have read the entirety of this guide thus far, you've probably already seen the phrase crop up once or twice.
So, what does 'herd immunity' actually mean? And what relevance does the term have to vaccination programs, and the pandemic as a whole?
What is 'herd immunity'?
'Herd immunity' or 'population immunity' is the protection provided by mass immunity from an infectious disease. This normally pertains to entire populations and can occur through vaccination or natural immunity (immunity from a previous infection).
To achieve herd immunity, a significant percentage of a population must have immunity from the virus. Once herd immunity is achieved, the virus will not be able to transmit freely amongst the population, and non-immune or unvaccinated groups will be indirectly protected from Covid-19.
Official guidance from the WHO recommends achieving 'herd immunity' through vaccination, and not by allowing the disease to spread.
When will we achieve 'herd immunity' and end the pandemic?
This figure is different for each virus, but estimates suggest that 75% immunity will be required throughout a population to reach herd immunity against Covid-19. This figure could vary in different countries, based on social and cultural factors.
Using 75% for herd immunity, and the rate of vaccination in each country (as of February 2021), we can predict approximately when the pandemic will end. At the current rate, it may take some countries more than 6 years to subdue coronavirus transmission.
As of February 2021, just over one-third of countries have begun a mass vaccination program. Vaccinations are also happening faster in more developed economies. In particular, lower-income countries are struggling to get their hands on enough vaccines.
Considering these factors, it could take six years or longer to achieve immunity around the globe.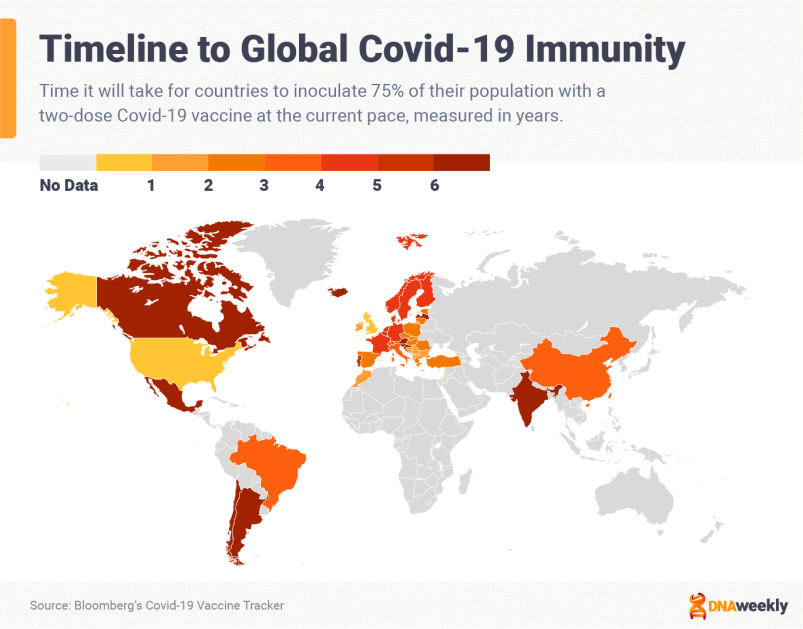 7 Myths About Covid-19 Vaccines Busted
A vast amount of misinformation on Covid-19 vaccines has been published during the pandemic, with several conspiracy theories gaining mainstream acceptance online. Some of these theories are believable, and others are somewhat outlandish. Fortunately, for the sake of humanity, none of these conspiracy theories are even slightly accurate.
Myth: Covid-19 vaccines will alter your DNA.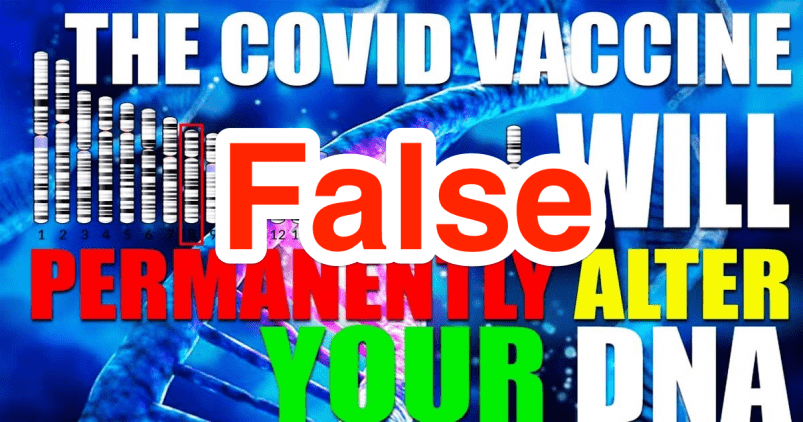 In late July 2020, osteopath Carrie Madej posted a video online that quickly went viral. In the video, she talks about Covid-19 vaccines and how they are designed to alter our DNA.
"The Covid-19 vaccines are designed to make us into genetically modified organisms" was one of her absurd claims, and she continues to suggest that vaccines will hook us up to a 'virtual interface.'
The video fueled the fires of anti-vax groups and conspiracy theorists alike, but the claims are not true. In fact, there is no evidence to support her argument: none of the vaccines are designed to alter DNA, nor do we currently have the technology to achieve this.
The video gained 100,00s of views, and many doctors are worried that this kind of misinformation will cause people to defer from taking a vaccine.
Myth: Covid-19 vaccines contain microchips, which will be injected into people.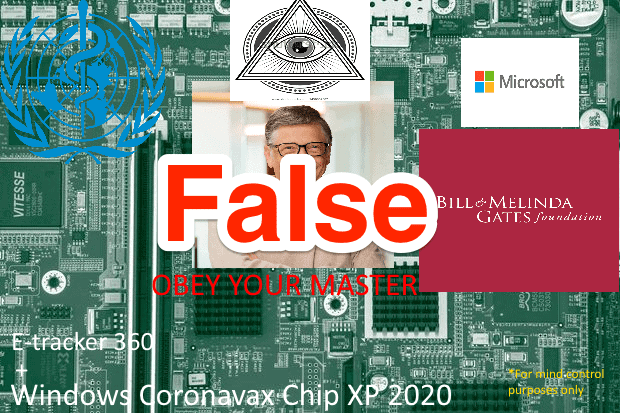 One of the top conspiracy theories during the pandemic has been the 'microchip' theory. Some people are claiming that the vaccine will contain a microchip. Once administered into the body, this microchip would be used to control or survey the population.
People are even claiming that the Bill and Melinda Gates Foundation is somehow involved. However, the foundation has denied these claims as 'false.' The Foundation is funding research into a technology that could help us store information about vaccines, and who has had one. Scientists working on the study say it has nothing to do with 'implanting microchips' into the general public.
We can confidently call this theory 'fiction.' We don't have the technology to implant 'liquid microchips,' and we already know all of the ingredients in the current Covid-19 vaccine candidates.
Myth: Covid-19 vaccines are not safe, because they have been developed rapidly.
This is a very common misconception around the Covid-19 vaccines. The fact that Covid-19 vaccines were developed quickly because everyone is urgently looking for a solution.
Vaccine development can be a lengthy process, so during the pandemic, the review and analyses of research began as soon as a vaccine is submitted for approval. Covid-19 vaccines are prioritized over other vaccines in this regard.
Also, the technology behind vaccine development has become much faster and more efficient in the 21st century.
It's worth noting that pharmaceutical companies are piling all of their resources into quickly finding coronavirus treatments. The speed of all the processes involved in developing a vaccine have therefore been accelerated, and that does not mean any safety measures have been overlooked. Each vaccine still has to be considered safe-to-use.
We can call this theory 'false.'
Myth: After I'm vaccinated, I will no longer need to wear a mask.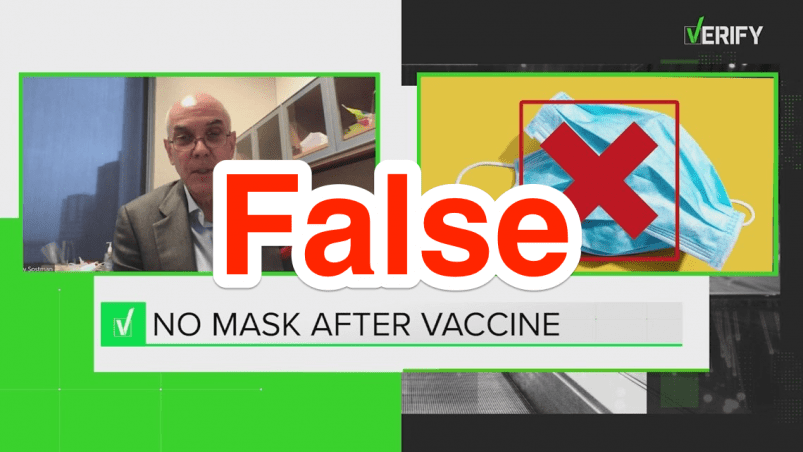 There are several problems with this myth.
First of all, Covid-19 vaccines do not provide a 100% chance of immunization, so you could still become infected. For the vast majority of vaccines, there's also no evidence that they limit transmission. You could still carry the virus even if you are protected, and in this case, not wearing a mask would put a lot of other people at risk – especially those who have not received their jab.
Also, immunity doesn't kick in until weeks after your vaccination, so throwing your mask in the bin as soon as you've been given a vaccine is a bad idea.
Finally, new strains of Covid-19 are negatively impacting the efficacy of vaccines, so you may not be as well protected if a new strain spreads in your area.
For now, everyone should continue to follow safety measures until told otherwise by your health officials.
Myth: The Spanish Flu vaccine killed 50 million people.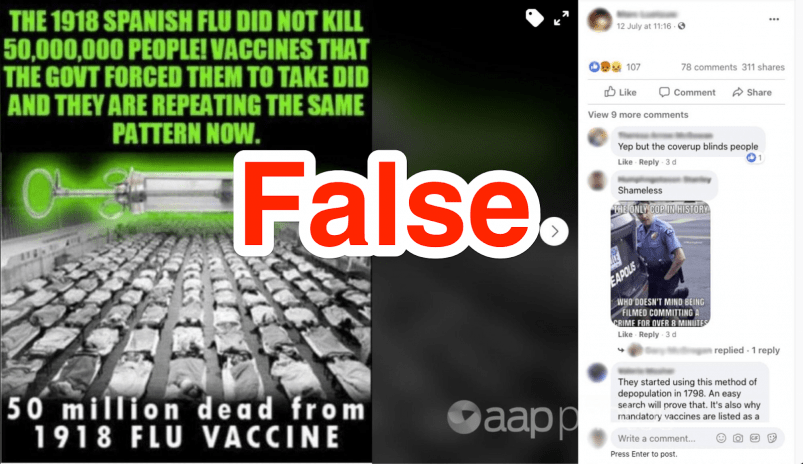 This story has been shared on social media for a while now. It is not true. In fact, no vaccine for the Spanish Flu was ever successfully developed.
This cure was not widely disseminated, and it certainly didn't kill 50 million people. The number one killer during the Spanish Flu was initial infection. Many victims also died because their lungs filled with fluid, as a result of infection.
Myth: The side effects from vaccines will kill more people than Covid-19.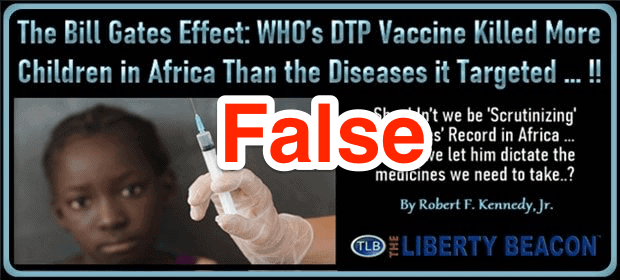 This is categorically not true.
People sharing this lie claim that Covid-19's mortality rate is just 1%, that we should not be vaccinated for a virus with such a 'low' mortality rate, and that vaccines will do more damage than they are worth.
This is wrong because, firstly, a 1% mortality rate is a lot higher than you would think. If 1% of the world's population died from Covid-19, that would still be 77 million people! Coronavirus is 10 times more deadly than the common flu.
Vaccines have safely and effectively eradicated the negative effects of several deadly infectious diseases throughout the last 100 years. Side effects from vaccines are completely normal, meanwhile, and they are harmless. None of these effects are considered life-threatening, and you cannot catch coronavirus from vaccines.
Myth: Covid-19 vaccines will cause you to be infertile.
Many concerned individuals are beginning to believe this myth, and are considering rejecting the coronavirus vaccine as a result.
Wolfgang Wodarg, a former German politician and physician, attracted widespread media attention when he petitioned against the approval of the Pfizer-BioNTech Covid-19 vaccine. He said that there was genetic coding in the vaccine that might trigger a response against syncytin-1, a protein found in human placenta.
As it turns out, the compound found in the vaccine is quite different from syncytin-1, and it's very unlikely that it will affect the production of placenta in patients.
That being said, it may well be years before we know about any cases of infertility caused by the vaccine. As of February 2021, there is no evidence to suggest this claim is true, but more research is needed for us to categorically say it is 'false.'
Vaccine Pros and Cons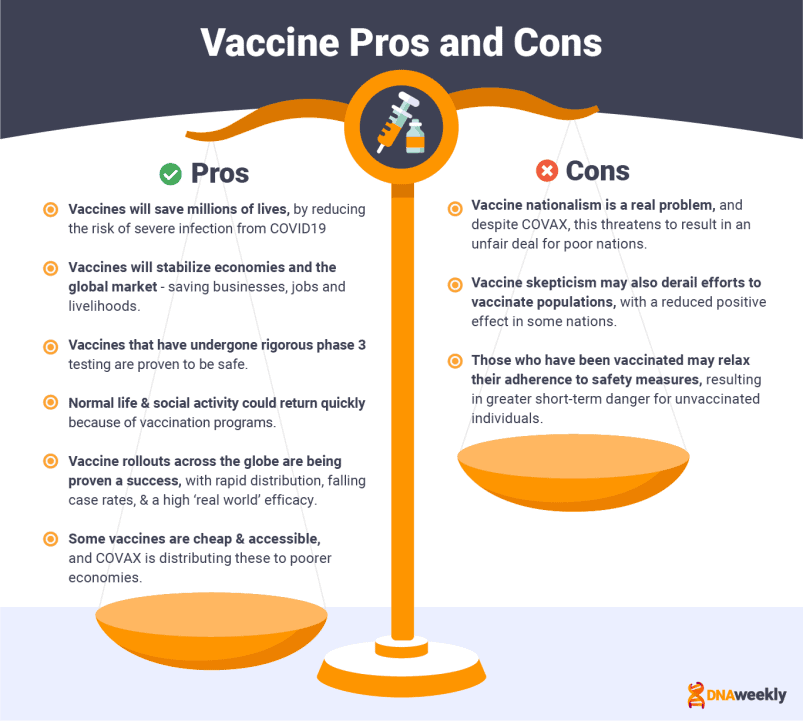 Pros
Reduce the risk: Complications related to Covid-19 infection are diminished with vaccines. Many jabs are 99-100% effective at preventing death from Covid-19.
Vaccines will allow us to achieve herd immunity, which protects vulnerable groups and non-immune individuals.
Vaccines could save millions of lives.
Economies and global markets will be stabilized by vaccine rollouts, which save businesses, jobs and livelihoods.
Normal life, including social activity, will return much quicker.
Current jabs are based on proven technologies and cutting-edge science for conducting vaccine research.
Vaccines that have finished phase 3 trials are tested on tens of thousands of people, and are declared 'safe and effective.'
Vaccines for new Covid-19 strains would be quick and easy to produce.
Many of the best vaccines still offer protection against new strains of coronavirus.
Efficacy across the board: Early data shows how certain vaccines are equally effective in every age group.
Vaccine passports would allow people to travel, as long as they are vaccinated.
Some vaccines are very cheap and accessible.
COVAX is supplying vaccines to more than 150 low-middle income countries.
Rapid rollouts are possible: As is being demonstrated by the most successful vaccination programs.
Studies conducted in Israel show that Pfizer's vaccines potentially stop the spread of coronavirus from asymptomatic carriers to others.
Relief and optimism: After over a year of fear, confusion, uncertainty, and growing division, vaccines give us something to be hopeful for, and provide an end in sight for the 'Covid Era'.
Real-world success: The high efficacy of vaccines in the 'real world' is demonstrated in Israel (94%).
In Israel, case rates of Covid-19 fell dramatically in the first 3 weeks of February 2021. This is down to the country's mass rollout of the Pfizer vaccine.
Studies in Scotland have found that the Pfizer and Oxford vaccines reduce coronavirus-related hospital admissions by around 85% and 94% respectively. Similar results can be seen from other successful programs.
Cons
Mild side effects from vaccination are common – such as aches and pains, headaches, and fever-like symptoms.
Once vaccinated, people could stop following safety precautions like social distancing and mask-wearing, which puts non-immune individuals at a greater risk.
Some vaccines are administered despite a lack of data. This could potentially prove to be dangerous.
Low efficacy vaccines, like CoronaVac, may not be effective enough to provide herd immunity.
New variants can significantly lower the efficacy of current vaccines
Poor nations may not receive enough vaccines, because of vaccine nationalism.
Vaccine skepticism means some countries are struggling to vaccinate their population.
Several manufacturers are falling behind on orders, which could lead to a shortage of vaccines in the future.
Manufacturers who profit from the pandemic sell their vaccines to the highest bidder, which is immoral.
Vaccination programs are difficult to run, and some countries are struggling.
Supplies (like syringes and vials) could run out.
Long-term data is still largely unknown. For example, we still do not know how long immunity from the vaccines lasts.
Financial Impact of the Vaccines
The rapid development of numerous Covid-19 vaccines promises to have an immense impact on the financial future of the companies involved – as well as the global economy.
Profit projections for big pharma companies
Some Covid-19 vaccines are completely private operations, while others are largely funded by government programs, or created as a charitable donation towards the fight against Covid-19.
Regardless, pharmaceutical companies will generate record profits from their vaccine candidates, all whilst a global health crisis rages. Even those manufacturers with more ethical reasons will be in a good position once the pandemic is over.
Vaccines, and the companies that make them, are now household names. Two pharmaceutical companies, in particular, will generate huge revenues from their sold-for-profit Covid-19 treatments. In 2021 alone, Moderna could earn more than $13 billion, and Pfizer could make close to $20 billion from their respective vaccines.
(For context, in 2019 Moderna earned $60 million dollars; Pfizer's 2019 annual revenue in 2019 was $41 billion across its entire product line.)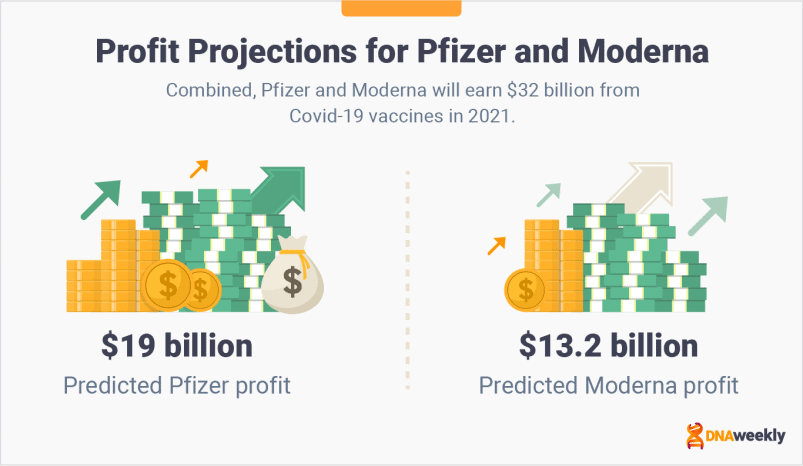 Questions of morality are expected to follow such lofty profit margins.
Should companies really be prospering on the back of a heartbreaking tragedy? Several pharmaceutical companies seem to think the answer to that question is a resounding 'no,' and they have priced their candidates accordingly.
Firms like Johnson & Johnson and AstraZeneca don't want to be seen profiting from the pandemic and have priced their vaccines to cover the cost of development and production. However, even these companies may foster returns in some form or another.
The benefits will be indirect, but tangible. Moderna and Pfizer will generate income from sales, but AstraZeneca and J&J will benefit from 'good publicity.' People will see their efforts as virtuous and ethical, and perhaps choose their products in the future. The increase in reputation may also open doors for selling Covid-19 therapies and products further down the line.
All in all, the whole industry will probably benefit from the coronavirus pandemic.
Positive Impact of Covid-19 Vaccine on the Global Economy
For more than a year, Covid-19 has wreaked havoc on economies.
A significant downturn in trade has been notable, both globally and within local markets. Mass vaccination programs seem to have the answer to this problem as they will allow economies to gradually and safely reopen. An increase in trade has the potential to incubate an economic upturn across the globe in 2021.
Israel is closer than any other nation to herd immunity.
This makes Israel a good barometer when it comes to gauging the level of economic upturn that vaccinations can provide. The Central Bank of Israel has compiled an economic forecast based on the nation's current rate of inoculation. In 2021, Israel's economy could grow by more than 6%. In 2022, the economy should continue to expand.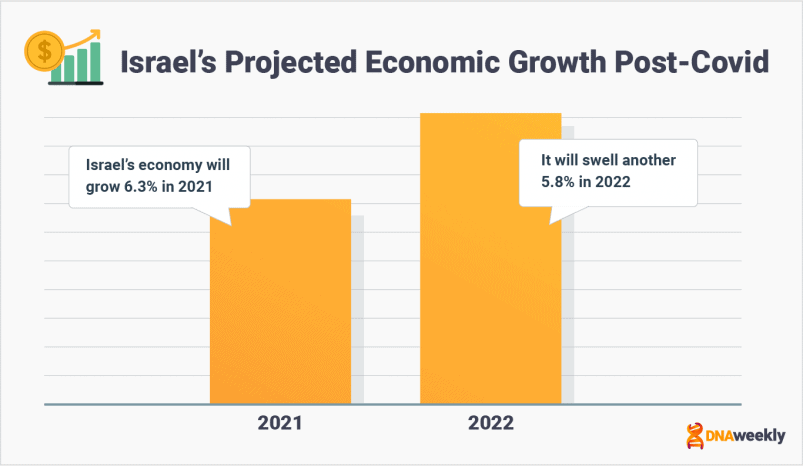 Similar predictions have been made in the UK. Schools, shops, pubs, restaurants, and other private establishments will reopen once vaccines are widely available and lockdown restrictions are eased. The British economy is expected to surge accordingly and could grow 5% in 2021. The Bank of England says further growth of 7.25% is predicted in 2022.
The Eurasia group has studied the economic benefits of contributing to the WHO's Access to Covid-19 Tools (ACT) Accelerator. The plan works to provide resources to low and low-middle income nations, and the analysis conducted featured 10 major contributors: the United Kingdom, United States, UAE, Sweden, Japan, Qatar, Germany, France, Canada, and South Korea.
According to Eurasia, these economies will collectively earn $153 billion from the ACT accelerator in 2020-21, which rises to $466 billion by 2025.
Eurasia's figure represents a significant increase in economic growth.
Alternative projections show how this growth could be negatively affected. If the pandemic is allowed to continue, and mass vaccination programs are delayed, IMF data shows that economic growth in advanced economies could fall 75% below what is expected. That's an overall growth of just over 1%.
Eurasia's data is calculated using the downside and baseline scenarios in the IMF's October 2020 World Economic Outlook predictions.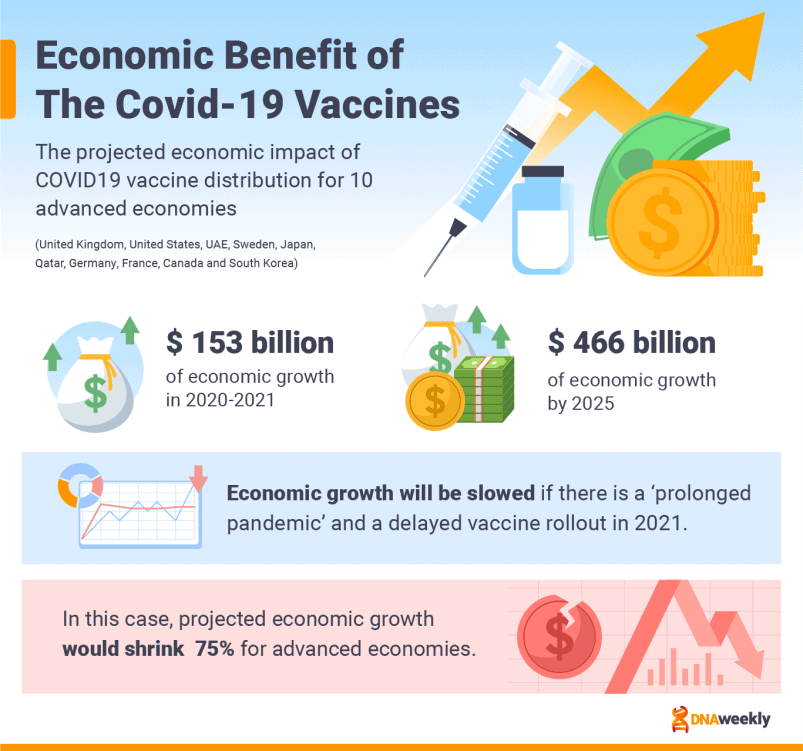 Implications for Future Vaccines and Pandemics
So, what have we learned during the lightning-fast development and distribution of Covid-19 vaccines? And what lessons can we extract for future pandemics?
RNA Technology is Here to Stay
First and foremost, the RNA technology upon which several Covid-19 vaccines are based is truly groundbreaking.
Vaccines utilizing this technology include Pfizer-BioNTech and Moderna, two of the most effective vaccines on the market. The stock prices of these manufacturers have sky-rocketed, simply because their current vaccines provide proof of a concept that has been in the pipeline for years.
These companies now look as though they will push on with this new technology. BioNTech has been using RNA to develop a cure for skin cancer, and Moderna is looking at an RNA vaccine that could cure ovarian cancer.
If successful, these RNA vaccines could save millions of lives, and companies will continue to experiment with the technology on countless other treatments.
Governments must be transparent, decisive, and accountable, all while cooperating effectively
At the start of the pandemic, Chinese authorities charged physician Dr. Li Wenliang for spreading false rumors. His crime was reporting a new illness in his patients. Weeks later, this virus was identified as Covid-19.
China had sought to silence Dr. Li Wenliang, worrying about reputational repercussions. In reality, action should have been taken early to quell the growing caseload of coronavirus patients.
Though, in fairness, China's initial response to the pandemic was effective from this point onwards. The nation introduced safety measures that were enforceable by law, almost instantly, which soon slowed the spread of the virus.
In this sense, China's initial response to Covid-19 shows two things: Governments must be accountable, but also decisive in their approach.
Collaboration between governments has also been poor. The G7 and G20 meetings, organized so that nations could discuss the next course of action in the pandemic, did not occur until March 2020. When the meetings did eventually take place, disputes and arguments broke out. The WHO's global leadership role was vetoed by America, and generally, there was a lack of direction on how the pandemic should be tackled.
The delays from such bickering were costly, and time was lost that could have been used to slow the pandemic. In this context, communication between governments must be better.
Lastly, governments must be transparent. They should be forced to publish data to justify their decisions. This is particularly pertinent with relation to mass vaccination programs. Citizens may want to know why certain groups, in data, are vaccinated earlier than others.
Age and sex aggregated data was not collected for a long time in the UK. This led to distrust amongst citizens – how could the government make informed decisions without collecting the proper data? Without trust, vaccination programs could falter, as well as any other line of command.
Lessons learned from vaccine race
The speed of vaccine development has been impressive, but there are still a number of important issues highlighted by the vaccine race, and its failings.
A unified, global approach is essential.
Without this, we have seen governments plunge resources into hundreds of different vaccine candidates, instead of pooling efforts. Several manufacturers have looked to generate large profits, and vaccine nationalism has meant poorer nations are left behind, without enough doses to inoculate their populations.
Together, manufacturers, governments, and inter-governmental bodies can work faster, on a larger-scale, and efficiently use resources. In this case, there would be enough doses for everyone, which could then be evenly distributed.
Small clinical trials have also proven to be relatively ineffective. Mid-to-large scale testing is the most productive plan against a global pandemic and would provide the most accurate data set.
AI and modern technology can play a greater role
Because AI and robots are immune to Covid-19, they could be used to assist vulnerable humans on the frontline in a future pandemic.
Robots could be used to help decontaminate areas, care for patients, or administer vaccinations – reducing some of the risk for frontline workers and reducing the transmission and mortality rate of Covid-19.
There have been examples of countries using technology to their benefit. In some regions, patients are screened using robots before seeing a human caregiver. The development of these technologies, and their deployment, could be crucial for a pandemic response in the future.
Future pandemics are a threat
As Covid-19 finally comes under some limited control, there is growing consensus that this could happen again sooner rather than later.
In late February 2021, Russia recorded its first cases of a new strain of Bird Flu, H5N8. Though it is not thought the virus can transmit to humans yet, a single report of a new flu is now enough to spark widespread panic and fear.
You only have to cast your mind back to years past. Swine Flu, Ebola, and Bird Flu are just a few of the viruses and diseases that have reared their ugly head in the last decade or so. At the time, the threat of a worldwide pandemic did not seem entirely real. Now it truly does.
Scientists indicate that we are headed for more frequent pandemics, greater in severity, with higher transmission rates and even higher levels of economic damage – unless we stop ruining wildlife and exploiting our environment.
According to research, deforestation, agricultural expansion, intensive mining and farming, and infrastructure development all decrease the biodiversity of animals' habitats, forcing them to come into contact with humans. These factors are all occurring on an upward trend.
There are 1.7 million known viruses in animals that may be able to infect humans. With increasing human-to-animal contact, the potential for future infectious diseases is also increasing.
During the Ebola crisis in 2014, Barack Obama called for pandemic preparedness. He talked about how seeing a virus "quickly" is an important step in preventing pandemics. His comments seem more relevant now than they ever have. Future pandemics are inevitable. We must identify areas of risk before they happen, and decreasing our environmental impact could be the first step towards safeguarding ourselves from future diseases.
Frequently Asked Questions
What is a vaccine?
A vaccine is a biological mixture, designed to provide patients with immunity to an infectious disease, or pathogen. Vaccines either contain inactivated genetic material from the disease or a genetic sequence copied from the virus. This promotes the production of antibodies in the patient.
Are Covid-19 vaccines safe?
Covid-19 vaccines are considered safe. Candidates are not approved until they have undergone rigorous testing over 3 stages of trials. This schedule culminates in a trial based on tens of thousands of patients.
All tests conducted on vaccines are in line with regulatory protocol, and this data is then peer-reviewed by the relevant regulatory body. Vaccines that have been submitted for approval, are not authorized without meeting adequate thresholds for safety and efficacy.
Is it safe to get the vaccine if I am pregnant, or breastfeeding?
A large number of pregnant, or breastfeeding women have, understandably, expressed concern over the current vaccines. Data on the effect of Covid-19 vaccination in these groups is relatively limited compared to some others, but in vaccination programs thus far there have not been any reports outlining negative effects in pregnant, or breastfeeding women.
Most governments are recommending these two groups for vaccination. Pregnant women are at a higher risk of severe Covid-19 exposure, and it is thought that the benefits of vaccination outweigh the potential risks in this case. However, if you have any concerns you should consult a doctor, or qualified healthcare professional.
For breastfeeding women, scientists do not believe there are risks related to receiving a Covid-19 vaccine, nor is it thought vaccination can cause a change in breastmilk. Though, as stated beforehand, research on the matter is incomplete. The message from governments is that this group can safely receive a vaccine, although you may seek advice before doing so.
How many shots are needed?
Most of the candidates currently on the market, or in development, are designed to be administered over two doses. These doses are generally spaced apart by around 2-4 weeks, with efficacy increasing after the second dose.
Some vaccines can be given in just a single dose. The upcoming Johnson & Johnson vaccine and CanSino's vaccine are two high-profile examples. A single dose vaccination presents several advantages. Not only can the vaccines be administered more quickly, but a sufficient number of jabs can also be purchased for less money – as only half as many doses are needed.
Could I have an allergic reaction to the vaccine?
Allergic reactions to Covid-19 vaccines are very rare. Notwithstanding, there have been several reports of allergic reactions to the vaccines. Some of the jabs seem to provoke this response more than others. In particular, CanSino's vaccine has been noted for causing these reactions.
This type of reaction is known as 'anaphylaxis.' As a result of anaphylaxis, many governments are asking people with allergies to stay for observation 15-20 minutes after vaccination – to be certain no adverse effects occur.
Certain vaccines are considered so safe that governments have stopped this measure altogether. With other jabs, people who have a history of severe medical/vaccine allergies, or other types of severe allergy, are not recommended a coronavirus vaccine. If you are concerned, please seek advice from a healthcare professional before taking the vaccine.
Which lasts longer, natural immunity or vaccine immunity?
The simple answer to this question is that we do not know. Not yet, anyhow.
The immunity you gain from a viral infection is known as 'natural immunity.' The length of time we are protected in this way varies between diseases, and we will not know this figure for Covid-19 until we have more data, analyzed over a longer period of time. We do know that recatching coronavirus within 90 days of initial infection is uncommon.
More data must also be conducted on vaccines, and how long they can provide immunity. Vaccines have not been in circulation for very long, and thus we need more time before we can fully understand how long 'vaccine immunity' lasts.
Who is paying for vaccines?
Vaccines are funded in different ways, and the current crop of manufacturers is made up of profit and non-profit organizations. Most companies have received assistance in funding from governments. Moderna has received such funding from the US government, but once its obligation to the US is complete, Moderna's vaccine is ultimately sold for profit.
Other vaccines, like Sputnik V and Oxford-AstraZeneca, are projects spearheaded by government institutions, or private companies not looking to profit from the pandemic. These vaccines are sold at a lower price, just enough to cover the cost of research, manufacture and distribution.
If I've already had Covid-19, do I need a vaccine?
It is important that you receive a Covid-19 vaccination, even if you have been infected with coronavirus in the past.
Reinfection is possible, and it is not known how long 'natural immunity' from the virus will last. Vaccination is the best way to strengthen your chances of immunization.
Most governments recommend that, if you have been infected by Covid-19 recently, you should wait to receive the vaccine until time has passed. This recommended period of time can range from 28 days to 90 days, or even as long as 6 months in some countries. Consult your doctor to find out about this requirement in your region.
Will I need to be vaccinated for work?
In the majority of nations, vaccination is not enforceable by law. However, receiving a vaccination is mandatory in several professions.
For government employees and healthcare workers, vaccination is normally compulsory. Other private companies, or public-facing roles, may require employees to receive a coronavirus jab. Check with your employer and local government advisories to see if this is the case.
When will it be my turn to get a vaccine?
Each nation, or state, has constructed its own mass vaccination plan based on factors that are specific to that region. The reasoning behind deviations could include social, cultural, and economic factors, the extent to which the virus is spreading in the region, or the supply of jabs that is available to that region.
Plans aim to vaccinate high-risk and vulnerable groups first. If you are not considered within one of these categories, you will more than likely be lower down on the waiting list for a coronavirus vaccine.
Vaccination plans, which prioritize some groups over others, aim to minimize transmission and the damage done by coronavirus. For more information on your government's plan, seek advice from a government representative.
Do I need a Covid-19 booster shot every year?
This question is quite hard to answer, as we are in the initial stages of vaccinating populations. We, therefore, don't know everything about the current candidates, and we have a limited data-set on how long these vaccines can prove effective.
There are trends in certain technologies. Most viral vector vaccines (the same technology as Oxford) provide immunity for around a year, although the figure can be much higher. Inactivated vaccines (like Sinopharm's candidate) often require booster shots – but again this is not the same for all of them.
Generally, vaccines can require a booster shot every year, two years, five years, or ten. A few vaccines even provide lifetime-immunity. The fact is that each vaccine is different, and our body reacts to every vaccine uniquely. Until we have more long-term data, we cannot know how well our bodies will retain immunity from coronavirus jabs. As a result, we don't currently know if booster jabs are required.
Final Thoughts
The hopes of the entire world are resting on the successful rollout of Covid-19 vaccines. The candidates listed in this guide are the first significant step in the fight against Covid-19 pandemic.
But ending the pandemic will take a concerted effort from billions of people around the world. Not only must we continue to follow safety measures. If we are recommended a vaccine, it is important that we strongly consider accepting this offer, both for the safety of ourselves and others. Covid-19 vaccines are incredibly safe, and the distribution of these vaccines represents our best chance of ending Covid-19.
For now, the future looks bright. There is light at the end of the tunnel, for perhaps the first time since the Covid-19 pandemic began. Vaccines are turning the tide against the pandemic and life for 100s of millions of people is already returning to normal.