When it comes to AncestryDNA, most likely your first question is in regards to its accuracy. After all, if you're going to pay any amount of money, you want your results to be meaningful. The short answer: it is very accurate. But just because it is accurate doesn't necessarily mean it is a good value for the price you pay.
Determining value is not always an easy process, especially when a company offers several different products and permutations, and when there are also competitor products to consider. To help you feel confident about your purchase (and to avoid any sort of buyer's remorse), we set out to answer the following questions:
What different offerings are available from AncestryDNA?
How much does an AncestryDNA kit cost? What about AncestryHealth and Family Tree by Ancestry?
How do competitor products and services compare in terms of value?
Different Options in Different Categories
When the company started out, it was focused on genealogy. It established its AncestryDNA direct-to-consumer genetic testing arm in 2012 and its AncestryHealth brand in 2015. Although these are somewhat separate brands, they are interconnected:
AncestryDNA and AncestryHealth are both based on at-home DNA tests, whereas the original Family Tree by Ancestry is all about traditional records-based genealogy.
Purchasing an AncestryDNA test kit also allows you to subscribe to the company's membership services for historical records, to build a more complete DNA- and records-based family tree.
Let's take a look at what you get from each of these three offerings.
AncestryDNA
The AncestryDNA test kit provides a wealth of genetically-determined genealogy information for a one-time fee ($99.00).
Unlike traditional records-based genealogy, DNA can be used to determine your genetic relationships with other people in the company's database, which makes it easier to build your biological family tree. In addition to these DNA Matches, you also get an Ethnicity Estimate (which gives you a breakdown of where your ancestors came from), and Historical and Geographical Insights (so you can see how those ancestors moved around).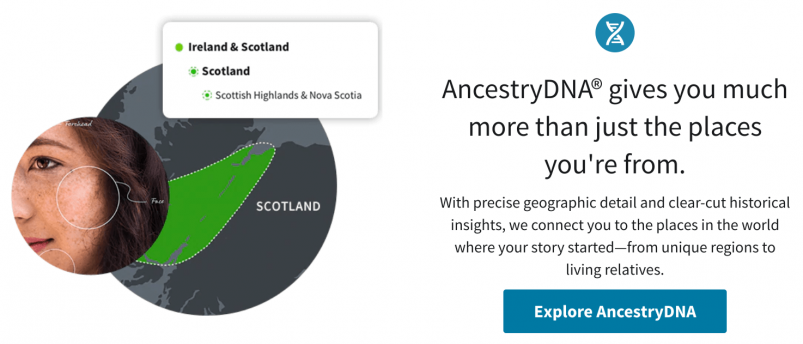 AncestryDNA Traits
You can purchase the AncestryDNA Traits test as an add-on to the AncestryDNA kit for a one-time fee (of about $20). The 26 personal traits mainly take the form of "fun facts" about you. You'll discover things like whether you are genetically predisposed to have a bitterness sensitivity, cleft chin, cilantro aversion, etc. and your likelihood for different earlobe types, birth weight, finger length, etc.
AncestryHealth
AncestryHealth is the newest offering from the company. It analyses your DNA to determine your genetic predispositions to diseases (such as heart disease and cancer) and your carrier statuses for conditions you could pass on to your children. Indeed, AncestryHealth focuses on "family health" with a family health history tool to track generations of health.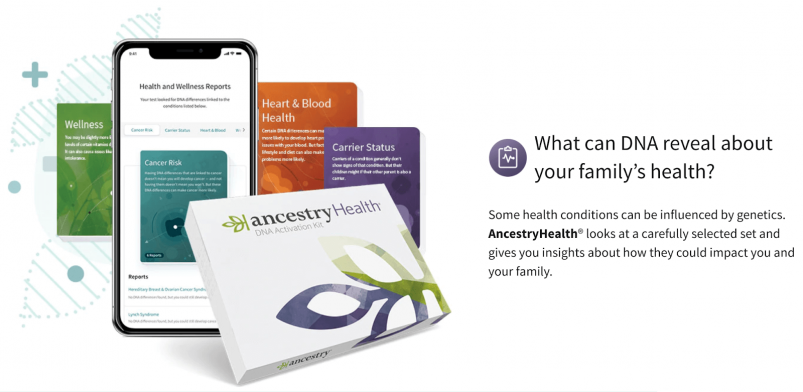 The AncestryHealth Core includes everything you get with AncestryDNA, plus:
Individualized health reports with actionable insights
Access to genetic counseling resources
The family health history tool
AncestryHealth Core is available as a one-time purchase ($179.00) with no membership required. For about 50% more than the AncestryDNA test alone, this seems to be good value for a lot more actionable family health information.
AncestryHealth Plus (coming soon!)
If you want even more health information, you'll have to wait a short while for the AncestryHealth Plus service that is coming soon. In the meantime, you can ask to be alerted by email when this "breakthrough experience" becomes available. The price is expected to be about $200 upfront, followed by about $50 every six months for quarterly updates.
Family Tree by Ancestry
If you're serious about building a family tree in the traditional way from historical records, then the company's subscription service might be right for you. It will give you access to a massive database that goes back seven generations.
For customers in the United States, the three subscription levels are U.S. Discovery, World Explorer, and All Access, which obviously come with increasing prices tags (but discounted if you sign up for six months):

Customers in other countries (such as the United Kingdom) also see three subscription levels, which are similarly discounted for six-month sign-ups, but tailored to their locations:

Although there are many satisfied subscribers, you probably don't need a subscription at all if you're just starting out. Here are the differences between what subscribers and non-subscribers get:
Feature
No Subscription
Family Tree by Ancestry Subscription
Ethnicity estimate by geographical regions
✔️
✔️
AncestryDNA Matches (based on shared DNA)
✔️
✔️
Shared Matches
✔️
✔️
Ability to contact matches
✔️
✔️
Birth locations included in family trees from matches
❌

(names only)

✔️

(all public information)

Matches' public family trees
Previews for 5 generations
Full family trees
Direct ancestor surnames from matches' trees
Up to 5 surnames
Up to 7 generations of surnames
You can also give the gift of a subscription for Family Tree by Ancestry to the genealogist in your life. For a one-time, six- or 12-month, non-renewing fee, you can give someone a U.S. Discovery or World Explorer membership.
See Family Tree by Ancestry Deals
3 Ancestry Alternatives to AncestryDNA
These competitors include at least a subset of the following: family tree builders, ethnicity estimates (where your ancestors came from), DNA matches (alerting you of potential biological relatives in the company's database), and personal traits reports (to see what your DNA says about your physical attributes).
Here's a handy comparison of the four alternative vendors:
AncestryDNA
MyHeritage
23andMe
Living DNA
Family Tree Builder
✔️
✔️
✔️
❌
Relative Finder
✔️
✔️
✔️
✔️
Ethnicity Estimate

(geo regions)

1,000+
42
1,500+
80
Personal Trait Reports
26
❌
30+
❌
Price

$99.00

$79.00

$99.00
Please note that we're bundling Family Tree by Ancestry with the AncestryDNA kit, since both help you discover your heritage. If you are particularly interested in growing your family tree, we compare the
10 best family tree builders
, to help you decide the right option for you.
4 Health and Wellness Alternatives to AncestryHealth
The direct-to-consumer DNA-based health and wellness market is booming. You can now get everything from genetic disease predispositions and carrier statuses to diet plans and skincare advice delivered straight to your inbox. While some companies have started out in this niche, many of the long-standing ancestry DNA companies have also moved in on this territory. So, which ones could you choose as an alternative to AncestryHealth? Let's take a look at four of the top options.
Here's another handy table, so that you can see how the test compare:
| | | | | | |
| --- | --- | --- | --- | --- | --- |
| | AncestryHealth | MyHeritage | 23andMe | Vitagene | Orig3n |
| Disease Risk Reports | 13 | 18 | 10+ | ❌ | ❌ |
| Carrier Status Reports | 3 | 18 | 40+ | ❌ | ❌ |
| Diet / Fitness Plans | ❌ | ❌ | ❌ | ✔️ | ✔️ |
| Price | $179.00 | $199.00 | $199.00 | $139.00 | $149.00 |
When to Take Advantage of AncestryDNA's Offerings
Ancestry.com is a long-standing leader in genealogy research, which branched out into DNA-based ancestry (with its AncestryDNA brand) and health (with its AncestryHealth brand). Its offerings are worth the cost if:
You want access to one of the largest genealogy databases of 20 million test takers and 17 billion searchable records.
You want to know about your ancestors' past migration patterns.
You want to know if you are genetically predisposed to 13 diseases or if you're a carrier of three congenital conditions.
You are interested in using the new health tool to organize your family's health history information.
However, at-home DNA testing isn't one-size-fits-all; another company might provide better value in some circumstances:
FAQ
Does AncestryDNA offer any regular or special discounts?
AncestryDNA regularly goes on sale, and there are also special discounts, such as an AARP discount (up to 30% off). It's also worth checking for coupon codes, which are frequently available. At DNAWeekly, we also keep track of all of the latest pricing and best deals, so you can be sure that you are getting your test kit at the absolute lowest price possible!
Does AncestryDNA pricing change based on location?
AncestryDNA pricing does not change based on location for most options. For DNA testing in Mexico, Sweden, and Canada you are redirected to the AncestryDNA page from the USA to purchase a kit. In France and Italy, DNA testing through AncestryDNA is unavailable. However, in Germany there is an AncestryDNA test available for roughly $25 less than the price of the AncestryDNA test in the United States.
Because you are paying to access different records, the subscription cost for Family Tree Builder by Ancestry does vary by location.
How does AncestryDNA pricing compare to competitors?
AncestryDNA pricing ($99.00) is relatively similar to its two main competitors, MyHeritage ($79.00) and 23andMe ($99.00). AncestryDNA is easily worth the price because it offers extensive family tree building software and access to the world's largest historical archives database. Plus, more people have taken the AncestryDNA test than any other at-home DNA test kit, so there is a lot of opportunity to connect with DNA matches. On the other hand, MyHeritage does cost less than AncestryDNA and still offers fantastic software.
Does AncestryDNA include shipping?
Yes, the pre-paid shipping label is included with your AncestryDNA test kit. Just collect and package your sample according to the directions, and drop the package in the mail!
Is there a subscription cost for AncestryDNA?
Subscriptions from AncestryDNA are available but not required to receive your AncestryDNA test results. Subscriptions provide access to historical records and family tree services, and can be purchased on a monthly, semi-annual, or annual basis. There are different subscription membership levels depending on whether you want access to US-based or worldwide records.