CRI Genetics Overview: More Than Merely Health Screening
While CRI Genetics states that genetic analysis is the future of medicine (and says as much on its website), it offers much more than merely health screening. It provides a detailed breakdown of your ethnic background and genetic ancestry in addition to reports regarding general genetic traits that could affect your diet and fitness goals.
CRI Genetics claims that its lab offers highly accurate reporting, as a result of analyzing nearly 650,000 genetic markers. However, I'm not sure whether this justifies the high costs of its tests, and if it is better to go with a different DNA test. For example, AncestryDNA is much cheaper but it also provides access to the world's largest database of records.
How CRI Genetics Works: Taking the Test(s)
Any CRI Genetics test requires a simple three-step process of ordering the test (to be delivered within five days), swabbing your cheek and sending in the sample (in a prepaid package), and exploring your results six to eight weeks later.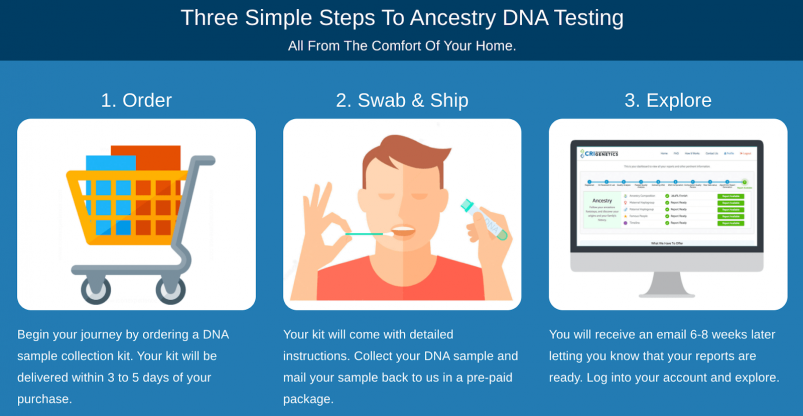 Unlike most DNA testing companies, this one's Eight Week Efficiency Guarantee promises to pay back your money if your results aren't ready within eight weeks of sending in your sample. Most results are ready within four weeks.
CRI Genetics: Detailed Look at the Ancestry Test Offered
The ancestry report provides a detailed breakdown of your ethnicities (with percentages), an ancestry timeline report (which goes back over 50+ generations), and paternal/maternal biogeographical ancestry reports (based on your Y-DNA and mtDNA, respectively):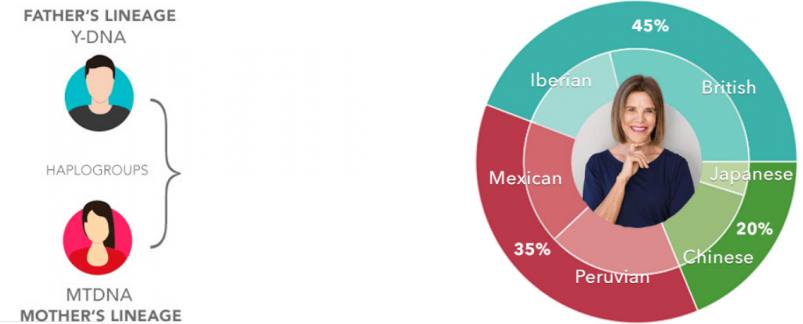 Your Y-DNA is the DNA contained within your Y chromosome (if you're male) that only gets passed down from fathers to sons; it provides a way to trace your paternal lineage. Your mtDNA is the mitochondrial DNA that gets passed down to both males and females from their mothers; it provides a way to trace your maternal lineage. Not all ancestry companies test these types of DNA.
Your ancestry results are presented in a user-friendly, interactive format with maps and historical context to make exploration more fun: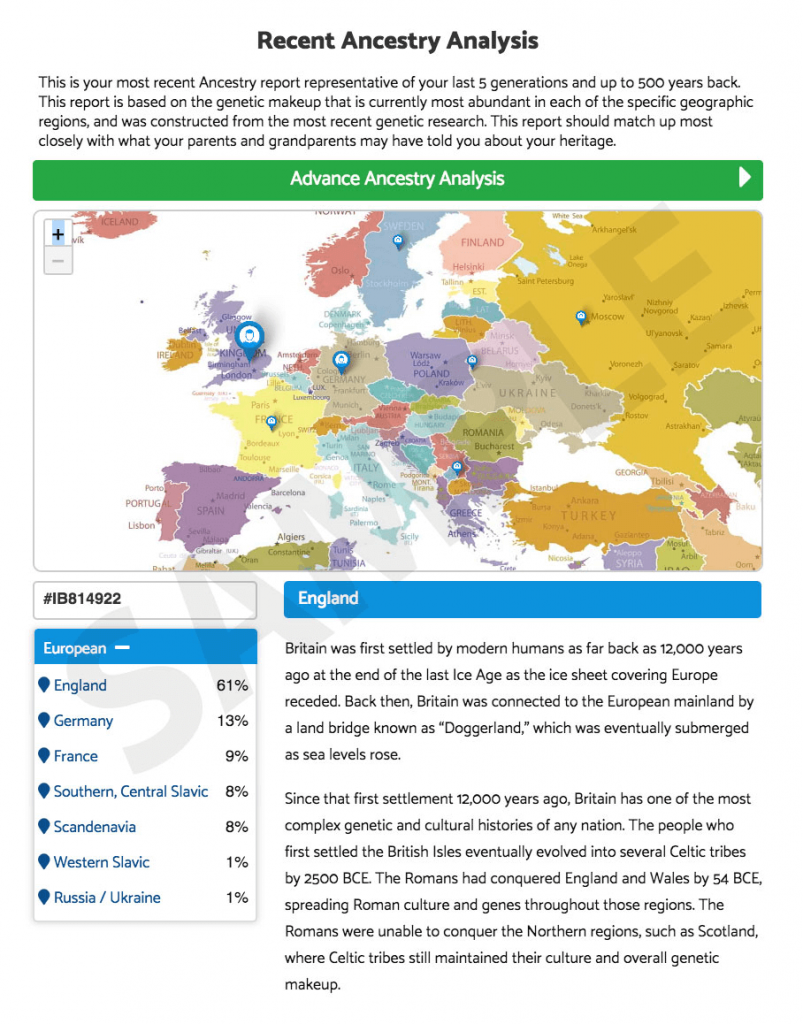 If you're up for even more fun, CRI Genetics will tell you all about the famous people you might be related to on your mother's and father's sides of the family. Who knows? You could be related to Nicolaus Copernicus!

If that's not fun enough for you, how about finding out that you're related to Elvis Presley or Princess Diana?
Value-Added Features:
A detailed breakdown of your ethnicity
Analysis of Y-DNA and mtDNA to trace your paternal and maternal family lines
Results presented in a user-friendly format with interactive maps and charts
Historical context regarding cultures, settlements, and migrations
Fun facts about famous potential relatives
Similar Test to Consider:
AncestryDNA has more than 15 million DNA tests in its database, which makes it one of the largest around. It also breaks down your percentage ethnicities precisely into 1,000+ regions around the world.
Pricing: Too-High Prices for Too Little Value?
The price of CRI Genetics' ancestry test is comparable with similar products from "big name" competitors such as 23andMe and AncestryDNA. However, those vendors' more nuanced and detailed reports make CRI look expensive. The ancestry service from MyHeritage costs about half what you would pay to CRI Genetics.
The same thing can be said for some of the other tests, and you won't have to do much shopping around to find a better deal for a weight loss DNA test and report. In terms of health tests, the one from 23andMe costs about the same as CRI's, but it's more comprehensive and FDA-approved.
If you are willing to pay the prices for CRI Genetics' tests, you can do so via Visa, other credit cards, or PayPal. Be aware that the advertised price doesn't include shipping, which costs a few dollars extra. And remember, this company promises to refund your money if your results are not available within eight weeks.
There are no ongoing subscription fees.
Ancestry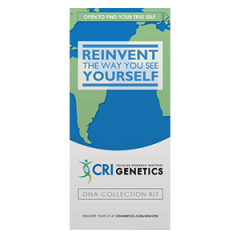 Ancestry
Trace your ancestry throughout human evolution, migration history
Test checks 842,824 DNA markers for precision results
Get detailed breakdowns of African, Asian, European ancestry
Customer Support: Satisfactory Self-Support Resources and Good Live Chat
For self-support purposes, CRI Genetics provides a regularly-updated informative blog and an acceptable (but not exceptional) set of frequently asked questions arranged into three categories: General, Ancestry, and Health & Wellness:

If these resources don't answer all your questions, you can contact the company via email, snail mail (regular post), telephone, or live chat. I enjoyed a particularly fruitful interaction with a live chat agent: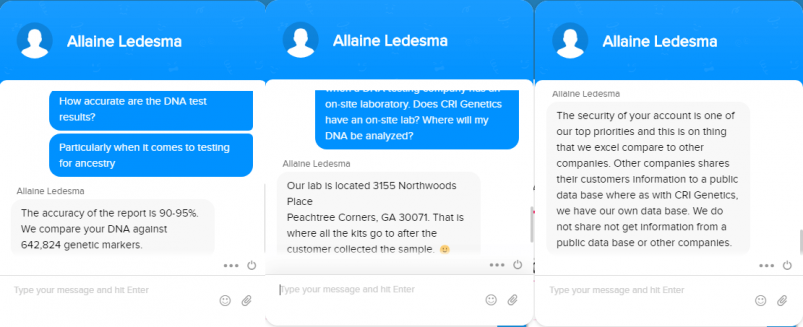 Worth a Look, but You'll Find Better Bargains Elsewhere
There is a lot to be said for CRI Genetics, but there are lots of competitors offering very similar ancestry services that may be better, or cheaper, or both. I'm talking about companies like 23andMe, MyHeritage, and AncestryDNA.
It's the same story in the health space, where diet and fitness DNA tests from Vitagene could give you more value for your money.
This is not to say there is anything bad about CRI Genetics, and it does have some good credentials when it comes to testing more genetic markers than many other companies. It could also be a good option if you are looking for a wide range of information in dual categories like Ancestry + Health or Weight Loss + Allergy.
FAQ
How accurate is CRI Genetics?
CRI Genetics promises 99.9% + accuracy in your final report. It's a big claim, but CRI has the scientific pedigree, tech, and methodology to back it up. The lab will look at over 642,824 genetic markers across your genome before delivering your results.
How long does it take to receive test results from CRI Genetics?
CRI guarantees to deliver your genetic reports in fewer than 8 weeks. Those 8 weeks begin the day that the lab receives your DNA sample, provided your DNA passes quality analysis. If you don't get your results within that time, CRI promises to refund your money.
How much does a CRI Genetics test cost? (Any discounts?)
CRI's ancestry test comes at a price that's comparable with similar products from some of the biggest names on the market, e.g., 23andMe and AncestryDNA. However, given that those vendors offer test results that are far more detailed and nuanced, it's arguable that CRI's product should be at least a little cheaper. The same holds true for CRI's test for weight loss. The fact is that you don't have to do much shopping around to find better deals.
What types of things can you learn from a CRI Genetics test?
CRI Genetics can provide insights on one's ancestry, how their genes affect their overall health, e.g., allergies and nutrition (but not diseases and disorders), and how one's DNA potentially influences weight loss.
Who should consider taking a CRI Genetics test?
CRI Genetics is good for someone looking to explore their ancestry, get insights about their health and wellness, or create a nutritional plan that's best suited to their genetics, and doesn't mind paying a little more for those services then the would with similar vendors.