A Focus on Fitness, but Some Ancestry Information Included
Unlike many commercial DNA testing companies, Vitagene uses your DNA results to offer personalized recommendations for how to improve your diet, enhance your exercise regimen, take better care of your skin, and choose the most appropriate nutritional supplements.
Vitagene's packages are tiered, so there's something to fit every budget. At the less expensive end, you'll get plenty of one-time static insights. For a higher price, you'll get monthly supplements and results that update over time.
This company's focus is diet and fitness, so its included ancestry report isn't the most comprehensive, and you might be better off going with a competitor if you want to explore your heritage. You might be better off going with a competitor like MyHeritage if you want to explore your genealogy or build a family tree. What you'll really want to know is how meaningful and useful Vitagene's genetic insights are.
Can they really help you take better care of yourself by adjusting your diet and exercise regimes? I hope to help answer those questions, so let's take a look.
Taking the Test
Vitagene's simple four-step process involves ordering your test kit, swabbing your cheek for a DNA sample, sending it to the CLIA-certified lab for analysis, and waiting up to six weeks for your results:

Detailed instructions are provided with the sample collection kit, but the main thing to remember is not to eat, drink, or chew gum for 30 minutes before swabbing your cheek for the DNA sample.
If you already have a DNA data file from having previously taken a test with 23andMe, MyHeritage, or AncestryDNA, you can upload your raw DNA data rather than submitting a new sample. This will save you money on the test kit, too!
A Detailed Look at the Ancestry Tests
Vitagene's ancestry reports are not sold individually, but as an add-on to a couple of its larger packages that are focused on diet and fitness. So, as long as discovering your heritage is not your primary focus, you can still get some interesting information about your past, which is supplemented with historical context and decent graphics.
Health + Ancestry Report
Vitagene's ancestry reports are pretty basic, giving only a sense of what world regions and ethnicities are reflected in your DNA: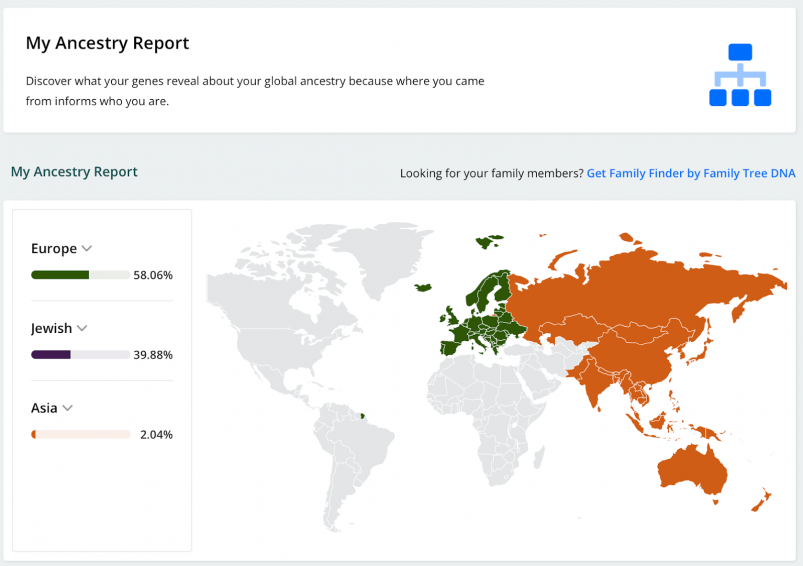 My results – 58% European, 40% Jewish, and 2% Asian – were very consistent with what I received from AncestryDNA (which is one of the best known and respected vendors in the market). You can select any of these top geo categories for a more detailed breakdown of your ancestry.
Also, when you click "See Details" you will get a few paragraphs about how this particular area was originally populated, and major migrations that may have affected your background.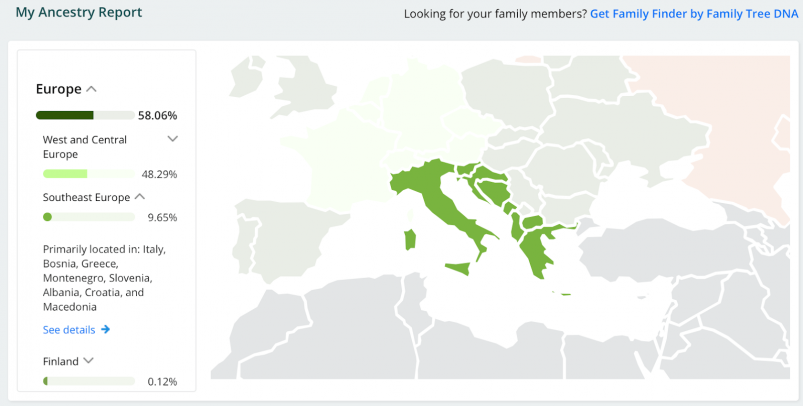 The fact that this is surface-level information is probably why it is not sold separately. Value Added Features:
An easy-to-read visualization map of your ethnic origins
Ethnic breakdown of 24 geo regions
Heritage breakdowns up to 99.9% accurate
Outline of major migrations that may have affected your family tree
Ancestry information going back thousands of years
Other Kits Available
Similar Tests to Consider
23andMe will tell you what maternal and paternal haplogroups you're descended from, what percent Neanderthal you are, what traits are associated with your genetic heritage, and what living relatives you might have around the globe.
MyHeritage DNA and AncestryDNA can help you find relatives around the world thanks to their vast genealogy databases which you can explore with a subscription.
Can Vitagene's DNA Test Reports Compete on Price?
Vitagene's most basic Health + Ancestry Report package price is comparable with 23andMe and AncestryDNA. But unlike those two competitors, Vitagene provides actionable insights into how you can adapt your diet and exercise regimen to improve your health, hence it could be better value for anyone wanting additional guidance on health improvement.
The Premium Report is about 40% more expensive, for which you get skincare results and recommendations, plus report updates. And you'll pay a lot more for the Vitality bundle that includes a supplements subscription.
The extra costs could be worth it if you decide that you can't put a price on good health, and if you believe that the suggestions and supplements will work. Otherwise, you should save some money by sticking with the cheaper two reports.
You can also save money by uploading your raw DNA data from a previous test that you took with 23andMe, MyHeritage, or AncestryDNA. Whichever testing plan you pick, you can pay for Vitagene's services with Visa, MasterCard, American Express, Discover, or Diners Club.
Satisfactory Self-Support Resources And Email Responses
For pre-sales purposes (i.e., if you don't yet have an account), Vitagene has an informative blog and provides separate sets of frequently asked questions relating to orders, supplements, reports, your account, and general issues. For example: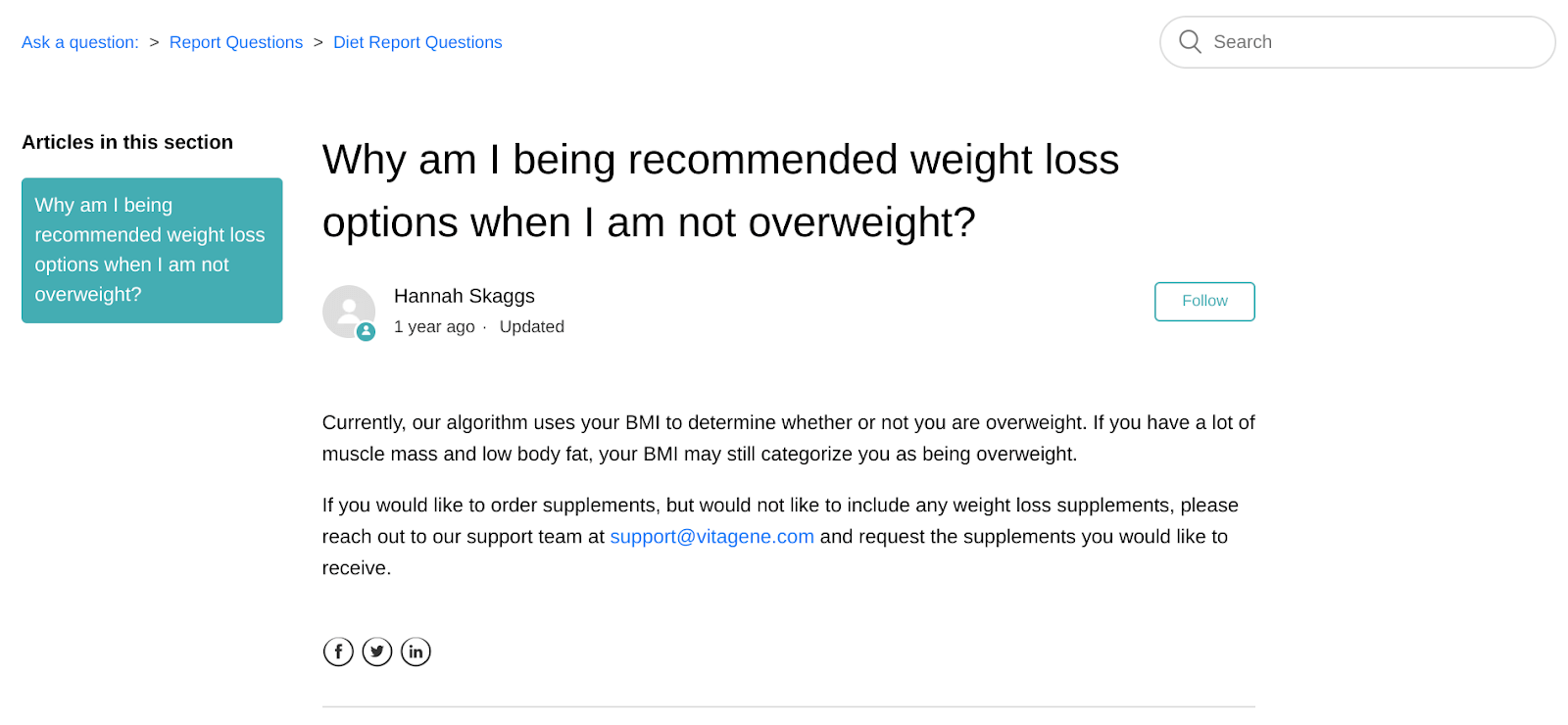 You can also send information requests to the company's support email address. I asked a simple question, and I got a simple answer, but the main thing is that the response came within about five hours and didn't offer any real information or links to more details provided on the website. It also didn't escape my notice that the name of the lady who answered my email was the same as the name on the FAQs I looked at. (Take that bit of information as you want.)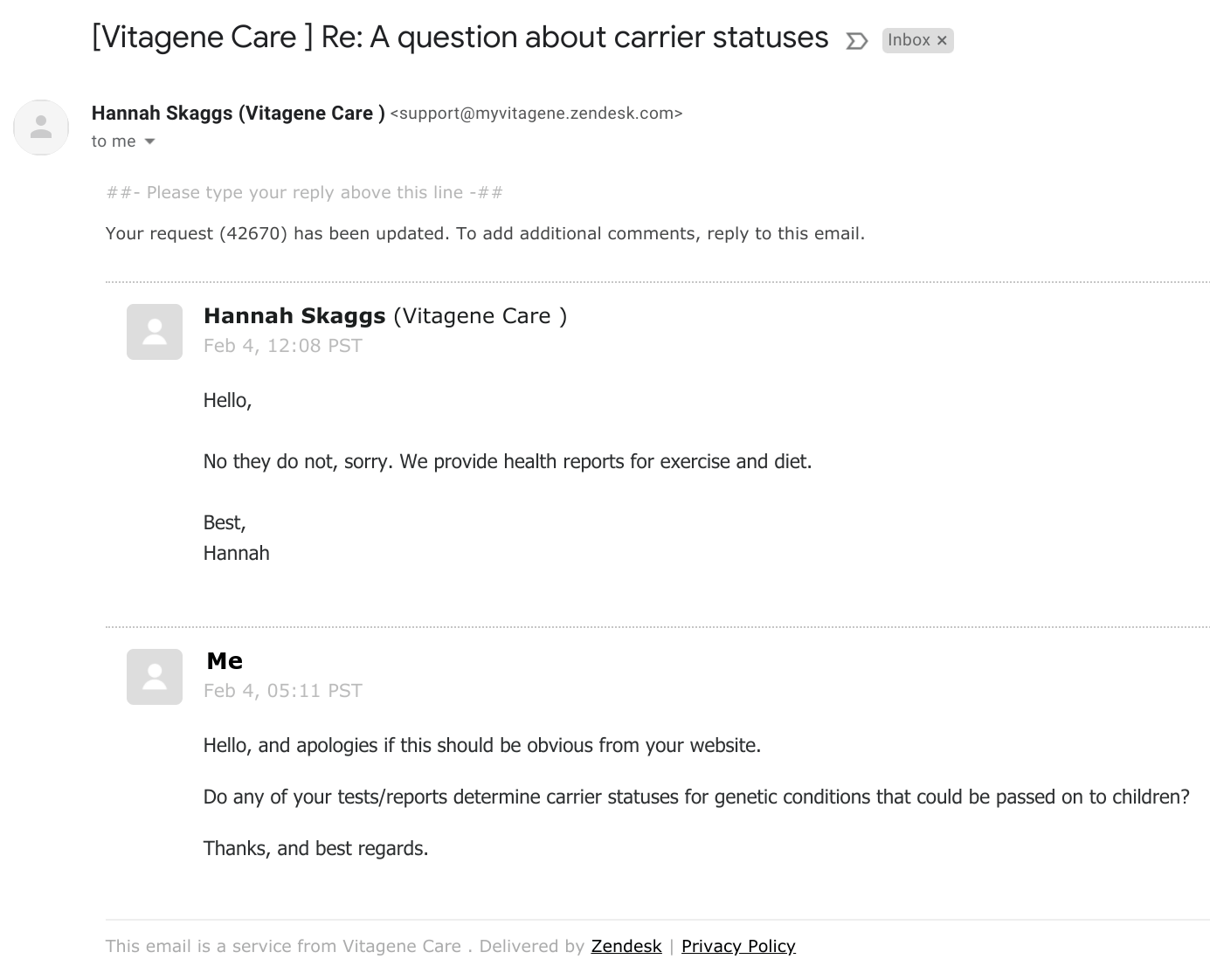 Better Health Through DNA Analysis?
Vitagene may not be the DNA testing company for you if you want to connect with relatives, or determine your genetic risk for specific diseases, or discover your Neanderthal percentage. In those cases, you'd be better off going with AncestryDNA or 23andMe instead.
It could be the right company if you've been struggling with weight loss or exercise goals, and you're wondering what difference an understanding of your genetics might make. The packages are hard to beat for diet and fitness information.
One final thing. Although Vitagene is contracted with Amazon and USPS, it seems to have struggled with order fulfillment, and some customers have complained about receiving their test kits much later than expected.