Analyzing Jewish ancestry isn't easy, and many ethnic Jews get misidentified as being from their countries of birth without ever discovering that they're Jewish. Knowing that my father is an Ashkenazi Jew, I wanted to see how far back my Ashkenazi ancestry goes, not only to establish my Jewish identity but also to learn about the genetic predispositions to disease that come courtesy of my Jewish DNA.
First, a bit of background. Over time, global Jewish ancestry has branched into three primary ancestral lines: Ashkenazi, Sephardi, and Mizrahi. There are no definitive dividing lines, but roughly, Ashkenazi Jews (about 75% of the Jewish population) originate in Central and Eastern Europe, Sephardic Jews (about 20%) come from Spain and Portugal, and Mizrahi Jews (about 5%) are the Middle Eastern. That's as close as I have come to an Ashkenazi definition. Having tried most of the major DNA testing services, I found many of them to be substandard compared with my "ten best" that follow.
In a hurry? Here are our top picks for Ashkenazi Jewish heritage
MyHeritageDNA – accurate analysis and fast results
AncestryDNA – great Ashkenazi Jewish ancestry detection with family tree mapping
FamilyTreeDNA – ability to test maternal and paternal genealogical lines
What I Looked For in the Best Ashkenazi Jewish Heritage Tests
The criteria I used to assess the DNA testing services are:
Geography accuracy that pays special attention to family lines coming from specific regions populated by Ashkenazi Jews
Robust testing methods that complement the default Autosomal DNA testing with Y-DNA and mtDNA testing to trace paternal and maternal lineages
A large user base with lots of DNA samples to compare against
Rapid results because nobody wants to be left waiting
Good value for money, which doesn't necessarily mean cheapest because you should get what you pay for
Now let's look at the ten tests, in turn, beginning with the best.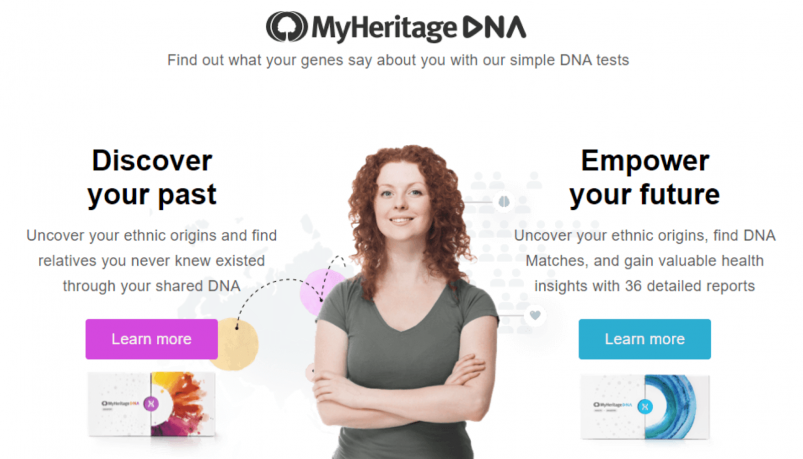 I was drawn to MyHeritage due to its detecting the five most common Jewish ethnic groups, including Ethiopian and Yemenite. Your DNA is compared against a large database of Jews in different worldwide locations, and you can contact potential relatives to map out an online family tree. Submitting a sample is easy, and you can expect to get your results in about four weeks. You might discover something you don't expect, which is not reported by other testing services, such as the fact that – although you're 47% Ashkenazi Jewish – you are also 1% Sephardic Jewish. This is due to MyHeritage's huge database of DNA samples, which allows it to provide more detailed information than most testing companies about your Jewish roots.
Standout Features
Large Ashkenazi DNA database
Online family tree creator
Quick and easy-to-read results
Very competitive pricing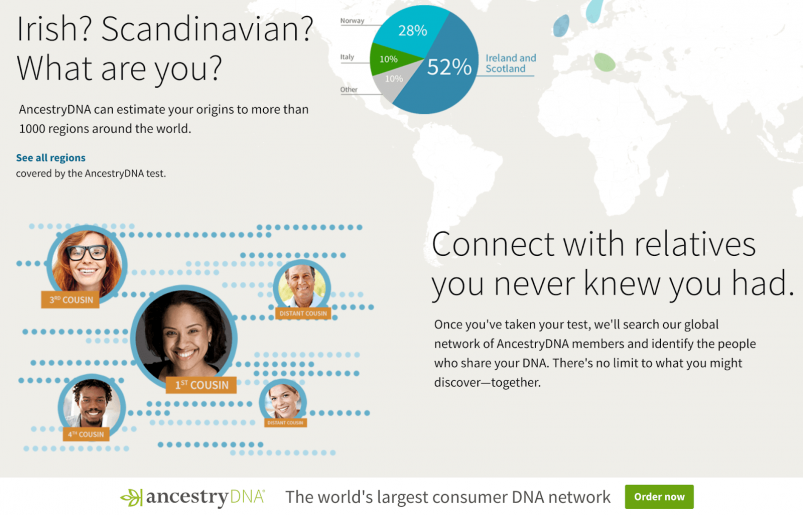 AncestryDNA was one of the first commercially available genetic and heritage testing labs in the world. And for good reason! The company has had more people test their ancestry on its platform than any other testing service. This means that the probability of you finding members of your Ashkenazi family are very high with this test. One thing I really love about AncestryDNA is its commitment to accuracy. On the company's blog, you'll find a lot of information about how best to identify specific Ashkenazi roots once the genetic testing is completed; things like public family tree mapping and digging into specific historical documents. You can expect different testing companies to present their results slightly differently; in this case, reporting that you're 53% European Jewish rather than 47% Ashkenazi and 1% Sephardic. Like MyHeritage, AncestryDNA has a large database to draw from, so it can claim up to 99% accuracy when detecting Jewish ancestry. In the dashboard, you see other users who are genetically related to you. Although it's a little uninspiring, for an additional fee you can build a family tree.
Standout Features
Biggest global database of users
A focus on mapping Jewish identity
Many geographic regions covered
Great tree mapping functions (for a price)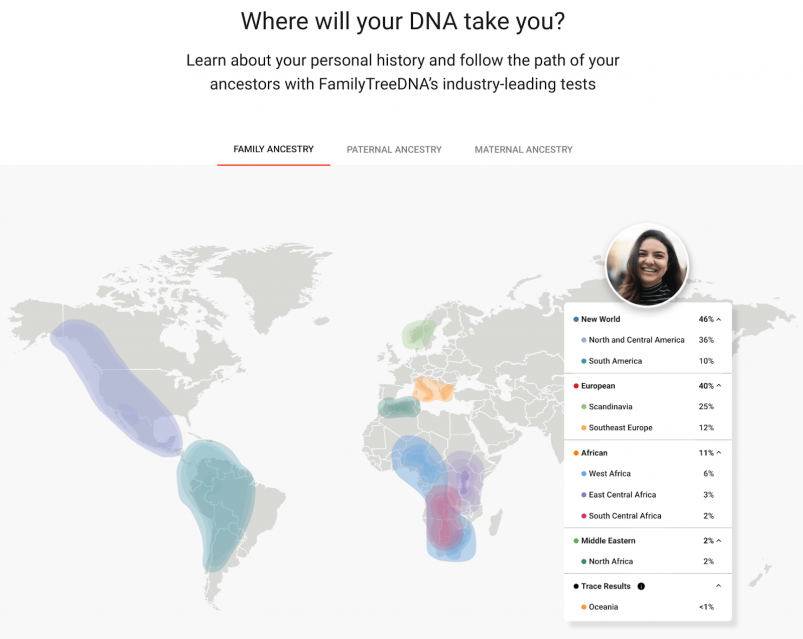 Although Jewish identity traditionally follows the maternal line, Jewish ethnicity, heritage, and health predispositions follow both parental lineages. Since my mother is not Jewish, I was therefore interested in FamilyTreeDNA's large Y-DNA database that details the paternal line. Do keep in mind that only biological men can order this kit since it tests the Y chromosome. If you take the autosomal (Family Ancestry) test, you can expect to receive your results in about three weeks. From what I've seen, the Jewish Ancestry result should be pretty close to that of MyHeritage DNA, give or take a percentage or two for Ashkenazi heritage. The Y-DNA (Paternal Ancestry) test can typically take two weeks longer to process. The in-depth results can tell you things like the fact that your father's ancestors traveled from Germany to Poland in the Middle Ages, and then to the USA about a hundred years ago. And you can visualize it via a map. Although I've focused on my paternal Ashkenazi descent, you could also order the Maternal Ancestry test to trace your female family tree.
Standout Features
Largest database of Y-DNA samples
Extensive mtDNA testing
Shows migration path of paternal lineage
Good customer support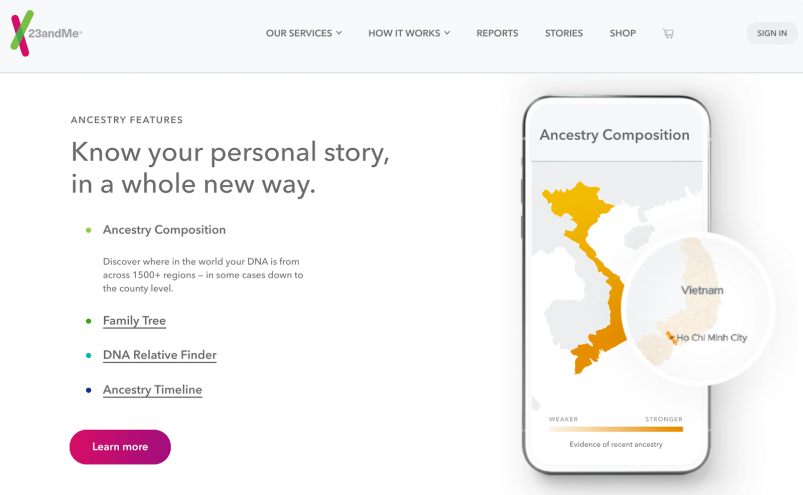 23andMe was one of the first DNA testing services to popularize consumer genetic testing. Although its decent reports pull from a large database, it has no particular focus on the Jewish community. It could take just two weeks to receive your 23andMe results, which is the fastest of all the services I've seen. At 52% (for example), the Ashkenazi Jewish estimate may be slightly higher than the others, but still in line. The main disappointment is that this is all you will learn, with no additional information about the countries in which your Jewish subtype originates. However, you do get some fun facts such as your percentage Neanderthal heritage.
Standout Features
Super-fast results
Large database of DNA samples
Plenty of fun facts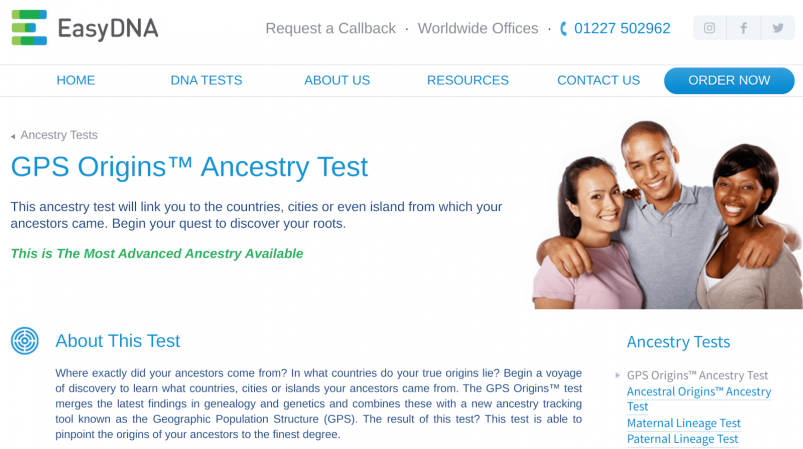 As its name suggests, EasyDNA is one of the most customer-friendly testing services, but it also does ancestry testing and other kinds of testing, including health testing, prenatal testing, and animal testing. Although there is a Y-DNA test, it's really expensive, and the hyperbolic marketing is a little off-putting. I couldn't find any objective reviews about it, but I do like the look of the Dual Lineage Test that does mtDNA and Y-DNA testing at the same time. EasyDNA's autosomal GPS Origins Ancestry Test is the most expensive on my top 10 list, and the company claims "36 global gene pools!" which is a lot less than Ancestry's 500+. Although the Ashkenazi heritage isn't stated explicitly, you will get a geographic breakdown – e.g, 12.5% Southern Levant and 4.3% Northwestern Africa – along with some uninspiring graphics and a "story" that reads like a historical novel.
Standout Features
Different kinds of DNA testing available
Offers combined Y-DNA and mtDNA testing
Includes detailed historical context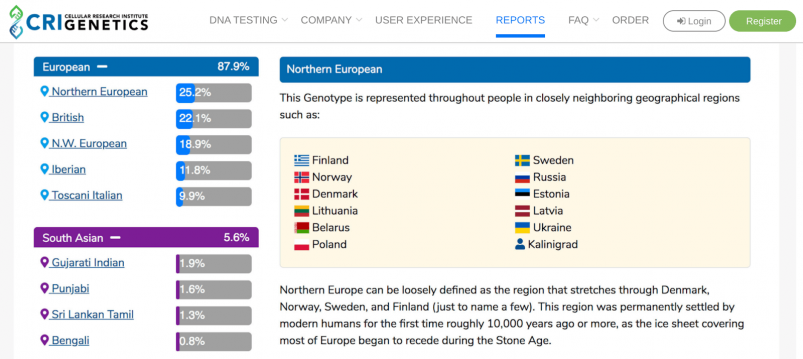 I stumbled upon CRI Genetics after reading a detailed blog post about Ashkenazi Jews, so that was a good starting point, and it got even better when I found that the customer support team was very responsive via live chat. It's not all good news, however, since the site is hard to navigate and the reports don't pick out the percentage Ashkenazi Jewish heritage (but do specify the overall Jewishness). Expect to see your results in about six weeks, and expect to see a somewhat lower Jewish percentage (e.g., 38%) broken down into geographic areas (e.g., Poland and Russia). While I can't say for sure how accurate the results are, and they don't differentiate between Ashkenazi/Sephardic/Mizrahi Jews, the results are well designed with great geographic detail.
Standout Features
Ability to bundle health testing with ancestry testing
Visually engaging, detailed reports
Good pre-sales support via live chat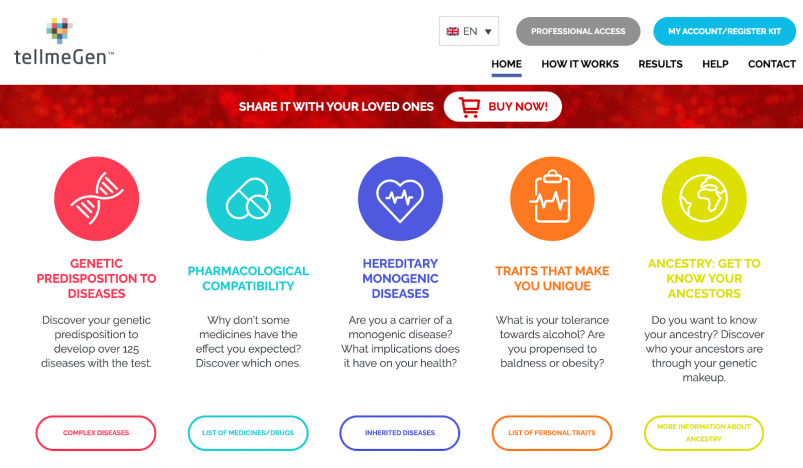 Mostly medical DNA testing company, tellmeGen, does include genealogical information in its reports. I found out about this service from a series of blog posts on specific genetic diseases that affect Ashkenazi Jews, so again it was a good starting point. I thought that the single test – which combines autosomal ancestry mapping with comprehensive medical analysis – would tell me about potential medical problems as well as my ancestry. At five weeks, the typical time-to-results is slightly slow but not the slowest. The results are accurate but generic, so you'll only learn (for example) that you're 45% European Jewish with no additional detail. The medical information is much more interesting, and you'll learn how your genetic mutations could affect your health as an Ashkenazi Jew. This is probably the best DNA test to take if you want to know how your ancestry (Jewish or otherwise) could lead to any potential medical issues.
Standout Features
Basic ancestry testing
Detailed medical analysis
Fun facts about personality traits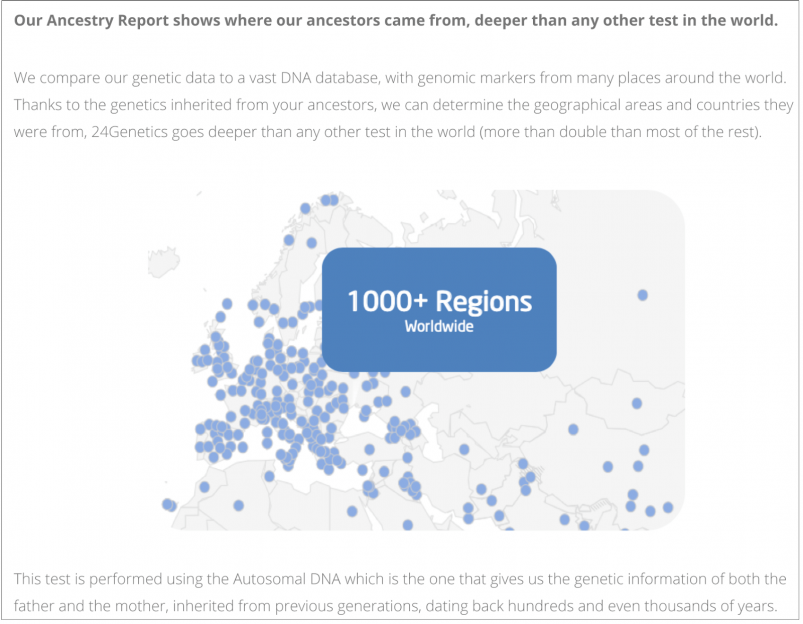 One of the interesting idiosyncrasies of 24Genetics is that it will take your DNA data from other services such as MyHeritage and 23andMe, and subject it to additional analysis. The company claims to pull from 1,000+ geographic locations, which is significantly more than most other services. After swabbing your cheek rather than spitting into a test tube, you can expect to see your results in about four weeks. You might learn that you're 45% Jewish, originating in a few German and Polish regions you can't even pronounce (unless you speak Polish, of course). 24Genetics is also set up to interface with the GEDmatch free online resource that helps you discover and connect with living relatives.
Standout Features
Many geographic regions
Detailed analysis of heritage
Various other types of DNA testing available

Having stumbled upon iGENEA's website, and liked its presentation, I was surprised to discover how expensive even its basic autosomal DNA test is. Of the tests I've examined, it's second only to EasyDNA in regards to high price tag. After about five weeks, expect your 43% Ashkenazi Jewish heritage (in my test case) to be accompanied by a note that says something like "5% not determinable". I'm not sure if this means a margin of error, but nevertheless, the results seem accurate and are nicely laid out. You can also get a list of living relatives whom you can contact by email, presumably if they have consented to be contacted. In short, iGENEA ostensibly offers a premium genealogy experience, but at a high price point that might be off-putting for many potential customers.
Standout Features
Nice graphics and design
List of contactable relatives
Tiered pricing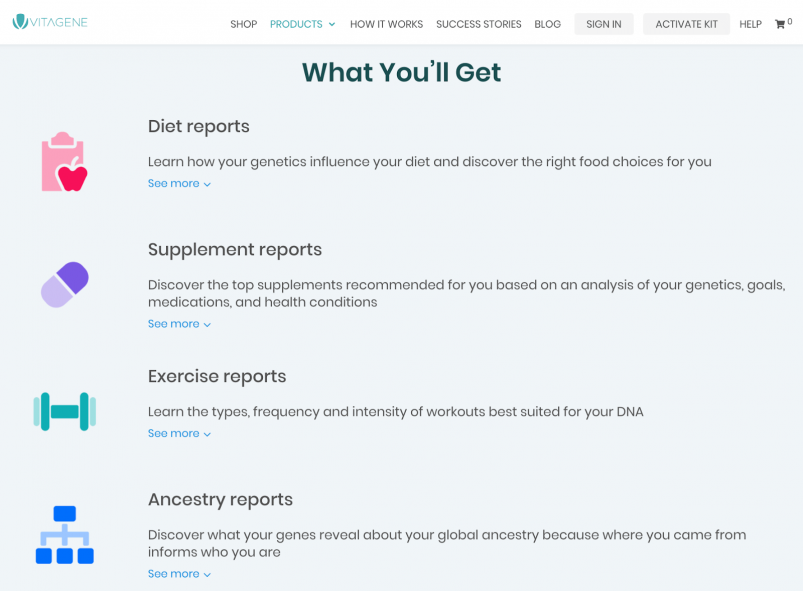 Like tellmeGen, Vitagene is primarily a health-oriented DNA testing company, but its report package does include genealogy and ancestry information. Like 24Genetics, you can upload your raw DNA data from another testing company Vitagene will take your raw DNA from another testing service like MyHeritage, and run it through its own analysis, which is cheaper and quicker than having to do a separate test. The Health + Ancestry test results should appear on the nicely designed dashboard about four weeks after taking the test. The ancestry aspect a bit underwhelming since it doesn't specify an Ashkenazi percentage. The medical information is more interesting since it highlights the Ashkenazi gene mutations that could lead to health problems, and it suggests which food groups to include or exclude in your diet (e.g., to avoid gluten sensitivity or optimize your low saturated fatty acid levels). In summary, Vitagene is more about health than heritage, and its reports have more of a 'novelty' feel than those provided by the even more medical rival, tellmeGen.
Standout Features
Detailed health and medical analysis
Dietary advice
Interactive ethnic map
What's in the Fine Print?
If some of the services sound too good to be true for the price you pay, this could well be the case. So, what do you need to watch out for in the fine print? (Click the name of the DNA test kit to read our in-depth review for more information.)
MyHeritage: You have to pay extra to send back your sample, and the family tree builder is only free for up to 250 people.
AncestryDNA: The family tree mapping requires a monthly subscription.
FamilyTreeDNA: Your DNA can be used indefinitely by the company.
23andMe: Some customers have reported difficulties when requesting refunds.
EasyDNA: Return postage is not included.
CRI Genetics: I've seen some issues about requesting refunds and receiving kits.
tellmeGen: You have to pay for return postage.
24Genetics: Advanced GEDmatch membership is not included in the price.
iGENEA: You have to pay extra for more detailed analysis.
Vitagene: No testing kits are available outside the USA.
Price Comparison
The prices charged by these DNA testing companies are all over the place. Some are exceedingly expensive, and some are surprisingly cheap.
The best value tests for detailed ancestry reports (for autosomal testing) are MyHeritage, AncestryDNA, and 23andMe.
For Y-DNA and mtDNA tests, FamilyTreeDNA was the best (and least expensive).
The most expensive options are EasyDNA and iGENEA, neither of which appears to provide good value for money. However, EasyDNA has extra testing, and iGENEA offers premium features, which could appeal to some customers.
The health-oriented tests are priced similar to the genealogy ones, with EasyDNA once again being the most expensive. Of the rest of the reasonably priced ones, Vitagene provides the most information for the lowest price.
My Final Thoughts and DNA Testing Takeaways
Discovering the role that your Ashkenazi Jewish ancestry has played in your genetic makeup can be an enlightening experience. I personally never thought that I could connect so deeply with my Jewish identity through a few simple DNA tests. I hope to have encouraged you to dig deeper into your own Jewish heritage, and I'll leave you with a final few takeaways:
For general genealogical testing, MyHeritage, AncestryDNA, and 23andMe provide the most detailed reports about Ashkenazi heritage at the best prices.
For Y-DNA and mtDNA testing, FamilyTreeDNA is about the best of the bunch, especially compared with the health-oriented testers like EasyDNA.
| | | | | | | |
| --- | --- | --- | --- | --- | --- | --- |
| | Collection Method | Autosomal | mtDNA & Y-DNA | Time to Results | Contact Genetic Matches? | |
| MyHeritageDNA | Cheek Swab | ✔ | ✖ | 4 weeks | ✔ | SEE DEALS |
| AncestryDNA | Saliva | ✔ | ✖ | 4 weeks | ✔ | SEE DEALS |
| FamilyTreeDNA | Cheek Swab | ✔ | ✔ | 3 weeks (autosomal) / 5 weeks (Y-DNA) | ✔ | SEE DEALS |
| 23andMe | Saliva | ✔ | ✖ | 2 weeks | ✔ | SEE DEALS |
| EasyDNA | Cheek Swab | ✔ | ✔ | 3 weeks | ✖ | SEE DEALS |
| CRI Genetics | Cheek Swab | ✔ | ✖ | 6 weeks | ✖ | SEE DEALS |
| tellmeGen | Saliva | ✔ | ✖ | 5 weeks | ✖ | SEE DEALS |
| 24Genetics | Cheek Swab | ✔ | ✖ | 4 weeks | ✔ | SEE DEALS |
| iGENEA | Cheek Swab | ✔ | ✖ | 5 weeks | ✔ | SEE DEALS |
| Vitagene | Cheek Swab | ✔ | ✔ | 4 weeks | ✖ | SEE DEALS |
FAQ
What is Ashkenazi Jewish ancestry?
Jewish heritage is broken down into several different subgroups, based on the geographic locations where those cultures took root and flourished. The Ashkenazi subgroup is the term used for the Jewish population which consolidated in Eastern Europe after the Middle Ages.
What genetic diseases and health risks do Ashkenazi Jews face?
Due to the unique migratory and inbreeding patterns of the Ashkenazi Jewish culture, Ashkenazi DNA holders are particularly at risk for a variety of familial diseases. The most common is Gaucher disease — a buildup of fat in various organs like the spleen and liver. Other diseases which commonly affect the Ashkenazi community are Cystic Fibrosis, Tay-Sachs disease, and Spinal Muscular Atrophy.
What are the main types of Jewish ancestry?
There are three main types of Jewish ancestry: Ashkenazi, Sephardic, and Mizrahi. Defining them can be a little tricky, but a genetic analysis can show which Jewish subgroup you belong to. Roughly speaking:
Ashkenazi — Jews from Eastern Europe (Germany, Poland, Ukraine, etc.)
Sephardic — Jews from the Iberian Peninsula (Spain, Portugal, North Africa, etc.)
Mizhari — Jews from east of Europe (Middle East, Turkey, Iran, etc.)
Which vendor is best at analyzing Jewish heritage?
The best autosomal DNA tests for identifying Jewish heritage are MyHeritage and AncestryDNA. Both of those tests will give you accurate assessments of how much Jewish blood you have. For Y-DNA (paternal lineage) or mtDNA (maternal lineage) testing, FamilyTreeDNA offers the best analysis for tracking and understanding the geography of your Jewish lineage.
What are the benefits of proving your Jewish ancestry?
Apart from learning about your heritage, understanding your Jewish ancestry can provide you with valuable medical insights to help prevent diseases that disproportionately affect those in the Ashkenazi community. And if you use a DNA service which also has a genealogical component — like MyHeritage or AncestryDNA — you can find and connect with living relatives who are also part of your Jewish family.