Overview: Plenty of Options, Only Pay for What You Want
HomeDNA is one of the plethora of DNA test kit providers that aims to tell you about your genetics and how (based on that information) you could be healthier.
Its primary aim is to make genetic testing more accessible than other companies by selling its proprietary test kits in retail stores such as Walgreens and Walmart. It also shares a diagnostic testing facility with GPS Origins and DNA Origins, and I focus on the GPS Origins tests in this review.
Unlike other companies that package DNA reports, HomeDNA sells all its reports separately, so you can take your pick and pay for only what you want. Within each category – ancestry, health and beauty, and even pets – there are several separate reports, and ancestry alone provides eight different test options.
HomeDNA claims that its genotyping methodology makes its ancestry reports more accurate. It's a bold claim, so I set out to test it. And in this review, I also hope to help you decide which of the available options might be right for you.
What's In The Box?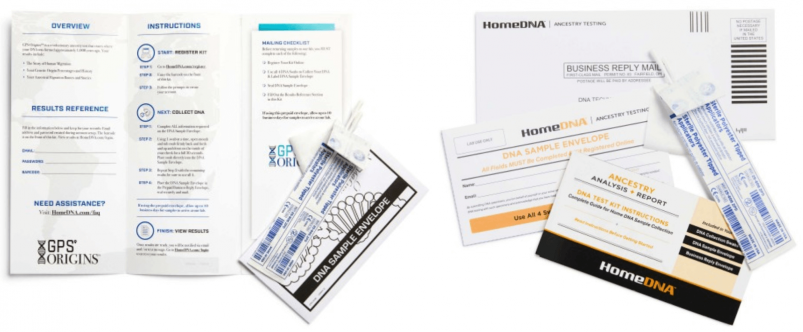 Since HomeDNA sells GPS Origins tests and its own tests, what comes with the test kit depends ever-so-slightly on which test you buy. However, in both cases, these tests use the cheek swab collection method that involves rubbing one or more of the supplied swabs inside your cheek for 30 seconds and then slipping them into the DNA sample envelope for return to the lab. Postage is prepaid – at least in the United States – so that's one less thing for you to worry about, but it can take up to ten days for your sample(s) to reach the lab.
Detailed Look at the Ancestry Tests
With eight different ancestry test options, HomeDNA offers something to suit every budget. Its genotyping algorithm analyzes 80,000 specific genetic markers from your DNA sample and compares them to the same markers found in more than 1,000 different reference populations. By drawing inferences from these comparisons, HomeDNA says it's able to obtain more precise, accurate, and targeted results than other companies.
GPS Origins Ancestry Test
With this package, you can uncover your three primary genetic ancestries, shedding light on the significant genetic sources that have shaped your unique genetic makeup. It provides a detailed breakdown of the percentage of your DNA inherited from each of these ancestries. Additionally, you'll receive a captivating map that showcases the historical migration paths of your maternal and paternal haplogroups, offering a glimpse into your family's geographic origins on both sides. This fascinating information allows you to trace ancestral journeys and delve into the diverse roots that contribute to your special heritage.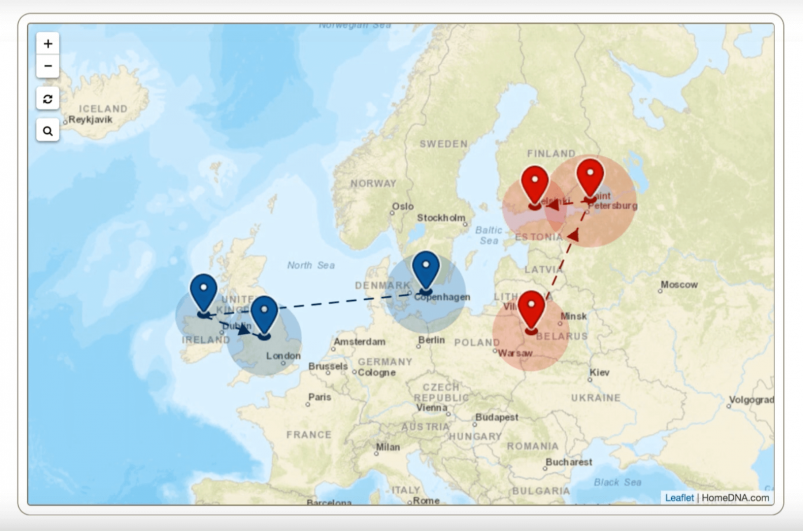 Value-added features:
DNA analysis results reveal the migrations of both sides of your family, showing where your genetic signature went through significant changes.
Explanations of important historical events from over 1,000 years ago that contributed to your DNA mix.
Analysis of 80,000 autosomal genetic markers, 1,000+ reference populations, and 41 gene pools.
The lab can pinpoint exactly when and where your DNA formed, down to the towns and villages. No other DNA test that I've seen currently provides this level of detail.
An interactive map allows you to zoom into your GPS pinpoints, to further explore your heritage.
DNA Origins Paternal Lineage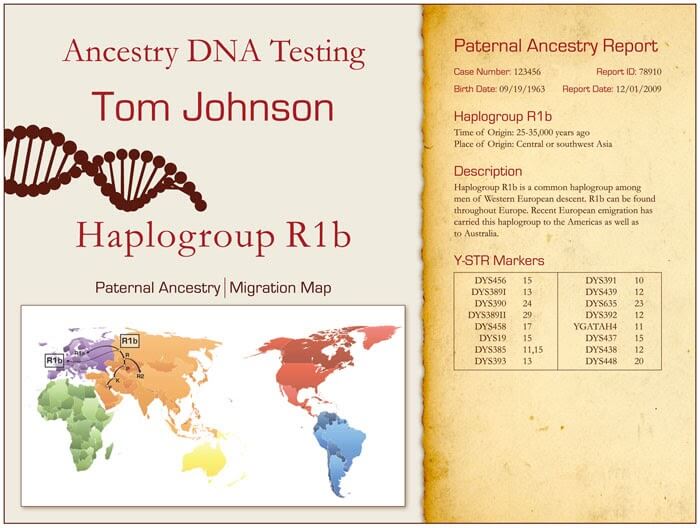 Using your Y-DNA, this test identifies your paternal haplogroups and maps your male ancestors' geographical journeys going back tens of thousands of years. Note that only biological males can order this test because females don't have a Y chromosome. Value-added features:
A shareable PDF results manual provides detailed explanations of your background and more information about ancestry testing and migration history.
A personalized certificate provides your haplogroup designation with a map that illustrates your male ancestors' journeys from the place they first called home.
A description of the worldwide populations that share the same haplogroup (i.e., your "genetic cousins").
DNA Origins Maternal Lineage
This test does essentially the same thing as the Paternal Lineage test, in this case using your mtDNA to explore the history of your maternal haplogroups. The test results include the same information as the Paternal Lineage service, as detailed above.
GPS Origins Ancestry Test – African Edition
This is where it gets even more interesting since it's the only ancestry test I've seen that lets you explore your African heritage specifically. It compares your DNA to reference points derived from 11 African gene pools, plus ancestry markers from more than 100 African populations from all over the continent.
Based on these comparisons, HomeDNA provides a detailed analysis of your African ethnicity and your full ethnic profile in percentages. You can trace your ancestry back to one or more specific regions in Africa, and follow your ancestors' migration routes as far back as 2,000 years. Value-added features:
Interactively explore your African heritage via an online map that lets you zoom in to individual towns and villages.
Reports include extremely detailed ethnicity profiles that analyze nearly a dozen gene pools from Africa.
See the migration paths of both sides of your family, along with dates and geographic coordinates.
Information about the historical migrations that may have influenced your DNA.
Print or share your results PDF with friends and family.
GPS Origins Ancestry Test – Asian Edition
This is like the African Edition, but to test your Asian ancestry. It traces your ancestors' migration routes as far back as 2,000 years, with date stamps and geographic coordinates, and it explains the historical events that may have influenced these migrations.
It's interesting to note that HomeDNA includes the whole of Indonesia under the broad heading of Austronesia, so its report on Southeast Asian heritage is probably no more specific than those you would get from 23andMe or AncestryDNA. Value-added features:
The test covers 18 Asian-specific gene pools.
Hundreds of Asian reference populations are analyzed.
Learn about your ancestors' migration routes throughout history, with relevant dates and coordinates of historical events.
Get a comprehensive ethnic profile with accurate percentages and an interactive, color-coded map of your top three Asian gene pools.
Zoom in on your Asian heritage pinpoints.
Other Tests Kits Available
On the HomeDNA site you can find a few more ancestry tests (plus some in the health and wellness and diet and fitness categories). Some are proprietary tests provided by HomeDNA, and some are other brands's tests that you can also buy elsewhere (but HomeDNA's prices are competitive).
GPS Origins Algorithm – upload your raw data from another service such as 23andMe
HomeDNA Starter Ancestry Test
HomeDNA Advanced Ancestry Test
Similar Tests to Consider
FamilyTreeDNA offers three basic tests for you to explore your ancestry. Unlike many competitors, it will also test your mtDNA and Y-DNA.
AncestryDNA has the largest reference database out there, and it can estimate your origins to more than 1,000 ethnic regions around the world.
Some Interesting Information, but You Could Pay a High Price
The ancestry tests available on HomeDNA generally cost more than similar products from similar companies. It could be worth the investment if you're particularly interested in skin care plus pet and food sensitivities since there are not that many "big name" vendors offering similar services. However, for pure diet and fitness recommendations, I'd personally turn to other companies.
Its pricing varies based on which test you choose – and there are several per category. For example, the basic GPS Ancestry Test costs $199.00 while uploading your results from another company will cost $39.00. The Healthy Weight test kit will cost you $159.00, and its Skin Care test is $139.00. The genetics pet test is one of the cheaper tests at $89.00, but if you want to learn more about the health of your dog or cat, you'll need to pay up to $125.00.
As far as I could see during my research, there are no discounts or coupons you could use to make the service cheaper.
HomeDNA accepts payments via most major credit cards plus PayPal. There are no hidden fees and no ongoing costs to maintain your information.
Generic Answers to Specific Questions
Most DNA testing companies offer a very similar set of support options. You start at the FAQ page, then (if it doesn't answer all your questions), progress to filling out a contact form or calling the company. HomeDNA's FAQ page is arranged into "My Account and Results", "Ordering and Testing", "Privacy", and "Genetics Basics" sections: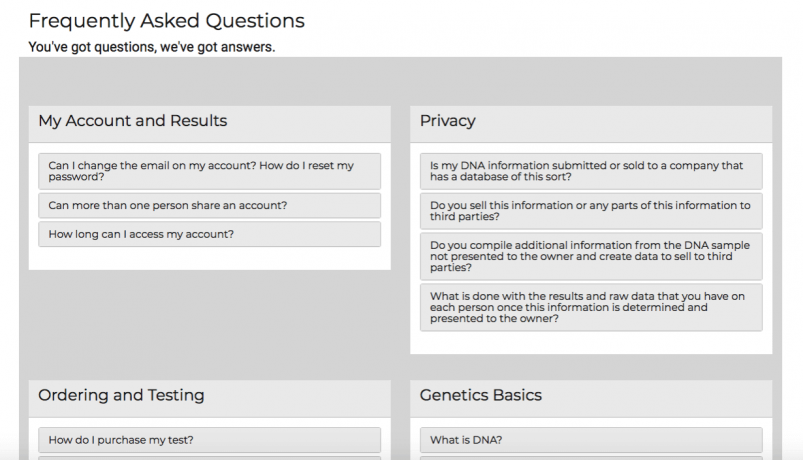 Since the simplistic information didn't answer all my questions, I filled out the contact form twice (to ask two questions):
"How do your GPS Origins ancestry reports compare to 23andMe's ancestry report? Are they any more detailed or geographically specific? Is your methodology any more rigorous?"
"If you order one HomeDNA test – like the GPS Origins Ancestry test, for example – can you buy additional reports, like the maternal and paternal lineage reports, at a discounted rate? Or do you have to pay the full price?"
I never received a reply to the second question. The answer to the first question was unnecessarily convoluted and confusing (and it didn't answer my question):
"….Your DNA signature is based on genetic information found mostly in the autosomal chromosome…This DNA signature changes with every generation, but the change can be small if your parents came from the same population or large if they came from different populations…"
My own support experiences aside, other customers have complained that:
They never received their test results, or received them much later than promised.
Their issues were never resolved, or they didn't receive promised refunds.
Unless You're Interested African or Asian Heritage, Consider a Competitor
HomeDNA offers a wide range of DNA testing kits: GPS Origins ones for ancestry, and its own tests for health. There are even tests for your pets, in case your cat wants to know about its genetic disease risk, or your mutt wants to know what kind of mongrel it actually is.
My research into HomeDNA has led me to conclude that, unless you're looking for niche information such as your African or Asian heritage, the ancestry products are probably overpriced. The health and beauty products are more reasonably priced, but I can't comment on the pet products.
There is some work to be done when it comes to support, which appears to be the bare minimum.
FAQ
How accurate is HomeDNA?
HomeDNA claims that its genotyping methodology makes its ancestry reports more accurate, precise, and targeted than what you'll find with other vendors in the market. This doesn't really seem to be the case as other DNA tests, like MyHeritage, AncestryDNA, and LivingDNA, provide more detailed and accurate information. However, it does a particularly good job of pinpointing African and Asian ancestry.
Where can you purchase a HomeDNA test kit?
HomeDNA is one of the few DNA test kits that can be purchased both online and in many pharmacies, like CVS and Walgreens.
What different test categories does HomeDNA offer? (How about for pets?)
HomeDNA offers a comparatively wide variety of products for ancestry testing, including (but not limited to) mtDNA and Y-DNA tests. It also offers a few tests for Health and Beauty, including weight/fitness and skincare. And if your looking for DNA-based insights about pets, you'll find health tests for both cats and dogs, as well as parentage test for mixed-breed dogs.
Who should consider taking a HomeDNA test?
Unless you're looking for niche information, such as your African or Asian heritage, the ancestry products are probably overpriced; so you might what to look at other companies for that. The health and beauty products are more reasonably priced.