Living DNA and AncestryDNA stand out as top-tier DNA testing companies specializing in ancestry research. Both companies provide incredibly detailed insights into your ancestral origins, tracing your lineage and exploring how your ancestors migrated across the globe. Additionally, they offer the opportunity to connect with living relatives who have also submitted their DNA to the respective company's databases.
While these two industry leaders share many common features, they also exhibit distinct differences. To assist you in selecting the best option for your needs, we have conducted extensive research. In this article, we will compare Living DNA and AncestryDNA based on five key criteria:
Ethnicity Estimates and Geographical Regions
Lineage Testing, Haplogroup Assignments, and Migration Mapping
Family Tree Building and Historical Database
DNA Matching and Relative Finding
Customer-Friendliness and Available Resources
Unique Features
Winner: Tie
Every human can trace his or her origins all the way back to Africa, and Living DNA's Full Ancestry Report arguably provides more detail about your African geographical origins than any other DNA test. It also breaks its ancestry results down into particularly high resolution for other areas, including the British Isles and Europe.

Despite the focus on some specific regions, Living DNA in total compares your DNA to that of people from over 150 regions worldwide.
Living DNA's value-added ancestry features:
Specialist African Ancestry for 72 sub-regions
Specialist British Ancestry for 21 sub-regions
Specialist European Ancestry for 9 sub-regions
AncestryDNA can also tell you where your ancestors lived, down to the specific county and city: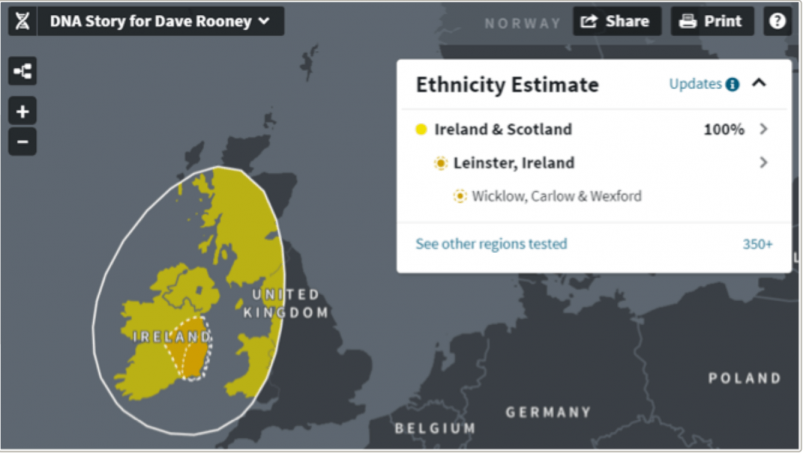 As well as receiving detailed ethnicity estimates (with percentages), you can also see a curated timeline or historical events in your ancestral regions.
AncestryDNA's value-added ancestry features:
Over 500 geographical regions, some as specific as a city
Percentages and charts to help you conceptualize your ethnicity estimate
Expert-curated timeline
Ancestor Migrations
Living DNA offers a comprehensive 3-in-1 ancestry test that examines autosomal DNA, Y-DNA, and mtDNA. Autosomal DNA can reveal ancestry information spanning a few generations, while Y-DNA (in males) and mtDNA (in all biological genders) can trace back paternal and maternal family lines respectively, across many generations.
By identifying occasional mutations in these types of DNA, researchers can assign individuals to specific haplogroups for each family line, providing insights into the migration patterns of ancient ancestors from Africa and beyond. Here is a Living DNA example migration map: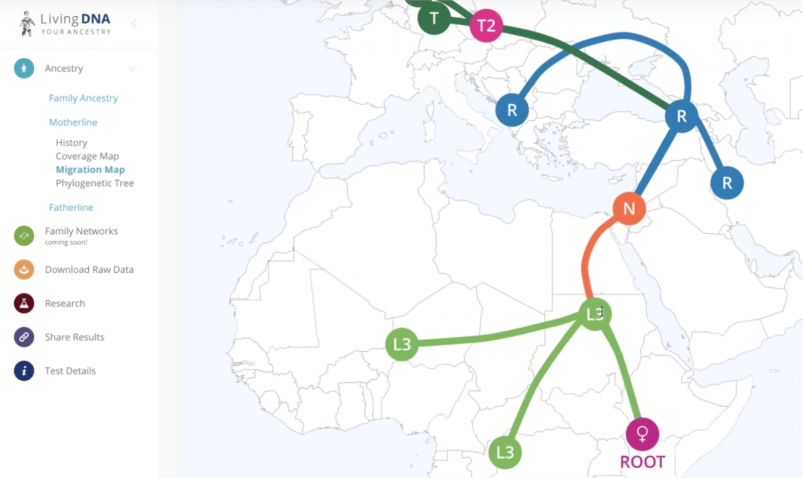 Living DNA's value-added ancient ancestry features:
Maternal lineage testing and haplogroup assignments
Paternal lineage testing and haplogroup assignments
Migration mapping
How accurate is AncestryDNA in comparison? AncestryDNA does not conduct Y-DNA or mtDNA analysis, which means it cannot determine an individual's ancient haplogroup(s). Instead, the service offers migration mapping features that utilize a vast historical records database. This information sheds light on the probable reasons and patterns of family movement in recent history, rather than ancient times. For example, it could tell you that your forebears left Ireland in the 1850s due to famine: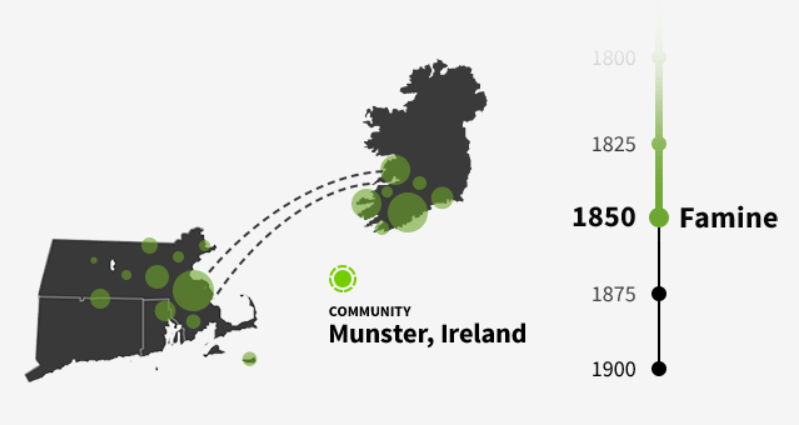 AncestryDNA's value-added recent ancestry features:
Migration mapping put in the context of historical events
Family Tree
Family tree building is one of the things that made AncestryDNA famous, originally starting off as a genealogy service with a large historical record database.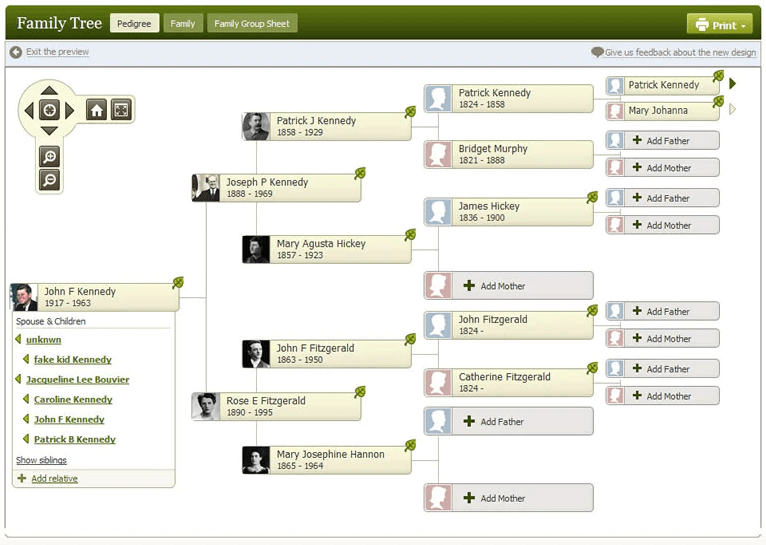 Nowadays, when you take an AncestryDNA test (and opt-in to the service), your DNA can be compared with other customers in the company's database. In this way, you can be presented with potential biological living relatives to add to your tree. DNA matches and historical records are a powerful combination when it comes to building a family tree.
AncestryDNA's value-added DNA family tree features:
Explore over 20 billion historical records (with subscription)
Upload a Genealogical Data Communications (GEDCOM) data file to pull in existing family tree data
Link overlapping trees with one another
However, this does come at a price: to access all of AncestryDNA's records, you'll need to pay for a genealogy subscription.
In comparison, Living DNA's "Family Networks" feature (see next section) could help you populate a family tree with DNA-matched relatives. However, it doesn't have the same pedigree as a family tree building service, and it definitely doesn't have the kind of vast database of historical records that AncestryDNA has.
Living DNA's value-added DNA family tree features:
Visualize potential relatives based on shared DNA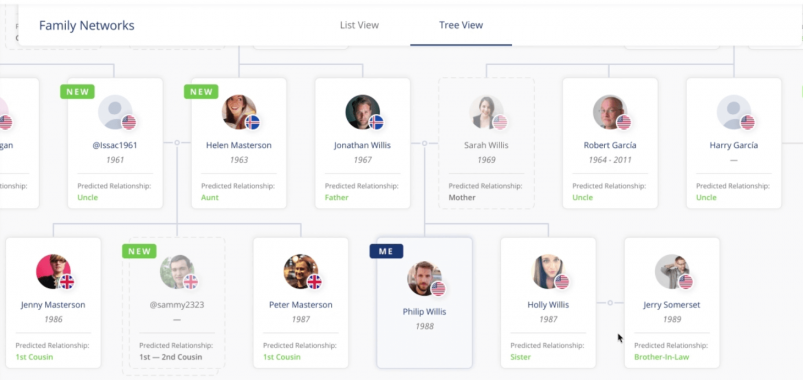 Locating Lost Relatives
As already hinted, Living DNA and AncestryDNA both do DNA matching of potential relatives from the companies' customer databases. Living DNA initially looks like a better bet because it can conduct DNA matching based on maternal DNA (mtDNA) and paternal DNA (Y-DNA), whereas AncestryDNA only tests your autosomal DNA.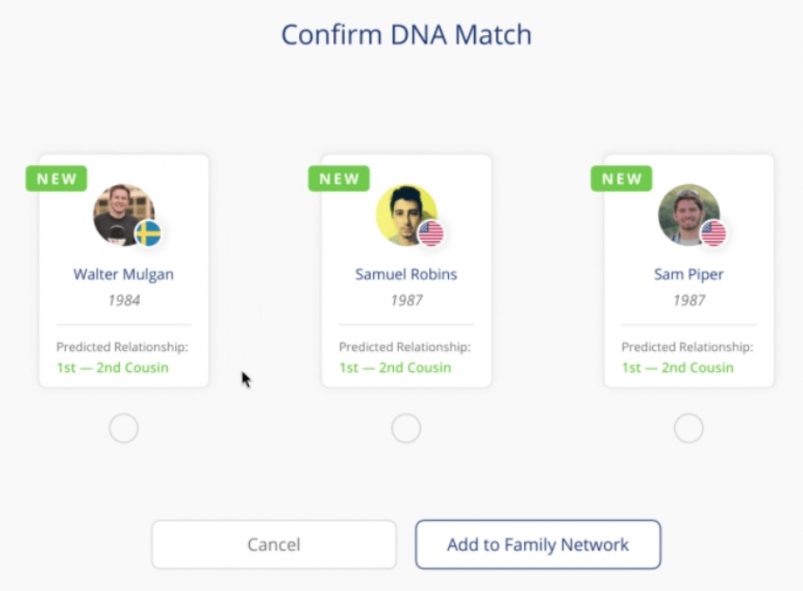 The downside is that customers complain about receiving relatively fewer matches through Living DNA than through other similar services, such as AncestryDNA. Living DNA's response – in the customer support section of its website – is that "it's not about numbers, but about matching users with that one key person not found in other databases." (In our opinion, this has a whole lot to do with numbers.)
Living DNA's value-added DNA matching features:
Family Networks tool connects you with potential biological relatives
Discover genetic matches from all over the world
AncestryDNA's many more members mean many more opportunities to find DNA-matched long lost relatives. There are several easy ways to organize your matches, including color coding, custom labeling, and other tools to help you visualize your connections.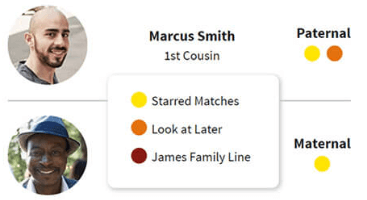 The private, secure messaging system allows you to reach out to your potential relatives providing they've consented to be contacted.
AncestryDNA's value-added DNA matching features:
Easily organize your matches
Message your matches for free
Add DNA Matches to your Family Tree
Resources and Services
The customer experience is one of our key criteria for deciding which test to suggest. Customer experience can take various forms, from the information provided on the testing company's website to the price you pay for the products.
Living DNA's website is well laid out and highly informative, and this company also offers a seven-day free course to teach you about DNA: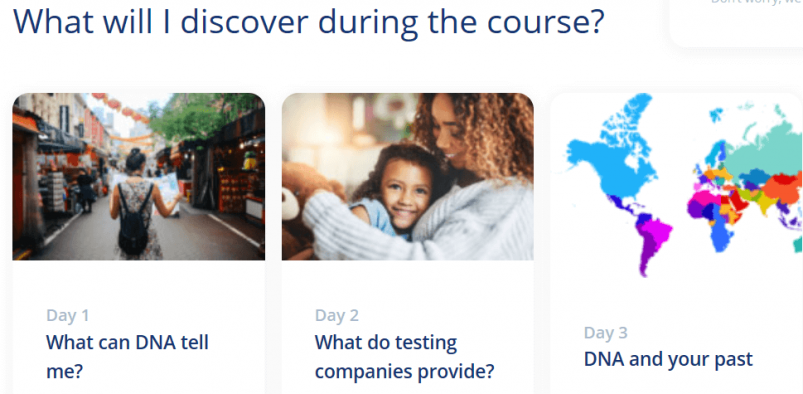 Living DNA's value-added customer experience features:
A seven-day free course
Online customer support and education center
Good value for money
Of all the DNA testing company websites I've looked at (which is a lot), AncetryDNA's website is my favorite. Its minimal but informative content is mostly laid out intuitively, and it includes the Ancestry Academy comprising a virtual library of courses and videos to teach you everything you want to know about DNA. There is also a searchable set of frequently asked questions.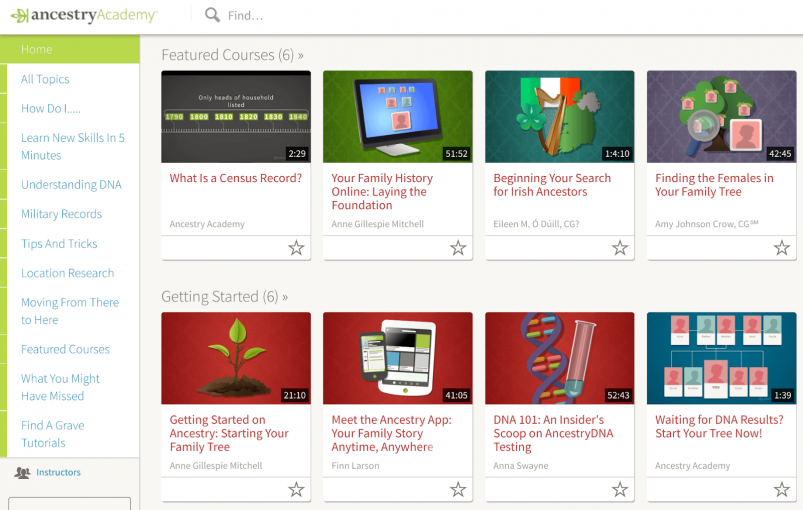 How much does AncestryDNA cost? It costs about the same as its competitors but you get a bigger database and 99% accuracy. So, it's better value for money. However, remember that you'll need to pay an additional subscription fee if you want to access the company's full genealogy services.
AncestryDNA's value-added customer experience features:
The Ancestry Academy provides a great deal of educational resources
Customer community and message boards
Ability to consult with an expert
Variety of ways to interact with your results
Which Company Will Best Reveal Your Ancestry?
Our overall winner, AncestryDNA, will be your best bet in most scenarios. However, if you're looking specifically for sub-regional detail about your African, British Isles, or European ancestry, in which case you should look at Living DNA. Another exception is if you are curious about your ancient ancestors' migrations or haplogroups.
And if you're wondering if anyone has had problems with the AncestryDNA test, you won't find many customer complaints, so you can be assured you're in safe hands.
Having looked at Living DNA vs. AncestryDNA, you might be interested to learn how AncestryDNA itself stands up against other companies. Check out our articles MyHeritage vs. AncestryDNA and 23andMe vs. AncestryDNA.
| | | |
| --- | --- | --- |
| | Living DNA | AncestryDNA |
| Ethnicity Estimate in Percentages | ✔️ | ✔️ |
| Geographical Regions | 150 | 500+ |
| Regional Specialities with detailed sub-regions | ✔️ | ✔️ |
| Maternal and Paternal Lineage Testing | ✔️ | ❌ |
| Haplogroup Assignments | ✔️ | ❌ |
| Migration Mapping | ✔️ | ✔️ |
| Family Tree Builder | ❌ | ✔️ |
| Historical Database | ❌ | ✔️ |
| DNA Matching | ✔️ | ✔️ |
| Relative Finder | ✔️ | ✔️ |
| Easy-to-use, informative website | ✔️ | ✔️ |
| Price | $99.00 | $99.00 |
| Value | Good | Good |
| Customer Support | ✔️ | ✔️ |
| Customer Education | ✔️ | ✔️ |
| Customer Community and Message Boards | ❌ | ✔️ |
FAQs
Which vendor is less expensive: Living DNA or AncestryDNA?
Generally speaking, both companies are similarly priced. Living DNA does tend to be slightly less expensive with sales or promotional pricing. Keep in mind, with Living DNA you won't have the opportunity to build a family tree, but you will get more information about your ancient ancestry. If you are particularly interested in building a family tree or accessing AncestryDNA's huge genealogy database, you will have to pay an additional subscription fee.
Who should choose Living DNA over AncestryDNA?
If you have ancestors from Africa, Germany, or the British Isles, you may want to choose Living DNA over AncestryDNA, since Living DNA specializes in these areas. For example, Living DNA has 72 African sub-regions while AncestryDNA only has nine. Living DNA also has 21 sub-regions just from the British Isles. The other big reason to consider Living DNA is if you are particularly interested in exploring your ancient ancestry and learning about your haplogroups.
Who should choose AncestryDNA over Living DNA?
If you are interested in building a family tree you should choose AncestryDNA over Living DNA. Living DNA does not offer a family tree building option. Other reasons people may favor AncestryDNA include access to the massive historical archives and DNA matching databases. However, keep in mind that not all of these services are included with a DNA testing kit, you may have to pay a subscription fee if you want full access to these offerings.
What features does Living DNA provide that AncestryDNA does not?
Living DNA provides haplogroup assignments as well as maternal and paternal lineage testing. Living DNA is able to provide this information because of it's 3-in-1 DNA test that analyzes autosomal, Y-, and mt-DNA. For comparison, AncestryDNA only tests autosomal DNA, and does not provide haplogroup, maternal, or paternal lineage information.
What features does AncestryDNA provide that Living DNA does not?
AncestryDNA provides extensive family tree building software and maintains the world's largest historical database. These features help bring your family history to life and connect you with relatives. For comparison, Living DNA does not offer family tree building options and does not maintain a historical database.