In the world of direct-to-consumer DNA testing, big names like 23andMe and AncestryDNA have grabbed the spotlight. They're both all about dishing out info on your ancestry and health, but they've got their own strong suits. This rundown is here to help you figure out which one matches your needs.
Now, let's talk about 23andMe. They're kings of the health scene. They break down your DNA to give you the scoop on health stuff you might be prone to. They also hand you wellness reports that dive into how your genes could be affecting things like your sleep or weight. And don't miss the cool bit – they show your Neanderthal roots. If you're into ancient history, that's a real treat.
On the flip side, AncestryDNA shines in the genealogy department. Their massive user base and historical records are a dream for building your family tree and reconnecting with distant relatives. They've got this DNA Story feature that breaks down your ancestry by region. Plus, their collection of historical records adds a big dose of context to your family history hunt. And here's a kicker – you can test the waters with a risk-free trial. You get to build a family tree and dig into their historical records database without any cost.
This review will largely be a comparison. But if you'd like more detail on either company, you can read my full reviews of 23andMe and AncestryDNA.
How AncestryDNA and 23andMe Work

When it comes to the DNA submission process, 23andMe and AncestryDNA are both very straightforward, and very much alike.
Here's what they have in common:
Register. Go to their website, create an account, and enter the unique serial number that's printed on your test kit.
Prepare Your Sample. Wait at least 30 minutes after eating, drinking, or chewing gum. Then open your test kit, spit in the tube, box it up, and mail it back. They've already paid the postage.
Wait for Results. You'll receive emails that let you know how your DNA analysis is coming along.
Receive Your Report. They'll email you when your results are ready, and you can read your report on their websites or their mobile apps.
And here's how they're different:
The 23andMe test kit calls for a LOT of saliva. This is to make sure they collect enough DNA so they don't have to ask you for more. That has happened with some of their customers in the past. AncestryDNA requires much less saliva. In fact, they urge you not to overfill the collection tube!
23andMe promises results in three to four weeks. I got mine in just over a week. AncestryDNA says it will take six to eight weeks. Mine took a little less than two weeks.
If you don't have an AncestryDNA genealogy subscription, they'll send you lots of emails encouraging you to get one.
23andMe doesn't offer a genealogy subscription, and genealogy isn't really their focus. So they don't try to upsell you into buying something else.
5 Biggest Differences Between 23andMe and AncestryDNA
1. Detailed Genealogy vs Detailed Family History
The biggest difference between 23andMe and AncestryDNA is the focus of their ancestry reports.
AncestryDNA's emphasis is mostly on helping you build a detailed family tree. To do this, it pulls from billions of historical records, which you can access as part of a subscription service. While 23andMe recently started offering a family tree builder (included with any DNA test package), it does not have a robust genealogy database to pull from.
On the other hand, 23andMe gives you much more in-depth information on other ancestry details, including your ethnic origins, your ancestors' migrations over time, your Neanderthal heritage, and your maternal and paternal haplogroups.
2. Number of People in Their Respective Databases
AncestryDNA has collected genetic information from 18 million people. 23andMe has tested five million.
If you are interested in discovering living relatives around the world who have also taken their DNA tests, keep in mind that your genetic connections are three times as likely to be in AncestryDNA's database.
Find Your Relatives with AncestryDNA
3. Number of Geographical Regions Covered
23andMe has divided the world into 1500+ geo regions, whereas AncestryDNA breaks it down to 500+. So while both companies tell you where your ancestors came from, 23andMe may be more geographically specific.
4. Types of DNA Tested
Humans have 22 base pairs of autosomal DNA that are inherited from both sides of your family. Most companies, including AncestryDNA, only look at your autosomal DNA. And autosomal DNA reveals a lot of information about your ethnic heritage.
But 23andMe also looks at your mitochondrial DNA (mtDNA) and Y chromosomal DNA (Y-DNA). The latter will only matter if you're biologically male, as only men possess a Y chromosome.
With these tests, you can trace your ancestry back through your maternal and paternal lines, and see which haplogroups (i.e., major ancestral branches) you've descended from on both sides of your family, going back tens of thousands of years.
5. DNA Trait Reports
23andMe and AncestryDNA both offer insight into a number of physical traits that your DNA could influence. The two companies include information for about thirty traits, many of which are similar (e.g., hair thickness, skin pigmentation, bitter sensitivity).
The main difference is that 23andMe includes this information as part of their ancestry report, while you have to pay an additional fee (albeit small) with AncestryDNA.
23andMe vs AncestryDNA Reports
Now I'm going to walk you through what my reports from 23andMe and AncestryDNA look like. First I'll show you what they have in common, then the elements that are unique to each company.
Let's look at the similarities.
Ethnicity Estimate
Both companies will show you where your family came from, and what percentage of your DNA you inherited from each region. Here's 23andMe's version: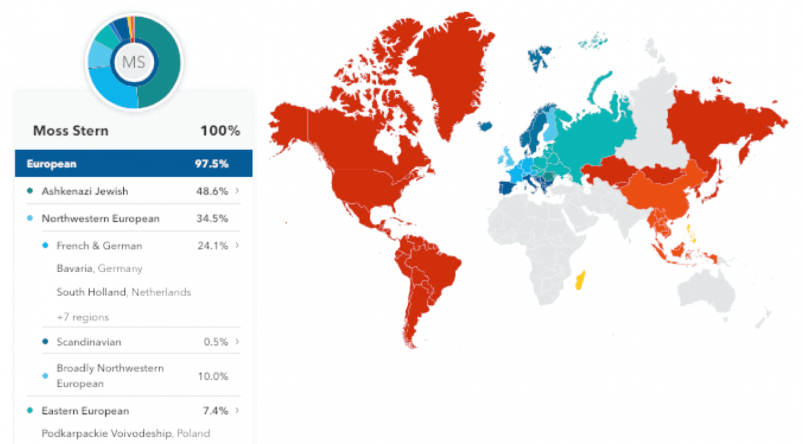 And here's AncestryDNA's version:
You'll note that 23andMe has broken my origins down to a larger number of specific ethnicities. As mentioned earlier, AncestryDNA breaks it into 500+ regions, whereas 23andMe has divided the world into 1,000+ regions, allowing for more detail.
Both services will give you a bit of background on each ethnicity.
23andMe: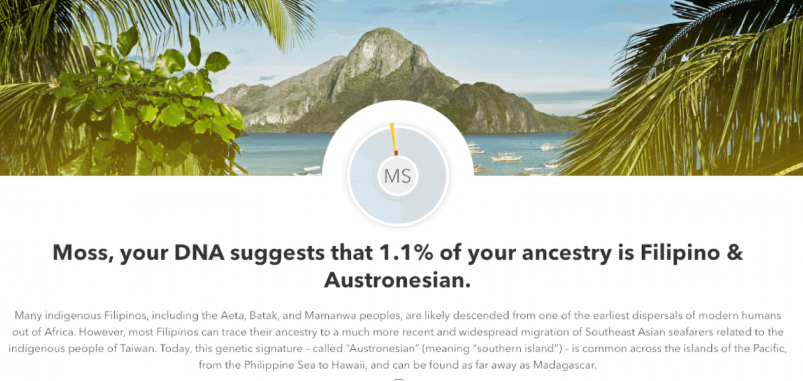 AncestryDNA: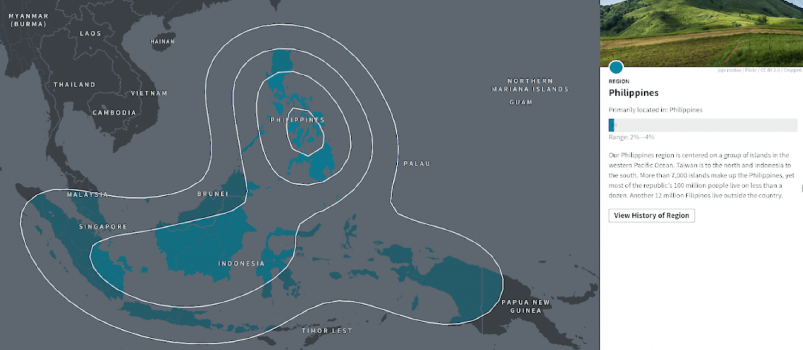 I find this element to be a little more rich and detailed in 23andMe's report.
DNA Relatives
Both services give you a list of potential relatives who've taken their tests, and an estimate on how closely they're related to you. These lists look pretty similar. I've blocked out the names to protect their privacy.
23andMe: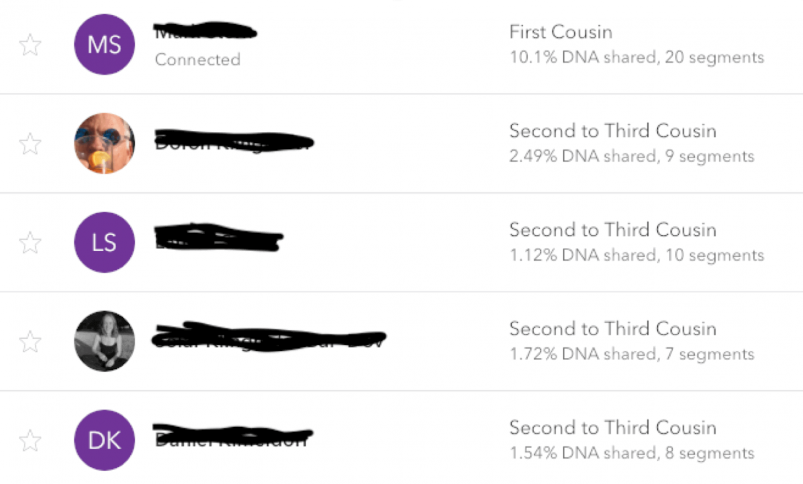 AncestryDNA: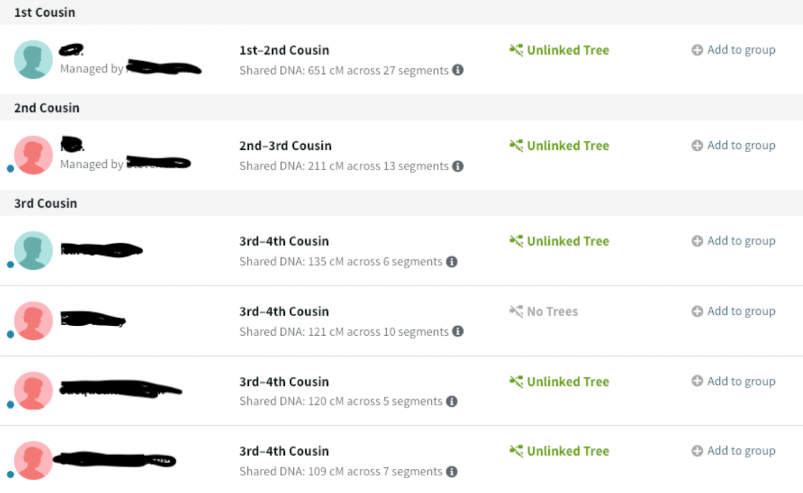 The main difference is that, with AncestryDNA, if your matches have built their own family trees through Ancestry.com, you can link their trees to yours. You can also organize them into groups.
You can see that my top two matches are "managed by" other people. These individuals didn't get their DNA tested by AncestryDNA – the person who is managing their tree did.
AncestryDNA's Unique Features
AncestryDNA's ThruLines service shows you the common ancestors who likely connect you to your DNA matches, and how you may all be related.
For me, this feature wasn't particularly impressive – it contained few people and didn't tell me much – probably because I don't have a genealogy subscription. To give you a better idea of this feature, I'm including an example provided by AncestryDNA.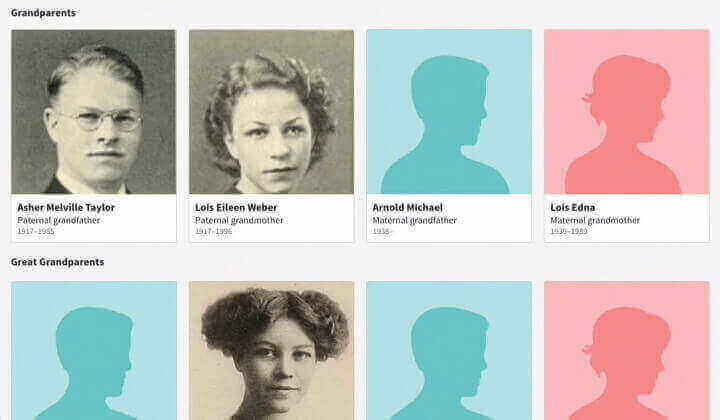 Your purchase of an AncestryDNA test kit entitles you to build a basic family tree from your own memory. Mine looks like this:
If I had a genealogy subscription, I could populate this tree with every family member who is in their enormous database. So it would be much larger and more detailed, and I could merge trees with any of my relatives who are also AncestryDNA subscribers.
23andMe's Unique Features
My 23andMe report shows me my ancestry timeline, or how many generations ago my most recent ancestor from each ethnicity was alive.

I can also see a "Chromosome Painting" that shows which ethnicities are represented in each of my autosomal DNA strands.
I found this a little overwhelming, but basically it shows how different branches of my family contributed to which parts of my genetic makeup. Either way, there is some extra substance to my 23andMe report that AncestryDNA doesn't provide.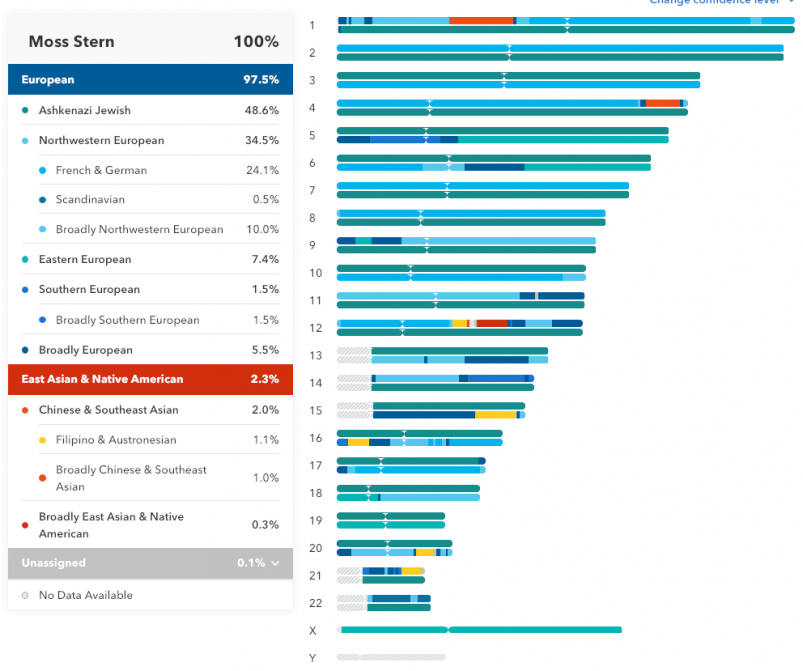 23andMe also details your ancestry traits, which compares my ancestors to "typical" 23andMe customers. Some of these traits seem kind of silly, to be honest. But it's interesting information nonetheless.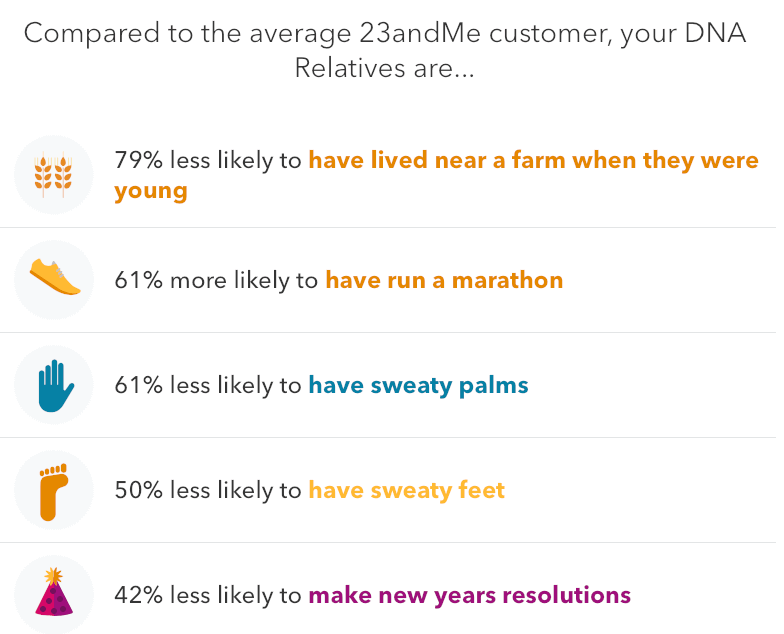 By testing my mtDNA and Y-DNA, 23andMe populates my maternal and paternal haplogroups, or major ancestral branches. This is done by tracing my maternal and paternal family lines back tens of thousands of years.
This is what my maternal haplogroup looks like in my report. My paternal haplogroup looks similar enough that I don't need to show it here. You get the idea.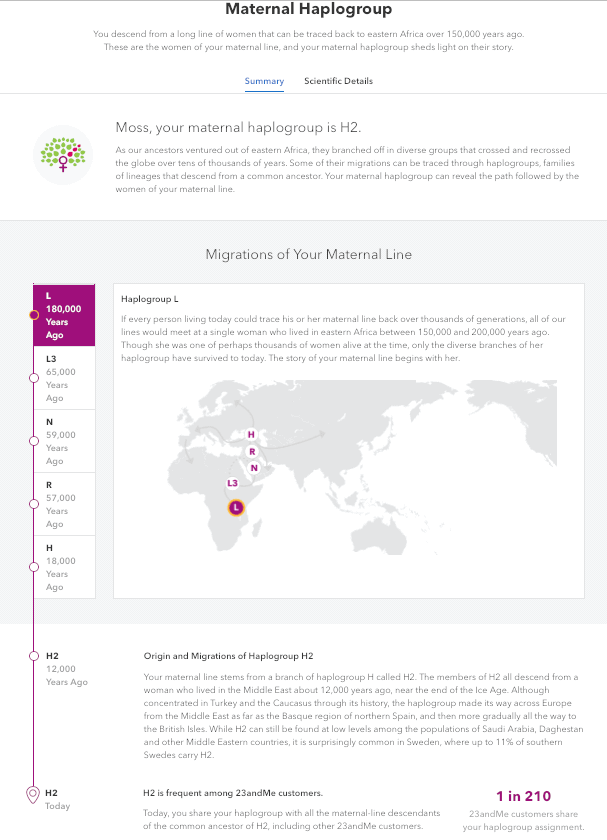 23andMe tells you how many of your DNA variants reflect Neanderthal ancestry, and what that might mean for your physical appearance and traits. I love this part.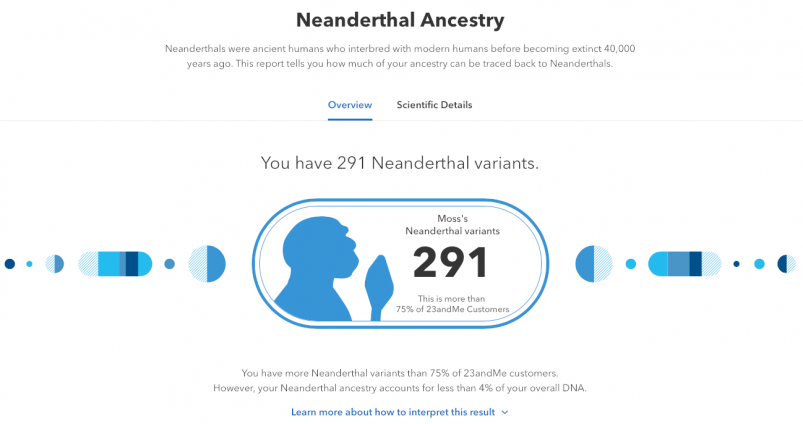 Last but not least, for not a lot of extra money, you can buy a printed-book version of your 23andMe ancestry report, with a lot of discussions about your ancestors, your ethnic background, and so on.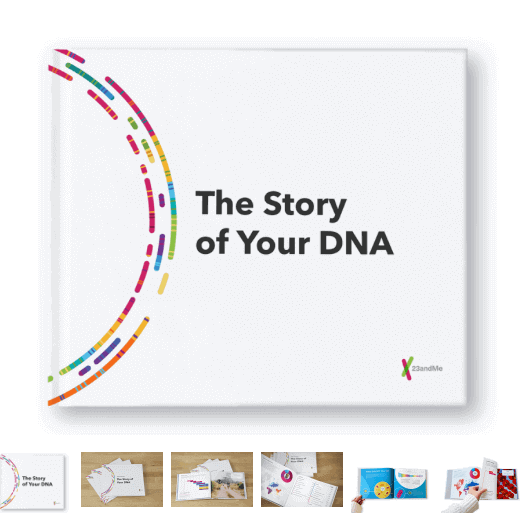 Comparable Costs. Occasional Sales. Optional Extras. What About Total Value?

23andMe and AncestryDNA essentially have the same sticker price, and both regularly offer discounts.
But as I've said, 23andMe's report is much more substantial and detailed. AncestryDNA also offers a genealogy service, which includes billions of historical records. And while 23andMe now offers a simple family tree builder, this isn't their focus. So if genealogy is what you're interested in, and you're willing to pay a monthly subscription fee, you'll be happier with AncestryDNA. Plus, it's worth noting that they offer a free 14-day trial to their family resource library.
On the other hand, 23andMe offers a DNA health test, which can be added to its ancestry report (it is not sold separately). As part of its ancestry report, 23andMe also provides information on 30+ different physical traits that are influenced by your DNA.
Customer Service: Similar Support Mechanisms and Experience
Both 23andMe and AncestryDNA have FAQ pages that are your first place to turn to get any questions answered. They also both have an online support request form and a support phone number.
23andMe: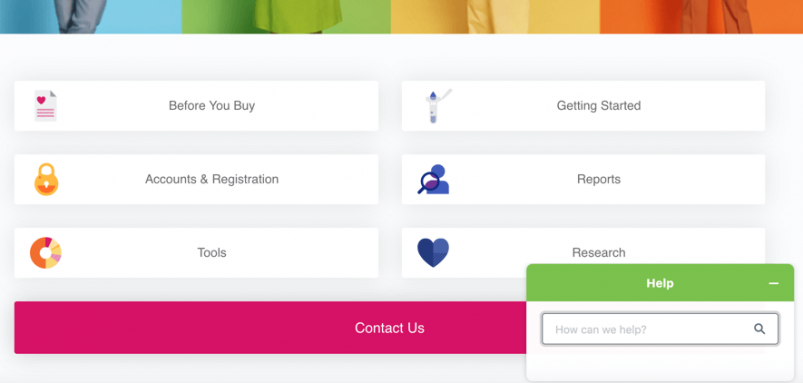 AncestryDNA: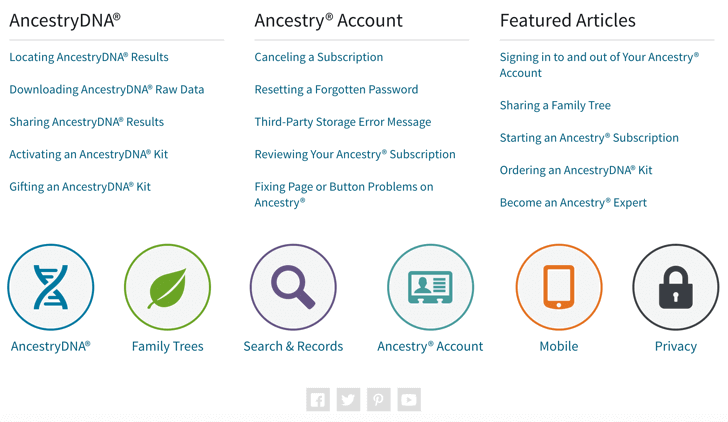 To test these companies' customer service and support mechanisms, I submitted a question to each service via their contact form, and also phoned them.
In both cases, the customer service representatives answered right away and were friendly and knowledgeable. Each company also sent answers via email within about a day of me submitting my questions.
So, my customer service experience was positive, and much better than with some of the other DNA testing companies I've reviewed.
However, not all customers have had the same positive experience. Here's what I found:
Some customers have complained that 23andMe told them their sample didn't contain enough DNA for analysis and that they had to send in another sample…and then another. They kept getting the same response, and ultimately were unable to obtain a refund.
Also, a fair number of customers say their ancestry report from 23andMe didn't match their known family history.
As for AncestryDNA, some customers have complained about website glitches, getting their test kits too slowly in the mail, and the monthly subscription cost.
But I haven't seen any complaints that AncestryDNA's reports were inaccurate.
Anyway, it seems like every company gets its share of complaints. And I've also seen lots of very positive comments about 23andMe and AncestryDNA. So take these customer criticisms with a grain of salt.
Ultimately, It Comes Down to Your Personal Preference
I've looked at a lot of DNA testing companies and have tried quite a few myself. I consider 23andMe and AncestryDNA to be among the better ones with regard to their speed in analyzing my sample, the accuracy and specificity of their reports, and my overall experience as a customer.
With that said, there are certainly differences. If you know what you want in an ancestry test, your choice should be easy:
If you're looking for a detailed, substantive ancestry report that's very specific about the ethnicities in your family history, your Neanderthal heritage, and the migrations of your paternal and maternal line across the millennia, I recommend 23andMe.
If you're more interested in compiling a large, accurate family tree, AncestryDNA would be a better choice. There are so many people in their database, you're almost certain to discover a multitude of extended family members you can add to your genealogy.
Whichever you choose, I hope you make some fascinating discoveries about your family's long and extraordinary history.
Take the AncestryDNA test today
FAQ
Which one is cheaper: 23andMe or AncestryDNA?
If you are looking to get information about your ancestry, 23andMe (starting price: $99) and AncestryDNA (starting price: $99) are priced the same. Therefore, you will need to base your decision on what each ancestry DNA test kit offers and what you are specifically looking for. Essentially, 23andMe's DNA reports cover more topics and go into more detail than AncestryDNA. However, AncestryDNA has the added advantage (for an added fee) of enabling you to construct an online family tree that you can populate using the company's vast historical and DNA databases. You can also check out some of the other best ancestry DNA kits if neither one provides you with all the data you want.
Who should choose 23andMe over AncestryDNA?
23andMe's reports are much more substantive than AncestryDNA's reports for ancestry and they also offer DNA health testing for your genetic risk and carrier status for a number of conditions. For instance, 23andMe's ancestry report explores your maternal and paternal haplogroups and your Neanderthal ancestry; AncestryDNA's report does not. So if you're looking for more information for your money, 23andMe is the clear choice.
Who should choose AncestryDNA over 23andMe?
If your family genealogy is important to you, AncestryDNA is a better option. 23andMe allows you to build an online family tree for free, where you can manually add all relatives you know about. 23andMe will automatically add people to your tree who appear to be related to you based on your DNA; AncestryDNA will not do this for free. But if you're willing to pay for a monthly subscription to AncestryDNA's genealogy service, they will suggest a lot more new relatives for you to add. This is because AncestryDNA not only has many more people's DNA in its database but also many more historical genealogy records.
What features does 23andMe provide that AncestryDNA does not?
23andMe's ancestry report includes information on your maternal and paternal haplogroups as well as your Neanderthal ancestry — none of which comes with an AncestryDNA report. AncestryDNA currently doesn't offer health DNA testing, but 23andMe can also analyze your DNA for your risk for several genetic diseases and your carrier status for over 20 congenital conditions. It also includes information on how your DNA may affect traits like diet, exercise, and sleep, eye color, and finger length. You also get a customized health action plan. AncestryDNA doesn't provide any of these features.
What features does AncestryDNA provide that 23andMe does not?
Both 23andMe and AncestryDNA provide a free online tool for constructing your family tree. However, while 23andMe lacks the ability to access a vast online genealogy database to expand your family tree, AncestryDNA excels in this aspect. With the world's largest DNA database consisting of 16 million individuals and a historical genealogy record database of 6 billion entries, AncestryDNA proves highly beneficial in locating a substantial number of living and deceased relatives to incorporate into your family tree.