Finding a real connection can be challenging but what if science could give you that added assurance that you have found a compatible life partner. We spoke to Dr. Sara Seabrooke, co-founder and chief science officer of Instant Chemistry, which uses DNA testing to help couples make and keep a connection.
How did you get started in the relationship industry and what inspired you to create Instant Chemistry?
During my time as an undergraduate student in University, I learned about how genes contribute to physical attraction in the animal behaviour course I was taking. The course also taught these genes are present in humans and there is research on how they contribute to physical attraction. I realized this research was available, but not yet being used in the real world and that it could potentially help people. The idea of using DNA in match-making was already there in the scientific research, Instant Chemistry just strives to make that research available to the public.
How does it all work and how do you determine compatibility with a potential partner through DNA testing?
The test has three broad areas of compatibility: biological compatibility, neurocompatibility and psychological compatibility. It is a combination of results for these areas which gives an overall compatibility score.
The biological compatibility section is based on research that was completed back in 1995 and has been replicated around the world by academic labs. The original experiment is affectionately known as "The Sweaty T-Shirt Study". In this study women were asked to smell T-shirts worn by men for multiple days without deodorant or colognes. The women had never met the men, but consistently ranked men with very different "HLA" genes from their own as more attractive, based on smell alone. Since then, research has shown up to 40% of physical attraction is through our genes.
There has also been research into other genes which affect personality. In the neurocompatibility section, couples are tested for these genes. The results go through how the different genes variants can interplay to create dynamics in relationships. Each different combination is given a score based on how complimentary the couples variants are, or if the variants can lead to tension between couples.
The third component is a psychological assessment. The assessment also looks at areas of personality which could lead to conflict in relationships and areas which are strengths for the couple.
What are some of the factors that you analyze when looking at compatibility between couples?
For the genetic test looking at biological compatibility, we look at three different HLA genes and how different they are between two people. The more different they are, the higher the physical attraction score.
For the neurocompatibility section, we look at four genes which have been shown to affect personality. These genes are a serotonin transporter, an oxytocin receptor, a dopamine receptor and an enzyme which acts on dopamine. These genes affect emotional response, empathy, risk-seeking behaviours and stress reactivity.
For the psychological assessment, the questions target personality traits which reveal insights into the extent someone is dominant, submissive, social and intimate.
What do you advise to your users if compatibility is lacking?
Client's receive their results in a comprehensive 27 page love manual. The love manual goes through a person's individual results as well as their couple results. Pretty much every couple has areas of strengths and areas of weakness in their relationship. The results are meant to support both strengths and weaknesses. The report does not suggest whether a couple should be together. That is not the goal of the relationship kit. The goal is to help couples keep their relationship strong by using tips and tools to manage weak areas in their relationship. Our clinical psychologist Dr. Joel Block has been working with married couples for his entire career and he includes helpful tips and tools in both our love manual and in our book: The Love Manual: Making and Keeping a Connection for couples to use when managing weakness in their relationship.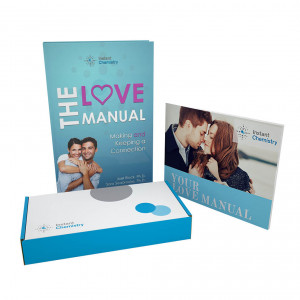 What sets Instant Chemistry apart from others in the industry?
We aim to make our test as comprehensive as the research allows. For example, we look at genes which are known to affect personality traits such as empathy, stress reactivity, emotional response and risk-seeking, however we don't have a lot of good research on genes which affect dominance, submissiveness, social and intimacy. Since we can't use DNA to include these aspects of personality in our test, we include a psychological assessment. The test isn't so much about your DNA as it is about helping your relationship grow and stay strong. DNA is used as a tool to help in that journey. I think what sets us apart from others in the industry is that the DNA test is used to assist in the ultimate goal, which is relationship success and wellbeing. It's not a DNA test, it's a relationship kit.
Are there any challenges that you have faced in the journey of Instant Chemistry?
Yes, most definitely. A major challenge we face is entering online dating. We believe the Instant Chemistry relationship kit can bring a one-of-a-kind opportunity for people to get insight into an online match which they could never receive in the current online dating questionnaires. Namely, is there a higher potential of physical attraction. Perhaps the person we swipe by on Tinder is the person we're drawn to if we were to actually meet. This test is able to gain some insight into that question and give the result online. Perhaps, as a result, we give that someone a second look and maybe just maybe we meet our life partner.
One of the main challenges with bringing this service to online dating is the need to have a large number of people take the test before it becomes useful to customers. This barrier has been a large contributing factor to why the market is still so small.
What do you think the future holds for the dating industry, will we see more collaborations with science?
Yes, I believe so. Like any industry, the online dating industry wants to become better at what they do. I think the dating industry wants to help people find the love of their life and if science is able to help them do just that, it is worth adding into their matching algorithms.