Imagene Labs provides an enterprise genetics analysis platform that enables healthcare and wellness businesses to create personalized and customized products and services based on individual DNA insights. In this interview, newly assigned General Manager David Klinzing and PR Manager Reza Harith describe the company's ancestry-based genetic risk scoring technology and its benefits for healthcare providers, nutritionists, beauty and fitness brands in Asia Pacific, Europe and the United States.
Please provide some background about your company, how did it start, and how it is evolving so far?
Reza: Imagene Labs started in Singapore in 2016 as a precision and preventative health and wellness enterprise. We do DNA testing in areas of fitness and sports performance, nutrition, diet, skin, and beauty.
We also have the capacity to do testing in longevity and healthy aging, allergies, and children's talent and health, but due to local restrictions by the Ministry of Health here in Singapore, this part of our work only happens outside the country.
Currently, one of the biggest gaps in the genetic testing market is that it's historically very white-Caucasian-oriented. We've identified a way to close that gap through bioinformatics, taking into account things like the extent to which you are North Asian, South Asian, Caucasian, African American, etc. The results show a high degree of accuracy and inclusivity.
We make our reports as actionable as possible. Each report includes recommendations about your exercise, supplements, diet, and lifestyle. Ultimately, to make this an end-to-end experience, we offer custom supplements and skincare based on your fitness, nutrition, skin, and, in some cases, your healthy aging and longevity.
What kind of clients do you typically work with?
Reza: We operate on two business pipelines:
Ori is our direct-to-consumer eCommerce platform, available globally.
MySNP, our B2B brand which services wellness businesses like clinics and spas.
Our technology is used in different parts of the world. In Asia, we work with brands like Fitness First and Ella Marie France, which is a very big spa group in Asia. We have a partnership with Invenio, a health care system in the Midwest US, and light fun, a personalized wellness company in Berlin that covers marketing in German-speaking countries like Austria and Switzerland.
We recently partnered with the Asian franchise of GNC, a nutraceutical and supplements company that deployed MySNP because they wanted their customers to see our detailed recommendations.
For example, let's say you have a low potential for lean body mass and the report says you need to eat creatine monohydrate and whey protein. GNC would then pull together those products and automatically curate the shopping list for you based on your health recommendations. It's a very intelligent way of shopping and it shows the potential of how brands can utilize it.
On Sephora, for example, our skincare report will tell you to look for products that contain hyaluronic acid and Alpha Lipoic Acid. When you click those, instead of then browsing through Sephora individually, the list is already curated for you. It's a great way to add value to a customer's shopping experience, whether it's online or even in-store.
While some test providers offer complex, detailed reports, others oversimplify the results. How do you balance this equation?
David: The main thing about our patented system is that it's based on your ancestral background. First, we differentiate people by their ancestry, so the report you get is much more tailored to your ethnic background than just the broad general background that everybody else uses against West-European, Caucasian databases. What makes it patentable is not necessarily the algorithm, but the recommendations that it generates.
A lot of test reports out there are pretty basic. They all tell you to exercise more, eat less sugar and more vegetables. Some other brands will tell you to do more strength training, but no one tells you that if you have a low potential for lean body mass, you should be doing a high repetition on lower weights in order to reach hypertrophy. We make that very detailed and actionable.
Our reports can tell you how well you might respond to different exercise regimens and diets and give you very specific recommendations. For instance, we might tell you that you're likely to have a zinc deficiency because you don't seem to process zinc very well, and recommend foods that are high in zinc.
Our reports are quite granular as well. For example, if you have a vitamin A deficiency, we don't just tell you to eat carrots. We'll tell you that if you have this particular gene, your body doesn't metabolize carotenoids efficiently so you need to get your vitamin A in the form of retinoids. Then, if you're going to buy a supplement, we'll tell you which kind of retinoids should be in the ingredients list because that's precisely the kind of vitamin that your body can metabolize.
Our reports were designed in consultation with different subject matter experts like nutritionists, dietitians, sports scientists, and fitness trainers. We set the parameters for particular profiles based on each trait and then translated that into practical recommendations.
Here's what the general layout of Ori reports looks like: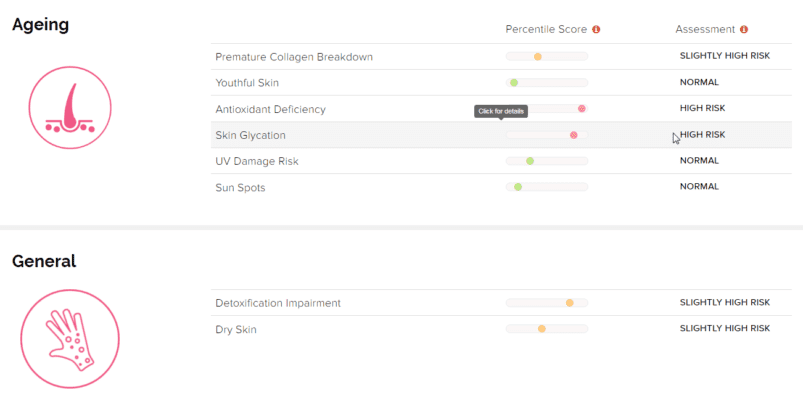 Each line in the report leads to a detailed view of the condition in the context of your genetics: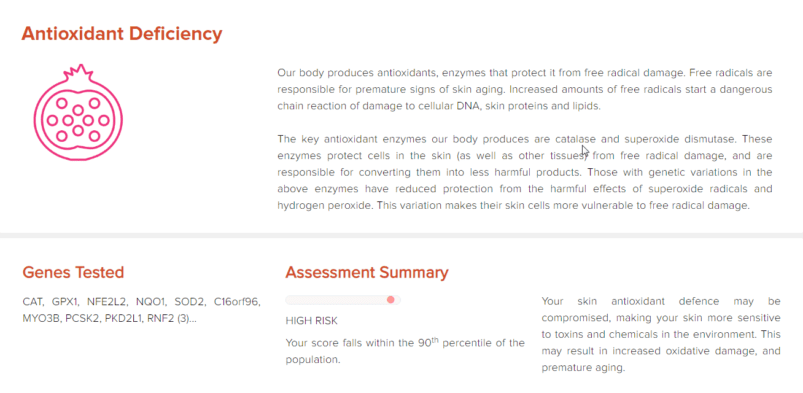 What do you think is your potential impact on society?
Reza: I think the biggest shift we can expect to see is that people will make smarter decisions when they buy things, even if it's something like a gym membership. Right now, the hottest trends are F45, CrossFit, and high-intensity interval training. That works if your body is built in a particular way. Some people don't benefit from that, but they only find out after they try it.
The same goes for supplements and skincare. A lot of us buy skincare or supplements because they're endorsed by a celebrity or because we see them everywhere through advertising. Gummy supplements are very fashionable now because Jennifer Lopez is taking them, but some of the ingredients that your body requires cannot be made into a gummy because it's partly stabilized.
If this becomes mainstream, it will transform the way that people make purchasing decisions. I think people will be a bit more discerning in how they spend their money. I also think it would really push customization and personalization in a big way. It would change the way brands design their products.
Right now, when you go to a personal trainer, they first ask you what your fitness goal is. They will try something and if it doesn't work, they'll tweak it. In essence, that's already a waste of time and money for a customer.
Knowing things intuitively or being highly motivated is often not enough. When you don't have a lot of muscle potential, it doesn't mean you can't gain muscle mass, you just have to train in a different way, which is explained in our reports. This model saves money for the customer while building trust and credibility for service providers like personal trainers.
Ultimately, it could help companies design better products. Right now, a lot of things are built very generically and many companies are still hesitant to go down the personalization route because of costs. Once we shift that mindset and show people that there is potential at a big commercial scale, it can impact everything from supply chain to product design to marketing.
Ultimately it will change the way we communicate our marketing messages. It will mean hyper-targeting and hyper-personalizing the way you inform people of different things.
David: Just getting your DNA profile and knowing your DNA background is not going to change your life by itself, but if you want to change your life, knowing some of these things could make it much faster and give you a greater chance of success. Having that information can definitely make it much more effective for you than taking the guesswork and doing something that's not going to benefit you at all.
You're responsible for what you put in your body, the lifestyle you lead, and the things you do. To some extent, everybody knows what they are supposed to do, but having this information gives you the drive to do it properly. Knowing these things just helps you make better decisions.
What would it take for healthcare systems to standardize and make use of this knowledge?
David: Health care systems in the US are starting to embrace preventative health care. We're reaching out and helping others who are leading these drives to make people healthier.
At the same time, we have other B2B customers like food companies who use our technology to inform their food product development departments about the areas they should invest in and what things they should leave out in different parts of the world. The products you sell in one part of the world are not the same products you sell in another. We have a few big customers that are using our system for that.
Reza: This whole field started in the private sector, but now governments are starting to get on board because they realize they are not the ones leading this forefront.
Even in Singapore now, there's a change in how people are taking care of themselves. People generally live longer, but the big push now is not on how old you grow, but on your quality of life, especially towards the end. Obviously, there are policy impacts and economic implications as well.
We are working with some multinational corporations in the private sector that are pushing things in a certain direction. That has caught some of the government's attention and now they are starting to get on board by redesigning their policies so that certain income groups get better nutrition and better healthcare.
That comes to show that our impact goes beyond just mere commerce. It can even impact the way governments design their policies. A lot of it is driven by the growing awareness that we can't keep fixing symptoms anymore. The best way to do it is to make sure that people live not just longer but better, and impact their quality of life.