DNA-Based Insights into Your Health and Heritage
Online DNA testing company tellmeGen offers a single, all-inclusive and comprehensive DNA-based report containing insights about your heritage (genealogy) as well as your health. Since this is primarily a medical company, you can count on your health-related test results being very detailed and enlightening.
While you'll get some interesting information about your ancestors, this service is most beneficial if you want to know how your genes affect your health. So, if you are curious about your inherited risks or predispositions to certain diseases, and if you want actionable insights that can help you improve your lifestyle, you should consider tellmeGen.
In this review, I'll tell you all about tellmeGen's features and processes, so read on to discover if this is right for you.
DNA Test Kit
After placing your order with tellmeGen, and possibly paying a delivery fee, the subsequent process couldn't be simpler.
Your at-home test kit should contain:
Basic instructions
A prepaid return label (depending on location)
A tube with preservation solution for your sample
Funnel top
Plastic casing to enclose your sample
The first step is to register your kit on tellmeGen's website, even before collecting your sample. Click the MY ACCOUNT/REGISTER KIT button, and create an account if you don't already have one.
The next step is to collect your DNA sample. Make sure you don't smoke, eat, or drink (but water is okay) for 30 minutes before spitting into the collection tube. Try to avoid bubbles in your sample.
Finally, seal your sample tightly and ship it back to tellmeGen in the prepaid postage bag.
A few important points:
The delivery date for your sample will vary depending on where you live.
Processing may take longer if the lab is experiencing high volumes.
The checkout tells you which countries tellmeGen ships to, so check first.
5 Standout Features of tellmeGen
The best DNA analysis technology means you can count on accurate results. The reference database is compiled from two reputable scientific sources, and tellmeGen looks at more than 650,000 DNA markers plus 10,000+ SNPs (single nucleotide polymorphisms).
You get a clear breakdown of your heritage. Although it's far from the most engaging online report I've seen, you can expect much more than bare-bones data, and you'll see accurate percentages of your genetic makeup that correlate with specific regions on a map. Your DNA sample is mapped to 48 different ethnic groups, which is more than the 42 regions mapped by MyHeritage.
A wide variety of genetic traits and health conditions are tested; more than 23andMe's famously exhaustive list. Look out for tests for:
75+ monogenic inherited diseases
Predisposition to 130+ diseases
60+ pharmacological interactions
650,000+ studied mutations
60+ personal traits
The depth and detail of results is always increasing thanks to ongoing genetic research, growing reference databases, and improved testing methods. As new information becomes available, your online results will be updated at no cost to you, and you won't need to send another sample.
You can connect with experts in real-time (at extra cost) if you need results clarified or if you want professional advice from tellmeGen's team of doctors and geneticists. You can also tell tellmeGen to grant your own doctor access to your online health map.
Reading Your Ancestry Results
TellmeGen only provides an autosomal DNA test; it doesn't analyze your Y-DNA (inherited from your father) or your mtDNA (mitochondrial DNA, inherited from your mother). This is not unusual since AncestryDNA and MyHeritage do the same.
Within the "My Results" section of tellmeGen's website, you'll find a breakdown of your ethnicity presented as a color-coded chart with percentage estimates of how much DNA you have inherited from your various ancestors. A maps shows where they lived: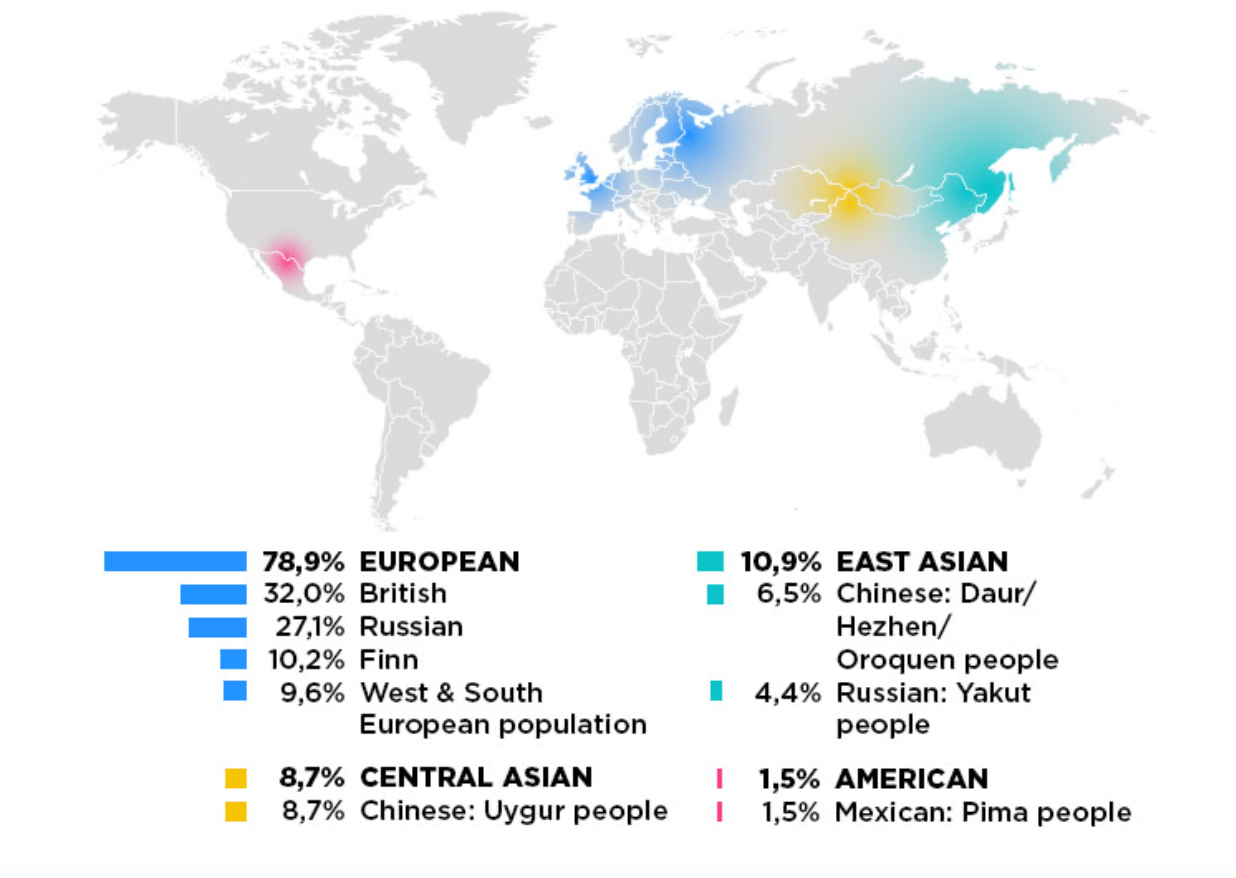 Although you can click the Details tab for more information, this presentation isn't as dynamic or engaging as those provided my some competitor companies.
For example, FamilyTreeDNA allows you to explore the migration patterns of your ancestors: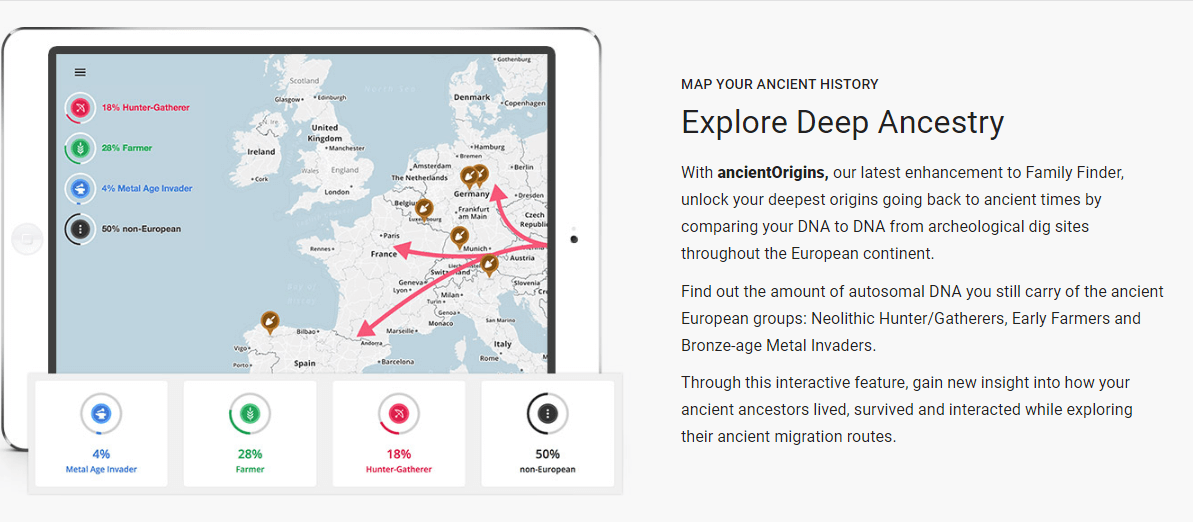 AncestryDNA covers more biogeographical groups (500+) and allows you to dive much deeper into your ethnic origins: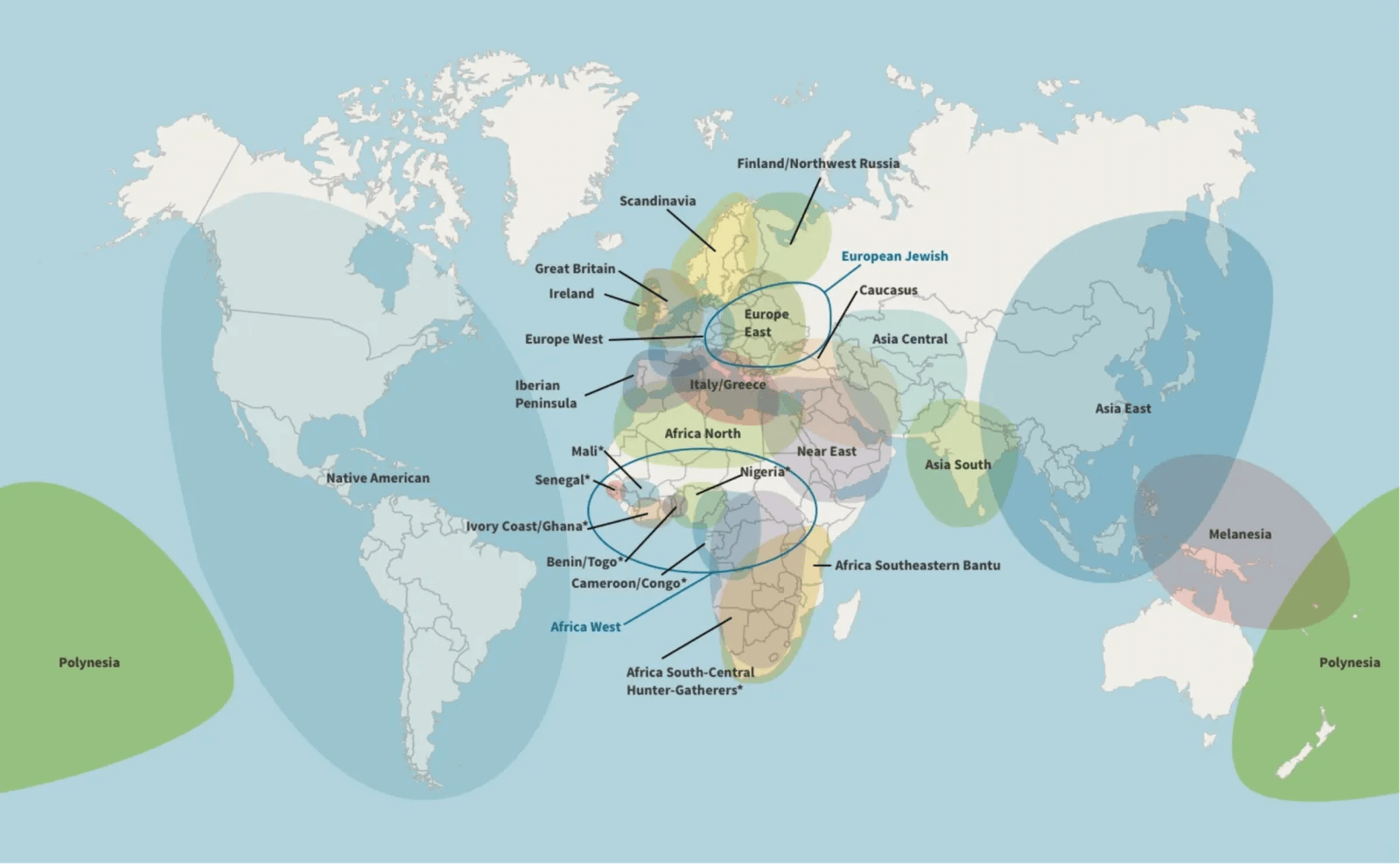 The fewer details and less interactivity you get with tellmeGen may or may not be a dealbreaker, depending on your priorities.
Reading Your Health and Wellness Results
You'll see what value you got for the money you spent when you explore your health-related test results. But beware that your health report will be exhaustive, with a massive amount of information to wade through.
Information is arranged into four general categories:
GENETIC PREDISPOSITION TO DISEASES such as Parkinson's disease and multiple sclerosis
PHARMACOLOGICAL COMPATIBILITY, or how you'll react to different drugs
HEREDITARY MONOGENIC DISEASES (i.e., ones you might inherit such as cystic fibrosis or hereditary fructose intolerance)
TRAITS THAT MAKE YOU UNIQUE, like male baldness or bitter taste perception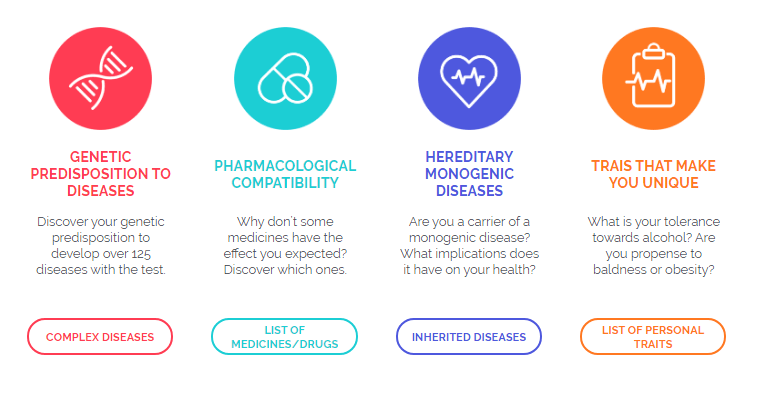 The predispositions to diseases, in particular, are categorized as high risk, low risk, and typical risk, with your risk being compared to the average risk for individuals of the same age, race, and sex (gender) in specific geographic regions.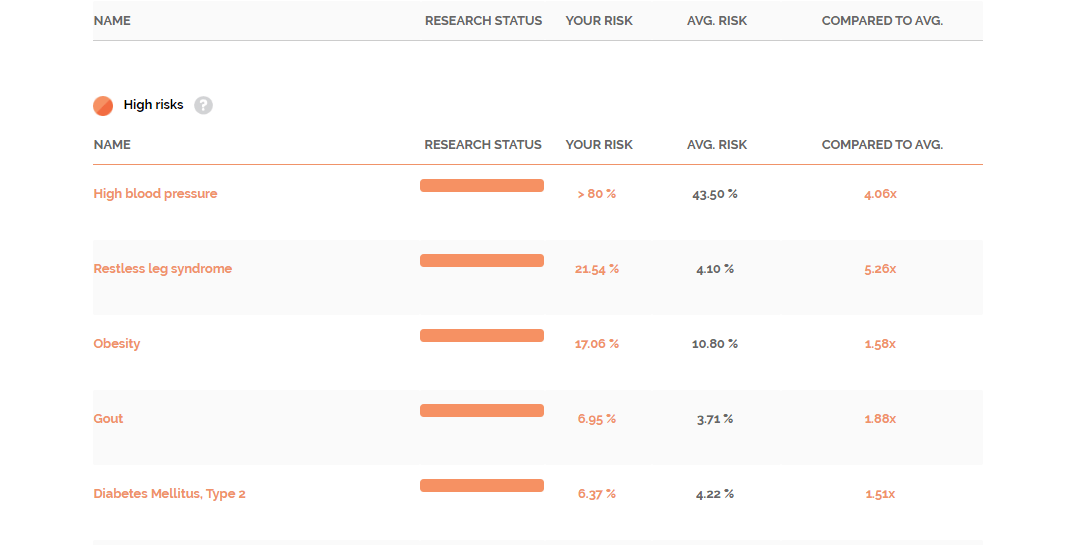 Although this category contains the longest list, you can expect almost as much detail in the other categories.
The In-Depth, DNA-Based Insights are a Real Bargain
Health & Wellness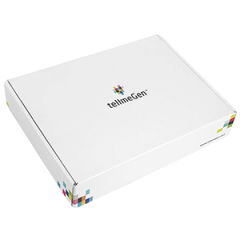 Genetics Test
Explore your genetic risk for 100+ diseases

See if you're a carrier for 100+ inherited conditions

Discover your compatibility to different medications
Since tellmeGen offers a package deal that includes all available tests, you won't have to order any results separately. However, you'll pay less with AncestryDNA or MyHeritage if you're only interested in your ancestry. And you can get a comparable combined Health + Ancestry package from 23andMe, which famously is very detailed.
Pay for tellmeGen's test via Visa, Mastercard, PayPal, or Stripe. The 30-day money-back return period means you can send back your test kit within a month if you haven't used it.
There are no hidden fees or ongoing subscriptions to worry about, as far as I know.
Good Self-Support Resources, but Poorer Personal Support
The main tellmeGen website is available in English, Spanish, French, Russian, Portuguese, German, and Italian. However, the comprehensive FAQs can't be read in Portuguese, German, or Italian.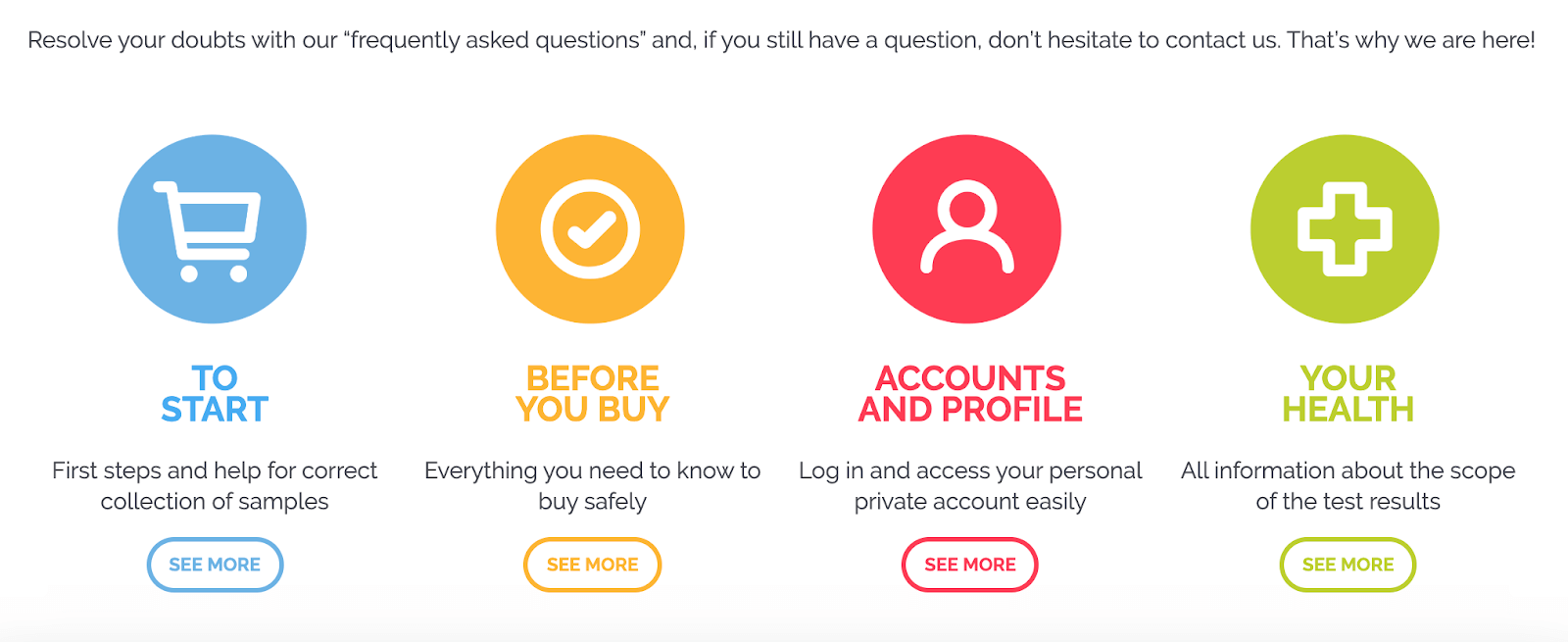 Your tellmeGen account gives you access to additional resources such as a forum where you can share your concerns and questions with other customers. This forum is arranged into topics and groups, with the groups corresponding to tellmeGen's reporting categories: genetic predispositions, pharmacology, hereditary, and traits.
You can contact the company by telephone, email, or by sending a letter in the post, and you can expect a response within 24 hours. I contacted the customer support team by email to ask about the possibility of Y-DNA and mtDNA testing in the future, and I received a reply about an hour later: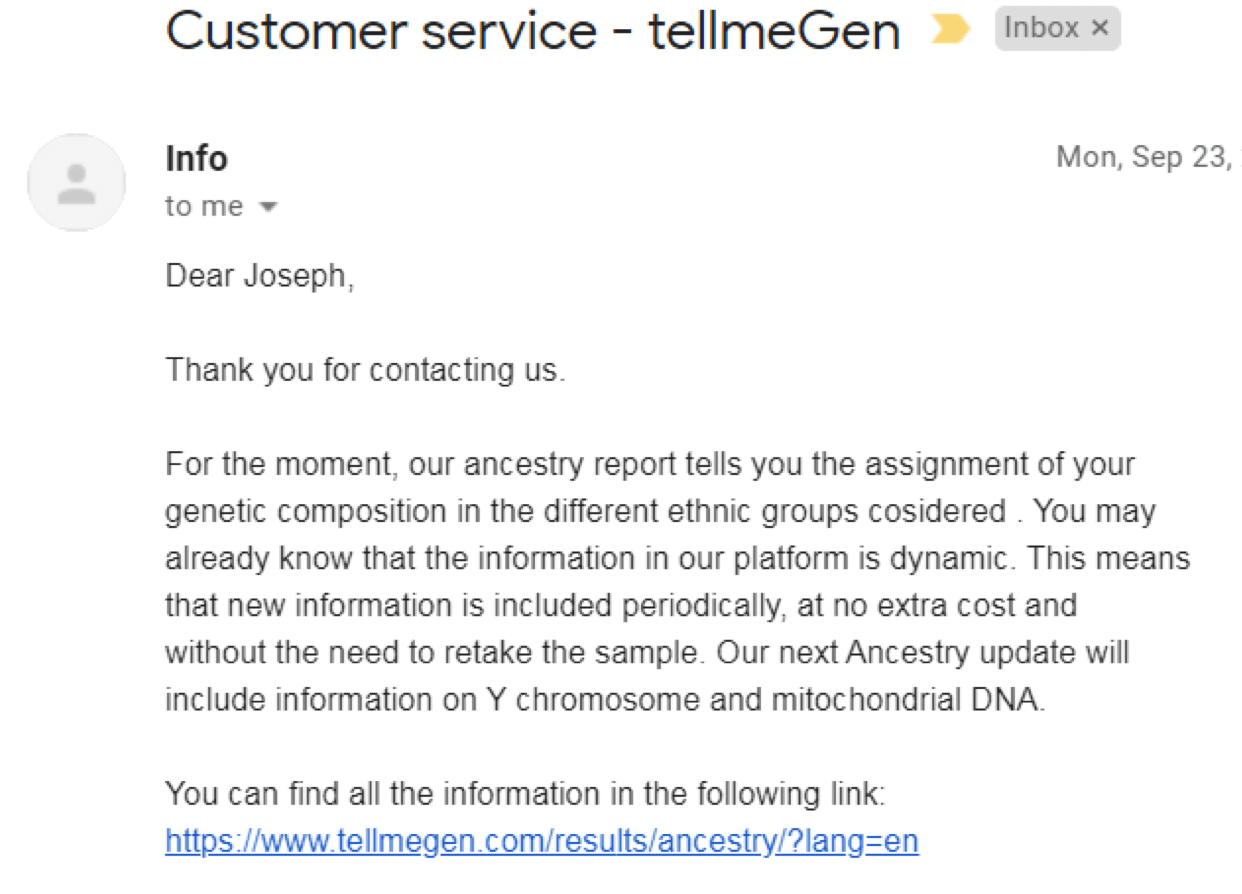 I asked a follow-up question about the testing facilities, and I received a response after four hours. My overall impression is that support staff reply with generic standard responses rather than taking the time to fully figure out what you're asking.
Choose tellmeGen for the Health Reports, and Treat Ancestry as a Bonus
Health-related reports are tellmeGen's specialty, and in this respect it compares favorably with market leader 23andMe.
On the other hand, tellmeGen's ancestry service leaves something to be desired since it places little significance on your ethnic origins. You don't get access to a family tree builder or relative matcher, so for these functions, you might be better off with AncestryDNA, MyHeritage, or FamilyTreeDNA.
On the plus side, the package deal provides both sets of results for a single competitive price. And it will soon begin to test your maternal mtDNA and paternal Y-DNA.
If you're planning a family and you want to be aware of your carrier status, or if you're experiencing some symptoms that you think may be hereditary, then tellmeGen could be worth considering.
In summary, I'd recommend tellmeGen to anyone wanting in-depth, affordable insights into their health.
FAQ
How accurate is tellmeGen?
Honestly, tellmeGen doesn't seem to focus all that much on ancestry testing. It's clearly way more concerned with health screening than providing you with in-depth, DNA-based insights about your heritage, let alone with presenting it in a dynamic way. It doesn't cover many biogeographical regions, nor does it test for mtDNA or Y-DNA, and it's database size is comparably very small. However, the accuracy of its health and wellness testing seems to be top-notch.
How long does it take to receive test results from tellmeGen?
Approximately 4-6 weeks.
How much does a tellmeGen test cost? (Any discounts?)
TellmeGen offers a package deal that includes everything the lab will test for, so you won't be able to order any results separately. It costs
Ancestry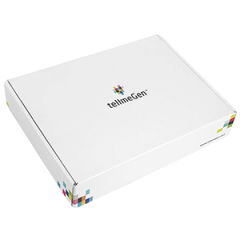 Genetics Test
Explore your genetic risk for 100+ diseases

See if you're a carrier for 100+ inherited conditions

Discover your compatibility to different medications
.
How does tellmeGen compare to other competitors?
It depends on what you're looking for. TellmeGen definitely doesn't offer the worst ancestry service you'll find, but it's also far from the best. It doesn't test your Y-DNA or mtDNA, nor does it cover as many biogeographical regions as some of its competitors, like 23andMe and AncestryDNA. But its health-related insights are a different story. If you're looking for guidance on how to improve and maintain your health and wellness, then the in-depth amount of detail you'd get from tellmeGen should firmly place it near the top of your list.
Who should consider taking a tellmeGen test?
TellMeGen would be a great option for someone who wants detailed, affordable insight into their health. It does a better job of providing that type of feedback than a lot of other DNA tests. However, you should not look here if you are looking for ancestry test results. If you want a combination of strong ancestry and health results, I suggest AncestryDNA.