Discover Your History. Meet Your Extended Family. Delve Into Your Health.

Ever since I heard about commercial DNA testing, I've been curious about what it could tell me about my background, my family, and my health risks. So I turned to AncestryDNA to try to find out. AncestryDNA is a subsidiary of Ancestry.com, the world's largest for-profit genealogy company. Over the past few decades, AncestryDNA has gradually grown into a genealogy service that lets customers sift through historical records and fill out their family trees.
Today, AncestryDNA says its database contains the results of 15 million customers' DNA tests. More people have had their DNA tested through AncestryDNA than any other company. AncestryDNA offers genetic testing for ancestry (obviously) and health (a relatively recent addition). I've taken both tests. In this review, I'll walk you through my sample submission experience and results in detail. Here's the short version:
Its ancestry test explores what ethnicities and geographies lie in your family's past, and helps you find living relatives around the world today.
Its health report tells you about your risk of having or carrying certain diseases.
I give both tests high marks for accuracy, but lower marks for the amount of information provided.
If either or both of AncestryDNA's tests appeal to you, read on…and see how they compare to other available DNA testing options!
My Experience with AncestryDNA's Tests

DNA Test Kit
My DNA test kit from AncestryDNA included:
An instructions pamphlet
A sample collection tube
A tube cap
A plastic sample envelope
Everything you need is inside the box, and it's very well designed and easy to use. You'll mail your sample back in the same box it was sent in.
Sending In My Sample Went Pretty Smoothly
Registration
As soon as I got my test kit in the mail, I went to AncestryDNA's website, created an account, and entered the code printed on the test kit. This is so my account would be matched with my DNA sample.
Sample Collection
I followed the instructions not to eat or drink for 30 minutes before collecting my saliva sample. (This was so my DNA sample wouldn't be contaminated with any DNA from whatever I'd just consumed!)
When I was ready, I spat into the sample collection tube (being careful not to overfill). Then I screwed on the cap, which released a blue fluid to stabilize my DNA sample.
Submission
I put the tube into the plastic envelope, put the envelope into the box, and sealed it. The postage is already paid, so you can just drop the box in the mail. After my sample was received, a mobile app lets me follow the status of my DNA analysis. A series of emails told me what was happening and what to expect.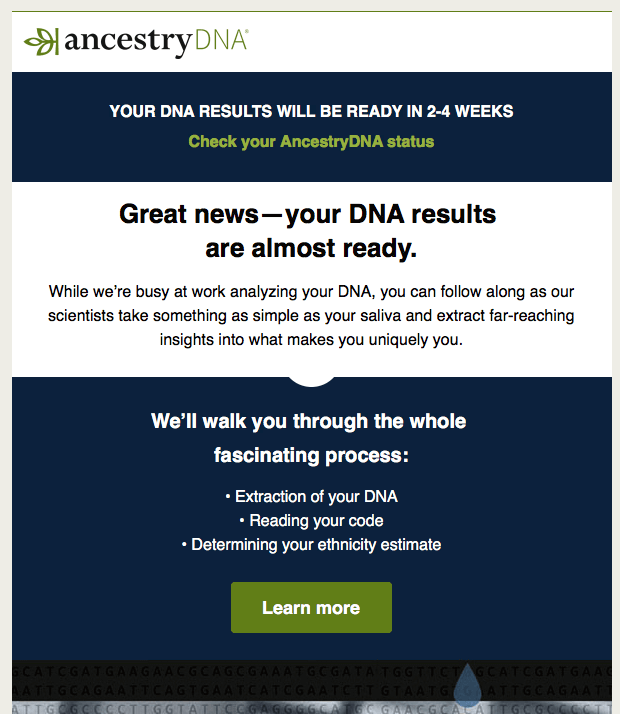 AncestryDNA emailed me when my results were ready. I was able to view the report on the website and in the mobile app.
A Detailed Look at AncestryDNA's Ancestry Test
AncestryDNA's ancestry test can tell you a lot about your ethnic heritage, and can even help you discover living relatives. If you subscribe to AncestryDNA's genealogy service, you can build an extensive family tree using its huge database of historical records and your DNA matches. But this requires paying monthly fees above and beyond the cost of your DNA test.
Standout Features
Learn about the ethnicities and geographies that lie in your family's past.
Find biological relatives within the company's 15+ million person DNA database.
See how those DNA matches might be related to you.
Build a family tree using both DNA relatives and 20 billion historical records.
Optionally upgrade to receive AncestryDNA's health and wellness report.
Other Tests to Consider
MyHeritage DNA: The most similar to AncestryDNA, both in the content of its ancestry report and in its linkage to a genealogy service. If you like the family tree feature, MyHeritage DNA's subscription fees are lower than AncestryDNA's.
23andMe: Doesn't have a genealogy service, though one may be added at some point. However, the ancestry reports have a lot more content.
Living DNA or FamilyTreeDNA: Very similar in scope to 23andMe. These tests are a little less expensive, but (in my opinion) are also a little less accurate.
Let's Take a Look at My Ancestry Report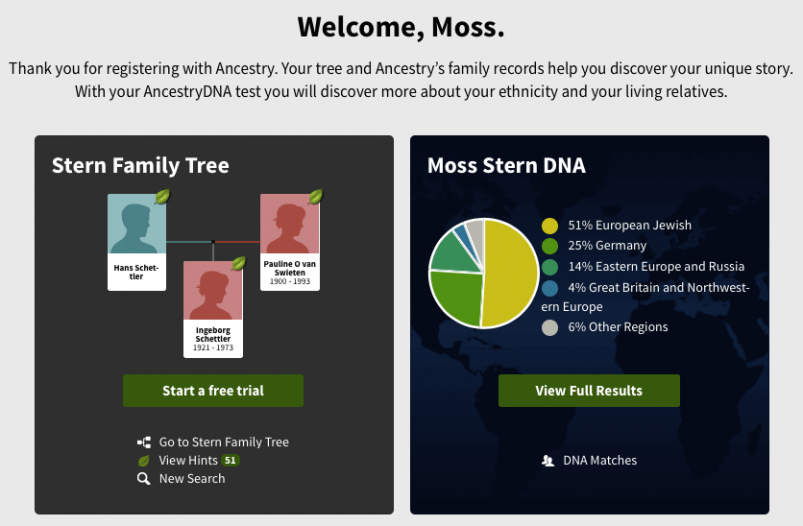 AncestryDNA said it would take six to eight weeks for it to finish analyzing my DNA and give me my results. That's on the long side compared to other companies. However, I got my results in less than two weeks. Not bad! While my ancestry report contained some of the answers I was expecting, I found it less substantial than the ancestry report I got from 23andMe. I was happy to see that AncestryDNA's ethnicity estimate did confirm my small sliver of South East Asian ancestry (although oddly the ethnicity estimate suggested my ancestry is 3% Filipino, not Indonesian). Aside from that – and not surprisingly – my DNA is about half Ashkenazi Jewish, and half other assorted European ethnicities: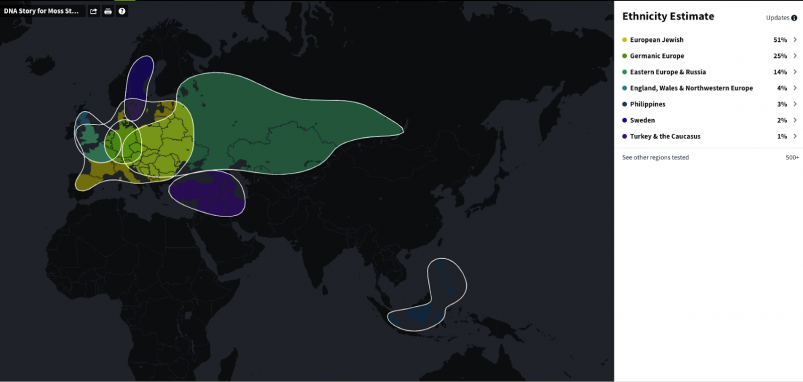 Next, my ancestry report gave me a list of individuals in AncestryDNA's database who seem to be related to me via a DNA match. By clicking on each person, I can see how we're probably related: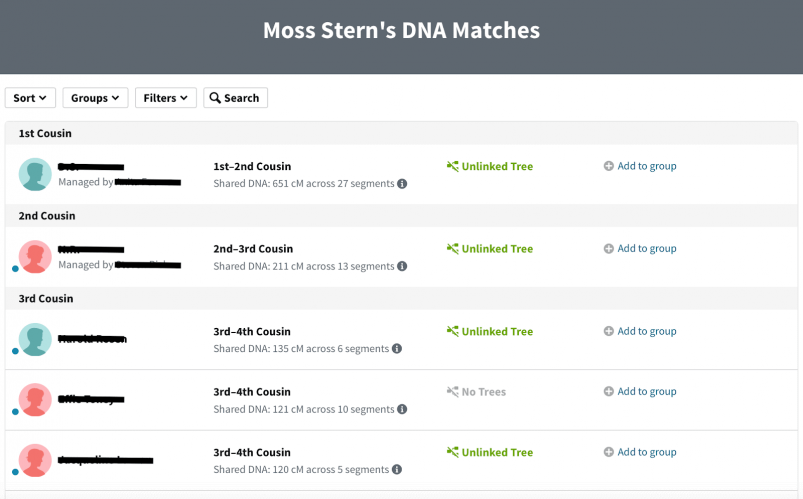 AncestryDNA's ThruLines service can then show me the common ancestors who likely connect me to my DNA matches: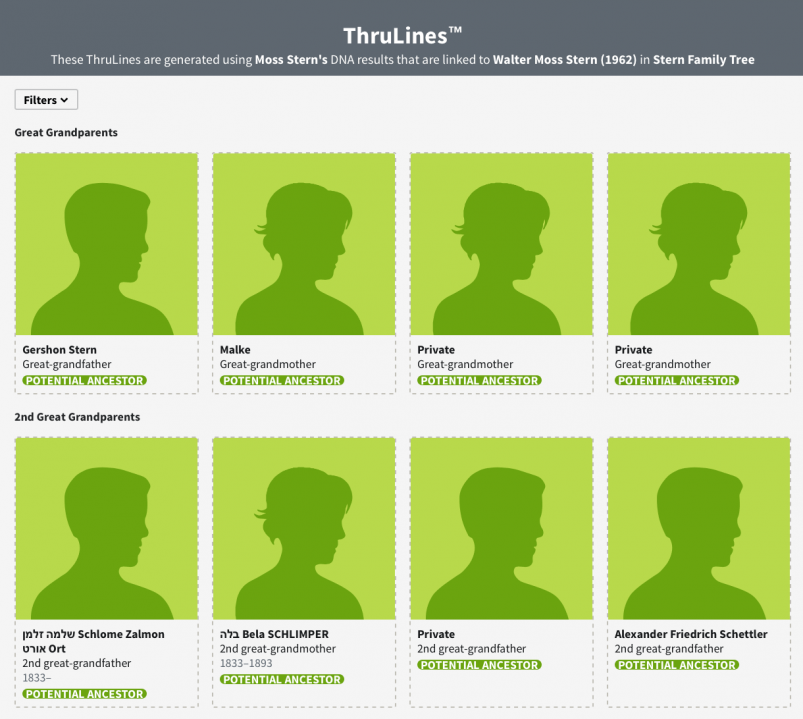 I can also build a fairly limited online family tree (using only what I already know about my family):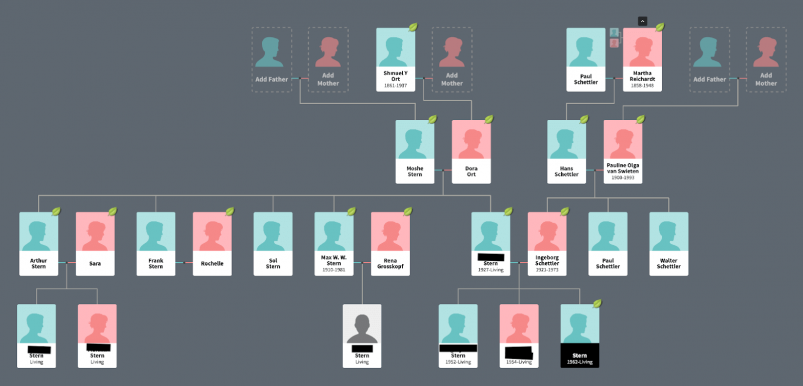 If I subscribed to AncestryDNA's genealogy service, I could add my DNA matches and people from historical records to this online tree. AncestryDNA's database contains DNA from more than 15 million people, and the historical database contains 20 billion additional records. Bottom line: If you want to track down every known relative, you can do so through AncestryDNA. (Personally, I'd love to, but I think the monthly membership fee is a bit too much.) So, how does AncestryDNA's ancestry report compare to competitors?
Without the additional capabilities that come with AncestryDNA membership, I found my AncestryDNA report a little disappointing. I have no reason to believe it's inaccurate; there just isn't much to it. It's comparable in scope to the ancestry report I received from MyHeritage DNA, which didn't impress me either.
By contrast, the ancestry report I got from 23andMe was a lot more detailed. (You can read more about my experience with 23andMe here.) It included elements like an ancestry timeline, information on my Neanderthal ancestry, an extensive history of my maternal and paternal haplogroups, and a section on how my DNA is likely to affect my physical traits. It felt like I got more value for my money.
Middle-of-the-Pack Test Kit Costs; Above-Average Subscription Fees
Ancestry Test Purchasing Options
AncestryDNA's basic ancestry report gives you the information on your ethnicities and likely living relatives that I've described.
For a small added fee, you can get a report on how your genetic heritage may influence your physical characteristics and traits such as eye color. Competitors like 23andMe don't charge extra for this.
You can also tap AncestryDNA's vast historical records database to build an extensive online family tree, but this involves an extra monthly or semi-annual membership charge.
Health and Wellness Purchasing Options
AncestryDNA only has one purchasing option in this category.
Are AncestryDNA's tests worth the price?
Ancestry Test
While the cost of AncestryDNA's ancestry test is similar to 23andMe, I feel like I got a lot more interesting information from the latter, which means more value for the money.
MyHeritage DNA's ancestry test is priced lower than the one from AncestryDNA, and includes roughly the same content.
AncestryDNA's monthly genealogy membership subscription costs more than a subscription to MyHeritage.
However, the AncestryDNA database is much larger than MyHeritage, making it that much easier to build your family tree and find relatives.
Health and Wellness Test
AncestryDNA's health and wellness test (which also includes its ancestry report) is a little lower in price than the comparable tests from its main competitors, 23andMe and MyHeritageDNA.
However, AncestryDNA's health test doesn't cover nearly as many disease risks or carrier statuses as the other two tests.
Out of the three health and wellness tests, 23andMe provides the most information in its reports.
AncestryDNA accepts PayPal, Visa, Mastercard, Discover, American Express, and Apple Pay. Aside from U.S. dollars, I've been unable to determine what currencies are accepted.
Ancestry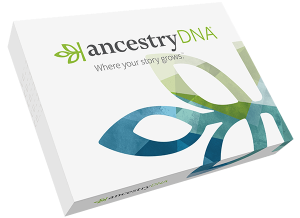 AncestryDNA
Read interesting details regarding your geographic history
Get insight into your regional origins and genealogy
Learn personality traits hidden within your DNA's code
A Pretty Responsive Customer Service Team!
Every company should be judged, not only by what happens when things go the way they're supposed to, but also by what happens when they don't. Or at least what happens when you try to ask a question. In this area, AncestryDNA does pretty well, and seems to be committed to customer satisfaction. Like other testing companies, AncestryDNA publishes a support page, but it offers some pretty basic answers to a fairly limited set of questions.
You can get additional support through an online chatbot (which knows very little) or over the phone (9:00 am to 11:00 pm GMT-5 every day of the week).
My Support Experiences
I initially called the company to ask how long it takes to get results (six to eight weeks), and why it's so much longer than other DNA testing services. The customer service representative was nice and courteous, and told me that AncestryDNA has a "world-class laboratory" (he implied it was superior to that of other companies), and that that's just how long it takes.
He added that sometimes it goes faster if the lab isn't too busy. And in fact, I got my results in less than two weeks! I also submitted this question about the health and wellness test via the online support request form:
The AncestryDNA health report only covered my risk for two cancers. There are a lot of other cancer types for which genetic markers can predict risk. Why weren't they included? There are also a lot of other disease risks that other companies explore in their health reports, like age-related macular degeneration, late-onset Alzheimer's disease, Crohn's disease, etc. Why doesn't AncestryHealth cover these?
I got an answer that same night (at 3:50 am GMT-5):
Hello Moss, Thank you for contacting Ancestry in regard to your Ancestry Health questions. In the future we hope to be able to provide more health reports for our members but at this time we cannot. If you need additional assistance, please feel free to reply to this message or call us at 1-800-ANCESTRY (1-800-262-3787) between the hours of 9am to 11pm EST, seven days a week. Sincerely, Uma Customer Solutions Associate Ancestry
This stock answer is not the support agent's fault, of course, but it is not a great answer to my question.
Other Customers' Support Issues
Some of AncestryDNA customers have complained about website glitches, not getting their test kits in the mail in a timely fashion, and especially the need to pay an extra monthly membership fee to find out much about their extended family.
But I haven't seen any complaints about the reports being inaccurate, which is not the case with some other testing services. AncestryDNA really seems to care a lot about responding to complaints posted online and trying to make amends. To me, that demonstrates a strong commitment to customer service.
There Are More Substantial DNA Reports for the Price
AncestryDNA has provided more customers with DNA analyses than any other DNA test company. This information is correlated with the company's huge ancestry database that helps customers discover and map out all their current and recent relatives around the world. If that's what you're primarily interested in, and if you're willing to pay a monthly fee for the genealogy service, AncestryDNA is a very good option for an ancestry test, although the subscription cost is higher than what MyHeritage charges.
However, if all you want is an ancestry test, with no genealogy service and no ongoing financial commitment, other companies provide a lot more information for the money. As for the health test, it currently covers only a very limited set of disease risks and carrier statuses. Other companies test for more. That said, AncestryDNA does tell you whether you're likely to have trouble absorbing various nutrients, which is something its biggest competitors don't offer. There's a lot to consider here. Regardless of what's most important to you, I hope I've helped you make an informed DNA test choice.
FAQ
How accurate is AncestryDNA?
AncestryDNA's ancestry results are highly accurate. The company has the DNA of more than 16 million customers in its database, which allows it to identify many people who are likely to be your relatives based on your shared DNA. These 16 million samples are also a powerful data set to draw upon in order to analyze your family's ethnic origins. AncestryDNA compares your DNA to samples from more than 1,000 distinct geographic regions and ethnicities around the world, allowing them to estimate your ethnicities with a high level of confidence.
For your health report, AncestryDNA looks at specific genetic markers in your DNA that have been shown to predict your relative risk of developing various diseases or being a carrier for various congenital conditions. Either you have these markers or you don't. AncestryDNA is able to detect the presence or absence of these markers and tell you what that means for you.
However, finding such markers doesn't mean you will get a particular disease in your lifetime, or that you will pass a certain congenital disorder on to your children. It just means that your risk may be higher than most people's. Commercial DNA test results are no replacement for a medical opinion, and your doctor can help you to better determine your actual level of risk.
How long does it take to receive results from an AncestryDNA test?
Once AncestryDNA receives your DNA sample, it should take about 6-8 weeks for you to get your test results. This is on the longer side compared to other companies; for example, 23andMe's results typically arrive within 2-4 weeks. Our reviewer received his AncestryDNA results in just 2 weeks, but your mileage may vary.
How many generations back does AncestryDNA's reporting go?
AncestryDNA can trace your family back through approximately seven generations. You share half of your DNA with each of your parents, a quarter of your DNA with each of your grandparents and so on. You share smaller and smaller amounts of DNA with each ancestor the farther back in time you go.
By the time you've gone back seven generations, you share less than one percent of your DNA with any given ancestor. Going back any farther, the margin for error is so high that your results would be relatively meaningless (no pun intended).
How much does AncestryDNA's services cost?
AncestryDNA's ancestry test sells for €69.00, but is sometimes available at a discount. The company's ancestry + health test costs $179.00. This is relatively on par with other leading DNA testing companies. For instance, 23andMe charges the same for its ancestry test and $199.00 for ancestry + health. MyHeritage DNA, among the lowest, charges €79.00 for its ancestry test and €199.00 for ancestry + health.
Who should consider taking an AncestryDNA test?
If you're interested in receiving accurate information on your ancestry as well as building an extensive online family tree, AncestryDNA is an excellent choice. By comparing your DNA sample to its over 16 million other DNA customers representing more than 1,000 different geographical regions and ethnicities, it can identify your family's ethnicities with confidence and locate many living relatives from around the world to add to your family tree. And its more than 2 billion historical records are also a powerful asset in helping you discover new family members and ancestors.