A DNA Testing Company that Sequences Your Whole Genome
DNA testing company 24Genetics is one of the few that performs whole genome sequencing, with a detailed breakdown and risk analysis to give you a wealth of insights into your ancestry and (particularly) health. 24Genetics' website sells a broad selection of DNA testing kits in categories that include ancestry, health and wellness, and diet/fitness. With up to three tests within each category, there's a lot of variety here.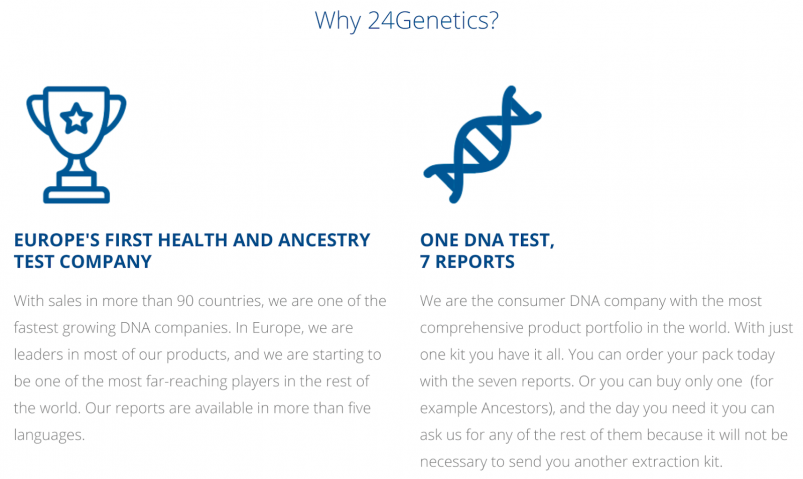 In this review, I explore the company's flagship testing kits, so you know what to expect from each of them. It should help you decide whether it's worth taking the plunge with a lesser-known DNA testing provider like this one (and paying the higher price) rather than sticking with one of the better-known companies such as AncestryDNA or MyHeritage.
Taking the Test
Whichever of its tests you take, taking a 24Genetics test is a simple four-step process of ordering the kit (with free shipping), collecting your DNA sample using a cheek swab, scheduling your sample to be picked up (for free in the USA), and waiting a few weeks to receive your results by email.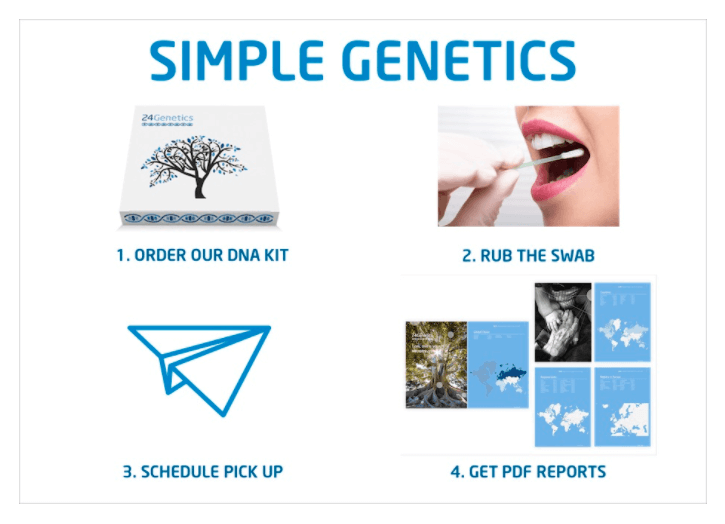 When it comes to swabbing your cheek, there's a bit more to it than that, but full instructions are provided. And when the results come through, you can even request your raw DNA data file so that you can upload it to other online services for additional analysis.
A Detailed Look at the Ancestry Test
24Genetics claims that its single ancestry product uses the best algorithm to determine your heritage and ethnicity. It sends you the test kit with instructions, and you can expect to receive your results within a few weeks of sending in your sample.
Ancestry DNA Test
This tests cover more than 1,000 geographical regions but does not include maternal or paternal haplotypes because your maternal mtDNA and paternal Y-DNA are not tested. In other words, only the 22 chromosome pairs from your autosomal DNA are examined; not your 23rd sex chromosome or your mitochondrial DNA. The test analyses 700,000 genetic markers to give statistical approximations of your ancestry. It compares your DNA to reference populations from different locations around the world, to tell you how likely you are to have ancestors in those areas. The locations are pinpointed on a map: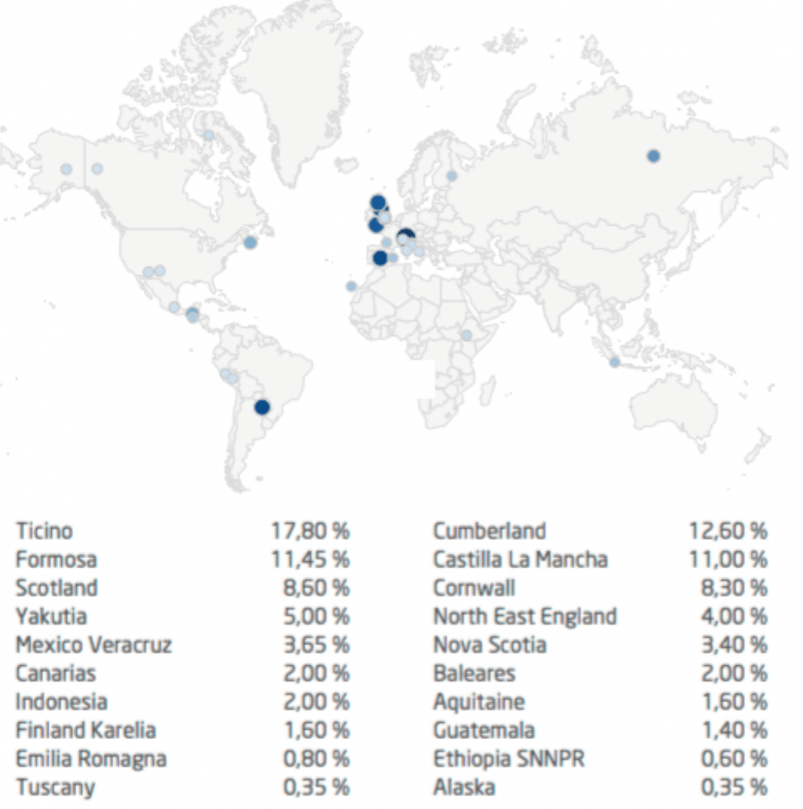 Unlike some competitors, 24Genetics sequences and stores your whole genome, which means you could get additional insights in the future without having to take another test. Key features:
Easy-to-use test, requiring you only to swab your cheek
Statistical accuracy because the whole genome is sequenced
Simple breakdown with your ethnic makeup shown on a map
Regional data that breaks down your ethnicity by region
Continental breakdown that presents your statistical ethnicity by continent
Backed by experts, including 24Genetics' scientists
Slightly more expensive than competitor tests
Similar Tests to Consider
MyHeritageDNA offers an extensive test that helps you identify potential relatives.
23andMe covers 1,500+ regions and helps you identify DNA relatives around the world.
Affordable Test Bundles for Better Value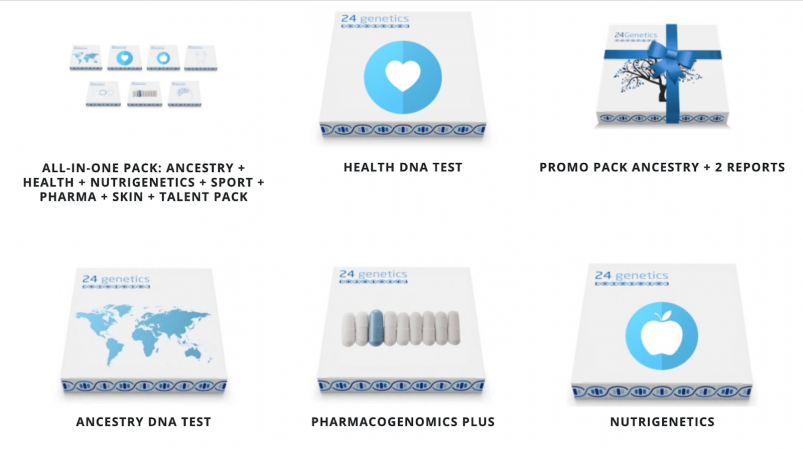 Now that I've told you what to expect from the individual tests, let's look at how you can keep down the cost. While the individual products are sold separately (with the Ancestry Kit being the cheapest), you can save money by opting for the All-in-One Pack that bundles the Ancestry, Health, Nutrigenetics, Sport, Pharma, Skin, and Talent kits. Although the test reports provide useful insights into heritage and health, they are more expensive than many competitors such as AncestryDNA and 23andMe that could provide similar insights at lower prices. See how these two competitors compare by reading our 23andMe vs AncestryDNA Review. You might be able to save some money with one of the regularly published coupon codes, and you can pay using your credit/debit card or PayPal. Beware that the published prices might not include sales taxes.
Quick Responses with Generic Answers
You can contact this company by telephone, email, or online contact form. But beware that you could incur high costs if calling from outside the United States or Spain. I sent the support team an email to ask about when I would receive the results:

I received a relatively rapid response, which is good.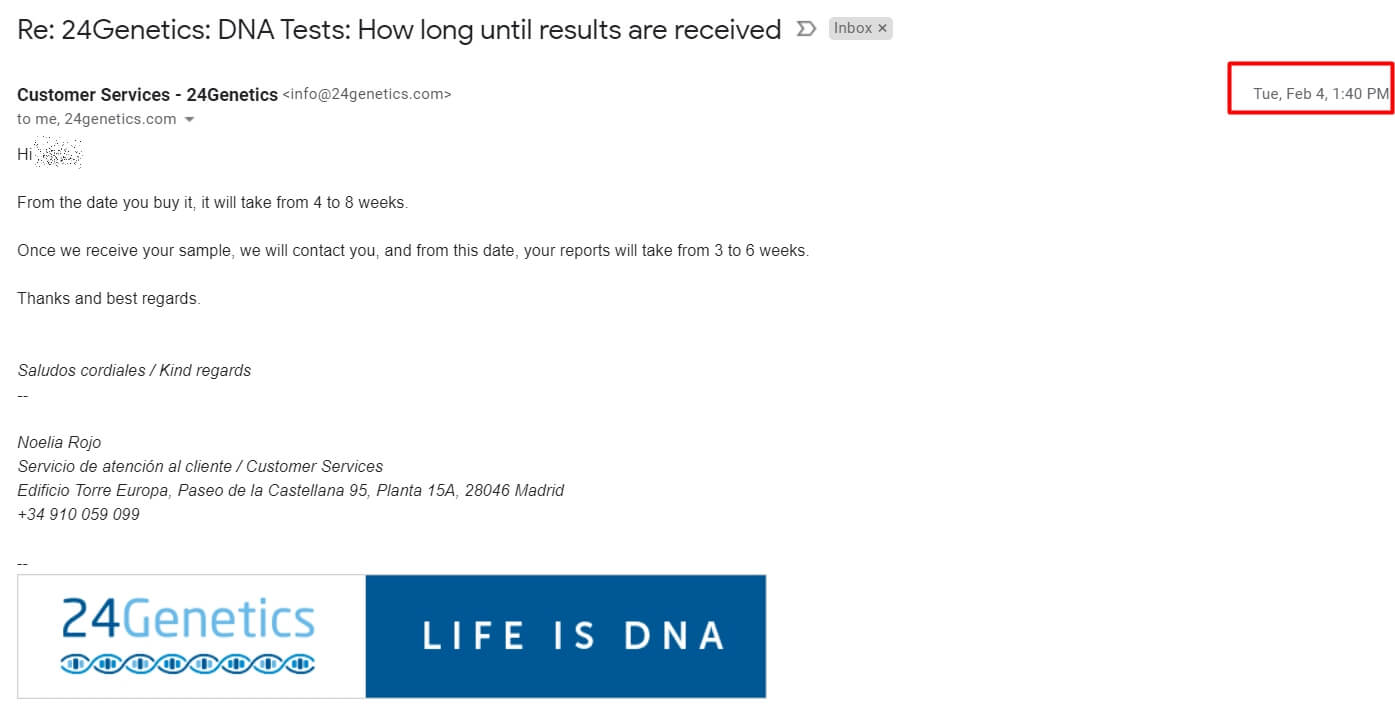 Other tests concluded as well that while responses are quick, they are often canned and don't provide any additional information that can already be found on their website. On the subject of what's on the website: although there is some interesting information about this provider's approaches to complete genome sequencing and whole exome sequencing spread around the site, there appear to be no separate support resources or a help section.
Comprehensive Reports Could be Worth the Cost if You Choose the All-in-One Pack
24Genetics' strong points are its whole genome sequencing and the sheer number of packages on offer. The ancestry report should answer most of your questions about your probable heritage, and anyone with athletic interests will gain valuable insights from the sports and nutrigenetics reports. However, this DNA testing company does have some disadvantages. Its website is glitchy and some of the English-language information is actually in Spanish. While pre-sales support was prompt, the answers were generic. From a pricing perspective, 24Genetics is generally more expensive than its competitors, but you do get more flexibility than you get with many alternative DNA testing companies. What's more, you can save some money by opting for an all-in-one bundle. Taking account of everything, the comprehensive reports (often running to hundreds of pages) could be worth the cost.
FAQ
How accurate is 24Genetics?
Very accurate. Unlike some DNA tests, 24Genetics sequences and stores your whole genome, meaning it's very accurate. What's more, the ancestry DNA test analyzes 700,000 genetic markers and coveres more than 1,000 geographical regions. (However, the test does not check your maternal or paternal haplotypes. If you need more information, check out our list of best Ancestry DNA tests.)
Can you upload raw DNA data to 24Genetics?
Yes! 24Genetics allows customers to upload raw DNA data from sites including FamilyTreeDNA, MyHeritage, and 23andMe. The data is then further analyzed and used for the reports you order from 24Genetics.
What countries is 24Genetics available in?
Testing kits from 24Genetics are available in every country around the world. Customers have the option of choosing either free Standard Shipping or Express Shipping. What's more, the company has warehouses worldwide, and so your package will be sent to the closest point before being delivered directly to your door.
Who should consider taking a 24Genetics test?
24Genetics testing kits are suitable for a broad range of people, especially those hoping to boost their health. If you're searching for skincare, fitness, or general health insights, you may find one of these kits suits your needs. Equally, if you want to find out more about your heritage, their ancestry kit provides interesting information. However, it's worth noting that the ancestry test is not suitable for people searching for living family members. If that is what you are looking for, you are better off with MyHeritage or AncestryDNA.