A DNA Testing Company that Sequences Your Whole Genome
DNA testing company 24Genetics is one of the few that performs whole genome sequencing, with a detailed breakdown and risk analysis to give you a wealth of insights into your ancestry and (particularly) health.
24Genetics' website sells a broad selection of DNA testing kits in categories that include ancestry, health and wellness, and diet/fitness. With up to three tests within each category, there's a lot of variety here.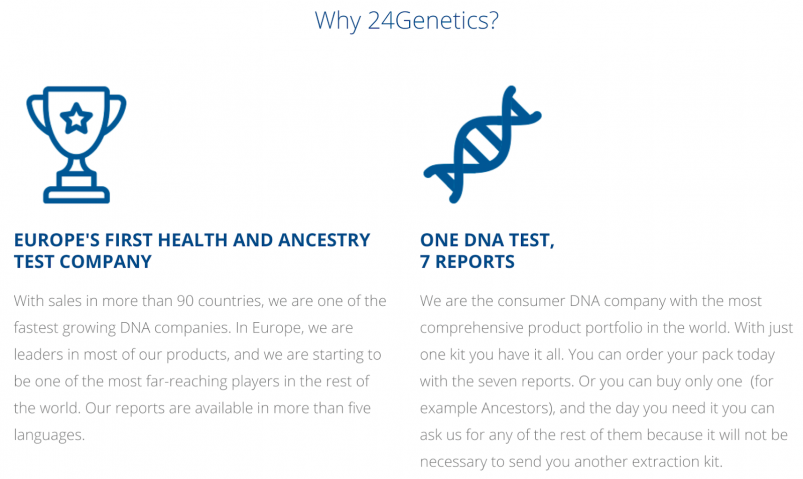 In this review, I explore the company's flagship testing kits, so you know what to expect from each of them. It should help you decide whether it's worth taking the plunge with a lesser-known DNA testing provider like this one (and paying the higher price) rather than sticking with one of the better-known companies such as Living DNA.
Taking the Test
Whichever of its tests you take, taking a 24Genetics test is a simple four-step process of ordering the kit (with free shipping), collecting your DNA sample using a cheek swab, scheduling your sample to be picked up (for free in the USA), and waiting a few weeks to receive your results by email.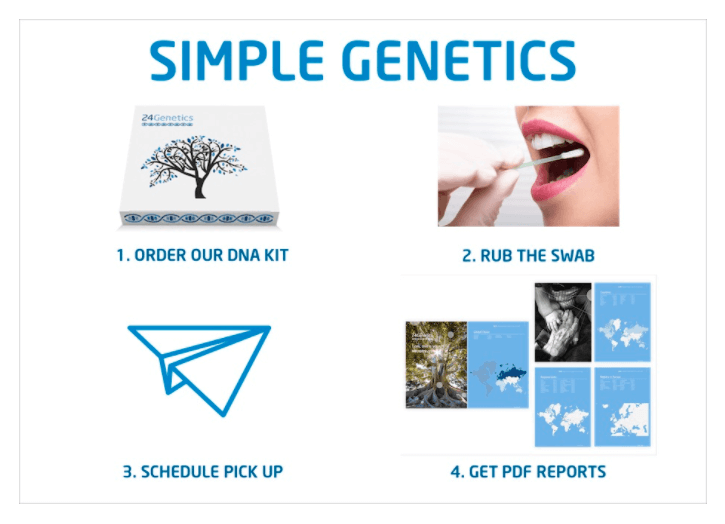 When it comes to swabbing your cheek, there's a bit more to it than that, but full instructions are provided. And when the results come through, you can even request your raw DNA data file so that you can upload it to other online services for additional analysis.
A Detailed Look at the Health and Wellness Tests
24Genetics offers three health and wellness products. You can choose between the Health DNA Kit, the Pharmacogenomics Plus Kit, and the Skin Care DNA Kit, or get all three in a promotional smart pack.
Each test requires a simple cheek swab, and you can expect your results within a few weeks.
Health DNA
By testing your DNA for genetic variants relating to more than 200 diseases and conditions, the health report gives you a detailed overview of your health status and risk factors. The genome-wide association study (GWAS) summary details your risk levels for common illnesses, including diabetes and cancer: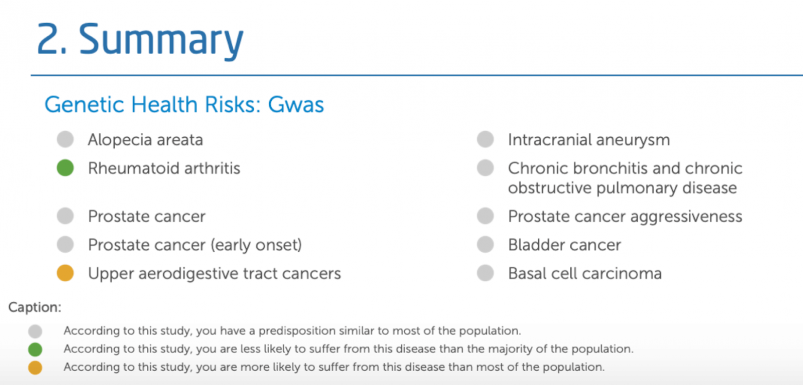 You can dig deeper into individual condition pages, to discover your risk level, the genes that contribute to your risk, and the international average risk level. Note that although the test results tell you if you are predisposed to a particular condition, this doesn't mean you'll actually have (or will suffer from) the condition.
Next, the report tells you if your genetic mutations will make you susceptible to such things as caffeine intolerance. And finally, the pharmacogenetics review gives you insights into how your body is likely to react to certain medications. Key features:
Summary of risk factors with statistical information on disease risk levels
In-depth risk analysis includes deeper insights into common illnesses
Gene mutation details help you understand mutations and identify health problems
Biometric data includes information on genetic predispositions to diseases
Pharmacogenetics review tells you how your body will react to medicines
Pharmacogenomics Plus Test
The full pharma DNA report presents your genetic predispositions to mainstream drugs and medication. It covers five key areas: cardiology, neurology, pain, oncology, and others.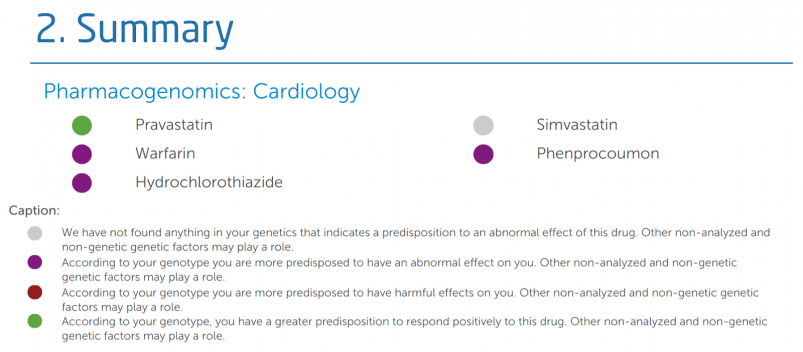 While this report is not suitable for clinical or diagnostic use, it could help you or your doctor determine how you might respond or react to commonly prescribed drugs such as antidepressants, bupropion, morphine, tramadol, and even erectile dysfunction medicines.
Key features:
Medication predispositions related to cardiology, neurology, pain, and oncology
Reviews over-the-counter medications
May reduce costs of unnecessary health investigations
Useful to doctors to make more informed medical interventions
Based on research from widely-accepted studies such as GWAS
Skin Care DNA Test
The skin care genetics test analyses how your vitamin and mineral metabolism affects the natural aging of your skin. Also, how your genetic hydration, elasticity, and antioxidant capacity impact this aspect of your health. The summary overview tells you about your skin sensitivity, how easily you tan, your sun sensitivity, and likelihood of having acne. But beware that the scientific backing for this is lacking.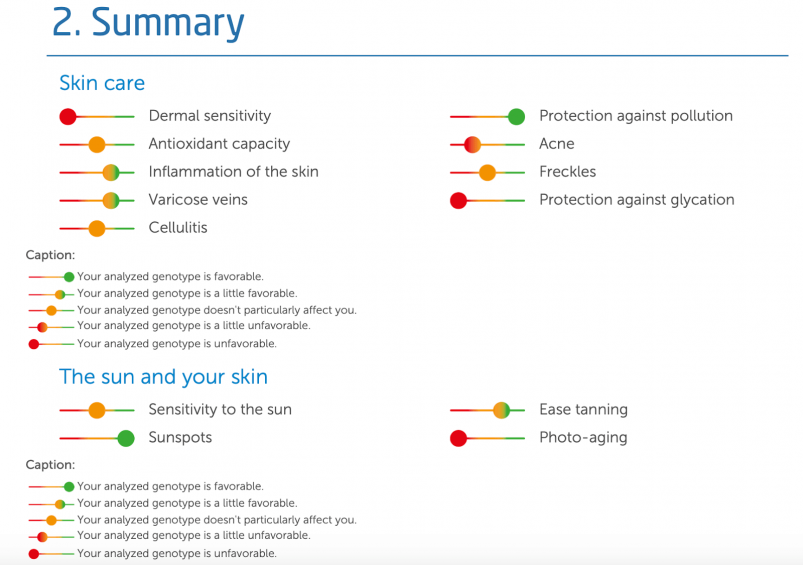 For each of the topics, the report includes a full breakdown page about how your genetic makeup may affect your skin care. The very detailed information on the specific gene and genotypes for each condition or trait is complemented by expert recommendations for supplements and dietary changes.
Key features:
Simplistic summary includes an overview of your skin
Information on genes and genotypes
Details about traits broken down by population
Supplement recommendations for the vitamins your body lacks
Access to professionals via the vendor website
Similar Tests to Consider
tellmeGen offers in-depth genetic testing for more than 125 of the conditions, with a low-cost per-kit pricing structure
Affordable Test Bundles for Better Value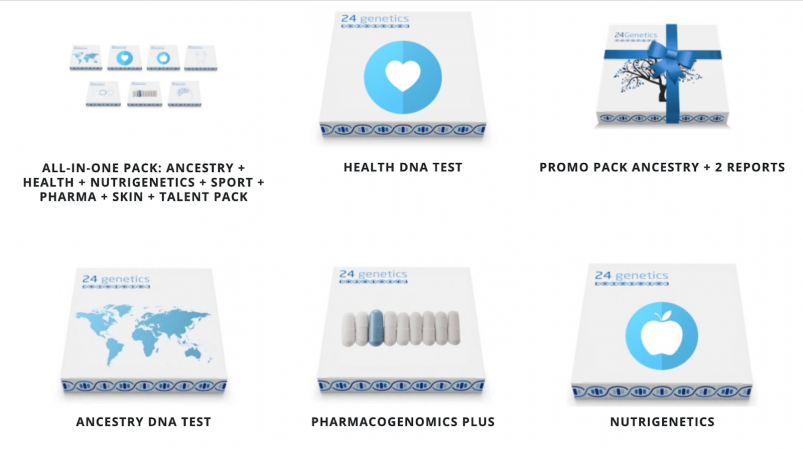 Now that I've told you what to expect from the individual tests, let's look at how you can keep down the cost. While the individual products are sold separately (with the Ancestry Kit being the cheapest), you can save money by opting for the All-in-One Pack that bundles the Ancestry, Health, Nutrigenetics, Sport, Pharma, Skin, and Talent kits.
Although the test reports provide useful insights into heritage and health, they are more expensive than many competitors such as Living DNA and 23andMe that could provide similar insights at lower prices.
You can save some money with one of the regularly published coupon codes, and you can pay using your credit/debit card or PayPal. Beware that the published prices might not include sales taxes.
Quick Responses with Generic Answers
You can contact this company by telephone, email, or online contact form. But beware that you could incur high costs if calling from outside the United States or Spain. I sent the support team an email to ask about when I would receive the results:

I received a relatively rapid response, which is good.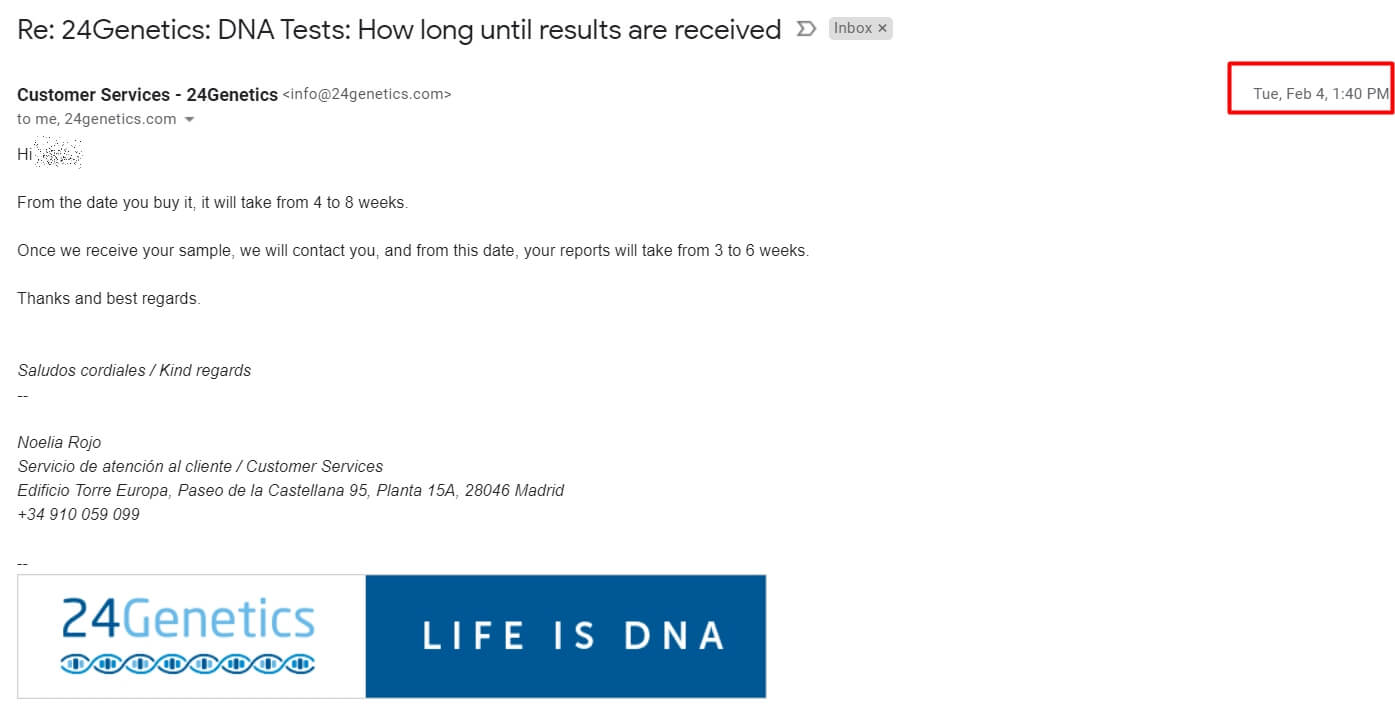 Other tests concluded as well that while responses are quick, they are often canned and don't provide any additional information that can already be found on their website.
On the subject of what's on the website: although there is some interesting information about this provider's approaches to complete genome sequencing and whole exome sequencing spread around the site, there appear to be no separate support resources or a help section.
Comprehensive Reports Could be Worth the Cost if You Choose the All-in-One Pack
24Genetics' strong points are its whole genome sequencing and the sheer number of packages on offer. The ancestry report should answer most of your questions about your probable heritage, and anyone with athletic interests will gain valuable insights from the sports and nutrigenetics reports.
However, this DNA testing company does have some disadvantages. Its website is glitchy and some of the English-language information is actually in Spanish.
While pre-sales support was prompt, the answers were generic. From a pricing perspective, 24Genetics is generally more expensive than its competitors, but you do get more flexibility than you get with many alternative DNA testing companies. What's more, you can save some money by opting for an all-in-one bundle.
Taking account of everything, the comprehensive reports (often running to hundreds of pages) could be worth the cost.