FindMyPast Overview: A Vast Collection of Genealogy Records
If you're all about diving into your family's history and finding where your roots lead, FindMyPast is a fantastic go-to. It's like your sidekick for genealogy and uncovering your family story. With a wide range of historical records from all over the world, FindMyPast has your back when it comes to digging up your family's past.
What's right at the heart of FindMyPast is its big collection of genealogy records. They've got everything from birth, marriage, and death certificates to census info and even military records. These records hold incredible stories of our ancestors, giving us a real look into where we come from.
Now, while FindMyPast brings a lot to the table, it's worth noting that its collection might not be as complete as some other genealogy websites like AncestryDNA. This can be especially noticeable in certain regions or times where records might not have been as well-kept or easy to access.
FindMyPast Features
1. Free Genealogy Services and Family Tree Builder
Findmypast allows you to initiate the construction of your family tree without the need for a subscription, offering complimentary access to several records. These include valuable resources like U.S. census data, vital records encompassing births, marriages, and deaths from both the U.S. and Canada, along with Irish Roman Catholic parish records.
Opting for a subscription with Findmypast provides additional benefits. It grants you access to an expanded pool of data and features, such as the ability to identify shared ancestors. This enriches your family history research by broadening the depth and breadth of available information, thereby enhancing the comprehensiveness of your research.
2. British and Irish Historical Records
Findmypast's database contains more British and Irish historical records than any other genealogy or heritage testing site. Going back as far as the U.S. Revolutionary War and even the Dark Ages, these records include newspapers, immigration records, court records, military reports, and work contracts.
3. The 1939 Register
The 1939 register details the precise location where 41 million people in England and Wales were living just before the Second World War. You can see original handwritten registers, interactive neighborhood maps, and lists of household members, and potentially discover long-lost relatives.
How It Works
Findmypast allows you to search the site's vast collection of records, including census records, birth, marriage, and death records, military records, and more. Just enter information about your ancestors, like their name, birthplace, or year of birth.
Once you find a record of interest, you can view it fully on the site. Some records may require a subscription or pay-per-view credits to access, but some are available for free. You can also create and store your family tree online using the family tree builder. The site offers hints and suggestions based on the information you enter, making it easier to find additional records and information about your ancestors.
Additionally, Findmypast has a large collection of historical newspapers from the UK, Ireland, and the US. You can search for ancestors mentioned in newspaper articles or browse issues to get a sense of what life was like during a particular period. Finally, you can connect with other researchers and share information about your ancestors in the community section, where you can join forums and discussion groups or attend events and webinars.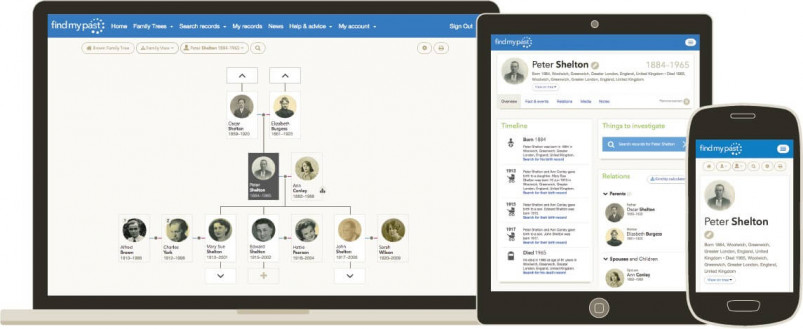 You can also search through millions of records including US census data from 1790-1940, public BMD (birth, marriage, and death) records from the US and Canada, and over 7 million Irish Roman Catholic parish records. Although this is free of charge, a subscription gives you access to a lot more data and extra features.
I should also mention the "1939 Register" which includes original handwritten documents, interactive neighborhood maps, and lists of household members from the eve of WWII.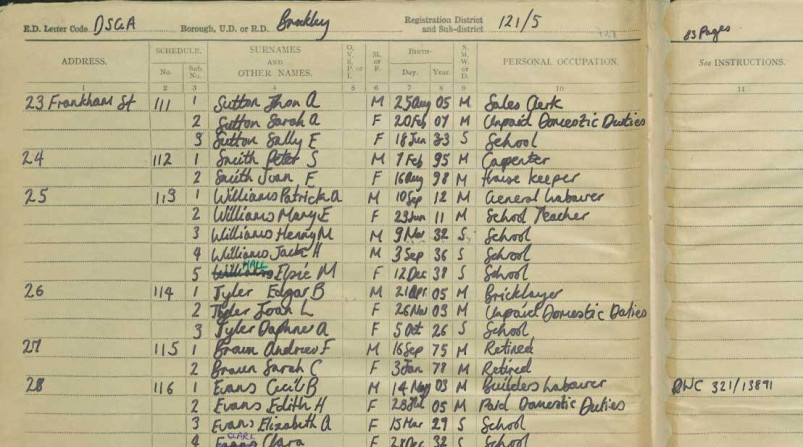 Privacy
When it comes to online genealogy research, privacy is an important consideration. Here's what you need to know about Findmypast's privacy policies and practices.
First off, Findmypast takes your privacy seriously. They have measures in place to protect your personal information, including encryption and other security protocols. This means that any information you enter on the site is transmitted securely and kept safe from unauthorized access or disclosure.
When you use Findmypast, they may collect certain types of personal information from you, such as your name, email address, and payment information if you sign up for a subscription. They may also collect information about your genealogy research, such as the names and dates of your ancestors.
Findmypast uses this information to provide you with the best possible genealogy research experience. For example, they may use your research history to suggest new records or resources that could be helpful for your research. They may also use your personal information to communicate with you about your account or to send you promotional offers or newsletters.
One important thing to note is that Findmypast does not share your personal information with third parties for marketing purposes without your consent. This means that you can trust them to keep your information confidential and not use it for any purposes you haven't authorized.
Plans & Pricing
Findmypast offers a variety of subscription options to fit different budgets and research needs. Here's what you need to know:
Plus Subscription: This plan is perfect for those who are just starting out with genealogy research. It costs £11.25 per month (billed annually), and gives you access to the 1939 register, as well as the Irish, UK parish, military, and travel records.
Pro Subscription: This is great for those who want more advanced research tools and access to more records. It costs £15.42 per month (billed annually), and gives you access to everything in the Plus subscription, plus access to worldwide records, and newspaper archives spanning three centuries.
Premium Subscription: This subscription is the most comprehensive option and is ideal for serious genealogy researchers. It costs £16.67 per month (billed annually), and gives you access to everything in the Pro subscription, as well as unlimited access to the 1921 Census and the ability to access all areas of Findmypast.
You can get a 7-day free trial with its Plus and Pro subscriptions so you can test out the service before committing to a subscription. Plus, they frequently offer special deals and promotions, so be sure to check their website for the latest offers.
It's also worth noting that Findmypast offers access to many of its features and services for free. For example, you can start building your family tree or search for some records completely free of charge.
Support
Findmypast provides phone and live chat support during working hours on weekdays, it also claims to answer all emails within 24 hours on business days. Indeed, my contact form submission received a response within 24 hours (if only to refer me to Living DNA):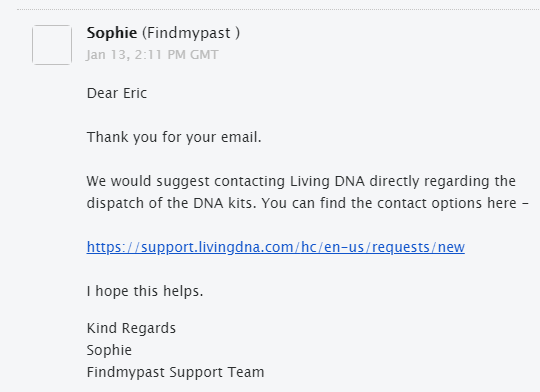 I also received rapid responses via the live chat channel, although the agent had trouble convincing me why I should pay more for Findmypast's DNA test rather than Living DNA's: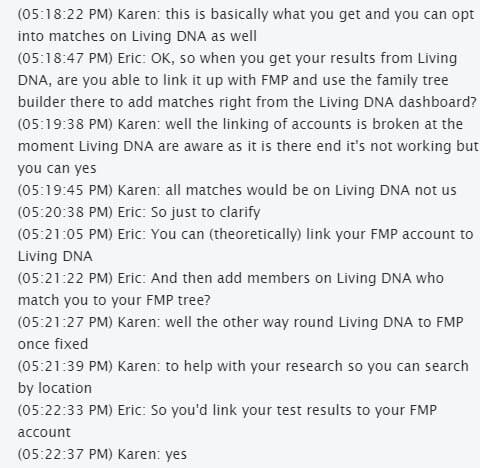 For self-support, a decent set of FAQs should answer most of your questions, so you probably won't need to contact the support team at all.
Bottom Line
Findmypast is an excellent choice for anyone looking to explore their family history. With a massive collection of records and powerful search tools, it's easy to uncover new information about your ancestors and build a detailed family tree.
It has a powerful search engine and an intuitive interface with helpful hints and tips that make it easy to get started with genealogy research, even if you're a beginner. And even though some of the records might be hard to find or unavailable, it's still a great tool for anyone who wants to get into genealogy research. Plus, you can test it out for free with a 7-day free trial.
FAQs
What kind of records can I find on FindMyPast?
FindMyPast has an extensive collection of genealogy records from around the world, including records from the UK, Ireland, Australia, New Zealand, the United States, and more. Its records include birth, marriage, and death certificates, census records, parish registers, military records, newspapers, and more. The records cover a wide range of time periods and can provide valuable insights into your family history.
How accurate is FindMyPast's record-matching feature?
FindMyPast's record-matching feature uses algorithms to suggest potential matches between records and your family tree. While this can be helpful in identifying new connections and branches of your family tree, it's important to carefully review and verify any suggested matches before adding them to your tree. Sometimes, the algorithms can suggest matches that aren't accurate or don't fit with your family history, so it's important to do your own research and make sure the suggested matches make sense before accepting them.
Can I use FindMyPast for free?
FindMyPast offers a free family tree builder that allows users to create, edit, and share family trees with others. However, access to the site's genealogy records and other premium features requires a paid subscription. FindMyPast offers a range of subscription options, including monthly, annual, and pay-per-view options, to fit different users' needs and budgets.
How can I get help with my genealogy research on FindMyPast?
FindMyPast offers a variety of support resources for users, including a community forum where users can connect and share tips and advice with each other. The site also has research guides and expert advice from professional genealogists. If you have any issues or questions, you can contact FindMyPast's customer support team for assistance.