MyHeritage Overview: Discover Your Ancestral Origins
MyHeritage 2023 Deal:
MyHeritage often has deals that bring its generally low prices even lower. Right now, you can save up and
get a full DNA kit for only $39
, which is by far the cheapest DNA test on the market. Make sure to check back often as this deal appears every few months.
MyHeritage provides an ancestry test designed to reveal your ethnic makeup and geographical roots using an easy cheek swab for DNA analysis. With a large reference base that includes 42 ethnicities and 2,114 genetic groups, this test offers a dependable choice for those wanting a detailed and accurate view of their heritage.
To put MyHeritage's claims to the test, one of our researchers personally underwent the ancestry DNA test. We thoroughly examined and assessed the resulting reports, and considered pricing, support, and other factors.
In summary, it is an excellent ancestry test. MyHeritage is one of the cheapest DNA tests on the market, and it provides a lot of value for money. You'll get a detailed breakdown of your ethnicity, while also identifying specific genetic groups associated with your heritage. Moreover, you will receive DNA matches and access to exceptional family tree software, which you can explore for free.
But while MyHeritage is good, it's not perfect. We were disappointed that you can't use this test to identify your maternal or paternal haplogroups. If that's what you're looking for, you may want to try AncestryDNA instead.
A Single Test that Ships Across the World
MyHeritage offers a single DNA test – an ancestry DNA test, which I took for the purpose of this review.
Besides the UK and US, MyHeritage ships all over the world, except in locations where legal restrictions prevent the sale of DNA kits.
The MyHeritage test analyzes your DNA to determine the geographic and ethnic origins of your ancestors, plus provides the opportunity to forge new connections with potential relatives.
The DNA test includes:
Ethnicity Estimate – Discover where your ancestors came from with a percentage breakdown of your ethnic origins.
Genetic Groups – Learn the specific geographical regions of your recent ancestors and how they may have migrated over time.
DNA Matches – Find potential relatives through your shared DNA from a database of over 6.5 million DNA samples.
Advanced DNA Tools – Understand your relationships to your DNA matches with the Chromosome Browser and AutoClusters.
Get Started With the #1 Ancestry DNA Test Today!
Just A Quick Swab of the Cheeks
Having familiarized myself with MyHeritage's at-home DNA testing procedure, I decided to order a kit. The delivery was quick, arriving in just a few days, which meant I could start the test without delay.
The kit included everything required: two cheek swabs, two vials for sample storage, a ziplock bag with a cotton pad to protect the samples, and a return envelope, which does not come with prepaid postage. Clear instructions were also provided, detailing how to register the kit and collect the sample effectively.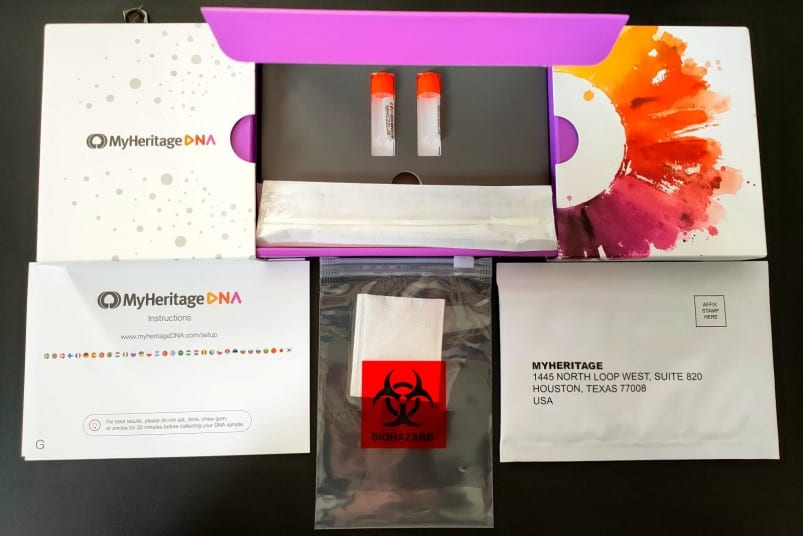 Before you get into the test stuff, they ask you to sign up with an account and type in your unique kit code. It might sound small, but it's a big deal. This way, the lab knows it's your test they're working on. Plus, the account comes with a perk – you can keep tabs on what's happening with your kit, from the moment the lab gets your sample until they're all done.
They also gave me a little nudge to share names and birth and passing dates of my parents and grandparents, if I had that info. It's like a head start if you're planning to dive into the family tree business once your ancestry results roll in.
An instruction pamphlet is included in the DNA kit, which thankfully, I found easy-to-follow. You're warned not to eat or drink 30 minutes before taking the test, so take note of that and avoid potential contamination.
Providing the sample was easy. A simple 30-60 second swab of each cheek is all that's required. Once I'd snapped off my swabs into the vials provided, I was ready to send them back to the lab.
I did have to pay the postage cost to mail my samples to the MyHeritage lab – which is an extra cost that you won't pay for 23andMe or AncestryDNA – but it was less than the price of a coffee for express shipping.
Order Your Simple Ancestry Test Today!
5 Standout Features of MyHeritage DNA – Learn Where You Come From and Make New Connections
Ethnicity Estimate
Your MyHeritage ancestry DNA results include an Ethnicity Estimate, which is a percentage breakdown of your ancestral origins from 42 ethnicities, including Irish, British, Jewish, Italian, Japanese, and more.
MyHeritage's unique reference populations have come from people who have lived in the same region for many generations and were selected on the basis that their backgrounds were genetically representative of their region.
My Ethnicity Estimate shows that I'm 100% European, but it also includes a percentage breakdown of the countries from which my DNA originates. As you can see, the majority of my heritage is Scandinavian and Irish, Scottish, and Welsh.
Click on any of the regions highlighted on the interactive map to learn more about your heritage and how the genetic marker of an ethnicity may have found its way into your DNA. You'll also see some of your DNA matches that share this ethnicity.
Although you do get to learn the origins of your DNA, it would have been nice to have some information on my maternal haplogroups, which is determined by analyzing mtDNA. This would show the migrational patterns of my maternal line going back thousands of years. However, you do get some information on the global movements of your ancestors with Genetic Groups.
Genetic Groups
Going one step further than the Ethnicity Estimate. Genetic Groups indicate the specific geographic regions from which your ancestors originated, from 2,114 genetic groups. They differ from Ethnicity Estimates, in that a particular group can be composed of more than one ethnicity.
The founder populations are groups of people who lived in the same area for centuries, only marrying within that group or migrating as a group. Over time this forms unique genetic signatures that can be detected by the MyHeritage DNA test. There are no percentages with Genetic Groups – you are either in a group or you aren't.
My results showed that I'm part of four genetic groups and by clicking on them on the interactive map, I could learn more information about each one. This includes the top places the genetic group resided in throughout recent history, common surnames and given names, common ethnicities, and related groups.
Your Genetic Group can also give you an idea of how your family migrated from one location to another, over time. The interactive map features hotspots and a timeline, which you can play to see how a Genetic Group is believed to have moved around the globe, going back hundreds of years.
Each Genetic Group is assigned a confidence level – low, medium, and high – and even being a member of a group with low confidence is interesting, as it shows more distant ancestry.
Genetic Groups were introduced in late 2020, but if you took your MyHeritage ancestry DNA test before then, it has been added for free to your ethnicity results. It is also available to anyone who has uploaded DNA data from another provider.
DNA Matching
Once your DNA has been analyzed, MyHeritage searches for other users in their database whose DNA matches yours. You are not limited to DNA matches just to MyHeritage users, but also to those who upload their DNA data from other providers to the MyHeritage database. This widens your matching pool, making it possible to discover even more potential relatives.
Using sophisticated algorithms and advanced analysis of shared DNA, MyHeritage can provide estimated relationship ranges for each of your DNA matches. This information can be incredibly valuable in helping you identify potential relatives and build out your family tree.
The estimated relationship range provided by MyHeritage can include several different possible relationships, such as a second cousin, half-sibling, or great-grandparent. And with a Confidence Level provided for each estimated relationship range, you can get a sense of how certain the site is about the relationship estimate. This can be especially useful for identifying potential relatives who may not appear in your family tree or for confirming existing relationships.
MyHeritage's relationship estimation capabilities don't stop there. The site also offers a chromosome browser tool that allows you to analyze and compare your shared DNA with your matches. By examining the specific segments of DNA that you share with a match, you can gain additional insight into your genetic relationship. This can help you better understand your own ancestry and potentially uncover new branches of your family tree.
MyHeritage's cM Explainer™ is a really neat tool that can help you better understand your DNA matches on the site. It takes the amount of shared DNA between you and your match and helps you interpret what that number means in terms of your genetic relationship. With a range of possible relationships based on the amount of shared DNA, it's easy to get a better idea of the likely relationship you have with your match. This is especially useful since different relationships can share similar amounts of DNA, such as half-siblings and grandparent-grandchild pairs.
Advanced DNA Tools
MyHeritage has a number of DNA tools that allow you to better understand how you share DNA with your matches and how your ethnicities are spread throughout the world.
Use the chromosome browser to select some of your DNA matches and see a visual representation of where on the chromosomes you share DNA segments. This can help you determine if you have a common ancestor with any of your DNA matches.
If you're interested in seeing how your ethnicities are distributed around the world, the Ethnicities Map shows you the most common ethnicities in each country and the top countries for each ethnicity.
The final DNA tool is the AutoClusters feature, which automatically organizes your DNA matches into color-coded clusters that are likely to be descended from common ancestors. However, to access this feature, you'll need a subscription.
Family Tree Software & Historical Records
MyHeritage has excellent family tree software, which allows you to build a family tree of up to 250 members for free.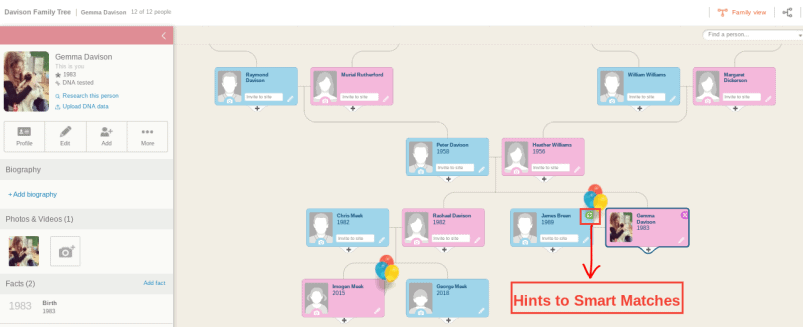 I tested it out for myself and was pleased to see the information on my parents and grandparents I provided when registering my kit was already formed into a family tree. No software download is required, it's all done online in your MyHeritage account.
MyHeritage offers amazing photo features including @AI Time Machine™, LiveStory, Deep Nostalgia™, and MyHeritage In Color™. It has photo tools for colorizing, enhancing, and animating old family photos, as well as organizing albums and sharing them with family members.
Adding new members to the tree is very simple, and you can add as much detail as you like about each new addition to your tree. Smart Matches to relatives that appear in other users' trees or in historical records are marked with an icon, which you can investigate further.
However, while you don't need a subscription to view matching relatives in other family trees, you need to pay for the Complete plan to view matches to historical records.
Pay for a subscription to the genealogy service and you'll get a bunch of additional benefits, including:
Smart Matches to other family trees and record matches between historical records and individuals in your family tree.
Learn about your ancestors via SuperSearch, a search engine of over 19.4 billion historical records, 62 million family trees, and more.
Instant Discoveries allows you to add entire branches to your family tree with a single click
Start Building Your Family Tree With MyHeritage!
Reading Your Results – Report Arrived Quicker than Expected
In the instructions leaflet, it says results can take between 4-6 weeks. In a little under 3 weeks, I received an email notification that my DNA was being extracted. A week later I had my results.
The online dashboard is easy to navigate and makes great use of visuals to help you understand your results at a first glance. Upon signing in, you're given a summary of your ethnicity estimate and DNA matches.
Click onto your matches and you'll see a full list of all your DNA matches from the MyHeritage database, which contains over 6.5 million samples. Listed with each DNA match is:
A percentage of how much DNA you share
The number of shared DNA segments, including the length of your longest shared segment
Your estimated relationship e.g third cousin
If your match has a family tree and if you share any ancestral places.
By reviewing your matches, you'll see some additional information, including ancestral surnames and on which chromosomes your shared DNA is found. However, if you want to view shared ancestral places, a full list of shared DNA matches and ethnicities, or their family tree, you'll need to upgrade to a paid subscription.F
What's nice about MyHeritage is you get regular emails when new matches to your DNA are found. This is great if you're building a family tree, looking to make new family connections, or are just interested in seeing how far around the world your DNA has spread.
Low Starting Price, Until You Add a Subscription
The base price of the Ancestry test is well below the sticker price of many other ancestry tests and just $89.00. I'd also say they offer good value-for-money, with plenty of interesting ancestry insights, DNA matches, and the option to start your family tree for free.
However, the cost rises significantly if you add the cost of a genealogy subscription that allows you to build an extended family tree and access records for potential matches from MyHeritage's historical database.
However, if you're serious about building a family tree going back generations, you're likely to benefit from a MyHeritage subscription, which gives you access to 19.4 billion historical records, 4 billion people profiles, and 62 million family trees
MyHeritage's DNA tests are available worldwide, except in locations where legal restrictions prevent the sale of DNA kits, and you can pay for them in your local currency via PayPal, credit card, wire transfer, or check.
Ancestry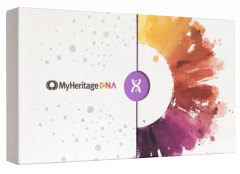 The Support is There
MyHeritage publishes a frequently asked questions page, which is pretty extensive, providing answers for any query I could think of, as well as plenty I couldn't. Topics covered include DNA, family tree builder, discoveries and research, health, subscriptions, and so much more.
Plus, there is a knowledge base, which includes articles and webinars that are particularly useful to those, building family trees.
If you need a little more hands-on support, you can call the support phone number relevant to your location, toll-free. The phone lines in my region are open 24 hours a day six days a week (with Sunday as the only exception).
I called on a Saturday afternoon and was speaking to an agent within about 10 minutes, who was able to answer all of my questions about MyHeritage's subscription plans in a friendly and informative manner.
There is also an online form for email support, but it isn't easy to find, which I found strange as not everyone wants to talk to an agent on the phone. I eventually found it in the FAQ section, so fired off a question about how accurate the ethnicity estimate is and could any ethnicity have been missed?
It was two days before I received a response, but the support agent was friendly and provided a thorough answer to my question, as well as directing me to a video, which I may have found useful if I still had questions.
There's a chatbot available for any questions, and it can also send you updates and check the status of your DNA matches. In case you need more support, the chatbot can escalate the request to an agent.
Overall, I was impressed with the customer support from MyHeritage, I have no questions that went unanswered, either by the knowledge base or customer support agents.
However, not all customers have been pleased with the service from MyHeritage. Some have complained of being automatically charged for a full year's subscription (without their permission) when their free trial ended. But this seems to be a rare occurrence, with the vast majority of reviews from customers being very positive.
Ancestry Results at Low Cost, or Build a Family Tree with a Subscription
When it comes to determining your ancestry, MyHeritage has a lot to offer.
You discover a percentage breakdown of your ethnicity, as well as insights into which genetic groups you belong to, from 2,114 reference populations.
You also get matches to those in the MyHeritage database who share segments of your DNA. You'll discover how you're related and have the option to contact your newly found family members.
If you're keen on learning more about your family journey, MyHeritage has excellent genealogy software, which you can test out for free to build a tree with 250 members.
To access its huge database of over 19.4 billion historical records and other premium features, you'll need to sign up for a paid subscription, which can be pricey. However, you can take advantage of a free 30-day free trial of the complete subscription to see if it's the right family tree builder for you.
The only thing missing from MyHeritage is a deeper ancestry analysis. As they only analyze your autosomal DNA, you won't get insights into your maternal and paternal lineages. However, you do get an indication of how your ancestors may have migrated around the world over the last few hundred years with Genetic Groups.
That being said, MyHeritage does offer one of the best ancestry DNA tests available. It provides plenty of interesting insights into your heritage and provides a great starting point for your genealogy journey.
FAQ
How do I take a MyHeritage DNA test?
The ancestry DNA test requires a cheek-swab sample, which involves rubbing a textured cotton bud on the inside of your cheek. It only takes around 30 seconds and is completely painless.
In my experience, it's easier than spitting over and over into a tube – as you do with AncestryDNA – but you still need to avoid eating, drinking, and brushing your teeth 30 minutes before you collect your sample.
How accurate is MyHeritage?
In your ancestral Ethnicity Estimate, you're given a percentage of DNA that derives from different regions. The higher the percentage, the more confident you can be in the accuracy.
However, it's important to remember that, although your Ethnicity Estimate is generated by a highly accurate statistical algorithm, they are still estimates.
Also, DNA is not the same as heritage, and that the further back in your family tree you go, the less likely you are to inherit DNA from your ancestors.
Can you upload raw DNA data from other providers to MyHeritage?
If you have already taken a DNA test with another provider you can upload your raw DNA data to MyHeritage for free DNA matches, as well as matches to users who uploaded their data from other services.
MyHeritage has a wide international reach, with availability in 42 languages, giving you a great chance of being matched with potential relatives living in other countries. Plus, you'll also get an ethnicity estimate which pinpoints your ancestry across 42 ethnicities.
How much do MyHeritage's services cost? (Any discounts?)
An ancestry test from MyHeritage is competitively priced at $89.00, which is cheaper than most. You can also get a 30-day free trial with the MyHeritage DNA kit which allows you to try out the full service risk-free.
Keep up to the date with the latest deals and sales from MyHeritage, through our dedicated coupon page: https://www.dnaweekly.com/reviews/myheritagedna/coupons/


Cyber Monday DNA Sale — Verlängert!
Sichere Dir noch heute einen Rabatt von
63%
auf die Tests von MyHeritageDNA!
Spare
63%
bei MyHeritageDNA! Handle jetzt, bevor es zu spät ist!


Cyber Monday DNA Sale — Extended!
Get 63% OFF + FREE shipping on 2+ kits + 30-day Complete free trial!
Uncover your family history with MyHeritage's DNA test! Save 63% on MyHeritage DNA Kit + 30-day Complete FREE trial + FREE shipping when you buy 2 or more kits during the Cyber Monday DNA Sale — Extended!! Act fast, this deal won't last long!


Cyber Monday DNA Sale — Extended!
Get 58% OFF + FREE shipping on 2+ kits + 30-day Complete free trial!
Find new relatives you never knew existed with MyHeritage's DNA test! Save 58% on MyHeritage DNA Kit + 30-day Complete FREE trial + FREE shipping when you buy 2 or more kits during the Cyber Monday DNA Sale — Extended!! Act fast, this deal won't last long!


Cyber Monday DNA Sale — Extended!
Get 63% OFF + FREE shipping on 2+ kits + 30-day Complete free trial!
Explore your heritage with MyHeritage's DNA test! Save 63% on MyHeritage DNA Kit + 30-day Complete FREE trial + FREE shipping when you buy 2 or more kits during the Cyber Monday DNA Sale — Extended! Act fast, this deal won't last long!


Cyber Monday DNA Sale — Extended!
Get 63% OFF + FREE shipping on 2+ kits + 30-day Complete free trial!
Find new relatives you never knew existed with MyHeritage's DNA test! Save 63% on MyHeritage DNA Kit + 30-day Complete FREE trial + FREE shipping when you buy 2 or more kits during the Cyber Monday DNA Sale — Extended! Act fast, this deal won't last long!
Who should consider taking a MyHeritage test?
If you're interested in discovering your ancestry for an affordable price, MyHeritage DNA is one of your best options.
MyHeritage also combines its ancestry DNA test with a genealogy subscription service, making it a good choice if you want to build an extensive online family tree and watch it grow. These subscription costs are also more affordable than those of its chief rival, AncestryDNA.