Have you felt tired lately? Had difficulty losing weight, or noticed that you're slowly gaining weight? Or maybe you've just been feeling down, irritable, or not quite yourself? If you've noticed any of these symptoms, it could be a sign of a thyroid disorder since your thyroid gland plays a major part in energy levels, metabolism, and overall mood.
If you suspect you have a problem with your thyroid, you can check with a thyroid test at home. And you don't need to spend hours sifting through internet search results for "how to test for thyroid problems at home," because we've done the searching for you. Our "top picks" for thyroid function tests can tell you if you're genetically predisposed to thyroid cancer or other conditions, and even if your thyroid is working properly right now.
Need a quick answer? Check out our list of top thyroid tests

Everlywell – easy-to-use, physician-reviewed thyroid blood tests with a subscription service option
LetsGetChecked – two thyroid test options, with a subscription service option and physician-reviewed results
EasyDNA – find out whether you have an increased risk for Graves' disease
What We Look For in the Best Home Thyroid Tests
To be among the best at-home thyroid tests, each company had to show a range of strengths, including:
Actionable Insights: Clear results with information about when follow-up care is warranted.
Positive Reviews: All the companies on our list have a good reputation and satisfied customers.
Good Value: Laboratory testing ordered through your doctor can be expensive, but most of the tests on our list come in at under $200 (at the time of writing).
Rapid results: No one wants to wait a long time to discover a potential health problem, so a quick turnaround time is a must.
Now let's look at our shortlisted test providers, one by one.

Since being established in 2015, Texas-based Everlywell has sold at-home lab tests for a multitude of health conditions. Its analysis is performed in a CLIA-certified laboratory, and your thyroid blood test results will be reviewed by an independent physician.
This is a finger-pick test that requires you to send in a sample of your blood. But don't worry, the process is relatively quick and painless! After just a few days, your results will tell you if you are in the low, normal, or high range for:
Thyroid Stimulating Hormone (TSH)
Triiodothyronine (T3)
Thyroxine (T4)
Thyroid Antibodies (TPO)
Each of these measures an important part of your thyroid function, and adverse levels could indicate a thyroid disorder. You'll also receive recommended next steps, based on your results.
You can save up to 25% by subscribing to regular testing, and Everlywell accepts health savings account (HSA) and flexible spending account (FSA) payments.
LetsGetChecked offers a discreet at-home laboratory testing service with a plethora of health and wellness tests broken down into men's and women's health, sexual health, and wellness categories.
This company's convenient, confidential, and accurate results are produced in CLIA- and CAP-certified labs, and the results are available in only two to five days! You can pay using FSA/HSA cards and save up to 30% if you sign up for the subscription service.
Two thyroid tests are available: the Thyroid Test and the Thyroid Antibody Test.
Thyroid Test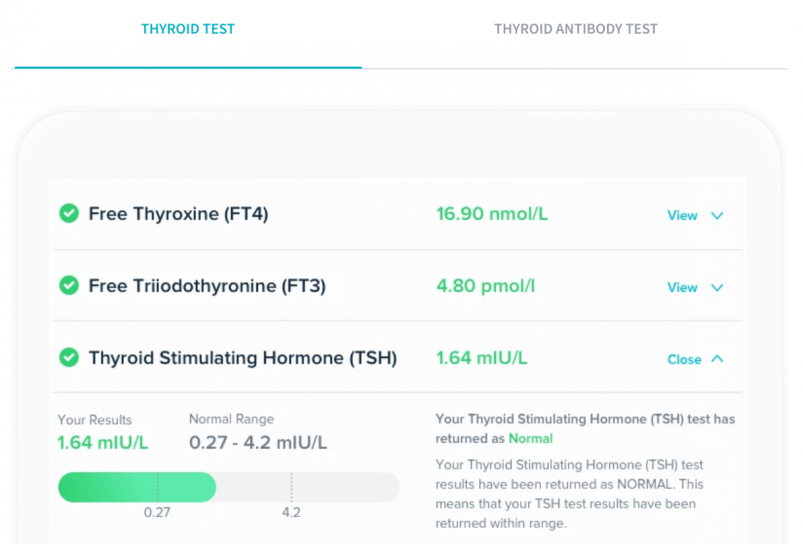 This basic Thyroid Test is perfect for people who are starting to show signs of hyperthyroidism or hypothyroidism. It can also help those who want to monitor the effectiveness of their current thyroid medications.
It tests the strength of your thyroid hormones, including Thyroid Stimulating Hormone (TSH), Free Triiodothyronine (FT3), and Free Thyroxine (FT4).
Thyroid Antibody Test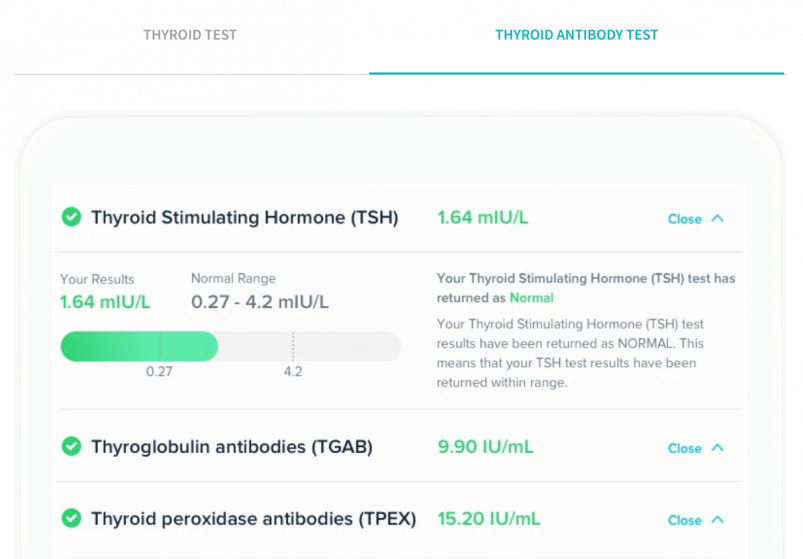 In addition to the thyroid hormones tested by LetsGetChecked's basic thyroid test, the Thyroid Antibody Test also tests antibodies that could indicate an autoimmune cause for your thyroid condition. Specifically, it tests for Thyroglobulin Antibodies (TGAB) and Thyroid Peroxidase Antibodies (TPO).

EasyDNA's Genetic Predisposition Test (which is not available in the United States) covers a wide range of conditions, including the thyroid-related Graves' disease.
Unlike the Everlywell and LetsGetChecked blood tests, this is a less invasive cheek swab DNA test, which means it tests your genetic predisposition to Graves' disease rather than testing your actual levels of thyroid hormones.
While this test is one of the most expensive on our list, you'll also get a huge amount of valuable information. For an additional cost, you can also consult with EasyDNA's genetic counsellors. Specifically, you'll learn your lifetime risk for 35 major health conditions, including common:
Autoimmune Diseases
Eye Diseases
Cardiovascular Diseases
Endocrine, Nutritional, and Metabolic Diseases
Neurological and Oncological Diseases
And more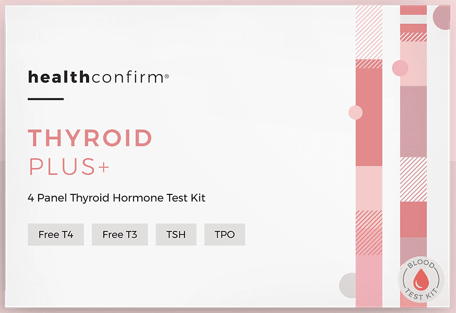 HealthConfirm is a brand of Confirm Biosciences that offers a wide variety of blood tests for specific conditions. Samples are processed in a CLIA-certified laboratory and results are reviewed by a physician as well as being available to you online via HealthConfirm's portal. This test measures your basic thyroid function (TSH, T3, T4), and your thyroid antibodies (TPO).
On your personal dashboard, you'll see whether you fall into the low, normal, or high range for each test panel. You'll also see comments on your results from a certified Medical Review Officer, which provides additional context and can help you understand any next steps.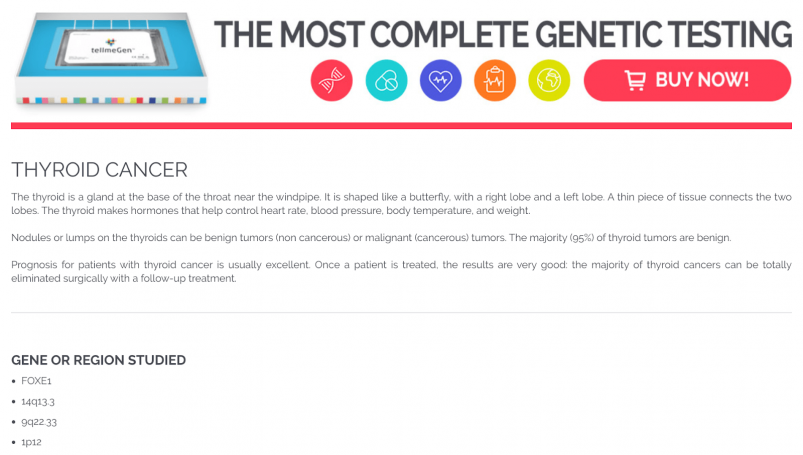 Spanish DNA testing company tellmeGen's complete genetic service screens for more than 125 genetic risk factors and 70+ hereditary monogenic diseases. In the context of thyroid conditions, it screens these genes:
IL23R for Graves' disease, which is associated with an overactive thyroid
PTPN22, SH2B3, and 9q22.33 genes, which are associated with hypothyroidism (i.e., underactive thyroid)
FOXE1, 14q13.3, 9q22.33, 1p12 genes, which are associated with thyroid cancer
As with EasyDNA, these tests check your genetic predispositions to thyroid problems. Although they don't tell you if you actually have any issues, they give a good indication of whether additional blood tests may be beneficial.
Plus, this comprehensive package includes a lot of additional information that you may find helpful or interesting. For example, you'll also receive a pharmacogenetics compatibility report, plus ancestry and genetic traits reports.
What's in the Fine Print?
Before taking any thyroid tests at home, there are a few key things to keep in mind:
Thyroid symptoms can be fairly general, so don't assume you have a thyroid condition unless it's confirmed by a medical professional.
Out-of-pocket expenses can add up for ongoing testing, so check to see if these are covered by your insurance as medical expenses.
Find out if your doctor will accept the results of a home test, otherwise you might have to pay again for the doctor's own test.
In terms of fine print for our "top picks" testing companies, there's not much to report apart from the fact that EasyDNA doesn't sell tests in the United States, and some testers exclude specific regions or states such as New York.
How Do Our Top Picks Compete on Price?
Our top picks all fall within the same general price point, so the value-for-money depends more on discounts, bonuses, or the additional details you get with the more comprehensive tests. Here are a few ways you can save money:
Choosing the Best Test for Your Thyroid Health
When choosing an at-home thyroid test, the first thing is to make sure you are comparing like with like. Blood-based tests will tell you your current levels of thyroid hormones whereas less invasive DNA tests will only determine your genetic predispositions to thyroid diseases.
Here is our more specific advice for choosing between our top pick tests:
If you plan to do at-home thyroid function tests over a period of time, choose the basic thyroid test subscription service at LetsGetChecked.
If you want to find out if your body is producing thyroid antibodies, use the Thyroid Antibody Test at LetsGetChecked, or check out Everlywell or HealthConfirm.
If you want to know whether you have genetic risk factors for thyroid cancer, and a number of other health conditions, pick EasyDNA.
If you're interested in your genetic predispositions – but are also curious about your ancestry and traits – chose TellmeGen.
| | | | | | | |
| --- | --- | --- | --- | --- | --- | --- |
| | Certified Lab? | Physician Review | Sample Collection | Thyroid (TPO) Antibodies | Thyroglobulin Antibodies | |
| Everlywell | CLIA | ✓ | Finger prick/sheet | ✓ | X | SEE DEALS |
| LetsGetChecked | CLIA-CAP | ✓ | Finger prick/tube | ✓ | ✓ | SEE DEALS |
| EasyDNA | ISO 17025 accreditation | X | Cheek Swab | X | X | SEE DEALS |
| HealthConfirm | CLIA | ✓ | Finger prick/sheet | ✓ | X | SEE DEALS |
| TellmeGen | ISO 9001:2015 certificate | X | Saliva | X | X | SEE DEALS |
FAQ
Which thyroid test is most accurate?
Many at-home thyroid tests provide accurate results that are physician reviewed. In particular, EverlyWell and LetsGetChecked offer highly accurate thyroid tests.
What sort of preparation needs to be done for thyroid testing?
Fortunately, a thyroid blood test does not require much preparation. If you are on a thyroid prescription medication, it is important that you take your medication accurately (30-60 min before breakfast on an empty stomach) and consistently (everyday) for at least two weeks before checking your thyroid levels. That's also true if your dose changes.
What are normal thyroid test results?
Thyroid test results (especially for medication adjustments) usually include three main readings:
Thyroid Stimulating Horomone (TSH) –

this shows the strength of the signal your brain is sending to produce more thyroid hormone. The normal range for TSH is 0.27 – 4.2 mlU/L; although many endocrinologists recommend targeting TSH values of <2.0 mlU/L if you are taking synthetic thyroid hormone (aka thyroid meds).

HIGH values mean a STRONG brain signal to the Thyroid Gland, and NOT ENOUGH thyroid hormone (T3/T4).
LOW values mean a WEAK brain signal to the Thyroid Gland and TOO MUCH thyroid hormone.

Triiodothyronine (T3) – is a thyroid hormone that gets released into your bloodstream to help control metabolism. A high level of T3 might help confirm a hyperthyroidism diagnosis if T4 is normal. The standard range for serum T3 levels is 1.1-3.0 nmol/L).
Thyroxine (T4) – is also a thyroid hormone that gets released into your bloodstream. Other medical factors (pregnancy, asthma medication, etc) can affect normal levels of T4. But, usually the standard range is <60-145 mmol/L.

Sometimes Free T4 is also tested because the values are unaffected by binding proteins.
What sorts of issues can a thyroid test detect?
A thyroid test can detect a variety of endocrine conditions. Simply put, the thyroid test can detect whether your body has enough thyroid hormone, and if the signal to produce thyroid hormone is the appropriate strength.
Too little thyroid function is called hypothyroidism. It's most common in post-menopausal women and people with the autoimmune disease, Hashimoto's Thyroiditis. In this instance your TSH reading would be too high – your brain is screaming to make more Thyroid Hormone, but not enough is produced.
Too much thyroid function is called hyperthyroidism. Hyperthyroidism is commonly associated with Grave's disease, another autoimmune thyroid condition.
Thyroid antibody production can indicate an autoimmune disorder. Certain thyroid tests like Everlywell's or LetsGetChecked also test for thyroid antibody production.
How do you know if you should take a thyroid test?
There are several reasons you might decide to take a thyroid test. A few common reasons include:
If you are experiencing symptoms related to thyroid dysfunction.
If thyroid cancer has occurred in your family
If family members have other thyroid conditions, such as Hashimoto's or Grave's disease.