If you have a family history of heart attacks, it's important to monitor your cholesterol levels from middle age onwards. Even if you're not at high risk, you should get checked every five years after turning age 18.
Doctors can check your cholesterol levels with a simple blood test, but scheduling and attending a doctor's appointment isn't always easy, so you'll be happy to hear that there's another way. Several DNA testing companies and other online health test providers allow you to submit a sample by post so that they can report on your predisposition to high cholesterol or your actual levels.
So, what do the results of a cholesterol test mean? Keep in mind that these tests often come with caveats – primarily, they're not intended for diagnostic purposes. That said, they can at least give you an indication of whether you should be talking to your doctor. Meanwhile, the suggestions for lifestyle changes surely can't do much harm. Not to mention, you won't have to fight traffic, take time off work, or schedule a babysitter!
We took several of the popular at-home cholesterol tests for a test drive to help you decide which one may be best for you.
Short on time? Here are our top cholesterol test picks
Helix – high costs but comes with access to a genetic counselor
Color – a physician plays a part in ordering your test and reviewing your results
23andMe – screens your genes for familial hypercholesterolemia, which is a predictor for high cholesterol
What We Looked For in the Best Cholesterol Tests
Obviously, your primary goal is to check if your cholesterol is actually – or genetically likely to be – at a healthy level. Since this goes without saying (although we just did say it), we settled on some additional criteria for determining the best at-home cholesterol test:
An easy and painless process with clear instructions for providing a sample safely, with no cholesterol test fasting required
Far-reaching shipping that can deliver to your front door – extra points if it comes for free!
Screening for relevant genetic variants (if applicable) that include high cholesterol predictors, such as familial hypercholesterolemia
A quick turnaround, so you can take action without undue delay
Actionable insights, so you know what next steps to take
Now let's look at our cholesterol home test kit top picks in more detail.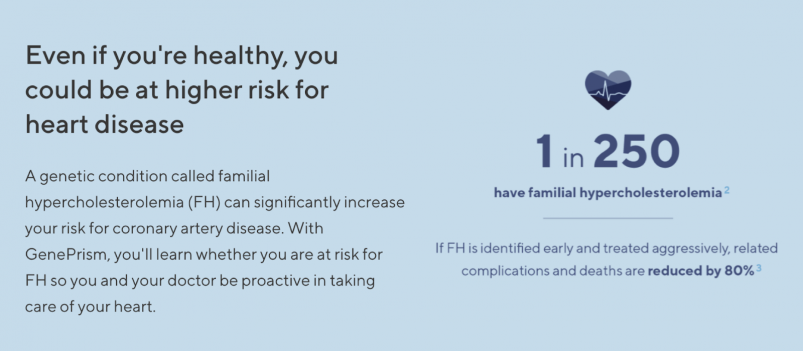 Whereas Helix used to offer a separate at-home cholesterol test kit, this has now been subsumed into its GenePrism: Actionable Insights package (by PerkinElmer Genomics). The test looks at 59 of your genes that put you at an increased risk of genetic diseases. This includes familial hypercholesterolemia, which can lead to high levels of "bad cholesterol" and ultimately heart disease.
Providing a DNA sample is as simple as spitting into a collection tube, sending it in for analysis, and then waiting for your results. In addition to your report, you'll also have access to a genetic counselor.
Standout Features
Access to genetic counselors
Personalized health plans
Printable clinical report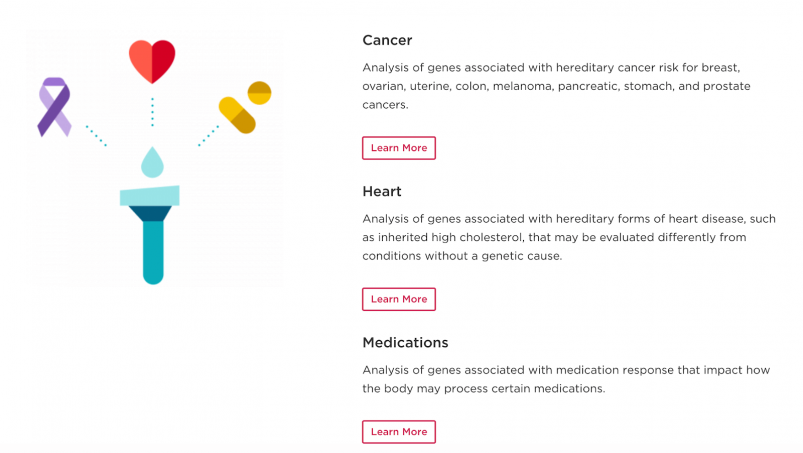 Taking a test through Color is different from other DNA testing services because you have to choose one of its affiliated physicians (or your own) to order the test for you. It costs no extra if you choose one of theirs. However, if the test is to be covered by your insurance, the order will need to come from your physician's office.
The Color Extended test screens three of your genes that are associated with familial hypercholesterolemia (FH) – the disorder that can lead to high cholesterol and heart conditions. This test also checks genes related to other heart conditions, hereditary cancers, and how you respond to certain medications.
We like the fact that you can speak with genetic counselors and clinical pharmacists about your results. And for the more generally curious mind, the Color Discovery service provides glimpses into what your genes say about you; everything from your earwax type to the foods you are likely to love or hate.
Standout Features
Physician-ordered tests
Medical support team
Ships worldwide
Competitive pricing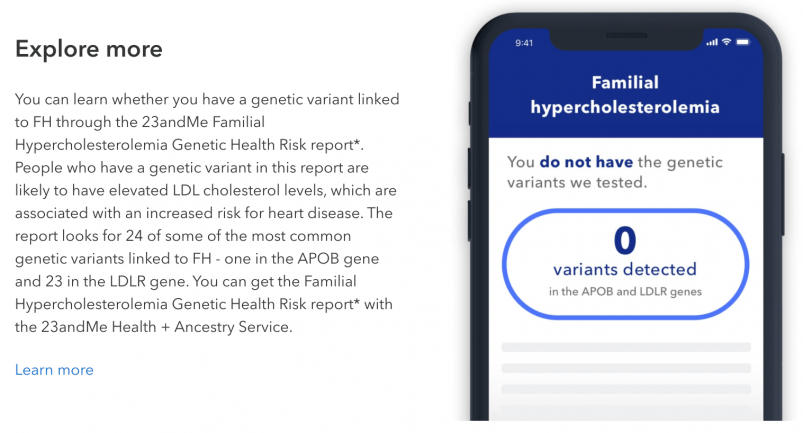 Among many other things, 23andMe's Health + Ancestry service screens 24 genetic variants for familial hypercholesterolemia, which is more than the others on the list of our top picks. Although there are 1,000 genes linked to FH, these are considered to be some of the more important ones, and 23andMe provides a more complete picture than any other provider.
Unlike Color, access to a specialized health team for additional advice doesn't come for free; you'll need to purchase the much more expensive VIP Health + Ancestry package. Don't tell anyone, but a call to customer service suggested that you might be able to get further advice relating to your results even without purchasing the more expensive package.
Standout Features
Screens lots of FH-related genes
Includes ancestry, diet, and sleep reporting
Fast results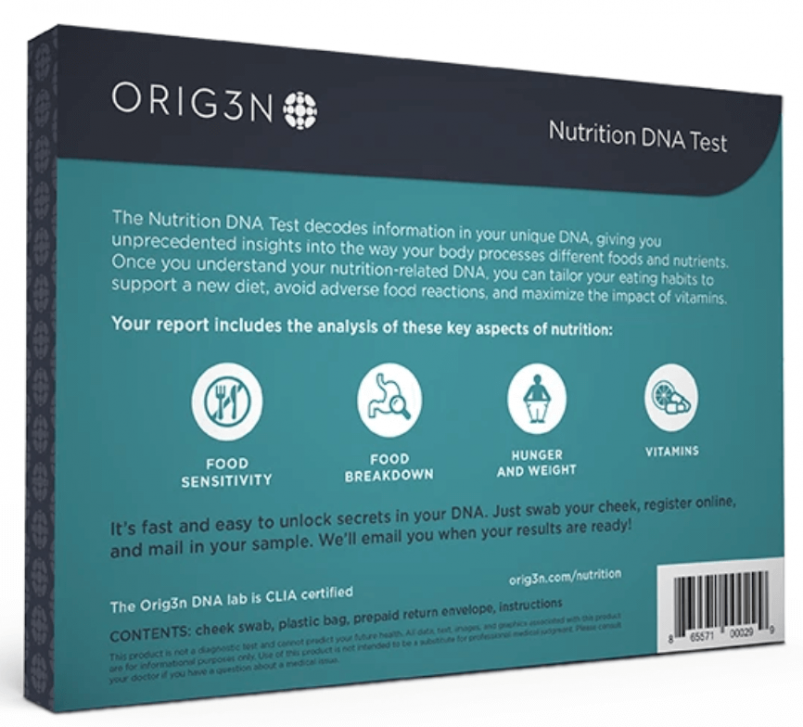 Orig3n provides plenty of tests to choose between, including everything from fitness and nutrition to beauty and appearance (which looks at how genes can affect your hair and skin).
The Nutrition test doesn't screen specifically for familial hypercholesterolemia, but it examines genes linked to cholesterol, which is fine if you only need basic information about your body's cholesterol production. It also examines genes that give insights into how you metabolize certain foods and process vitamins.
Standout Features
Several tests available
Food sensitivity insights
Insights into hunger and fullness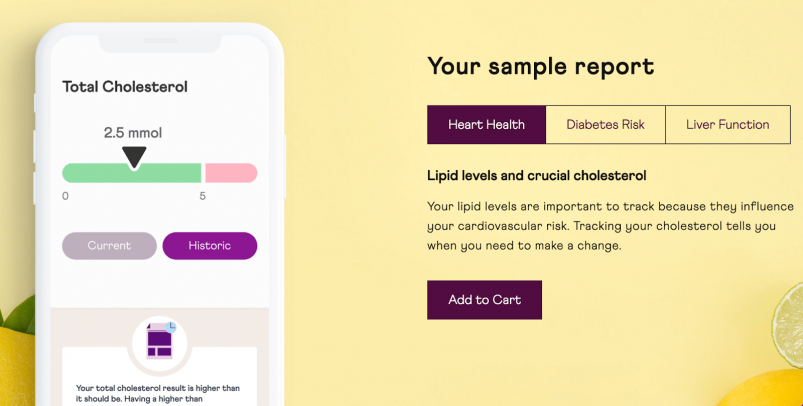 DNAfit offers a number of genetic DNA tests that can shed light on your genetic predisposition to certain conditions. The vendor also offers a SnapShot test, which looks at several blood markers related to your heart health, such as cholesterol and triglycerides. It also checks other markers related to liver function and diabetes risk. (This test isn't available to US customers.)
The sample collection method is different from the ones we've discussed so far, because you have to submit a blood sample rather than a saliva sample or cheek swab. It's a bit more invasive, but it's necessary because blood is the best bodily fluid for detecting most health markers (such as current cholesterol levels). In contrast, saliva is suitable for detecting genetic predispositions via DNA.
You might be wondering what to eat the night before the cholesterol test, or whether fasting before the cholesterol test is required. Not to worry – there's nothing you need to do differently before providing your sample. Unlike the usual finger prick, the supplied devices stick to your arm and painlessly collects the samples over five minutes.
Standout Features
Very rapid results
Collects blood without a finger prick
Low-cost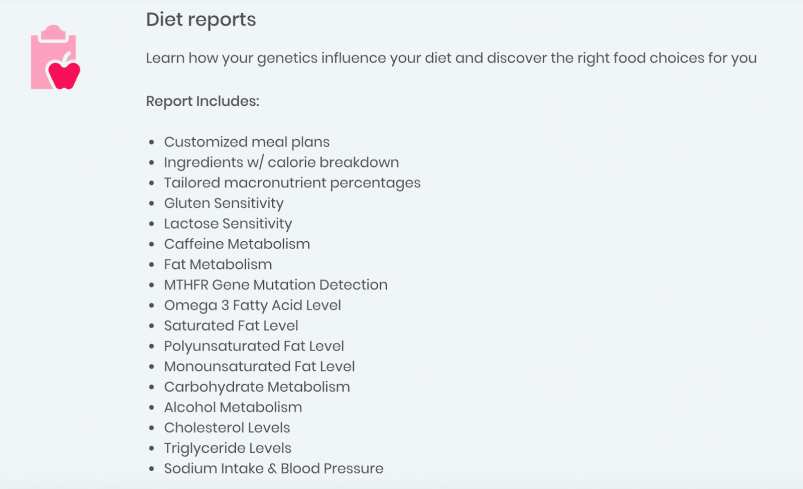 Similar to Orig3n, Vitagene does not test specifically for familial hypercholesterolemia. However, its Health test reports on cholesterol levels (which I take to mean your predispositions to high cholesterol) and tells you what steps you can take towards improving your cholesterol. You can also send messages through your account to support members such as nutritionists.
You can't get health testing without ancestry testing, but you can save money by uploading a raw DNA data file from a previous test you have taken with another provider, such as AncestryDNA, 23andMe, or MyHeritage.
Standout Features
Cost-effective pricing options
Comprehensive reporting categories
Skin conditions and ancestry reports
What's in the Fine Print?
Every DNA testing service has its pros and cons, and in this case, most of the cons are to do with processing times and test availability in different regions around the world.
Helix can take up to eight weeks to process samples, whereas Orig3n only takes four weeks, and some other testers such as 23andMe and DNAfit work on even shorter timescales.
Helix, Color, Orig3n, and Vitagene's cholesterol-related tests are only available to US residents. This particular DNAfit test only ships to UK residents and 23andMe has a list of about 15 places its health report is available (which includes most major countries).
Different Prices for Different Approaches
There are different ways to test for high cholesterol risk: by testing specific gene variants, multiple genes related to familial hypercholesterolemia, or your current cholesterol levels. Therefore, a direct price comparison is impossible.
Despite there being different price tags for different approaches, we can draw some general conclusions:
While DNAfit is the best (and cheapest) for convenience and speed, this particular test is only available in the UK.
The best value for screening FH-related genes is Color, but Helix and 23andMe come in at a close second and third.
Which Home Cholesterol Test Kit Is Right for You?
First things first. It's important to get your cholesterol tested. Even the DNA tests that only test your genetic predisposition to high cholesterol – rather than your actual levels – will get you talking to your doctor if the results give you cause for concern.
DNA predisposition tests are a particularly good option if you're younger. That way, you'll be able to take proactive, preventative steps as opposed to just finding out you have an issue down the line. As a bonus, most of these tests will also tell you about other health-related genetic traits.
Here are our key takeaways to help you choose the right at-home cholesterol test kit for you:
For US residents, Color and Helix screen specifically for genetic variants linked to familial hypercholesterolemia, and at reasonable prices.
For US residents who want to pay less, Orig3n, 23andMe, and Vitagene will give you a sense of your likely cholesterol health at a moderate cost.
For UK residents DNAfit's SnapShot provides rapid results regarding your actual cholesterol levels, but you have to submit some blood.
| | | | | | | |
| --- | --- | --- | --- | --- | --- | --- |
| | Sample Collection | FH Testing Insights | Results ETA | Health Support Team | Mobile App Reports | |
| Helix | Saliva | ✔ | 4-8 weeks | ✔ | X | SEE DEALS |
| Color | Saliva | ✔ | 3-4 weeks | ✔ | X | SEE DEALS |
| 23andMe | Saliva | ✔ | 2-3 weeks | ✔ | ✔ | SEE DEALS |
| Orig3n | Cheek Swab | X | 4 weeks | X | ✔ | SEE DEALS |
| DNAfit | Blood via TAP device | ✔ | 10 days | ✔ | ✔ | SEE DEALS |
| Vitagene | Cheek Swab | X | 2-3 weeks | X | X | SEE DEALS |