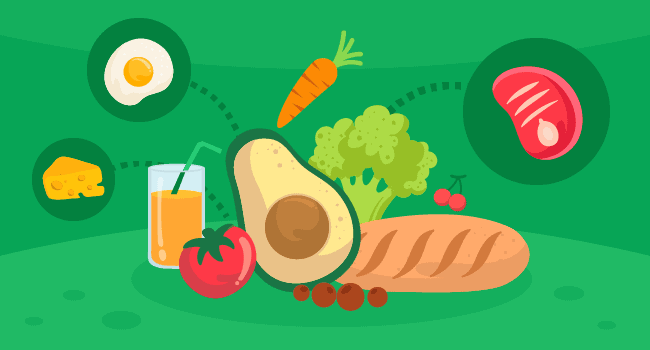 An at-home DNA test can give you a lot of valuable information about your genetic tendencies in certain areas, including how your body could be "wired" to store fat, metabolize carbohydrates, respond to various diets, and regain weight after dieting.
Trying to lose weight in a way that's inconsistent with these inborn traits can be an uphill battle. But if you know about these traits, you may be able to modify your weight-loss strategies to work with your body instead of against it, and therefore achieve more satisfactory results.
But how are you supposed to know which of the ever-growing number of DNA tests for weight loss is the right one for you? Which one will give you accurate information and actionable insights to help you create a healthier version of yourself?
We've got you covered. We've tested all of the main DNA kits for weight loss so we can help you make the right choice.
And, if you want to just dive right into your weight loss journey, get started quickly with Living DNA, the best DNA test for weight loss. Take a look at our recommendations for the best DNA tests for weight loss and find out which one could work for you.
Take Control of Your Weight With Living DNA
Short on time? Here are our top picks for DNA tests for weight loss:
Living DNA – Concisely summarizes how your DNA could influence your weight loss ability, fitness tendencies, and other wellness traits.
Vitagene – Tailored macronutrient percentages, customized meal plan, and exercise recommendations including type and intensity for optimal weight loss.
Toolbox Genomics – One of the most comprehensive options, testing over 50 different genes to let you know specific foods you should remove from your diet to lose weight.
Click here to see 5 other top DNA tests for weight loss | Check out our comparison table | FAQ
What We Look For in the Best Weight Loss DNA Tests
Here's a look at the criteria we think are most important when selecting a DNA test for weight loss. Some may be more important to you personally than others, but you can keep them in mind while you decide.
Trustworthiness: Does the company have a good reputation? Have people seen good results using the company's DNA findings?
Relevance: Does the company offer one or more tests that address weight loss directly?
Report clarity: Do your DNA results make sense? Are they easy to understand?
Actionability: Does your report offer clear, actionable diet and fitness strategies, plans, and recipes tailored to your unique genetic predispositions?
Personalized nutrition advice and exercise recommendations

Food intolerances and vitamin needs

Quick and easy mouth swab

Results in 6-8 weeks
Living DNA's "Wellbeing" report lets you view your results in the context of a variety of focuses, such as weight loss, energy, and healthy eating. And the findings are translated into what the implications are for your lifestyle.
Living DNA's Wellbeing kit is pretty comprehensive and explores your genetic makeup for both nutrition and fitness. The vitamin response test shows how your body responds to specific vitamins and whether you need more or less of particular ones and the food metabolism portion tells you how your body metabolizes different foods, including carbs and sugars, and your likely sensitivities, such as gluten or lactose.
Based on these results, you'll receive actionable nutrition advice to help you give your body exactly what it needs.
The fitness and exercise element tests your DNA to establish which exercises are the best choice to support your fitness goals. The test looks at oxygen flow, muscle fiber makeup, recovery time, trainability, blood vessel response, and tendon durability.
It's a very down-to-earth, accessible way of presenting the information; great for people who want to be able to understand their results quickly and easily – and isn't that all of us?
Choose Your Living DNA Test Now!
Ethnic map and regional percentages alongside health information
Personalized macronutrient and meal plan
Exercise recommendations, including type and intensity
Results in 4-6 weeks
Vitagene offers an all-in-one test that includes a health and ancestry report that arrives within 4-6 weeks of you submitting your sample. As well as diet and exercise recommendations, you can learn about your global ancestry and history, including an ethnic map and regional percentages.
Your report includes a customized meal plan, macronutrient breakdown and calorie intake with percentages. With that, you can understand your body's ability to metabolize different types of fat, lactose, caffeine, and alcohol, so you know what to include (or take out) of your diet.
It analyzes other aspects of your DNA that can impact your weight loss and overall health, including sodium intake and blood pressure levels, and cholesterol levels. And you get advice on which supplements to take, too. This can help you minimize lethargy so you stay motivated to stick to your weight loss goals.
To help you optimize your weight loss, the report also covers the type, intensity, and duration of exercise you should stick to every week. It even assesses how your body responds to exercise, such as your ability to build muscle, likelihood of muscle cramps, and weight response to exercise.
You also get an interactive workout planner to keep on top of your exercise regime.
Choose Your Vitagene Test Now!
Determines whether you should follow a high or low carb diet
Screens your metabolism of all key macronutrients
Assesses your predisposition for obesity and ability to lose weight
Results in 6 weeks
Toolbox Genomics has loads of different tests available. The Health Enrichment panel is probably the best test for getting all the exercise and diet information in one detailed report.
Its nutritional tests screen over 50 different genes to tell you everything you need to know about your diet. Your report tells you which foods you should be adding to or removing from your diet, not only to lose weight but also to increase your overall health.
It can actually predict what type of diet you should stick to so you can lose weight, particularly whether that's one high in fat or carbohydrates.
You also get insights on your body's metabolism of different food groups, including protein, carbohydrates, and fats, with information on how your DNA impacts your response and advice on how to change your diet. And it assesses your sensitivity towards gluten, lactose, alcohol, and caffeine.
The Weight Management test determines how your DNA influences your predisposition for obesity and ability to lose weight.
Your report comes with detailed exercise information, too. It shows you which exercise routine you should follow, gives you workout suggestions, and assesses your susceptibility to injury from exercise.
It usually takes 6 weeks to get your report.
Choose Your My Toolbox Genomics Test Now!
Categorize your diet type, including pescatarian, nordic, and two others
Know which foods to eat and avoid
Two-week diet plan and shopping list
Results in 3-4 weeks
Gene Food uses your DNA to categorize you into a certain diet type, including pescatarian, nordic, vegetarian, and California keto. With this information, you know what foods you should be eating for optimal weight loss.
Within a few weeks, you have an in-depth report that includes a full macronutrient breakdown, with advice on specific food types to include in your diet. It analyzes your metabolism of fats, proteins, and carbs, so you can see how well your body handles each food group.
It also analyzes your body's response to caffeine and alcohol, and how much sleep you need. And it even tells you how well your body removes environmental toxins.
Each plan comes with a two-week nutrition plan and a shopping list to get you started.
You can see which genes the kit tests for, as well as your specific genotypes. These are color-coded to show you whether you carry any mutations, and of course, how these then affect your diet.
Expect to wait 3-4 weeks for your report.
Choose Your Gene Food Test Now!
Determines your exact macronutrient needs and perecentages
Thousands of personalized recipes, including meal planner
Optimal exercise routines and predisposition for injuries
Results in 10-15 business days
DNAfit's home health test includes nutritional, fitness, and wellness insights. It tells you how to adapt your diet based on your ideal macronutrient percentages.
It also determines your nutrient and sensitivities based on 13 different reports. You can learn where to add supplements to your diet and which deficiencies you may have, as well as whether you're predisposed to lactose, gluten, or caffeine intolerances.
DNAfit gives you access to thousands of recipes. It breaks down the exact macronutrients in each meal so you can easily keep track of your intake. There are even shopping lists linked directly to your retailer.
The test advises you on which workouts to follow, and especially whether you're suited to short, intense bursts of exercise or endurance fitness. You can also learn about your predisposition for sports injuries and how well you recover from exercise.
You get sleep and stress insights, including your body's response and how to improve in each area. And your whole report only takes 10-15 business days.
29 apps relating to diet and fitness, including a weight loss report
Determines your risk of obesity and whether it's difficult for you to lose weight
Upload existing DNA to get results quickly
Results take 4-8 weeks
Sequencing has two standard DNA tests and loads of reports and apps that you purchase individually once you've taken the test. This includes 29 apps relating to nutrition and fitness to help you with your weight loss goals.
You can upload existing DNA from providers like 23andMe and AncestryDNA, which means you don't even have to buy the initial DNA test. You can just use your raw data to get access to the individual reports.
One of the best apps is the weight loss report. It gives you tailored insights to drop body fat, such as whether you should follow the low-carb, high-carb, or Mediterranean diet. It also assesses your obesity risk, the difficulty of losing weight, and whether you're likely to overconsume carbs.
You can learn about loads of other interesting factors that affect weight loss, including your snacking habits, sweet tooth, overconsumption of carbs risk, and overweight potential.
You get exercise information, too. It determines your overall fitness benefits, risk of injuries, and how exercise influences your health. You can buy the individual exercise report for even deeper fitness insights.
It takes 4-8 weeks to get your results.
Choose Your Sequencing Test Now!
Determines your risk of being overweight and likelihood of weight regain
Assesses your perception of sweet and bitter tastes
Gives you your optimal diet type
Results in 40 days
Gene Planet's diet and body weight kit analyzes 11 different factors that all influence your ability to lose (or gain!) fat. It takes around 40 days to produce your online report.
You can learn about your risk of being overweight as well as the likelihood of weight regain after you've dropped body fat. It also tells you your optimal diet type, so you know which foods to eat and avoid on your weight loss journey.
Your report includes detailed information about your response to fats (broken into four different types of fat), alongside your metabolism of carbohydrates to help you understand what your body likes best.
You can also understand your perception of sweet and bitter tastes, plus whether you might be at risk of overeating sweet treats. And it tells you more about your satiety and hunger levels.
Your report is really detailed, but you can learn more about each of the 11 biomarkers and your results through a 30-minute phone call with a specialist. It's free.
Choose Your Gene Planet Test Now!
Daily tasks to monitor your health and weight loss
See which foods to eat and avoid
Get recipes based on your nutrient deficiencies and calorie goals
Results in 2-4 weeks
InsideTracker offers an all-in-one test so you can learn how to improve weight loss and enhance your overall health at the same time. It takes 2-4 weeks to get your results.
The test gives you information on which foods to eat based on your body's needs, deficiencies, and food preferences.
You get daily actions like drinking more water or adding in oatmeal for breakfast to keep track of your goals. You can tick these off every day.
InsideTracker comes with hundreds of healthy recipes, and you can see the full macronutrient breakdowns to keep on top of your intake. Each recipe also tells you the nutrients it's rich in, so they're personalized to you and what your body needs.
You get tailored fitness recommendations, too. This might include adding in high-intensity workouts, going for long walks, or even daily bike rides. And you can see which supplements to take.
Choose Your InsideTracker Test Today!
What's in the Fine Print?
Some DNA tests have hidden costs and other surprises that you can't always see straight away. I've done some digging so you don't get caught out.
Most of the kits on this list offer free shipping, but there are a few to watch out for. Living DNA, GeneFood, Sequencing, and DNAfit make you pay the cost of mailing your kit.
Diet and nutrition DNA testing companies sometimes try to sell additional services after you've got your results.
Vitagene upsells supplements which are delivered to your door each month. While these add-ons could help you stay on the right nutritional track, you'll have to pay for them.
How Do Our Top Picks Compete On Price?
So, you think you've found the kit for you, but does it fit within your budget? Here's how our chosen genetic weight loss tests compare in price.
If you're looking for a cheaper option, Vitagene comes in at the lowest cost at just shy of $30. That's because you can upload existing raw DNA data, so there's no need for you to take an initial DNA test again. You can of course choose the full nutrition and fitness bundle, which is still very affordable at less than $100.
In terms of value for money, it doesn't get much better than Living DNA. This is my top choice because it's affordable, only costing you just over $125, and it gives you way more information than you'd expect for that price, including food sensitivities and a full exercise breakdown.
GeneFood, Sequencing, and DNAfit all offer low-cost tests if you already have existing DNA to upload from 23andMe or AncestryDNA. Otherwise, these options can get quite pricey.
Both Toolbox Genomics and InsideTracker offer tests in the higher price range, but you do get quite a lot of information for that cost. Toolbox Genomics is actually designed for practitioners, so if you already have a nutritionist and want to work together to optimize your weight loss, the extra cost is worth it.
Which Is the Best DNA Test for Weight Loss?
All of the nine weight loss DNA kits on this list are great choices. The right one for you, though, depends on what you need from your results, how much information you're after, and of course, your budget.
If you're looking for the best all-rounder (and value for money), go for Living DNA, my #1 choice. It has everything in one, including a highly detailed exercise and meal plan, and a full list of personalized recommendations just for you.
If you're less bothered about the exercise side of things and want to focus purely on nutrition, Gene Food is a good choice. With this test, you get a complete nutrient breakdown with personalized meal plans.
You can save a ton of money if you've already done a DNA test with 23andMe or Ancestry DNA. Vitagene lets you upload your raw data and use this to provide your results. It more than halves the price of your test.
If you want to learn about your predisposition for obesity, whether you're likely to regain lost pounds, and even your perception of taste, choose Toolbox Genomics. It's one of the best for analyzing other, important factors that can affect your weight loss.
Screening your DNA can tell you much more than what to eat or how to exercise. Assess for health risks in the comfort of your own home with one of our top picks for at-home health DNA tests.
FAQ
How does DNA affect weight and weight loss?
Some of the factors that affect your weight – including your appetite, fitness levels, and ability to lose weight and keep it off – are genetic. Being aware of these genetic predispositions may help you decide what type of weight management strategy is best suited to your goals.
With that said, biology is not destiny, and your genes are only part of the picture. Factors such as your eating habits, level of physical activity, and age also play a huge role in your weight. When you're looking for an effective weight management strategy, you should take all of these factors into account – and consult with a doctor or nutritionist before embarking on any new diet program.
Can a DNA test help you lose weight?
A DNA test by itself can't help you lose weight, but it can help you formulate a diet and weight loss plan that's tailored to your specific genetic traits. This helps you make the most of your weight loss efforts and lets you manage your weight and fitness long term.
How accurate are DNA weight loss kits?
A DNA test looks at specific genetic markers in your DNA that have been shown to be associated with various physical and physiological traits. DNA tests are able to interpret these markers pretty accurately and tell you what they mean. While no DNA test is 100% accurate, the companies listed here use the latest science and accredited labs.
What sort of things do DNA weight loss kits measure?
DNA weight loss kits can explore factors such as the speed of your metabolism, your genetic likelihood of being overweight, whether you're genetically predisposed to experience food cravings, and how quickly you may regain weight after weight loss. The reports can also give you insights into how your body responds to exercise and whether you could potentially have a vitamin deficiency.
Can a DNA test tell you what to eat?
No DNA test will give you a complete diet plan. But, depending on the test you take, your results may include recommendations for foods that meet the nutritional needs of your genes. These foods might be recommended based on what your body responds to best for weight loss, or what your body needs based on deficiencies. A test like LivingDNA can tell you exactly which foods to include in your diet, and which ones to drop out.
Does insurance cover the cost of DNA weight loss kits?
Insurance does not typically cover the cost of DNA weight loss test kits. That said, you should get in touch with your insurance provider to fully understand your options.
What is the best DNA weight loss kit?
There are many DNA tests available to facilitate weight loss. The one that works best for you will depend on your personal preferences and goals. All of the tests on this list meet our high expectations for accuracy, thoroughness, and actionable insight.
Our top choice overall though, has to be Living DNA.It gives you the most comprehensive results, with a detailed look at which foods to include to help with weight loss, what to avoid, where you have deficiencies, and how your body metabolizes certain foods.